February 3, 2021
Yes, this is confusing…
But I'm trying to find a way to use the core 52 garments from The Weekly Timeless Wardrobe to help anyone who has to keep 2 separate wardrobes in 2 locations (or those of us who wear 2 completely different seasonal wardrobes as the weather comes and goes…)
Last week, I looked over the 52 garment list, and chose 10 to be the "core" wardrobe for this heroine. An example of one of the 10-piece wardrobes is this lovely grouping:
As useful and versatile as this wardrobe is, most women will want to add something to it! In order to stick to our plan, I went back to the list of 21 garments that remained AFTER I removed the 10 "core" pieces from the list. (and then split the list into warm weather and cool weather)
It's unintuitive today, when there's a ton of snow about, but I'm going to plunge into the warm weather wardrobe. Fairly quickly (I hope), after January inventories are completed, spring clothes should start to appear in stores and online. (I certainly hope so, pickings have been slim these last few weeks!)
This was what I chose: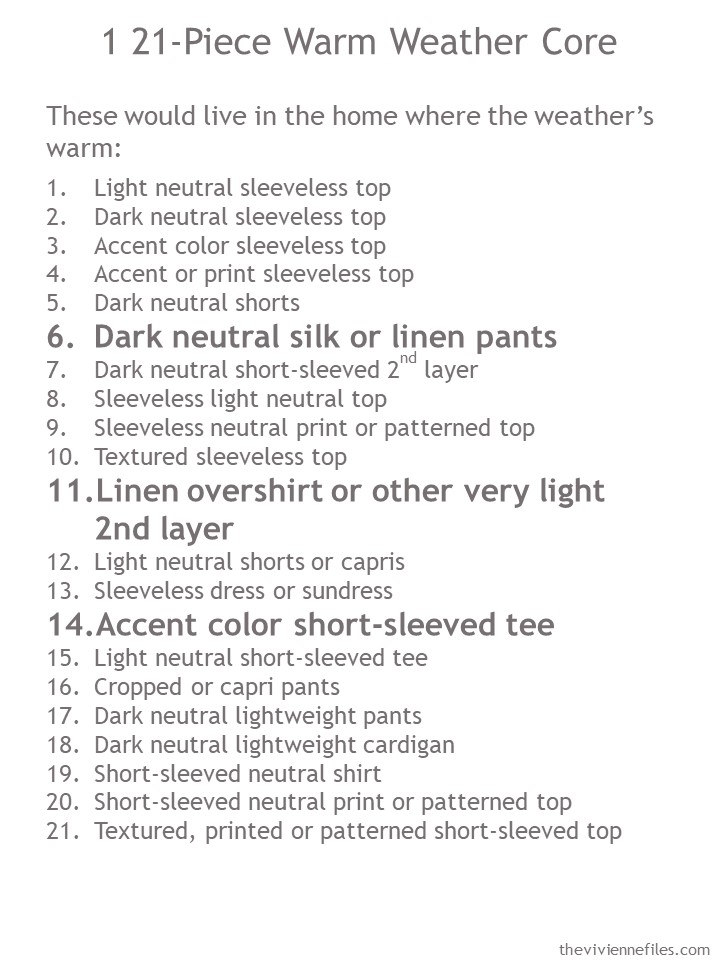 You will see that I don't adhere terribly closely to these guidelines – but I do make sure that we get 3 garments – a top, a bottom, and a 2nd layer…
For this 1st wardrobe, I chose this:
A tee shirt in the same color as her accent cardigan, and a shirt and pants that are almost the identical shade of light grey…
These fit in nicely!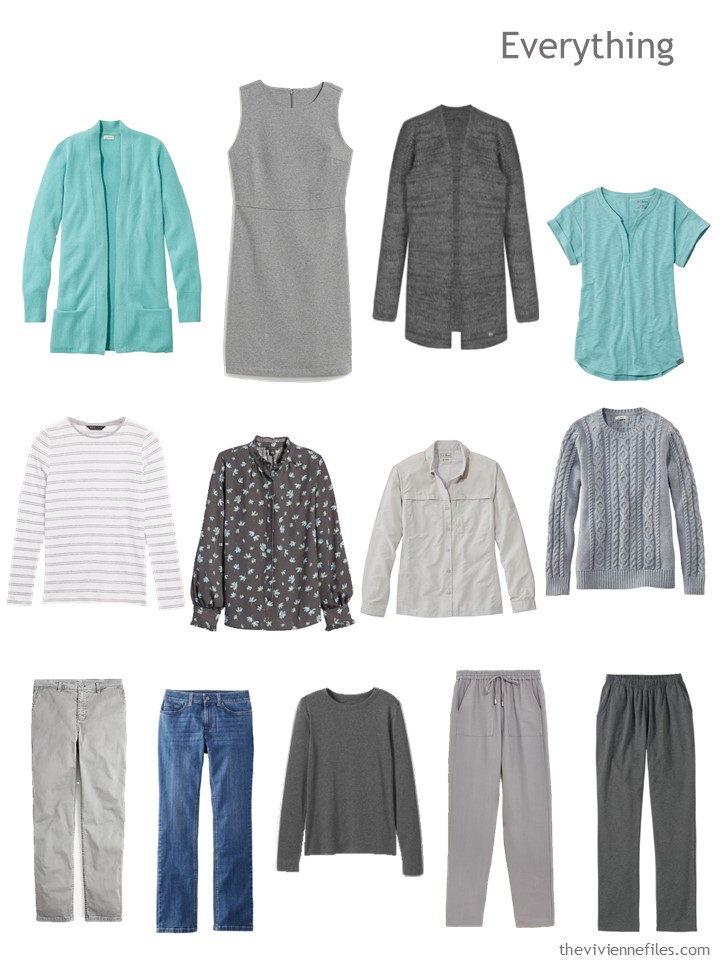 The other 10-piece wardrobe example from last week was the always-tempting navy and pink:
At this point, darker pants might still have made sense but I felt like white jeans… As long as the world isn't slushy and splashy, one can wear white jeans ALL YEAR! Yes, I said it…
This would be a lovely spring travel capsule wardrobe for a destination that's bright and sunny but not madly warm: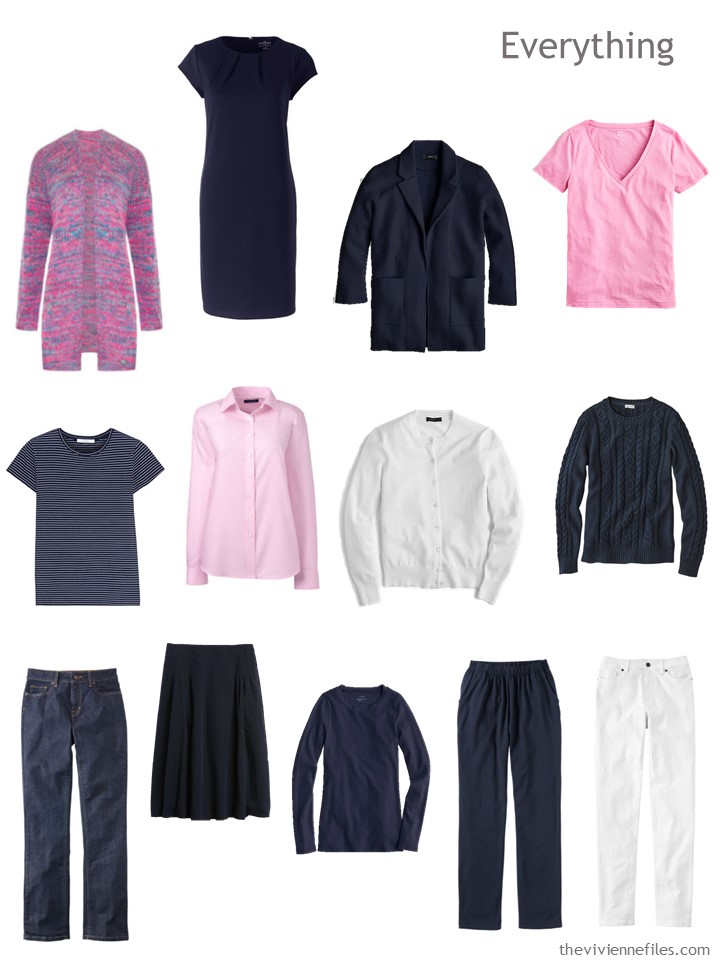 I want to show some other options of what one might add to a core wardrobe during this step of charting out a summer Garde-Robe du Mois…
For example, if you are following the "Six Scarves, 12 Outfits" series, the outfits that might be added could look like these:
A twinset-type pair of tops in an accent color, with neutral pants:
A dark neutral suit with an ABSOLUTELY AMAZING accent tee. Yes, this tee is a real departure from most of the clothes I show you, but I wanted you to see it… Those among us who sew could do something like this easily, I suspect:
There's no reason that you can't tone your tops to blend together, rather than always have them dyed to match; these 2 colors look great with each other:
Of course, people in my tribe might be very happy with blended neutral colors:
And a lovely accent-colored shirt is the perfect thing to wear over a light neutral tee and dark neutral pants:
So what does this accomplish? Well, it's an indication of how to expand a 10-piece wardrobe into a 13-piece wardrobe, with the eventual goal of having a 21-piece wardrobe hanging in the closet of the warmer of our heroine's homes…
My plan, then, is that each month, I will add 3 (or every 4th week, 4) garments to the first 2 wardrobes, to show a different approach to a gradually planned and assembled warm-weather wardrobe.
It's a different path to the goal of a tidy, but sufficient, wardrobe suited for our personal beauty, and to the season confronting us!
clear as mud, eh?
love,
Janice
p.s. You must see this guy using sound to turn chaos into structure; the video with the colors is particularly fun:
Artist Uses the Power of Sound to Turn Sand Into Mesmerizing Patterns
p.p.s. Eight years ago, we pondered the merits of Poppy Red as an accent for a variety of neutrals.