January 4, 2021
I get happy just TYPING 2021…
We've visited this lovely heroine a couple of times already, last Spring in the early days of working from home, and then later in the autumn when she had to take a road trip to sign some legal documents…
Now, she knows that she's going to be working from home for the rest of the winter (at least), and she wants to be organized. Spending time each morning thinking about what to wear is SUCH a waste of time, and she wants to stop doing it!
This is such an enigmatic painting, when you look at it – why is the woman on the wee balcony handing keys to the woman on the horse? Is she coming in to visit them? What is going on here? Can't she just get off her horse and come in? Or is she leaving, and she's giving her set of keys back to her hostess?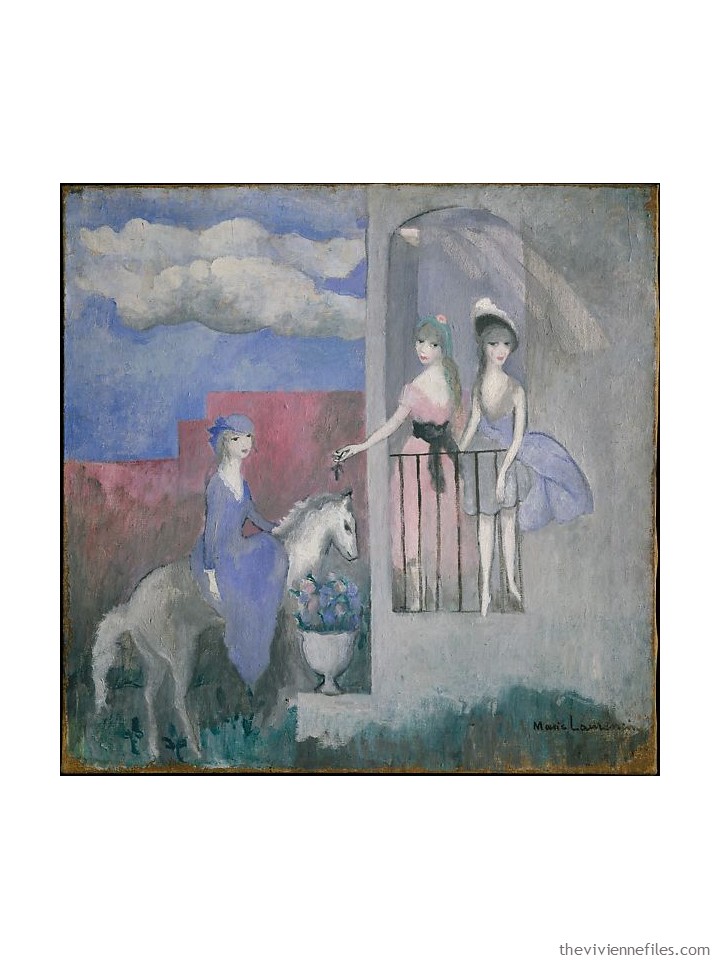 At any rate, the color palette is delicious! I've never ventured to add the green that's in the plants – that could be an entirely new adventure…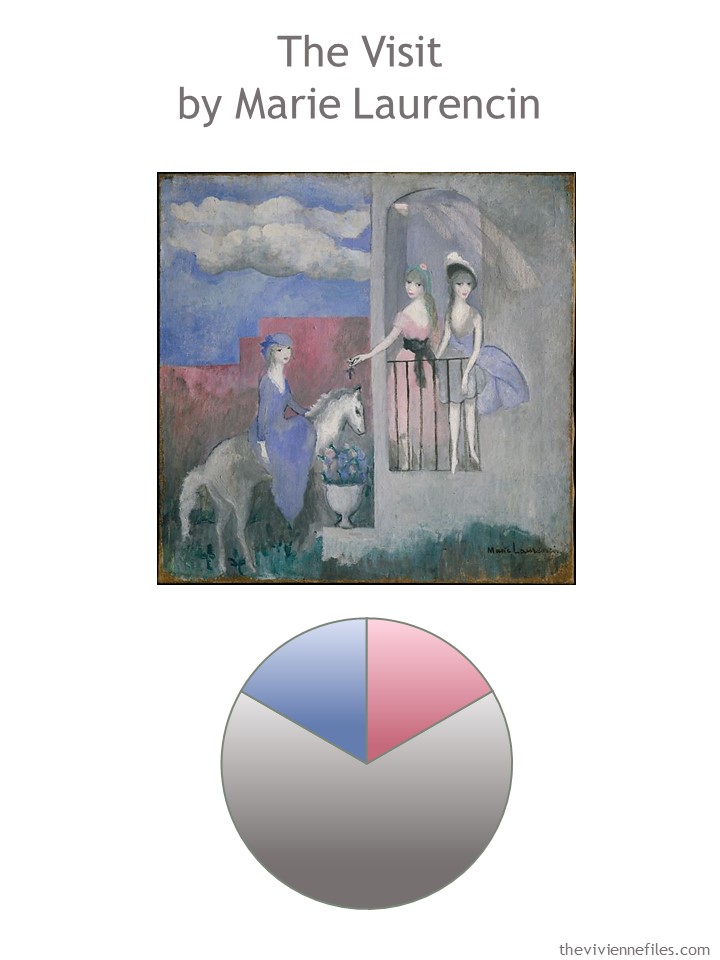 Our heroine starts out with the Common Wardrobe of her cold-weather things (some of these garments were in her autumn wardrobe!) with her core grey clothes. (A Common Wardrobe is a grouping of clothing that almost anybody might own – they're the neutral items that many of us have in common.)
Because of the nature of working from home, she decides that her sweatshirt and sweatpants do indeed belong here! Another winter might be different, but right now she's going to dress for her current circumstance:
She loves grey – it matches her hair with all of the various shades and nuances! And it's calming, AND it's a glorious backdrop for her blue eyes and rosy cheeks…
Of course, with some nimble laundry, this would be quite enough clothing to get her through most of life! But she's adding a few accents:
Many of us wouldn't include a skirt in a wardrobe designed to work from home, but she knows that (with warm fleece-lined tights) this skirt will give her a feeling of dressing up, without high-heels or anything uncomfortable.
The rest of her household will appreciate the occasional skirt, she suspects…
Now, when she hangs her winter wardrobe together, it gives her a soothing feeling of calm preparedness, with a serious dash of prettiness in the mix!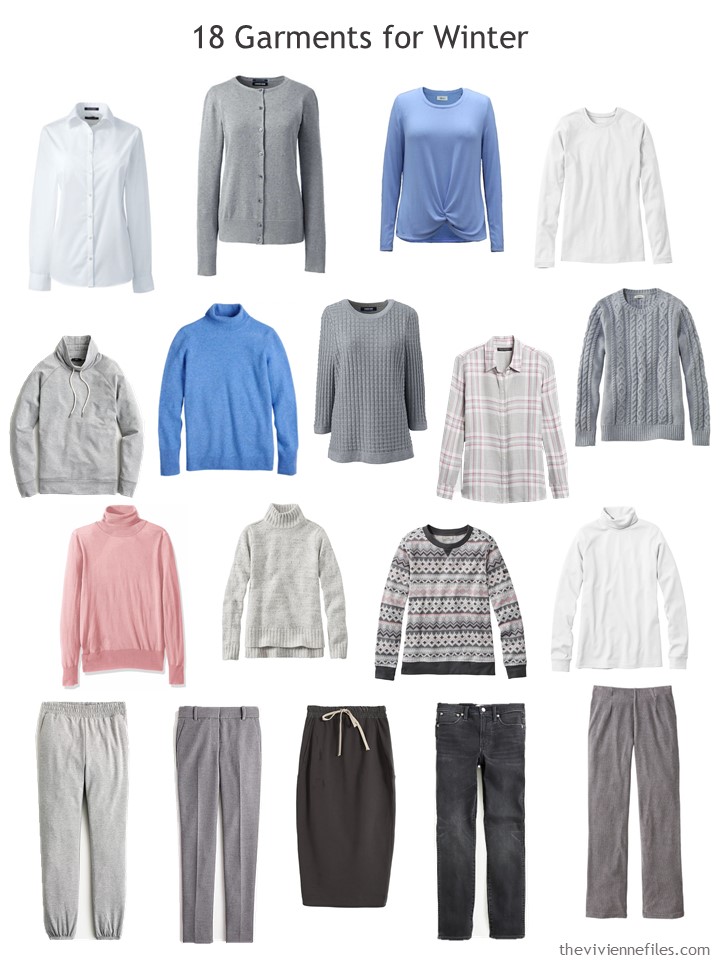 This wardrobe is almost a "you can wear Whatever's Clean," but just in case, she walks herself through a couple of different ways to wear each of her "bottoms":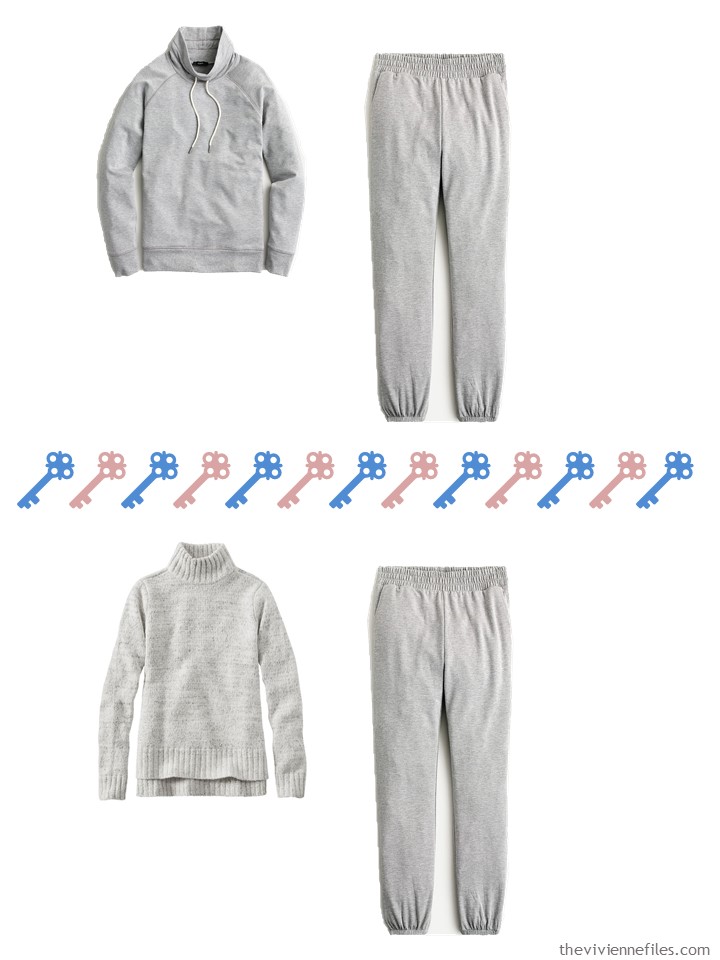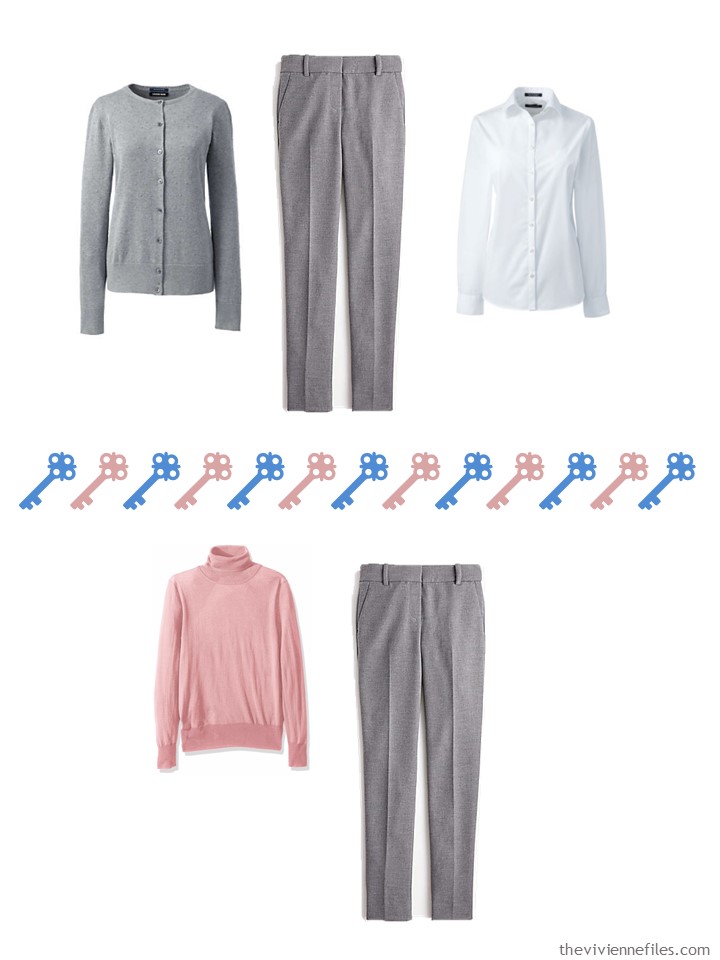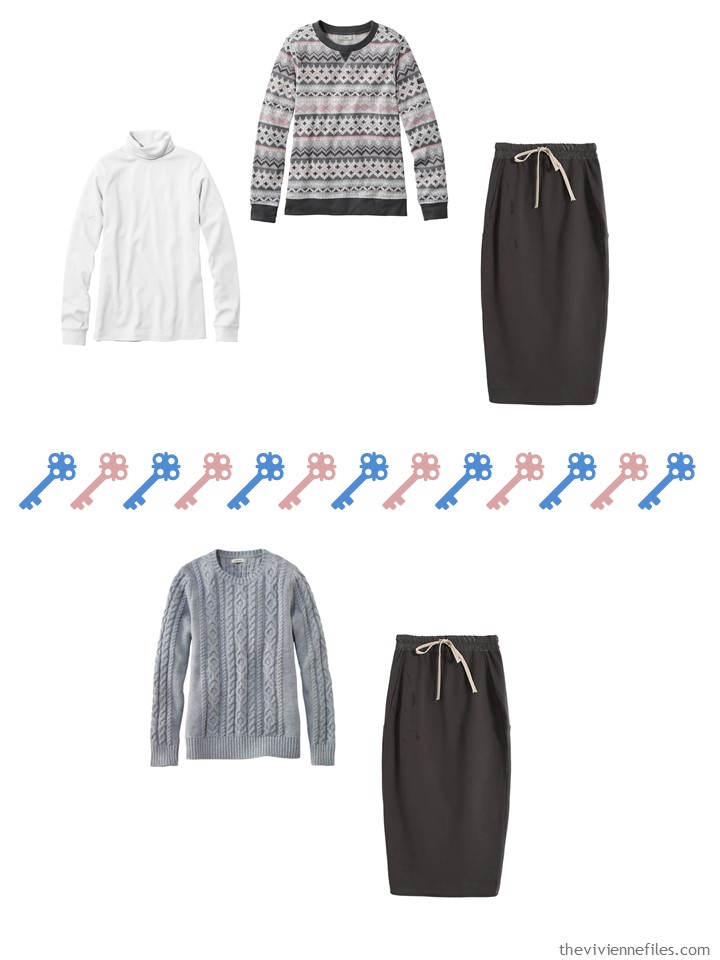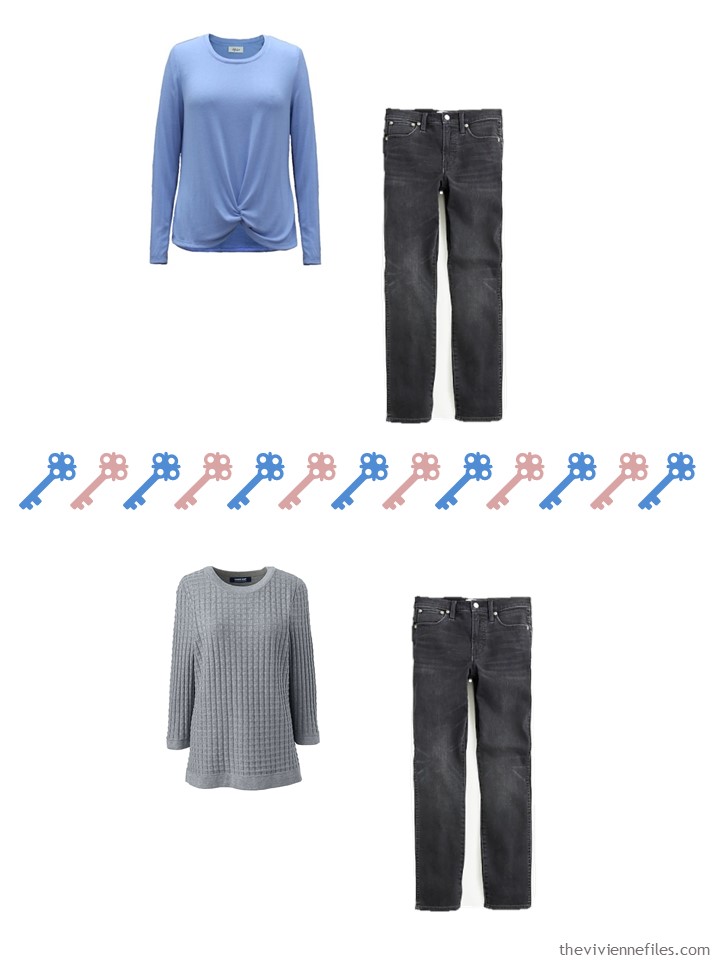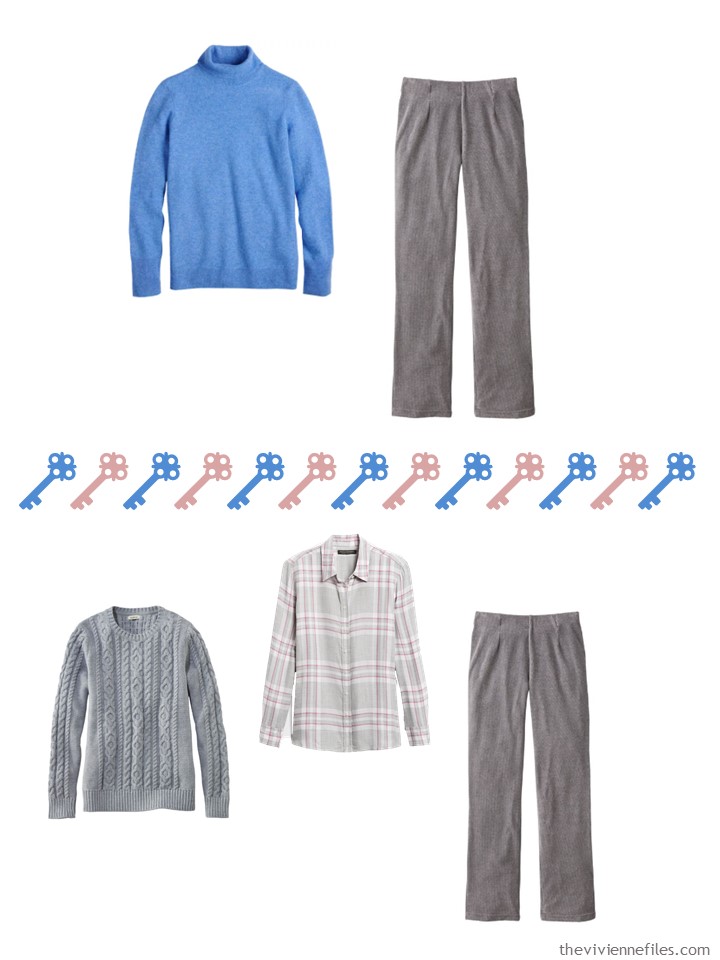 I'm almost to this point – I've been wearing a small portion of my wardrobe on a consistent basis. Maybe this is a good day to make certain that I have the right pieces, and get them "up front and visible" in my closet…
love,
Janice
p.s. EIGHT YEARS AGO we looked at the possibility of using Greyed Jade as an accent for a business office wardrobe. Yes, I still marvel that I've been doing this for so long!
p.p.s. If I can still scare up the original items, would you like to see ALL of this heroine's wardrobes together? And accessories for these outfits?