December 23, 2020
She loved the whole idea of a ruana, and when she saw this one, she was smitten:
She magnified the image as much as she could, and finally decided that these might be the colors that she would wear with it… if she decides to buy it!
But before she buys anything, she's going to sit down for a few minutes (maybe with a piece of paper and her favorite pen) and think about how she might wear this beauty…
Obvious 1st choice might be black pants and a pink sweater, but her pants will be her favorite velvet jeans, and the sweater will have some lovely textures. And fun socks – of course!
Now she stands for a good, long minute in front of her closet, thinking about the beige possibilities…
A classic shirtdress, with a few touches of pink in her accessories? Perfect for religious services, dinner out, happy dressy events in the future? Oh yes!
Now that she's comfortable with wearing beige with her new ruana (that's how she's starting to think of it!), she realizes that the simplest of outfits will be an ideal background for fun boots, sparkly earrings, and her new wrap…
But can she wear it for something really dressy? Heavens yes – the drama of the swish and sway of the sparkly tweed is a natural for a lovely evening look!
She looks around at photographs of others wearing similar wraps, and realizes that a LOT of people are using ruanas like this for VERY casual days at home; she can do that!
Finally, she decides to throw her normal caution to the wind and experiment with pink jeans! If you own such a thing, I personally think you should wear them often…
When she assembled the list of everything that she was considering wearing with her new ruana (apparently, the decision has been made!), she realized that everything came together into a tidy capsule wardrobe!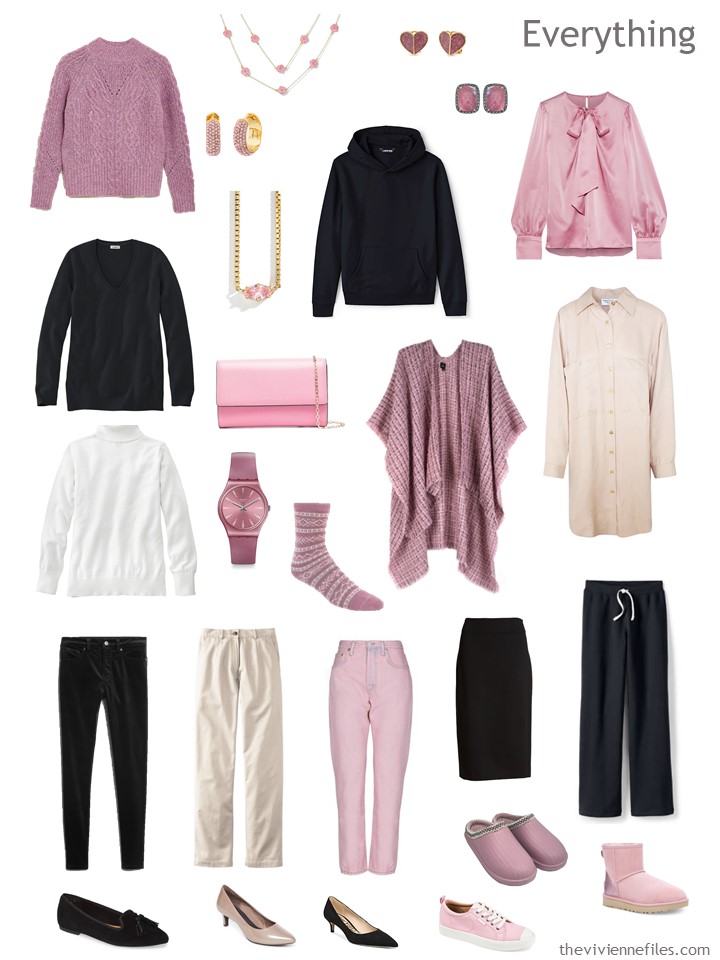 And she thought that she might think about something approximately this for her next travel! Far in the future perhaps, but still worth a dream: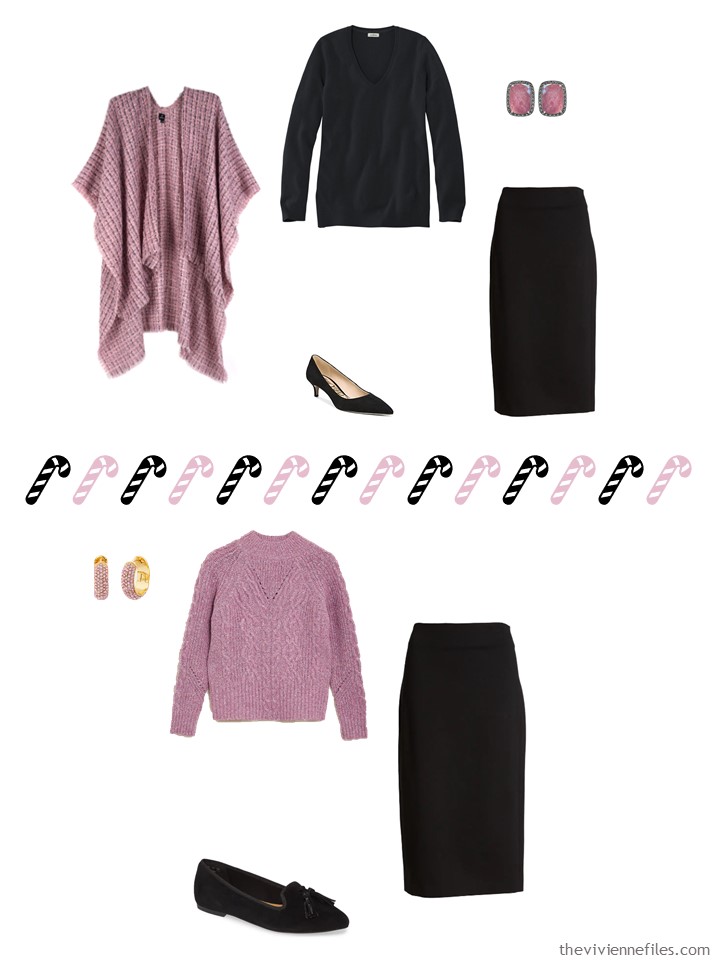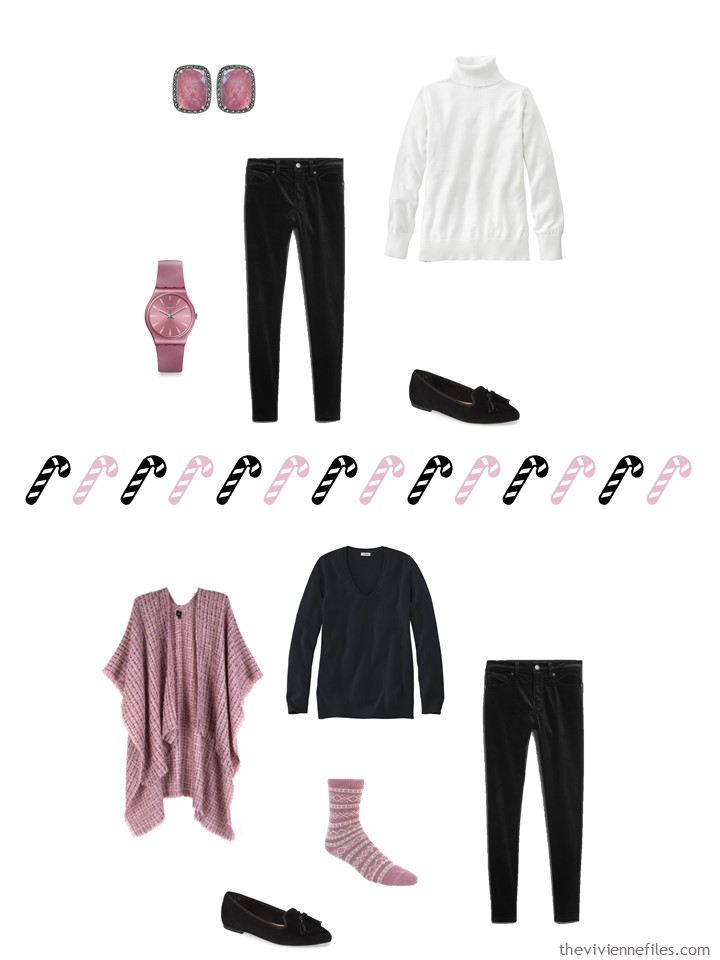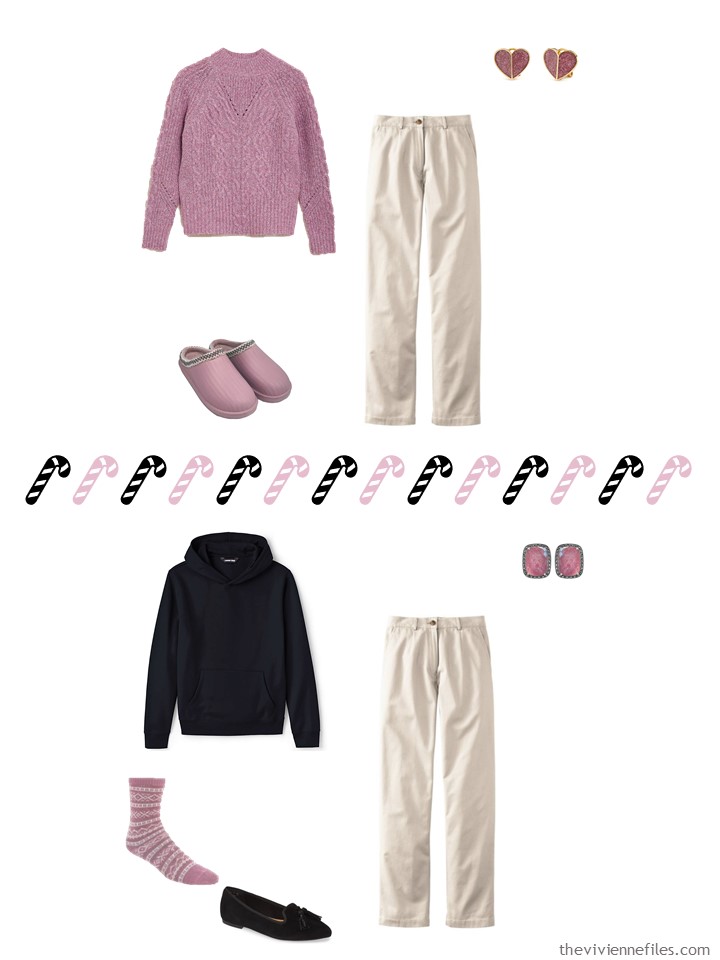 I'm still madly tempted by this ruana in Silver, which includes black and all sorts of shades of gray….
love,
Janice
p.s. Not exactly six years ago, but close enough that we can't miss 2 grey tweed coats, accessorized with pink! Such a perfect flashback to go with today's post, eh?