July 1, 2020
After yesterday's birthday festivities (I'm writing this on June 30th) I don't have a ton of energy to write much! Happily, we all sort of know what these post are about…
Since so many of us are still either stuck indoors at home, working, or we're without work and stuck at home being leisurely, I thought that some shorts and tee shirts would be useful this month!
And a sunhat – you are still trying to go out for a walk from time to time, aren't you?
I think leather athletic shoes look nicer than canvas or nylon ones. I know they're not great for running, but for normal leisure wear, I feel like leather elevates the look a bit. What do you think?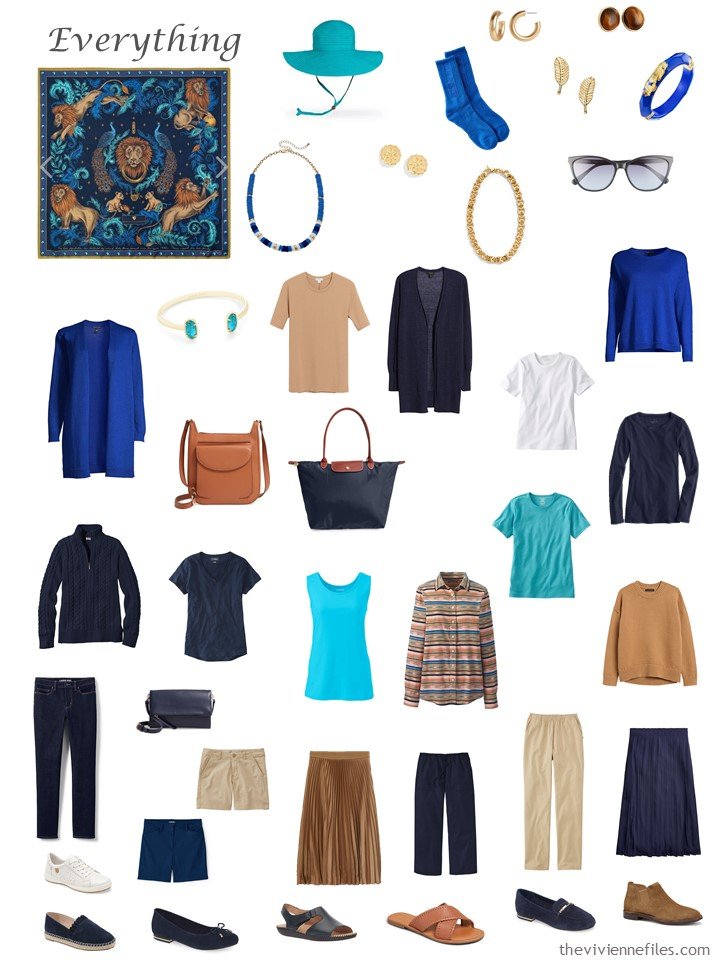 As always, if you can't find at LEAST 2 ways (should be 3 or 4, honestly…) to wear a new garment, think again. I'm not saying not to buy something, but make absolutely certain that this is a direction in which you wish to go, and money you wish to spend…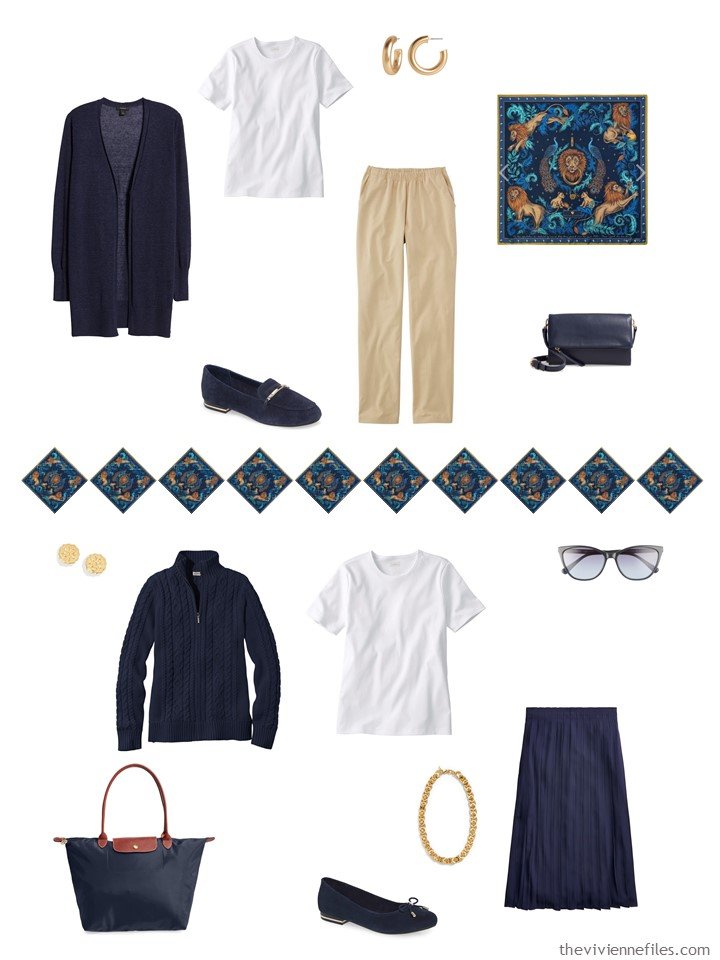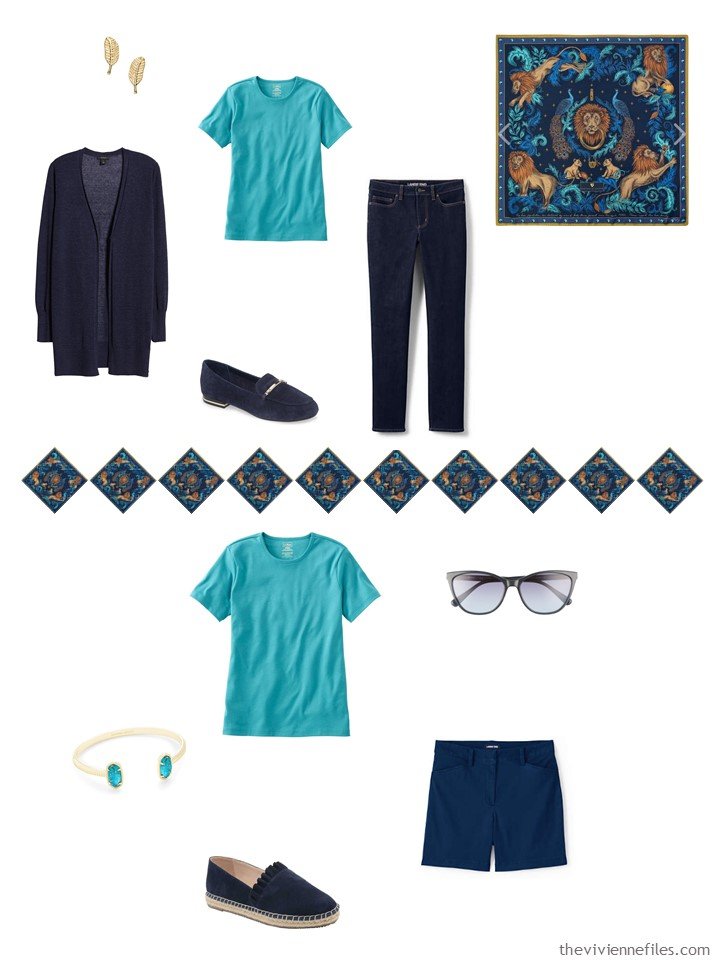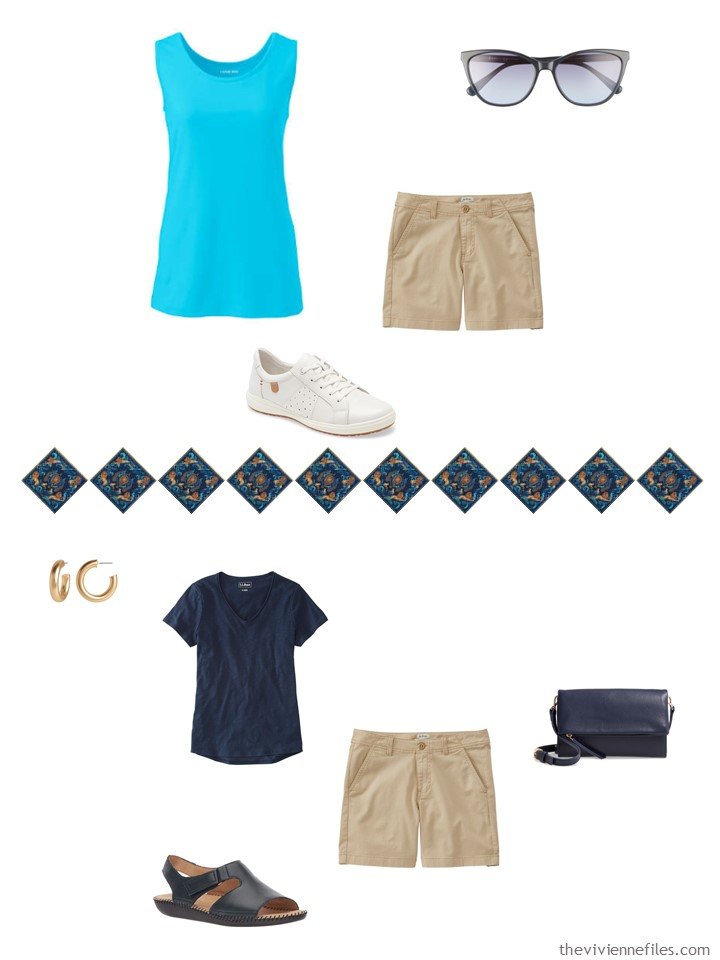 This is still one of the prettiest scarves I've ever seen:
It's surprising how far into the year we've made it without all of these wardrobes have white tee shirts in them! It's not a garment that everybody needs (no such thing exists…) but for warm weather a simple tee shirt can be madly useful:
I'm still loving these colors!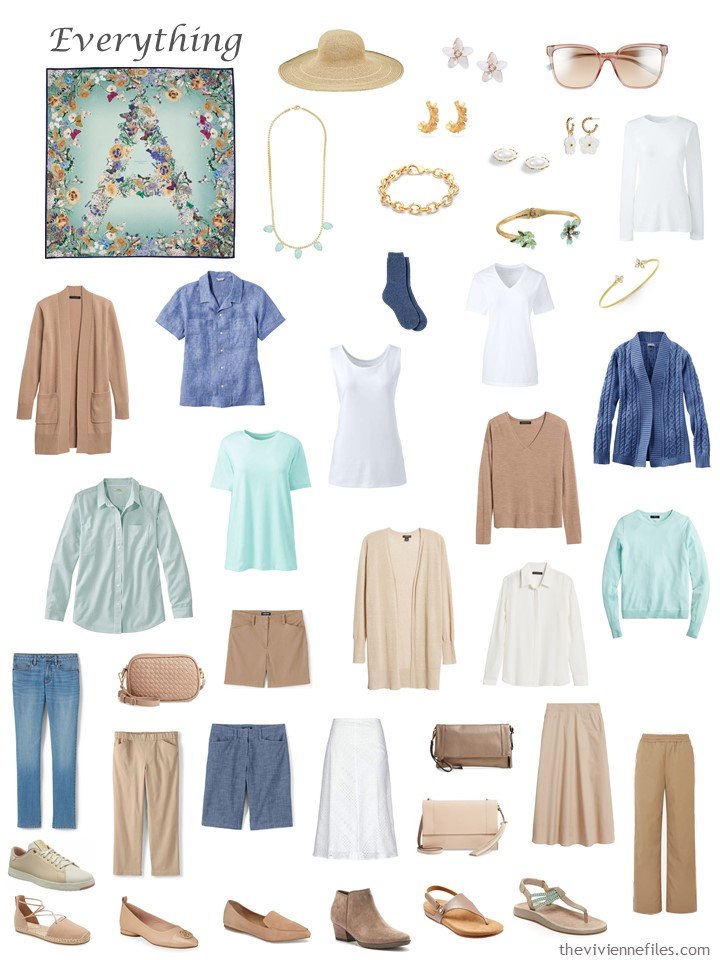 Each of the 3 garments that I added can be worn at least a couple of ways… This is always such fun to do – picking and choosing from the page is almost like having the things in a closet!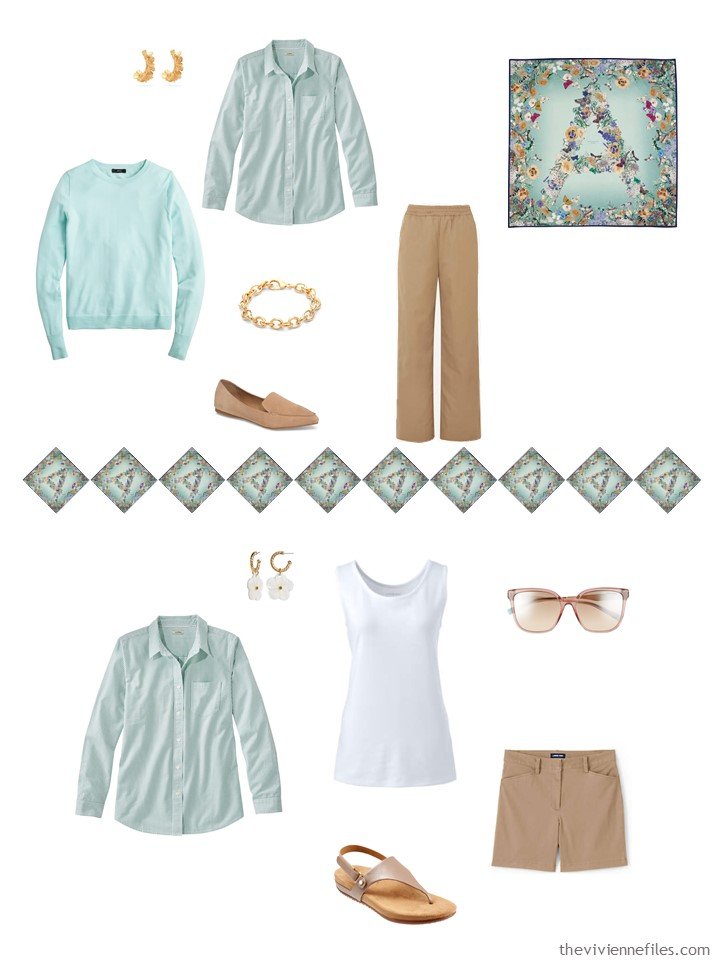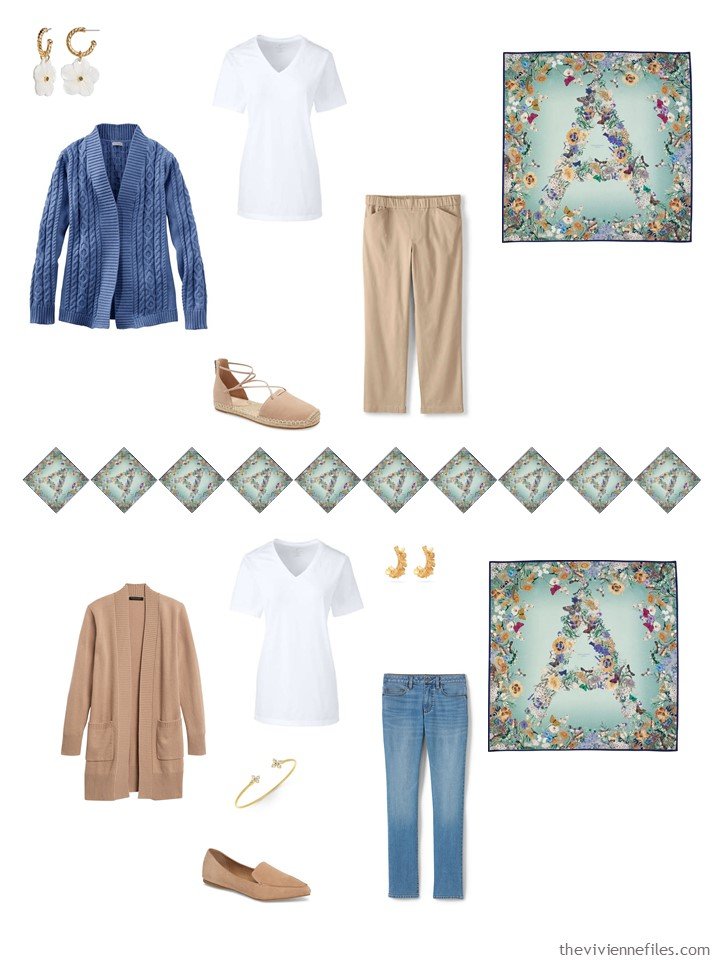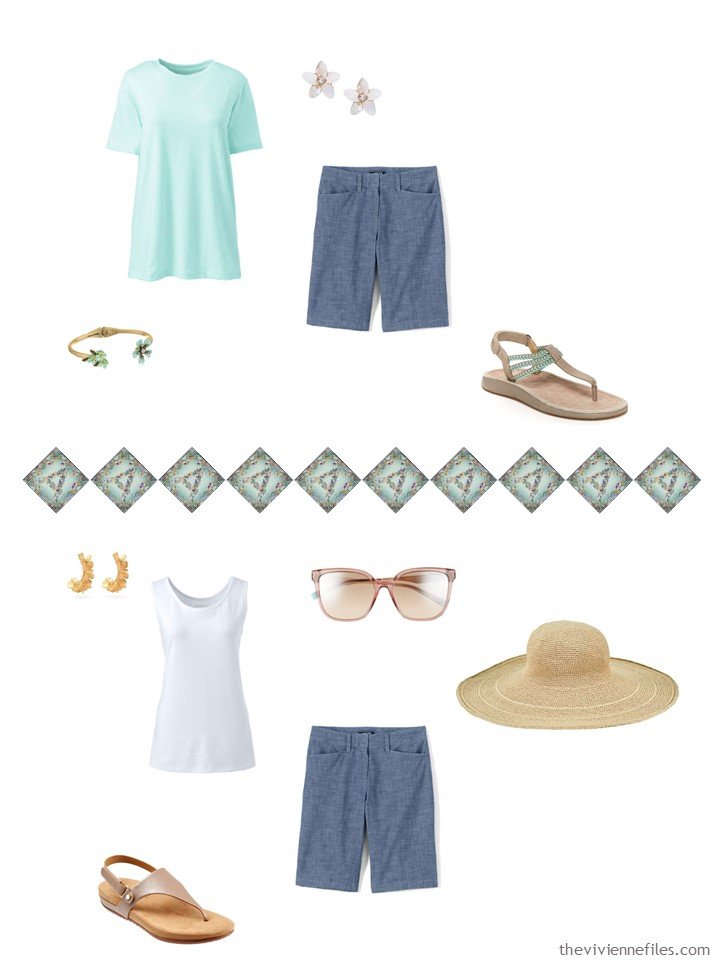 The more time I spend with this wardrobe, the more I feel like I can imagine the woman who wears it!
Why yes, if you want to wear a baseball cap, feel free! Just remember that your ears, and the back of your neck, are still exposed to the sun…
Unusual as it is, I'm still finding this wardrobe to be both practical and intriguing: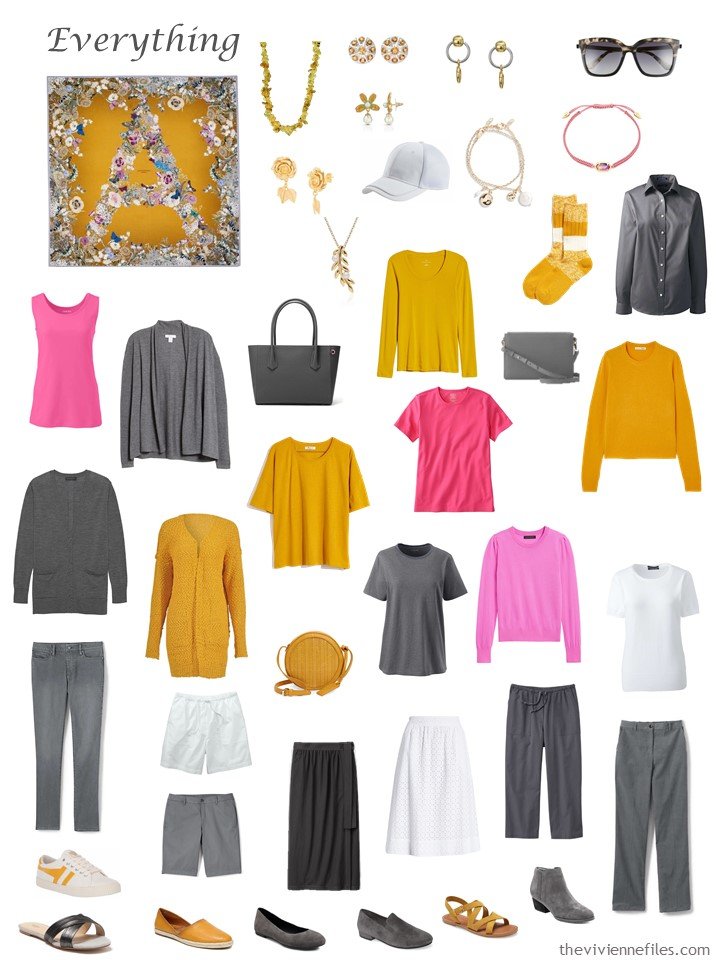 There are enough grey core garments in this wardrobe to make it easy to introduce accent colors without worrying that you won't know how to wear them. Having your main neutral well-represented in your wardrobe makes your life easier, I promise!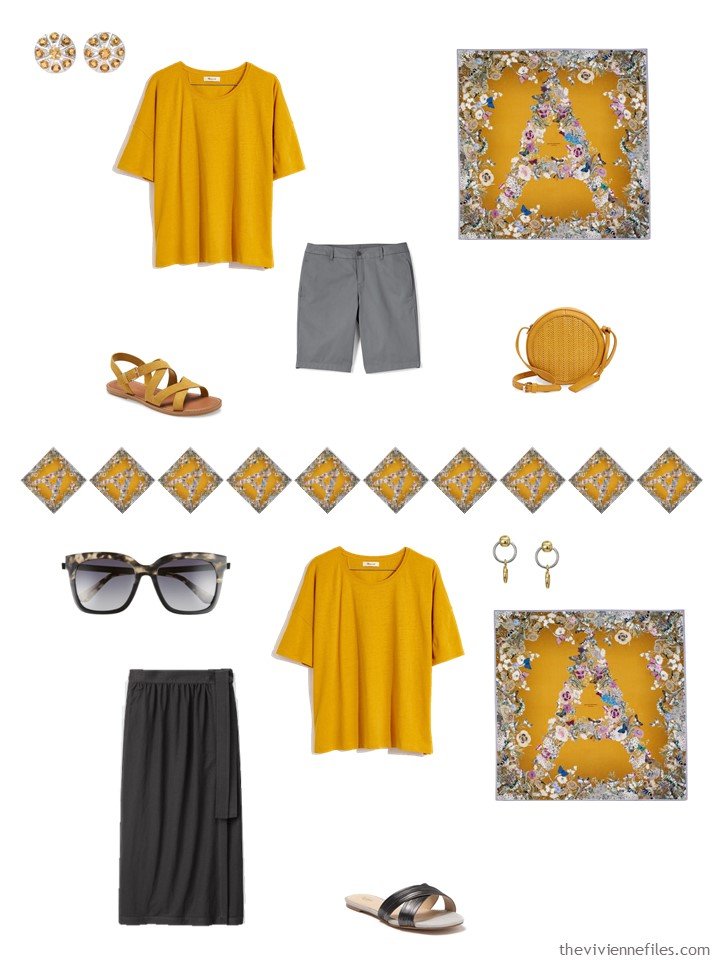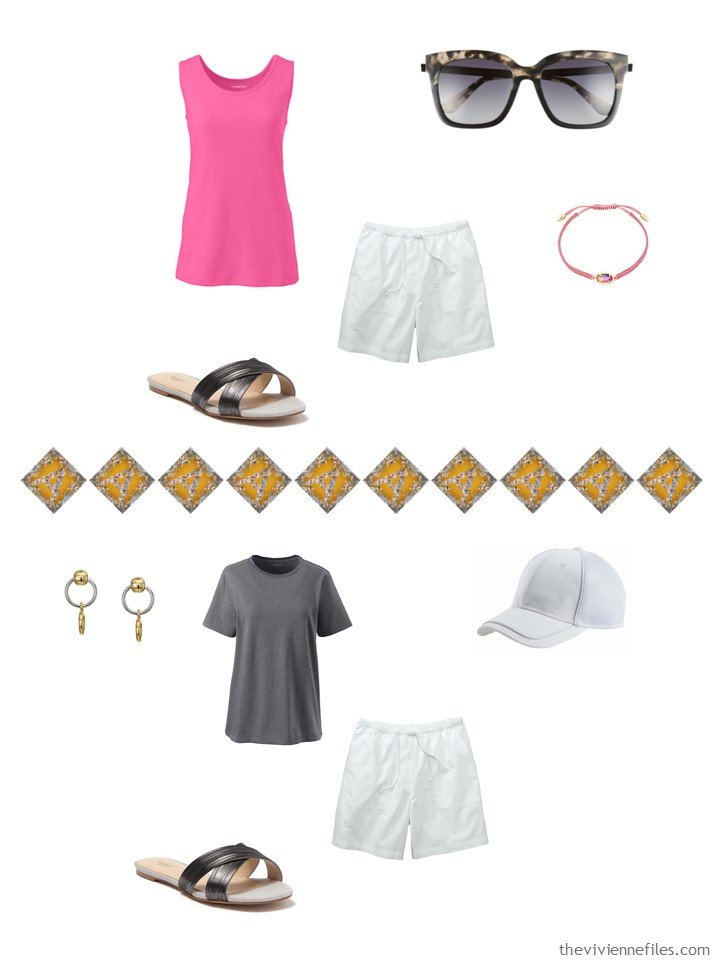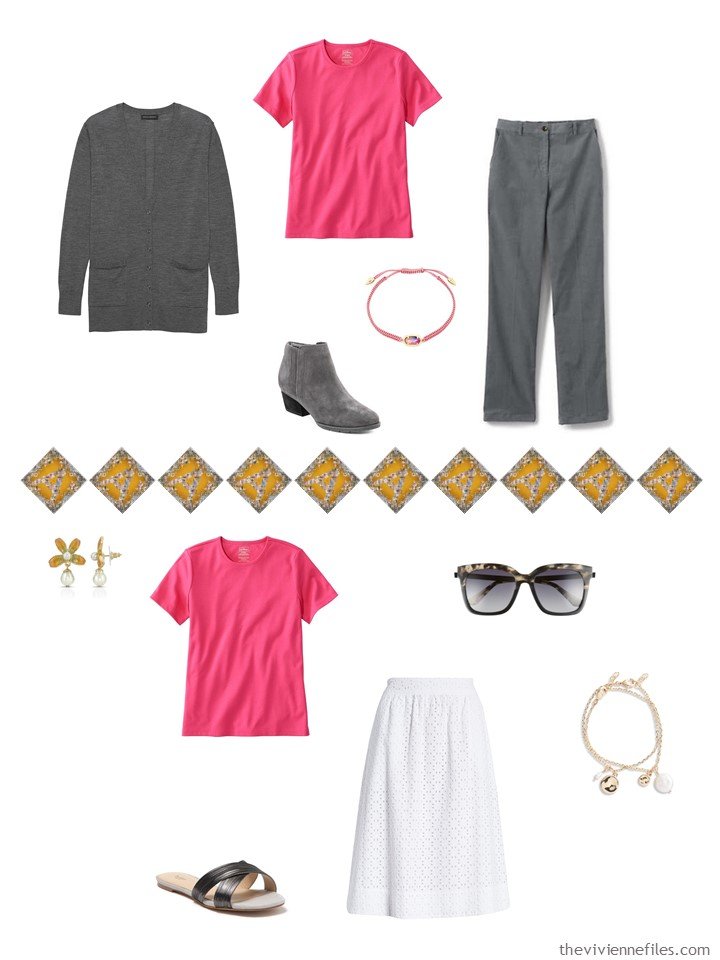 Some months ago, many of you pointed out that the color in this scarf is more orange than red. Frankly, it's possible to have BOTH red and orange in your wardrobe – these colors don't have to match, or even look good together, if they're in garments that won't ever be worn together…
I don't know why I don't show more polo shirts – they're timeless. And some women really look lovely in them…
And here I'm sharing a skort rather than shorts. I've worn skorts for working out for YEARS, and I heartily endorse them. They're a hair longer, have those nice modest shorts underneath, and can be worn off to lunch afterwards if you're in the mood!
This is such an interesting balance of colors; I think I'm going to need to track down some more beige, eh?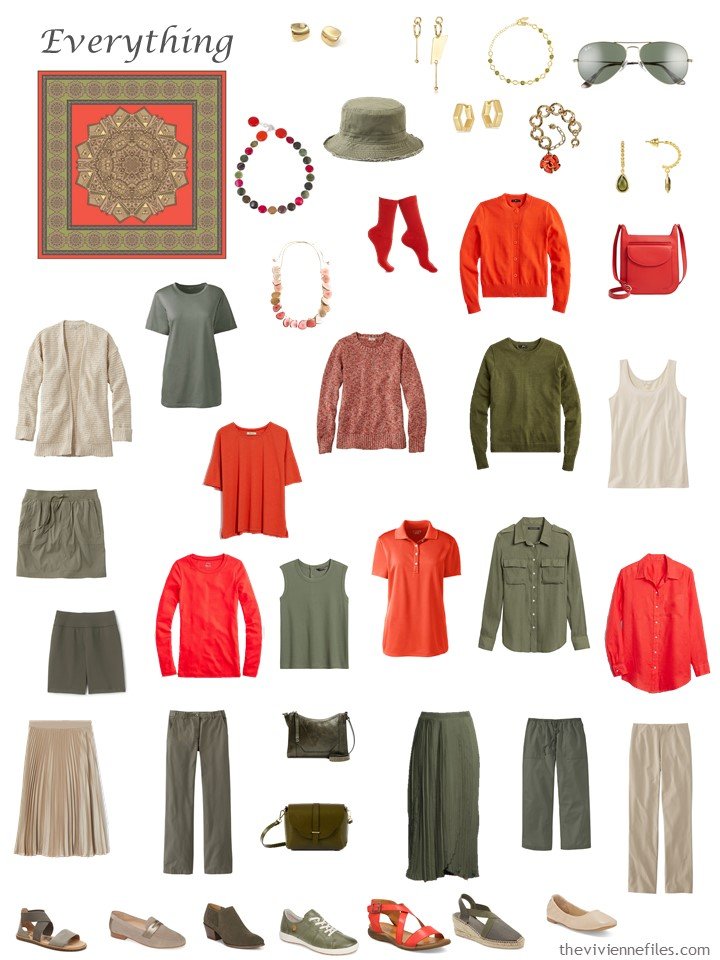 As always, each new garments bats above it's weight! (baseball reference, for those of you in non-baseball countries – it means that something contributes more than expected).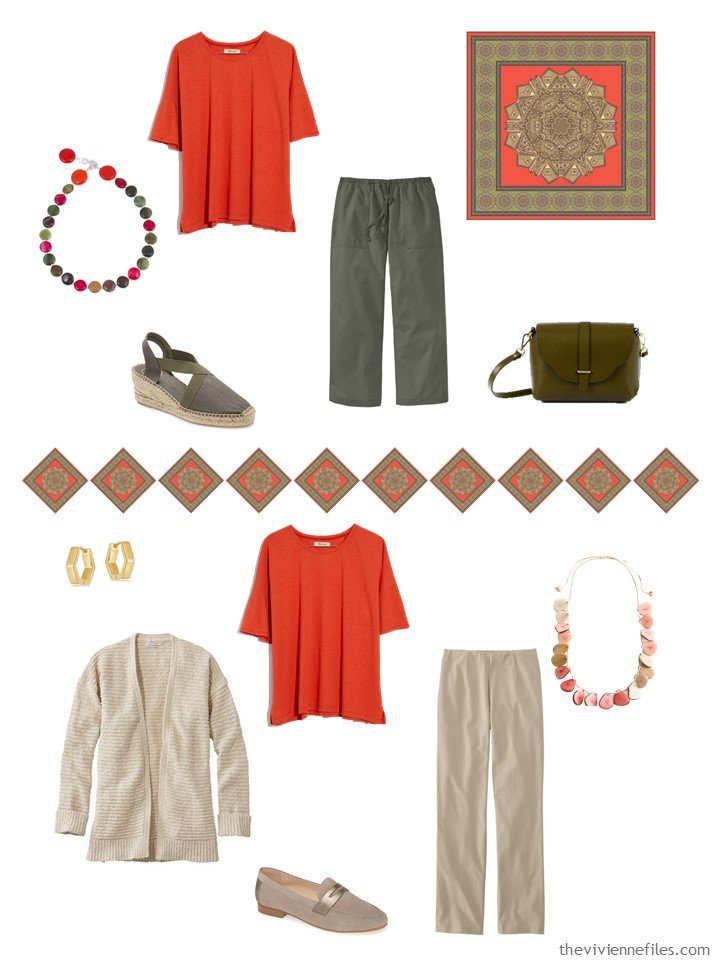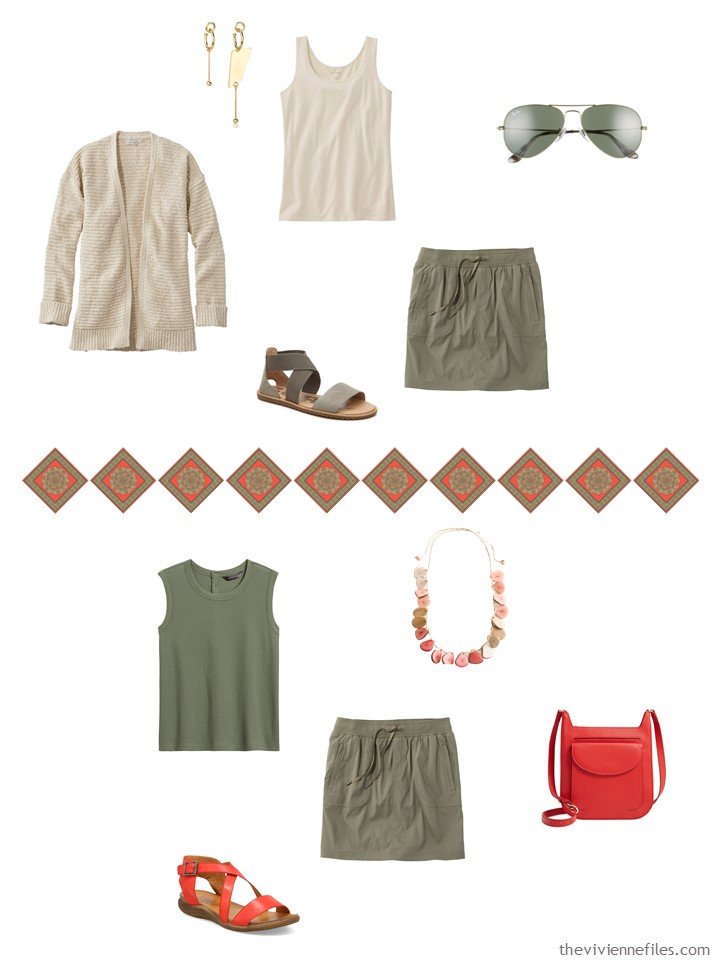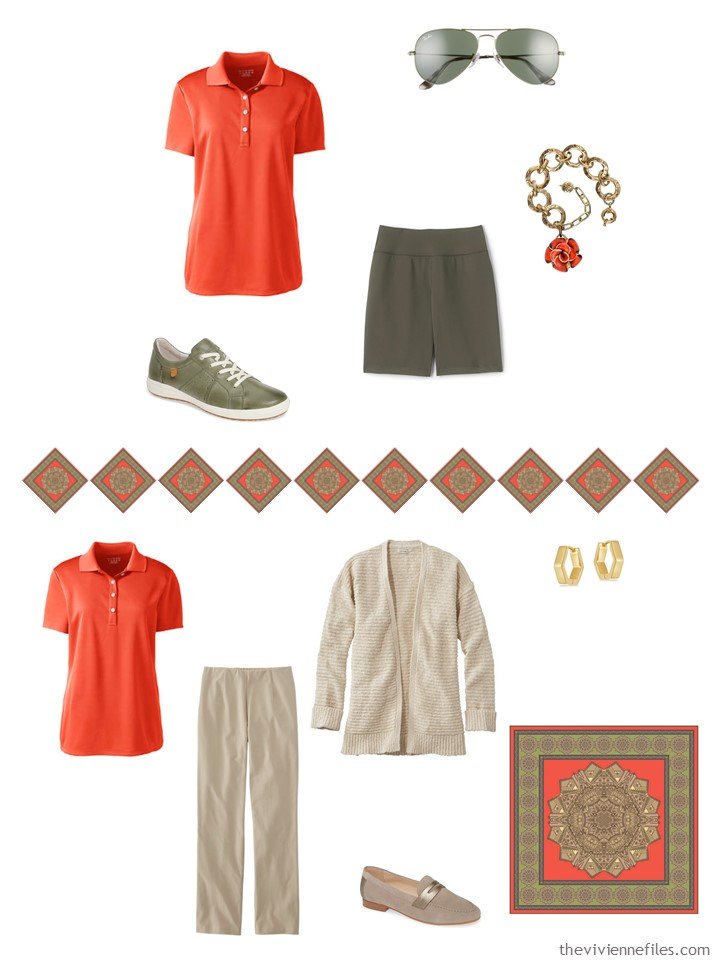 I still haven't purchased this scarf; I might not since I just got the OTHER Aspinal of London scarf for my birthday. But I might… I wear more than 1 scarf in the course of a (normal) week in cooler weather… hmm….
This wardrobe already has a lot of pink in it, so I thought that a couple of print top might be fun. And pink tennies!
I'm already sick of wearing a mask; it giving me "maskne" which is the ugly concatenation of mask and acne. So maybe a face shield is in my future?
Could someone just toss all of this into a (big) suitcase and forward it to me somewhere?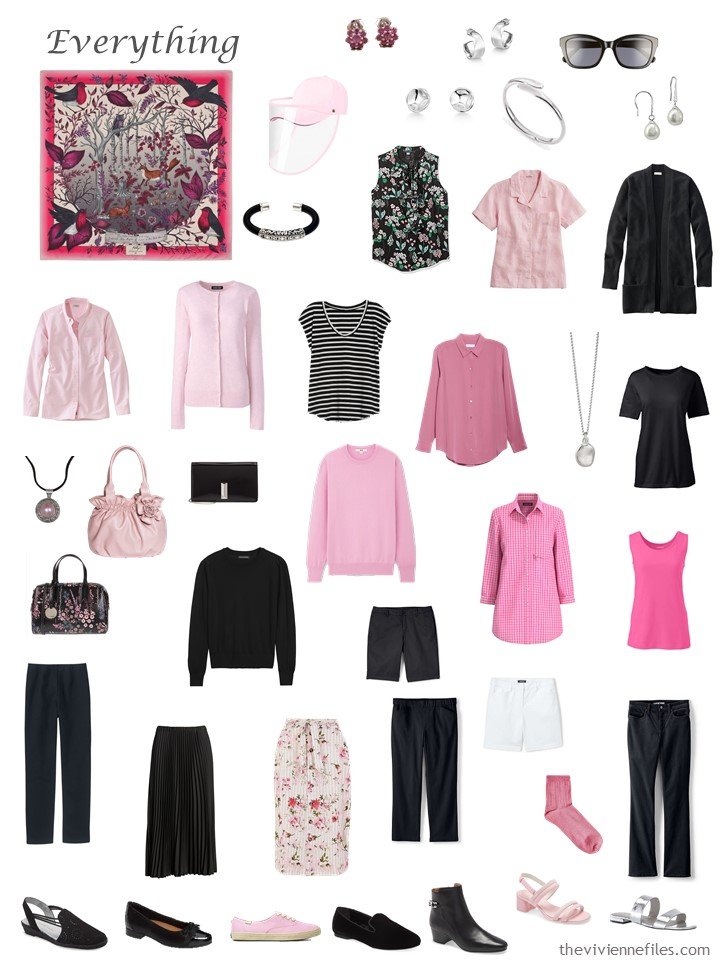 More new outfits: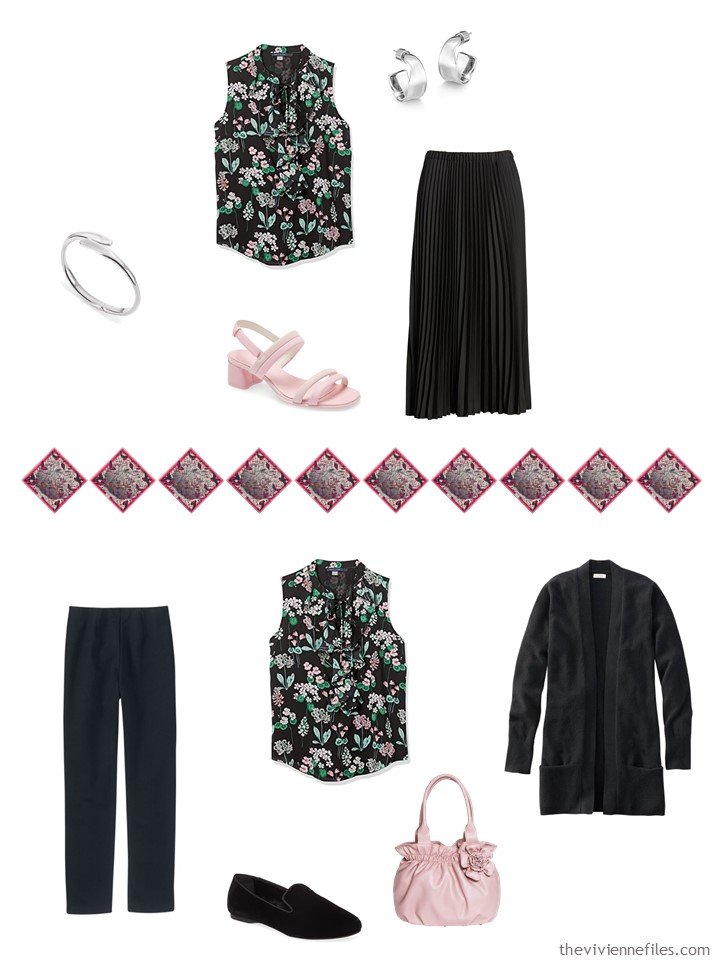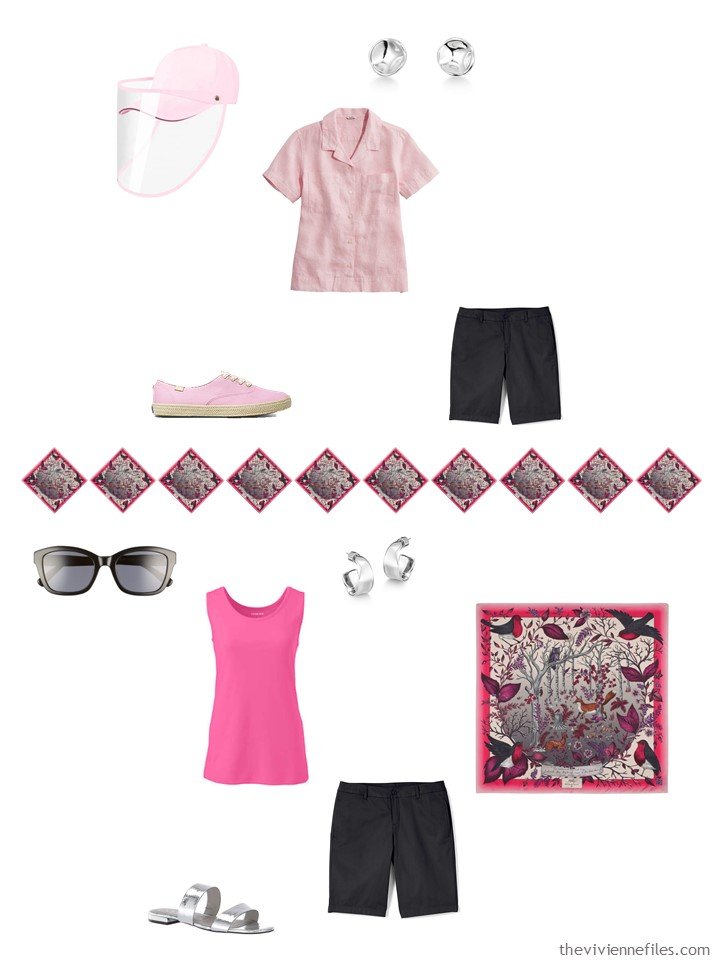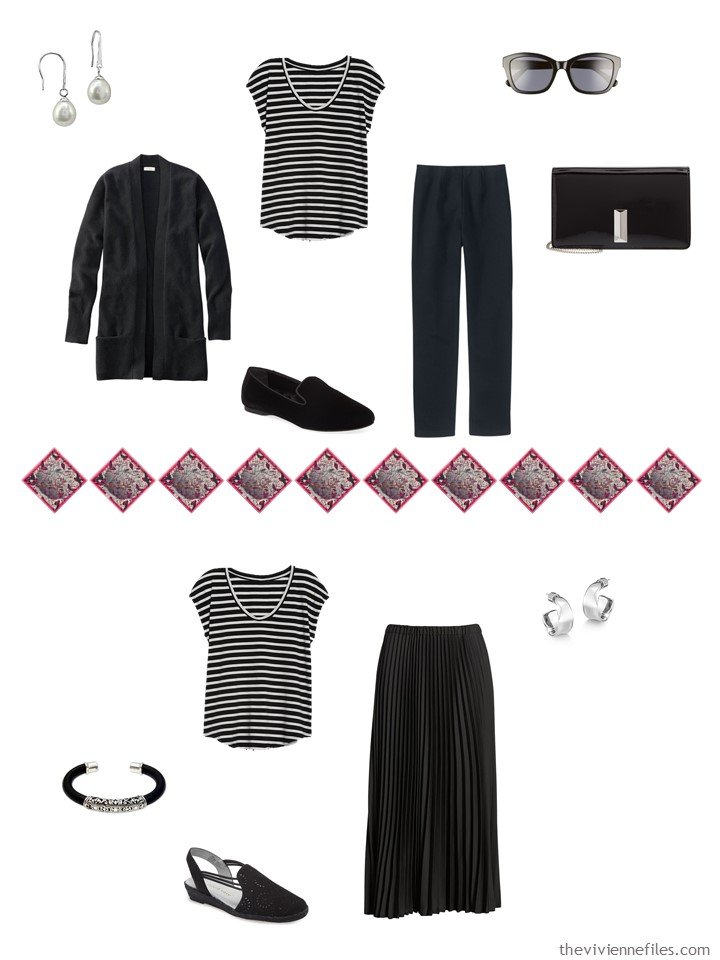 Last, but not least! I think next month I'm going to rearrange the order of these, just for the living heck of it!
This heroine still doesn't have a black tee shirt! That's a scandal, in my wardrobe world…
And how fun is that crocheted top? It comes in black too….
I'm going to need to get this woman a nice black dress, soon!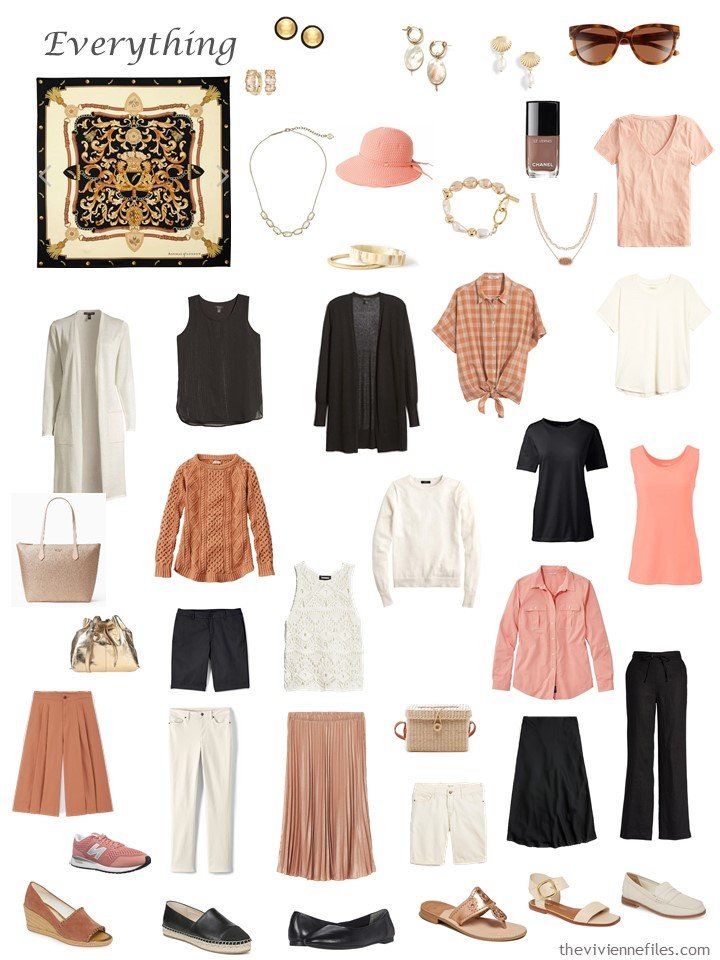 Even without a dress, she has lots of possible ways to get dressed: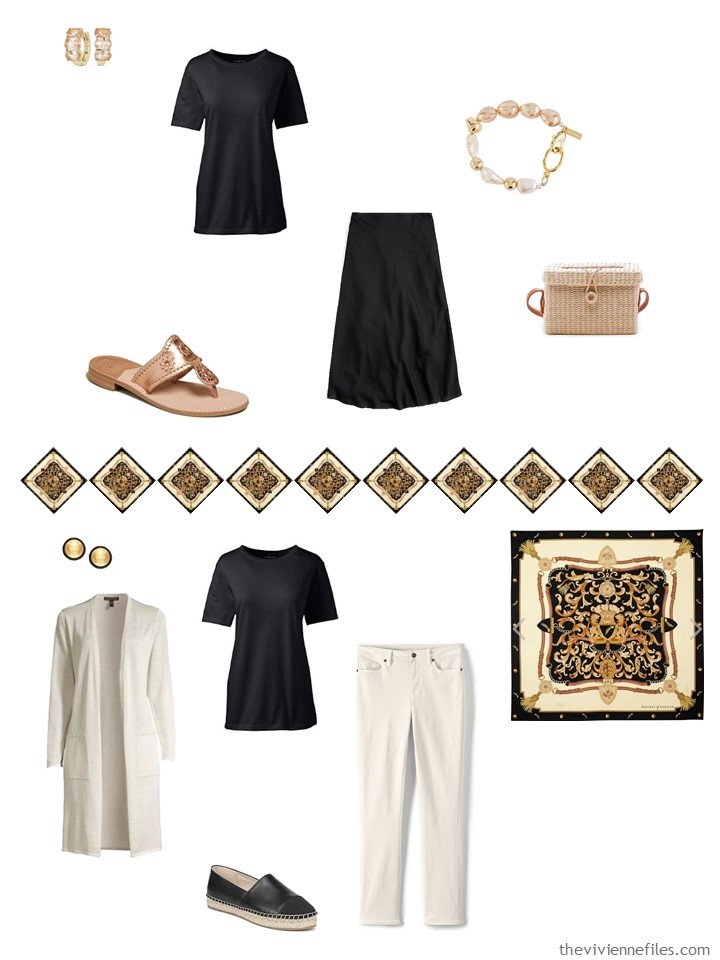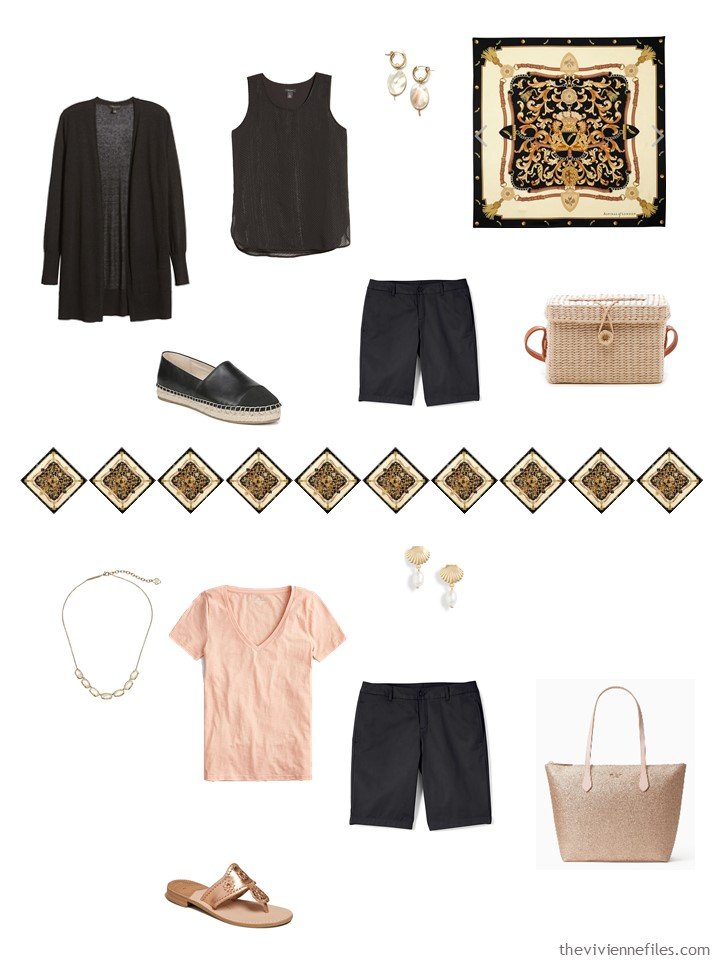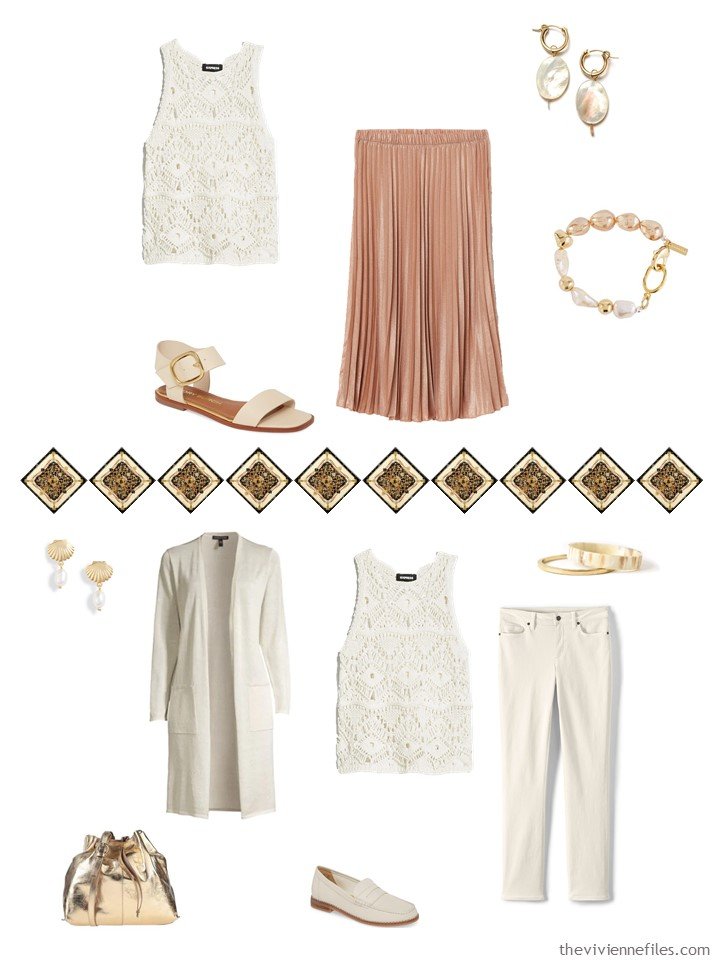 Do you think that you're going to be dressing more casually this fall? I don't expect that we're going to get our of our apartment much more in the autumn than we do now, so I don't anticipate many opportunities to dress up.
I can't wait to get all dolled up to go out to a posh restaurant!
love,
Janice
p.s. Five years ago, our heroine was going away for a weekend, with a wardrobe in tan, turquoise and gold! The Augustus John painting with which we started is pretty stunning….