July 7, 2020
Our heroine needs to go shopping, again!
After she picked up a few more garments, she was left with just the accessories with which she had traveled. This isn't a bad bunch of pretty things, but she might want a few more things:
She sorted her wardrobe out into a number of outfits, and then decided to very methodically get accessories for each outfit in turn.
To start, she went completely off the rails for a pair of earrings that she could NOT resist:
Well THAT was fun! The next day was quite warm, and she realized that she wanted a good hat!
Masks! Even in a city that's beginning to reopen after the quarantine, one still needs a mask. She decides that she might as well get a few that look good with her clothes!
She sees lots of women wearing relatively regular "day" garments out to dinner. What sets them apart is always their accessories – and she can do that!
Of course, if you're living with hot weather, you can eventually expect rain!
She hasn't worn rings for years – she had this idea that her hands were too old to put something beautiful on them! But after seeing other women – some much older than her – wearing gorgeous bracelets and rings, she reconsidered:
She kept seeing and SEEING these shoes, and finally, she caved. Sometimes, you have to give in to temptation…
She resisted buying any sort of athletic shoe – again, she felt that she was too old. But again, she saw so many other women wearing them that it just seemed silly to make some artificial rule that she had to follow…
Now, when she looks at her accessories, she has an almost giddy feeling of satisfaction. And a burgeoning suspicion that she needs to get some renter insurance!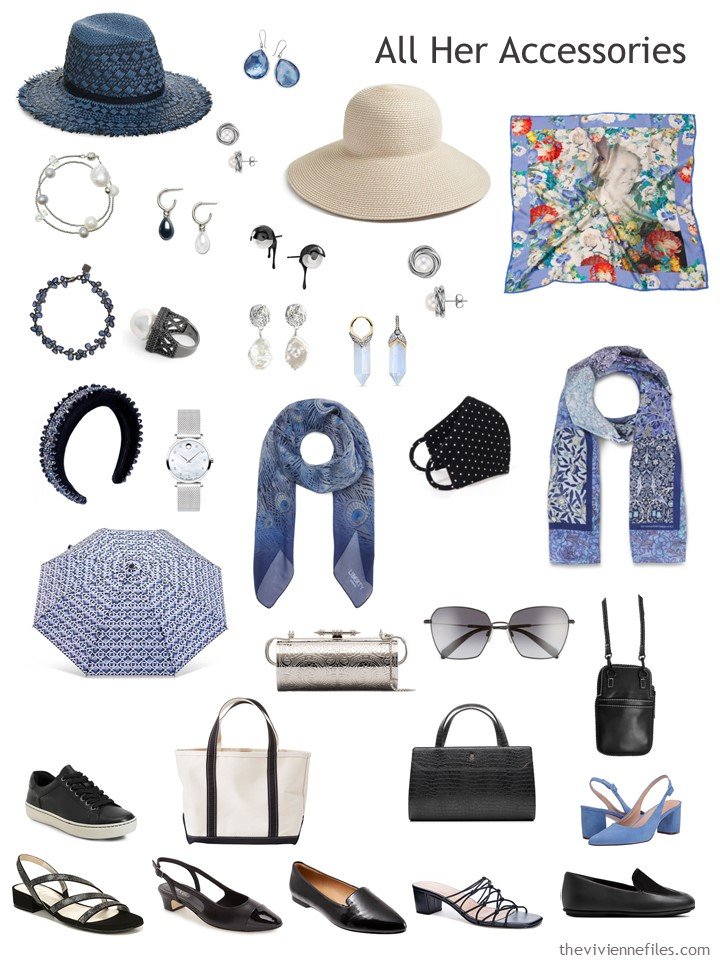 I've always believed that I could manage with relatively few clothes, so long as I had a lot of really snazzy accessories! Are you this way too?
love,
Janice
p.s. Just 2 years ago, our heroine was traveling for business (I remember those days…) with a travel capsule wardrobe of charcoal grey with accents of ORANGE, PINK and YELLOW. She's not a conformist….