July 6, 2020
I know, I was saying that this top would be "textured," but I was just trying to be consistent with how I described other tops at this point in each quarter. My thought, at the time that I wrote the original list, was about cabled sweaters, seed-stitched knits, and other lovely fabrics that have some depth…
BUT… these aren't easy to find in warm weather, nor are they going to be particularly comfortable! So what makes the most sense at this point in these wardrobes is to just find a blouse, tee shirt or other top that you love, and that goes with your neutrals….
Not a lot of guidance necessary here – you should love this item!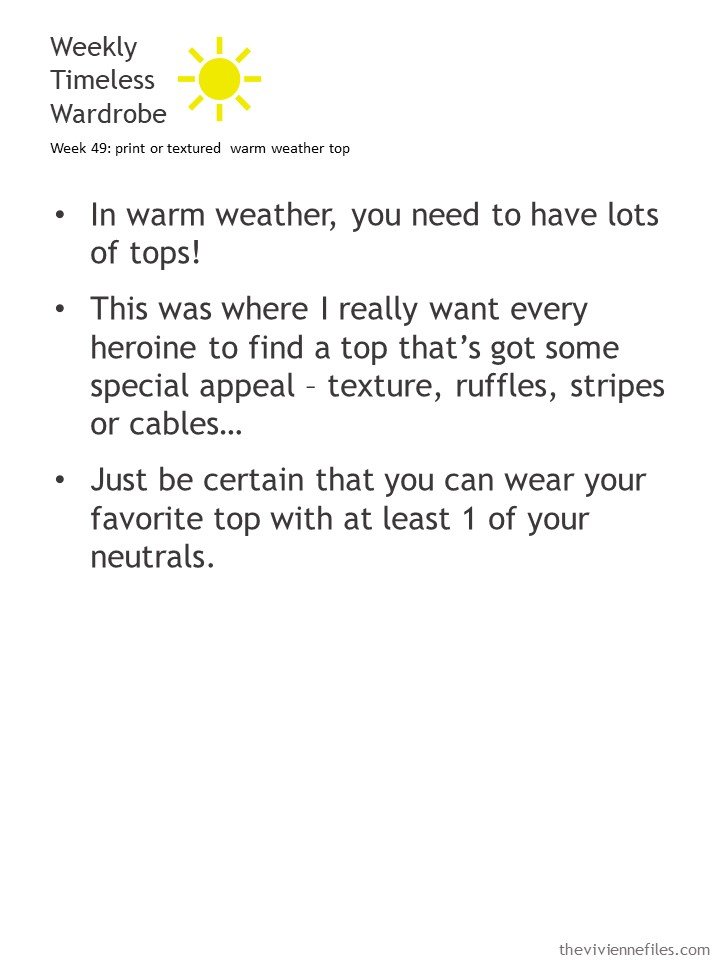 Even though our chances of wearing a silk scarf (in the Northern Hemisphere, of course) for the next 2 months are slender, it still makes sense that tops that you add to a scarf-inspired wardrobe should echo the colors of your focal scarf:
If you look good in olive, wear it head to toe! Many women don't wear it well, so take advantage of your distinctive coloring!
Your favorite top doesn't need to be a print – a pretty solid color with some smocking looks great with black:
Remember, if you're not sure about what color leather accessories to wear, you can opt for metallic! Silver, gold, rose gold, pewter – any of these can be lifesavers when you're at a loss…
A beautiful top deserves some color-coordinated accessories! You get the idea that I'm loving black and pink????
I don't need another tee shirt…. I don't need another tee shirt….
Maybe you don't want a lot of print or pattern – the natural texture of linen might be all you need:
Don't discount the possibility of a tie-dyed blouse or shirt – some of them are really cleverly done, and great fun!
Our 13-Piece Weekly Timeless Wardrobe always needs stripes! This peplum top is a step up from a simple striped tee shirt, and isn't really less versatile.
Give the way that summer clothes seem to be vanished from the online world, the next 3 weeks might be challenging!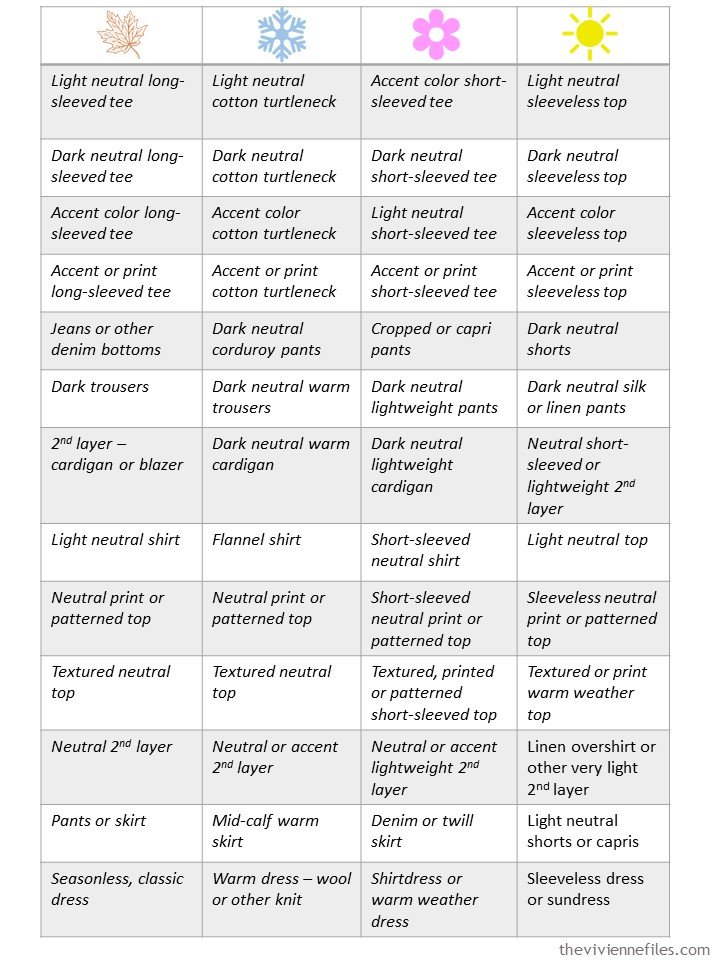 I'm finally realizing that I'm in a good place for summer clothes, which is a good thing! Summer clothes are fast disappearing (at least in common sizes) from a lot of stores. Oddly though, I'm not seeing a lot of autumn things taking their place. Stores are just less stocked than normal. It feels… odd….
love,
Janice
p.s. 3 years ago, our heroine built her wardrobe around her swimsuit! And managed to eschew the addition of lime green to her tiny travel capsule wardrobe…