May 13, 2020
It was a sort of urgent email – I get those sometimes! In the middle of quarantining and lots of disruption, SHE GOT A PROMOTION!!!! A big one…
After much back and forth, we settled on the 4 colors in our palette, and she has already isolated these 8 things to launch her work wardrobe:
These are her chosen colors: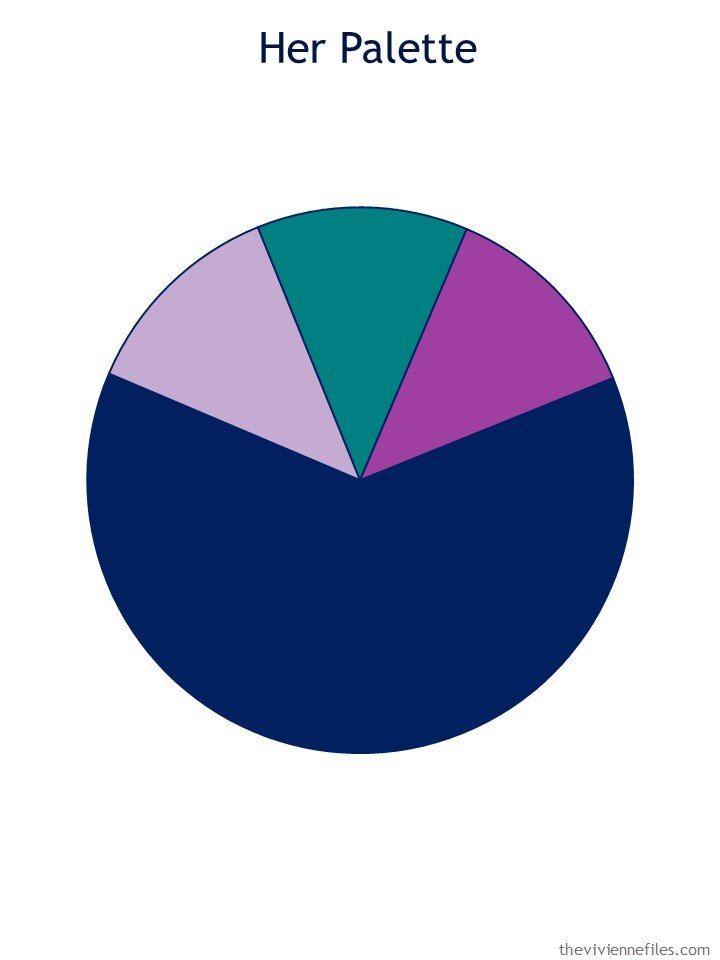 She's going to need to travel some, and be on screens for teleconferences a lot, so I'm targeting – eventually – a 20-piece wardrobe for her for these "visible" work activities. I thought maybe this template would help me be organized in making recommendations: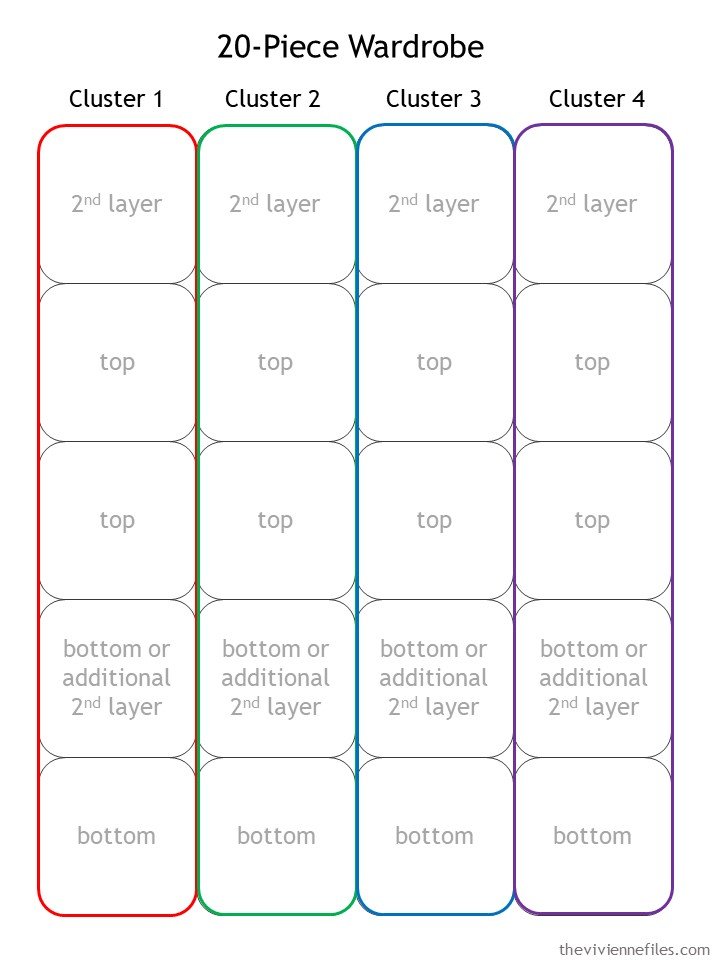 So the first thing we need to do is show her 8 existing garments in this template, so we can see where we have gaps:
Even though these next 3 garments are added 1 at a time, they actually are an outfit, which of course could all be purchased at the same time. Showing each thing coming into the wardrobe on its own gives us a chance to appreciate how useful each piece is with existing garments, so I'm going to stick with that plan.
First up, an accent color!
Our heroine might find that she can get by in her new position without wearing skirts, but at first, I feel like a skirt is a quick way to show that you've moved up from the jeans-wearing crowd into management. Workplaces will vary, but this still seems to be true among the women I see downtown…
Even though this next top might never be worn with the cardigan that's the same color, it's nice to have that choice:
Our heroine likes to wear jeans, so she definitely should get a good pair of dark wash jeans that she can wear when she's on the road, or wear when she's on teleconferences. Working does not necessarily require physical discomfort, does it?
My general preference is for a wardrobe to be about 40% accent colors and 60% neutrals… This wardrobe has a good navy tank top, but another solid navy top makes a lot of sense.
This isn't a tee shirt – it's described as a blouse. It looks very similar, but the fabric, and the finishing construction, make it a more businesslike alternative.
Let's go foraging for that last accent color! Teal wasn't easy to find right now, but I found that it's still possible to get teal cashmere. Wearing a cashmere sweater into a meeting will either make you look serious and important, or it will have no effect at all because you work with people who don't recognize cashmere!
No matter; YOU know that you're wearing something gorgeous…
Of course you want the matching shell; if you never wear them together that's fine. But if you find a scarf or other accessory that looks great with your cardigan, you know that it will ALSO look great with the short-sleeve sweater…
Whew! Maybe it's time to take a break and see what the overall wardrobe looks like after these additions:
I frankly hadn't planned to find this entire wardrobe (almost) at Lands' End, but that's what has happened so far. Don't force yourself to shop all in 1 place, but don't freak out if you happen to have really good luck at 1 particular store. Sometimes their sensibility meshes with your own, and you can really clean up!
As I look at this wardrobe, I really feel like she needs 2 things – another skirt or pair of pants, and a really serious blazer or blazer-style sweater. A warm sweater or 2 might be smart, and a dress. This heroine's NOT a big fan of dresses, so I found her the most relaxed, casual dress possible!
If you don't have a lightweight pleated skirt, I strongly recommend one! I wear mine with an over-sized sweatshirt and ballet flats…
A teal sweater? Heck yes…
And this blazer sweater. These are lovely, and much easier to wear than a true blazer. The fit on these is much more forgiving…
This dress is a little bit incongruous (from the point of view of seasons) with the cardigans, but when she's on her computer being seen through a screen, the difference won't be a bit deal. And then as soon as her video meeting is over, she can hang up her sweater and relax…
For the last item, I looked back at all of the pieces and see that our heroine only has 2 pieces in plum… Depending on where you life, it's never wrong to have at least a few sweaters – especially THIS spring:
I think this gets us to 20! (I could have lost count, I admit…)
When I get to travel again, this is the template that I'm going to use for a very LOOOOONG trip to Ireland…
love,
Janice
p.s. Four years ago, our heroine the auditor was catching people off-guard, in the most product ways… Should I revisit this work of art?