August 7, 2019
When we last visited this intrepid heroine, a week ago, she had her clothing well sorted for her trip, but still needed accessories!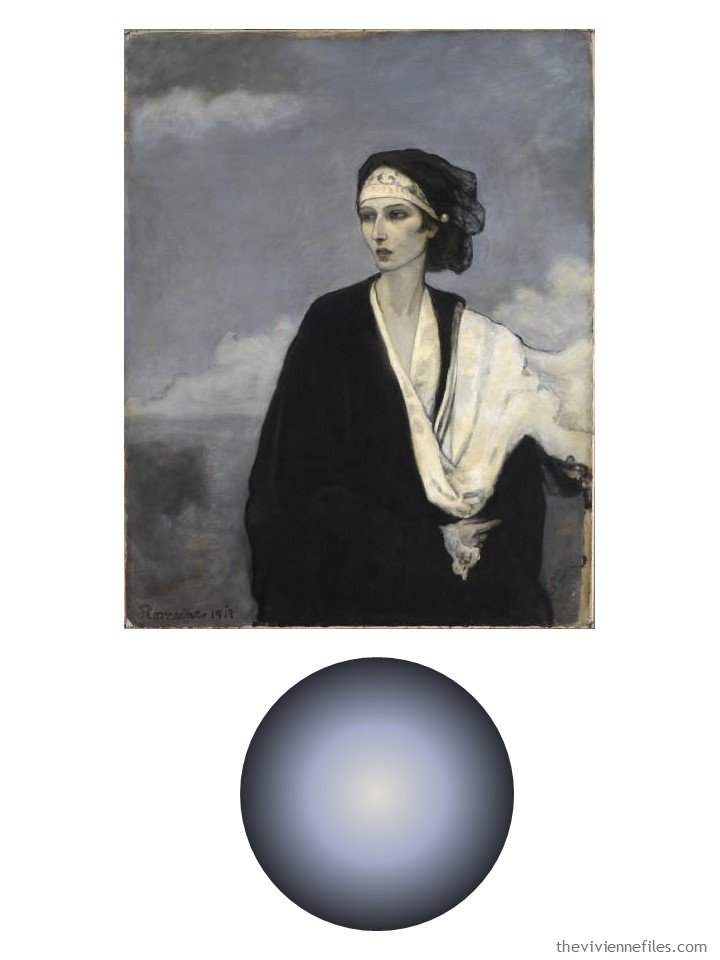 Her first wardrobe cluster is black – of course! But it's not completely somber; printed tops make a difference, as does a striped skirt…
Accessories… I personally feel that you need a few more accessories than you need items of clothing! Of course, you may not agree, but this template will give us some guidance as we get this solo traveler packed and ready to go…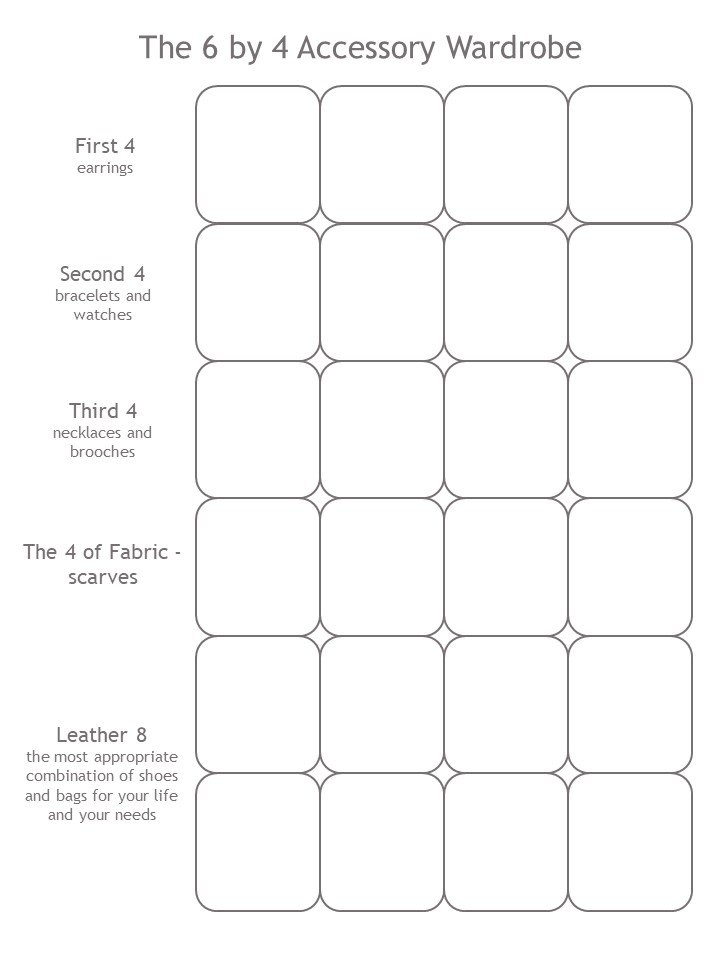 Six accessories for each cluster… hmm….
Yes, these shoes can be worn with everything! If she remembers to pack black opaque tights, she will be all set… Of course, you could bring 2 pairs of shoes – 1 for the skirt and 1 for the jeans, if that makes you feel more comfortable. Some of us like to have a change of shoes after a long day of walking…
Now, when we look at her possible outfits, with some accessories added, everything seems more complete and "finished."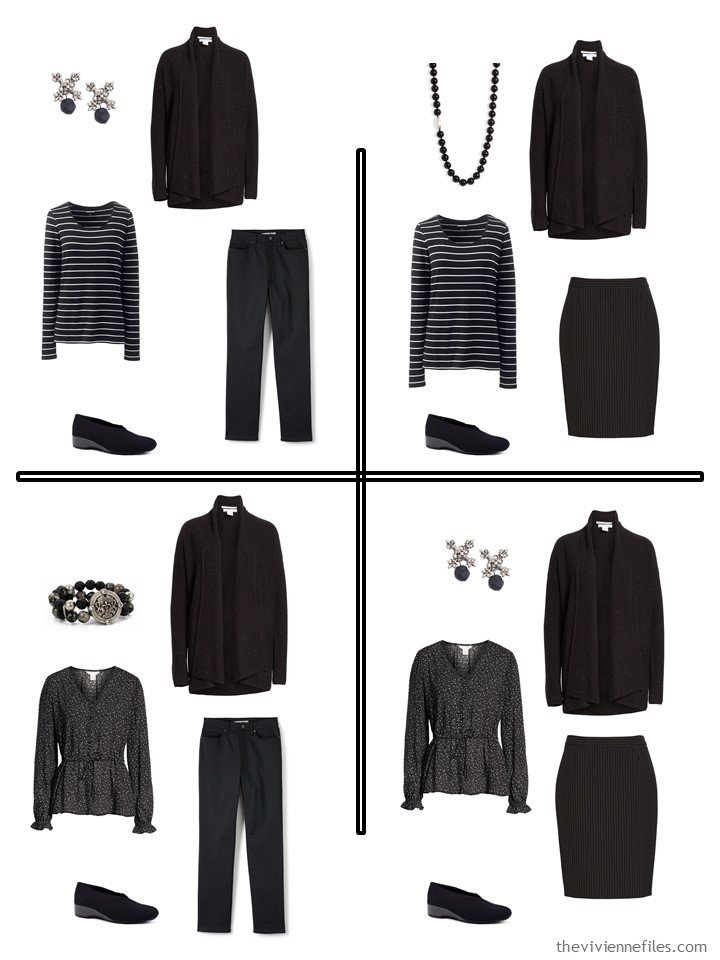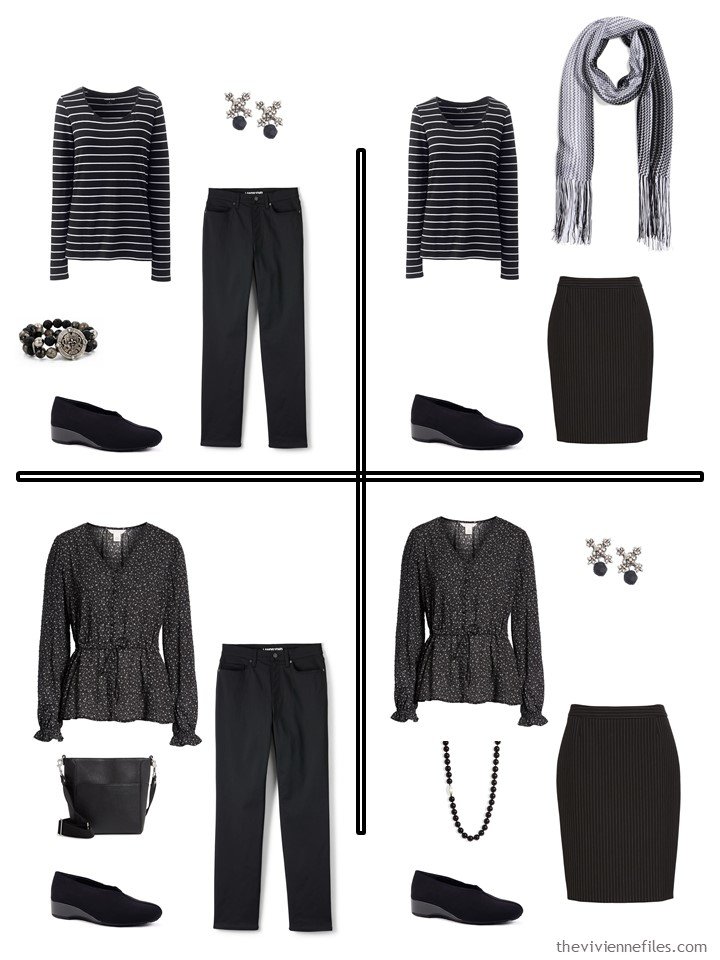 While there are certainly those of us who could travel with just these 5 garments, our heroine is going to be on the road for quite a long time. Thus she's choosing to pack 2 clusters – 1 black that skews sort of dressy, and one based on a pair of jeans:
Why yes, many of these accessories would be lovely with her black cluster, just as many of the accessories above would work nicely here. When you start with a guiding "theme," everything you pack will at least be on friendly terms…
I would wear that wrap in transit, if I was flying… How cozy would that be?
Her casual outfits now have some polish: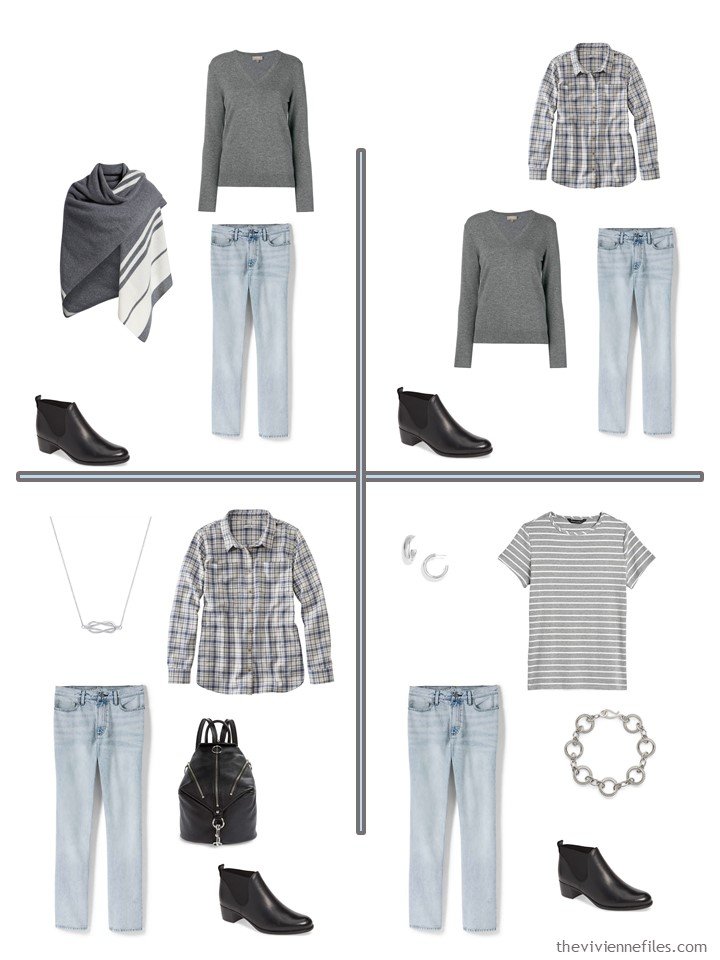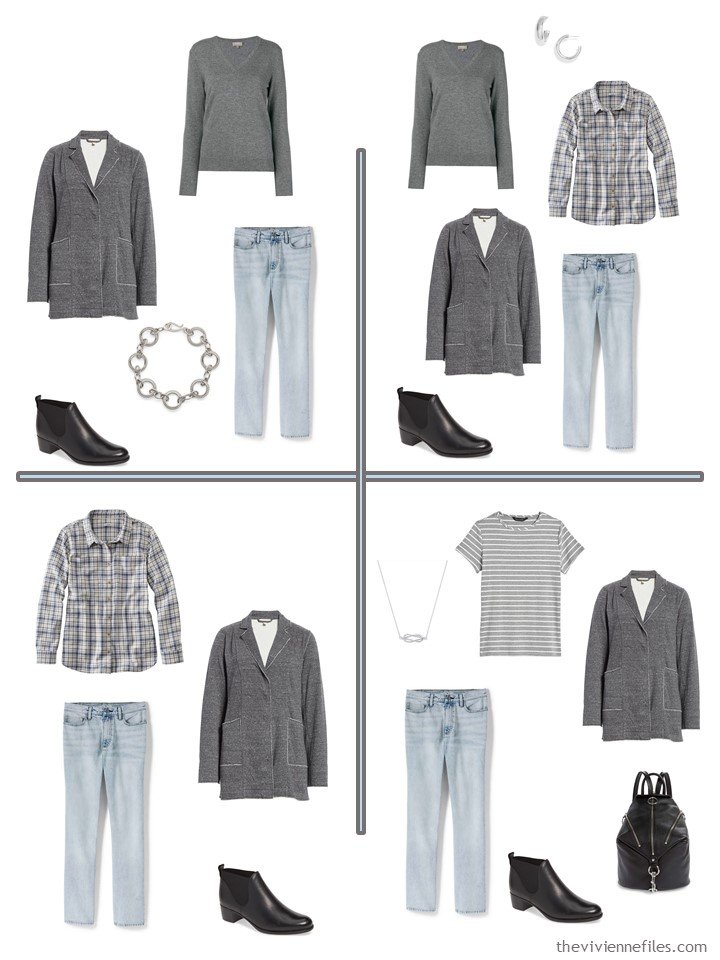 Now, when she looks at everything that she is going to have with her, it all feels more logical and complete. Probably because it IS more complete; packing without shoes, at a minimum, would be craziness…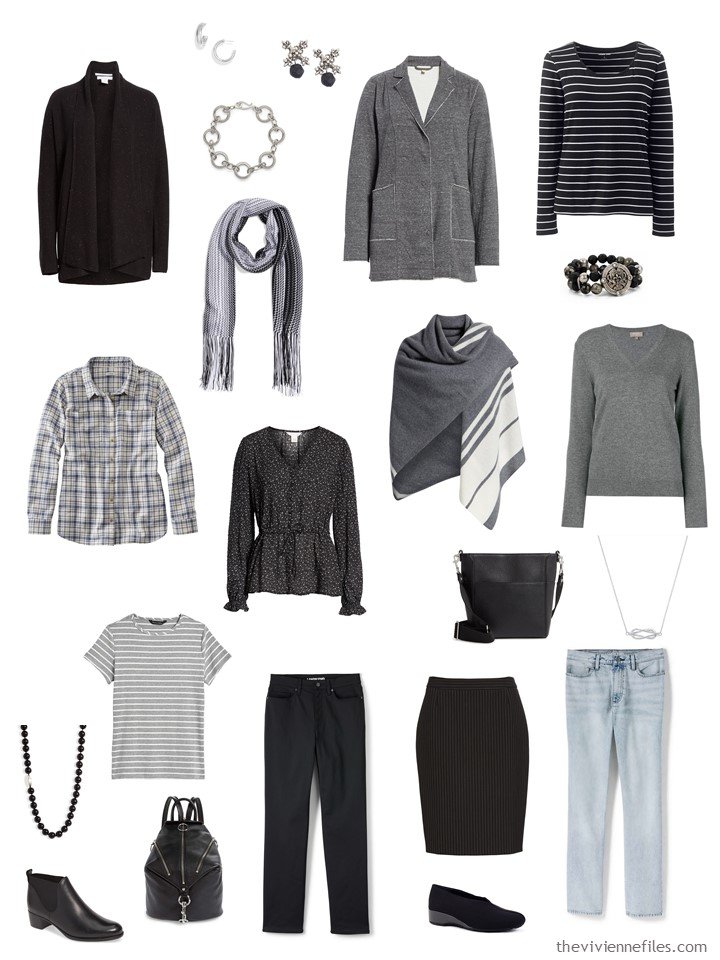 2 compatible clusters gives you outfit possibilities that span the 2 original groupings…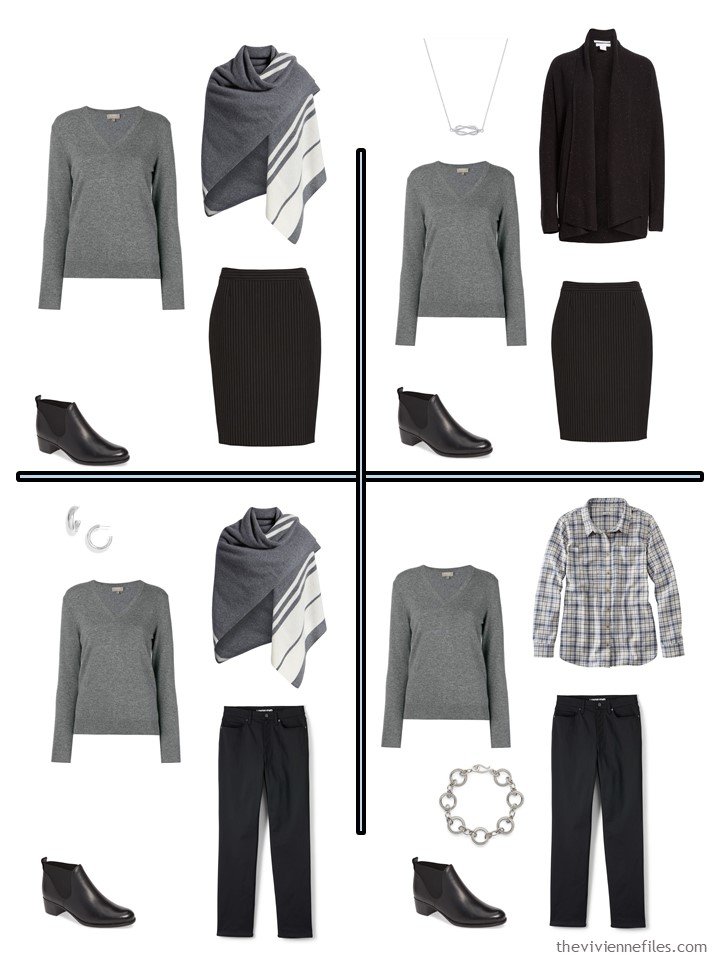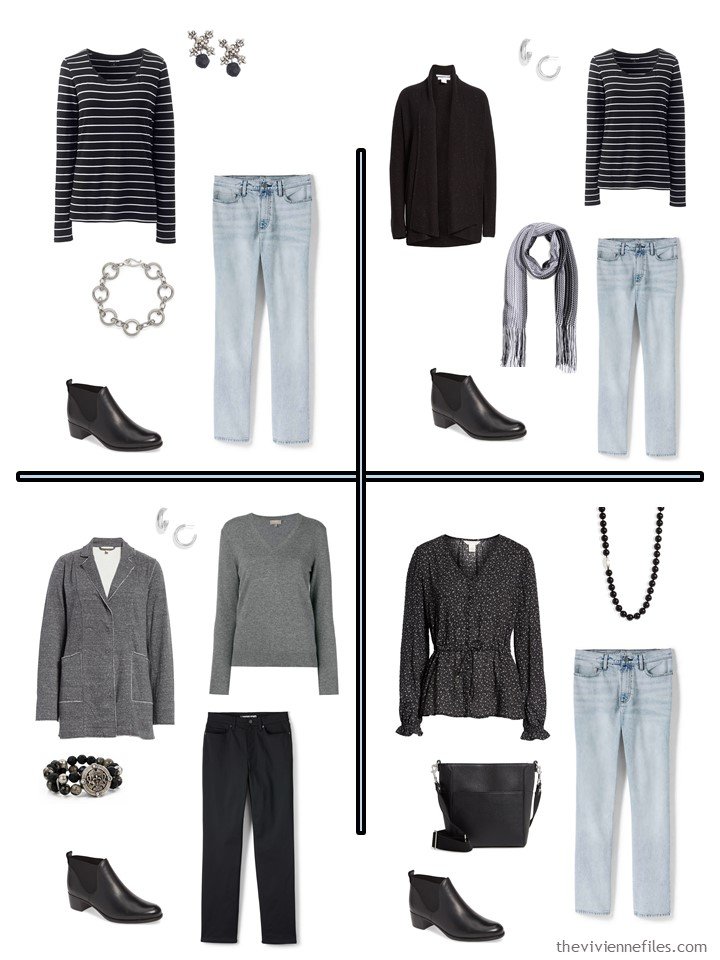 Our heroine is thinking seriously about taking a VERY long trip – maybe 6 or 8 weeks…. And thus she's pondering the possibilities of a 4-cluster travel capsule wardrobe!
And I have an idea for a way to introduce accent colors without sacrificing our fidelity to Romaine Brooks. Stick with me, this could either be great or a strange mistake…
love,
Janice
p.s. 4 years ago, our heroine was accenting grey and black with orange and acid green…