July 15, 2019
Time for some fun!
This wardrobe addition could be in ANY color of the rainbow, and a whole bunch of colors that aren't in any rainbow…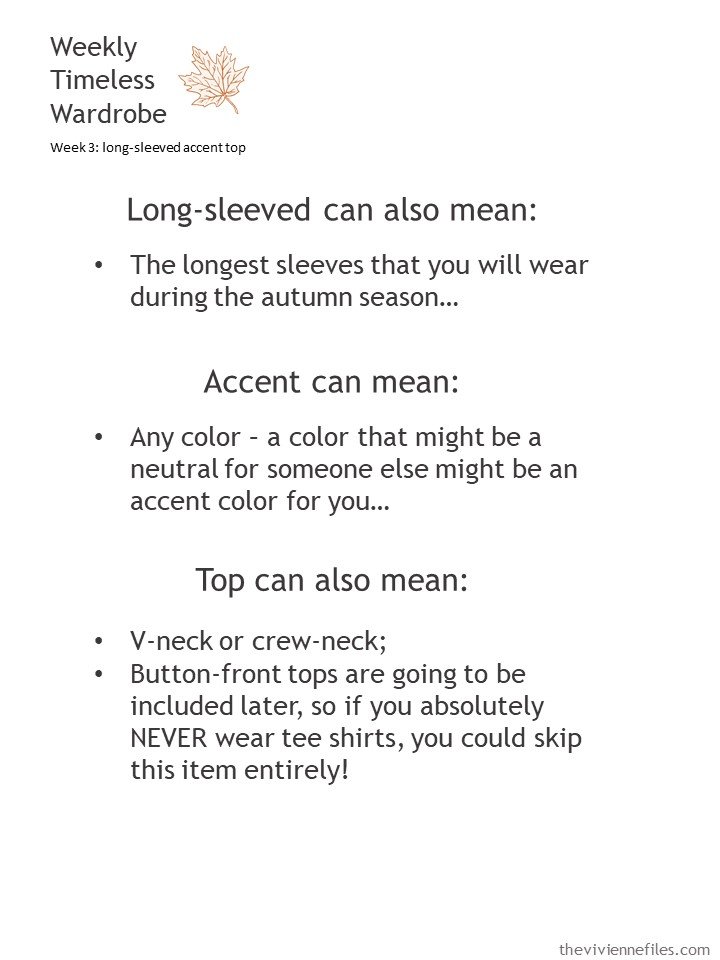 I'm going to show you a handful of ways to incorporate an accent color into an outfit, and then next Monday I will show you essentially the same outfits, with different accents! For most people, 2 accent colors is a good number. Some of us manage just fine with 1, and others among us will want 3 or even 4. Don't beat yourself up if you find that limiting the colors in your wardrobe is difficult; everybody is different, and has different comfort levels! What matters is that you're moving toward having a wardrobe plan, and toward getting better use from the clothes that you buy…
I love this shade of blue; it looks really nice with almost any neutral!
The rose tee shirt has some silly name like "clay"… WHAT is their problem with color names?
An outfit like the one above can make me long for autumn…
The outfit above just cries out for a lavender tee shirt too, doesn't it? Toss in a pair of navy pants and you would be good for a couple of days…
The yellow tee shirt should slide right into this ensemble – you wouldn't even need to change the scarf!
I arranged this outfit this way to remind you 2 things:
Your pants don't have to match your cardigan or jacket; while that makes a nice "suit-like" look, you can also do this "twin-set" plan, and
when you see a color somewhere that you like (online), make certain that you search the web site for the color, so that you see ALL of the pieces that match. You might be able to pull together outfits more easily than you expect!
As always, you don't have to buy anything if you're following this plan. This gives you an opportunity to check your closet and make certain that you have something in good repair and ready for the change of weather that will eventually come…
love,
Janice
p.s. 5 years ago I was working my way through the "Building a Wardrobe From Scratch" final analysis…. What a huge post!