November 21, 2018
You know when you read that this is our heroine's favorite painting that her wardrobe will be interesting: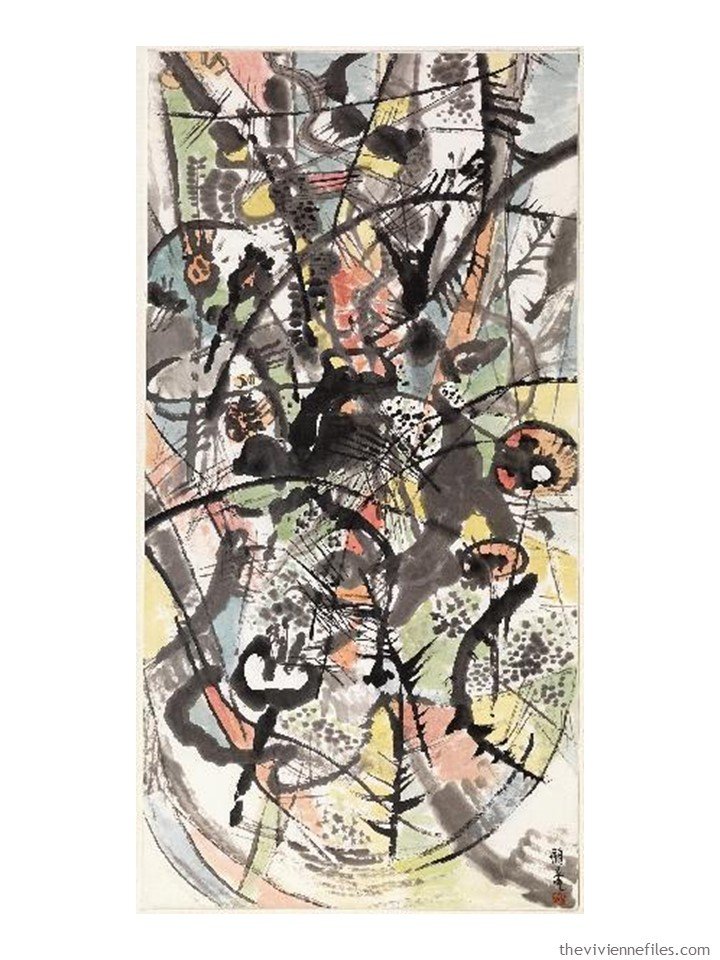 This heroine definitely has her own preferences, but she's smart enough to have a plan that keeps her wardrobe purposeful and organized: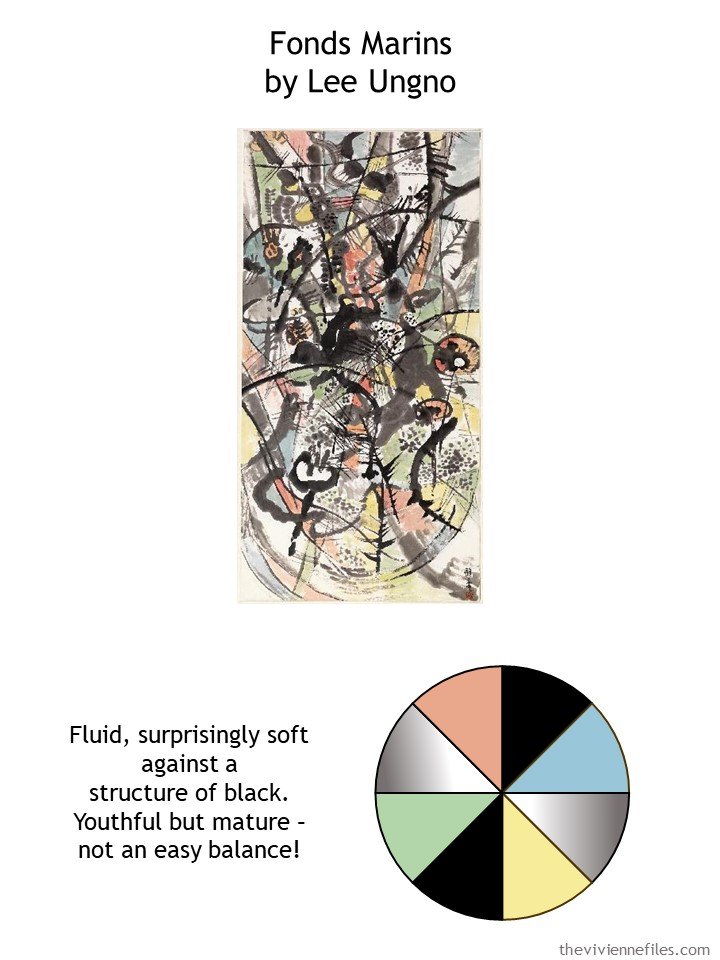 Back in January this very interesting woman took a trip – packing lots of linen shirts, and plenty of scarves!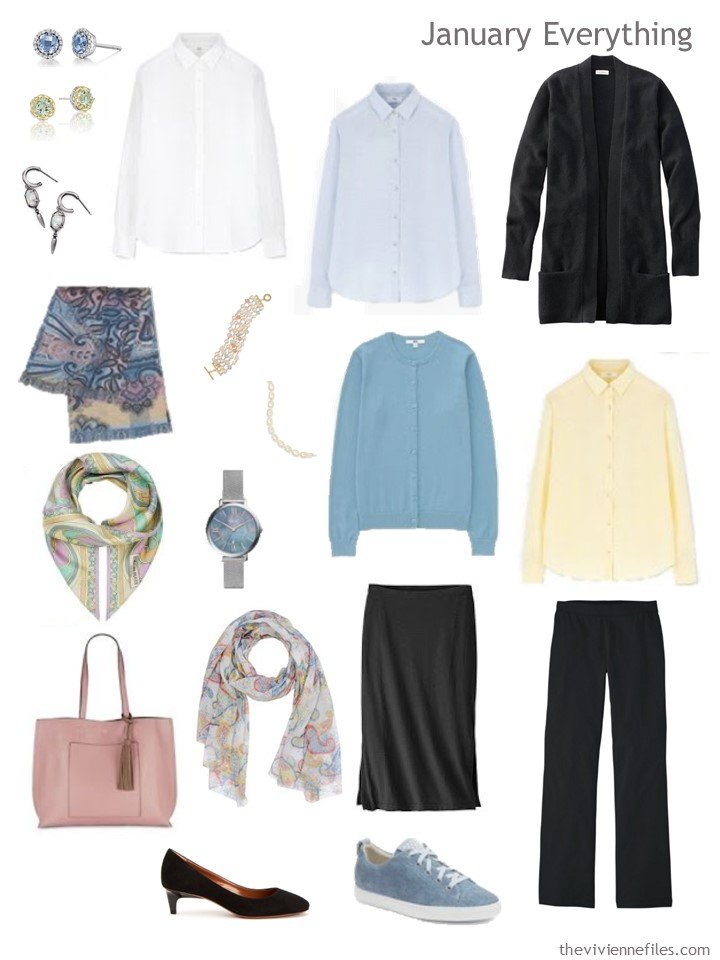 And then in April she was on the road again – maybe driving to see a quilt exhibit, or a dog show, or a new arboretum… She has a wide range of interests!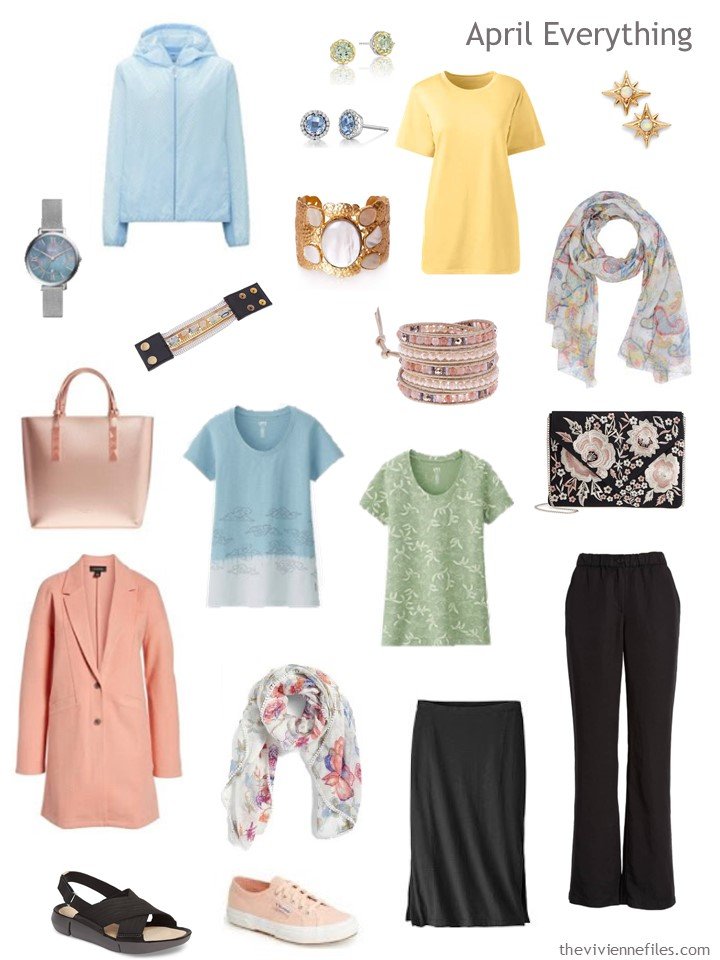 In July she traveled for a family wedding; why do I suspect that she's a lot of fun at any gathering?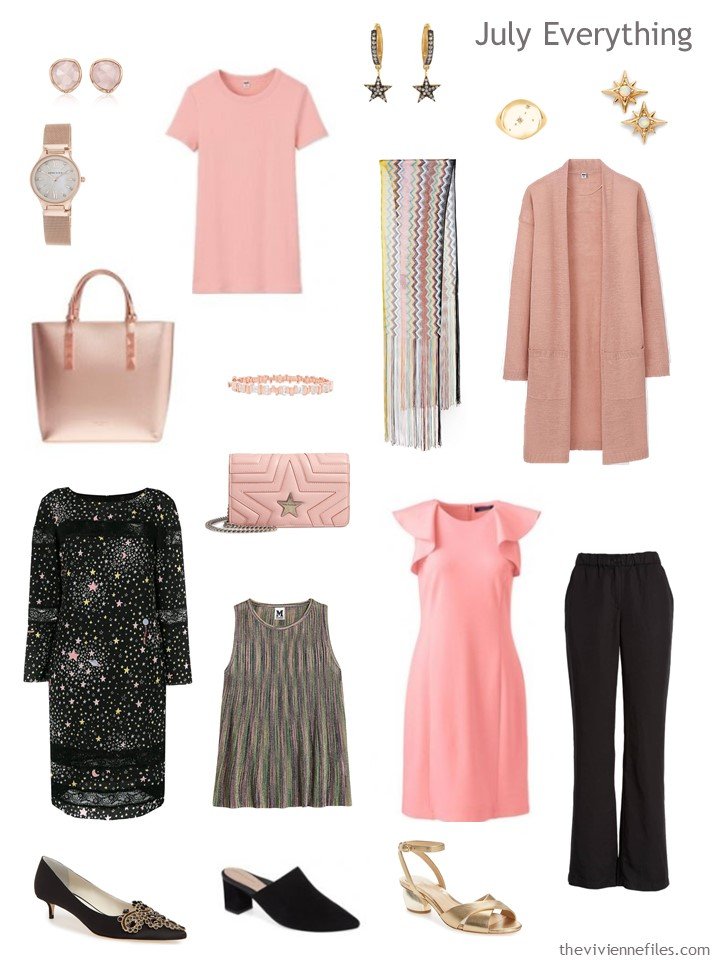 It's clear that someone really likes her – she was invited along for the season opening of the opera back in October! She really pulled out all of the stops getting dressed for this trip… (I would consider doing something embarrassing for this blouse… or for the "starry" dress from July…)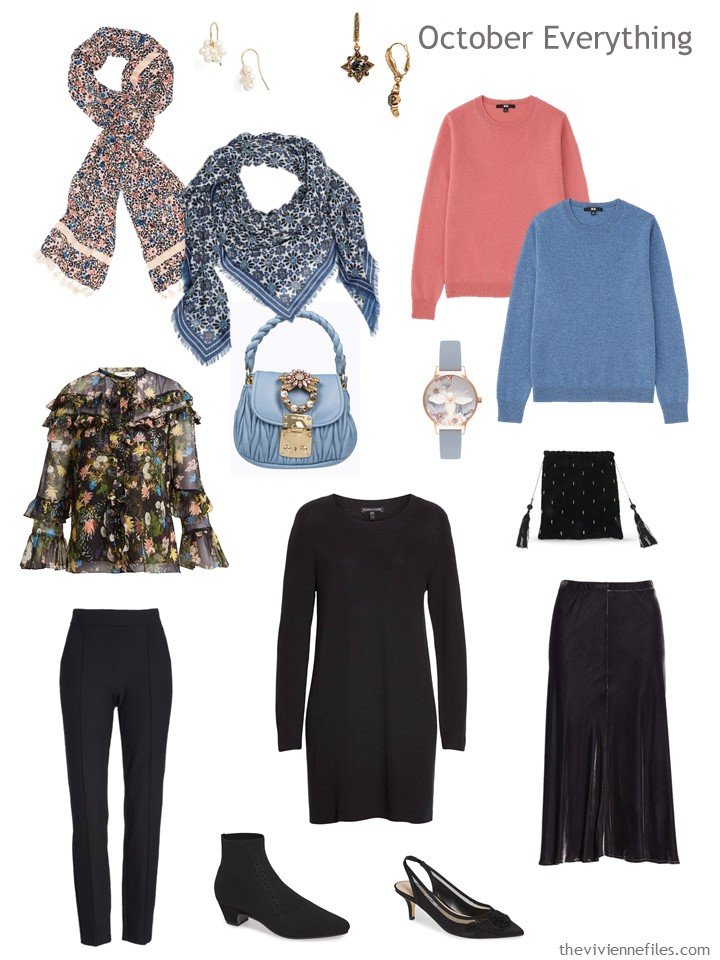 I wasn't quite sure what she would find when she assembled all of her travel capsule wardrobes – these colors are very unexpected, and she has covered every option from tee shirts for a road trip to a velvet skirt for the opera! But they all "hang together" pretty well: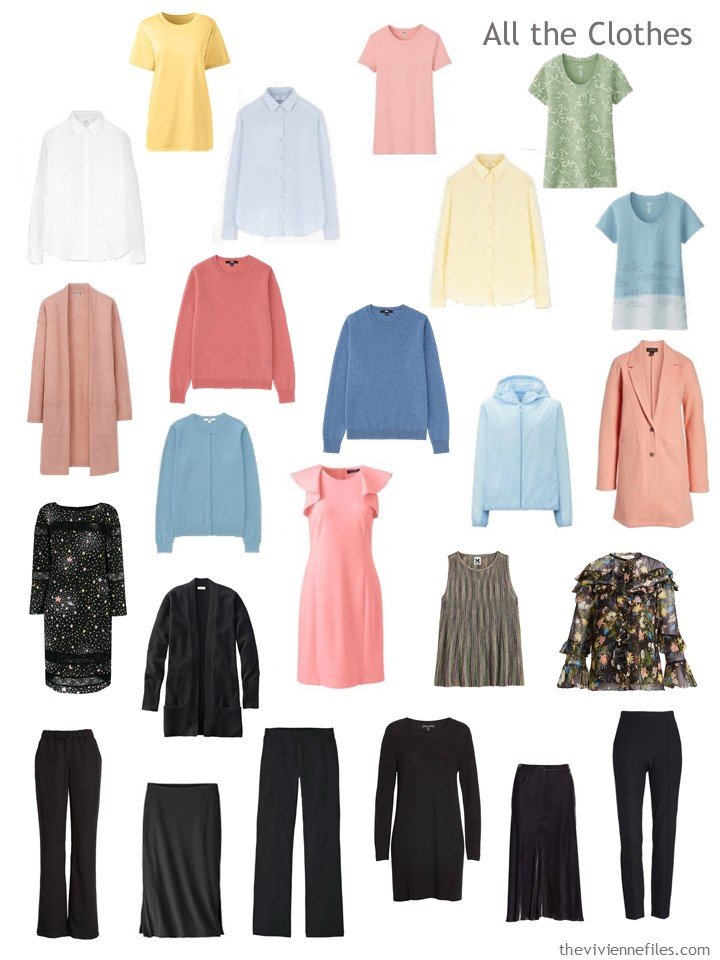 What's really stunning, to me, is her accessories!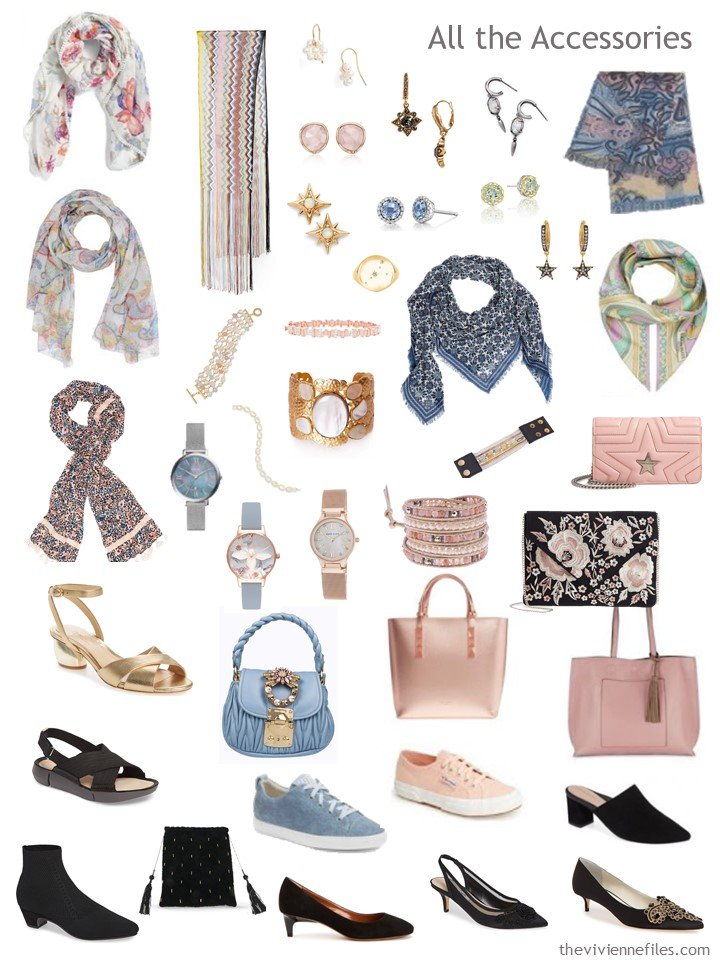 Here's where I'm challenged – what can one find to suggest for a woman who so clearly knows her own mind, and who has managed her wardrobe so well? I fell back to the 4 by 4 Wardrobe template, to see if there was anything glaring that I could see that she really needs…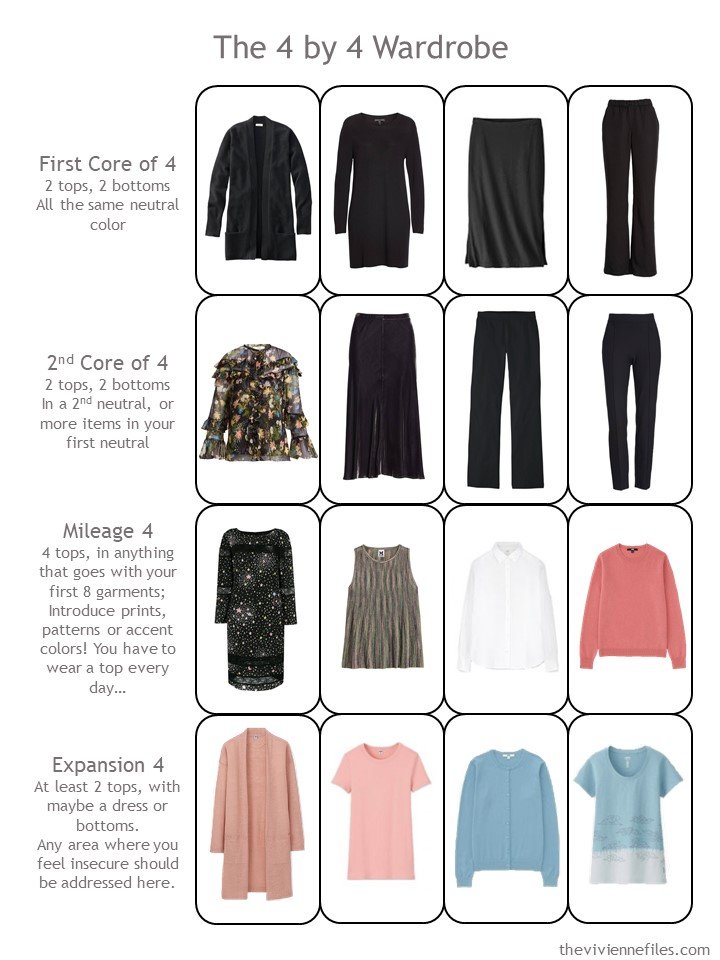 One might make the case for a black shirt, tee shirt, or blouse, but I frankly suspect that this woman has already considered that idea and chosen something in a pastel instead! Perhaps a pair of black jeans? Or a floral skirt that has a black background, and that includes in the print all of her favorite pastels? (or an aquatic print – THAT would be so perfect for her…)
And what about her accessories? At first glance it might seem that she has some excess, but for someone who has retired, it makes sense that her accessory collection might be large. For example, if you buy a nice watch when you graduate from college (maybe it's a graduation gift…), buy another one for your 40th birthday, and then one for retirement, you do indeed own 3 watches. Is this too many? Who among us can decide that for someone else?
Similarly, if you purchase a really lovely handbag every 5 years for your entire life, your heirs are going to be happily surprised when they have to clean out your home…
If you don't feel guilty and aren't in debt, you own what you want. At least in my ideal world!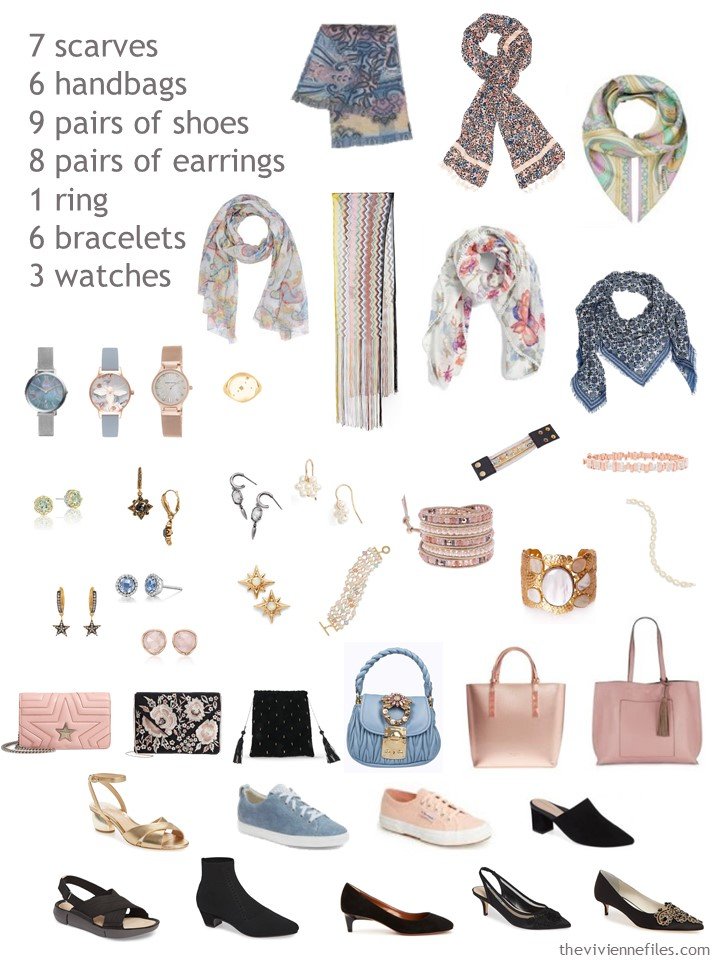 I was able to think of a (very) few things that she might find useful, however. More than anything, I think that a dark winter coat makes a lot of sense in this wardrobe. Light-colored outerwear is just an invitation to every dark, greasy, nasty, permanently-staining drip, smudge and spot in the world!
And she doesn't have a pair of simple loafers. Her boots can go a long way in the world, but loafers are versatile and appropriate for so many things. Similarly, I wanted to get her a really utilitarian handbag in black…
But to make it all look like it reflects HER, I also want her to put at LEAST 1 pretty brooch on that black coat! Heck, with these lapels, she could wear all 3 at once… Knowing this woman in our hearts, we can envision that…
I think it's obvious that I would like to meet all of the heroines from The Vivienne Files, but this particular woman has lessons to teach me. How did she develop such clearly pronounced tastes, and the unflagging self-confidence to wear them with such joy?
love,
Janice