November 19, 2018
One of the best things about having a solid core of neutral clothes is that you can completely indulge when you are smitten with a "new" accent color. It doesn't require a massive investment in new pieces to be able to pull together a handful of new outfits that include your new sweetheart color…
Let's say you have a passion for Fiesta! And in the course of indulging yourself in its beauty, you accumulate these items:
Now let's further hypothesize that you've got this tidy cluster of "midnight" pieces that you've carefully assembled over time. This has the infinite value of NOT being black; at lots of events and locations you've set yourself apart from the crowd already!
Now, it's obvious that these 4 pieces are, in fact, 4 outfits; 2 tops x 2 bottoms = 4 outfits. More if you want to layer the shirt and the sweater, and of course when you bring in additional garments, you've got a LOT of possibilities.
But how does this look when we add in the Fiesta! (that sounds a little bit odd…)
Imagine packing just these 5 garments for a long holiday-season weekend… With your travel outfit, you'd be well set!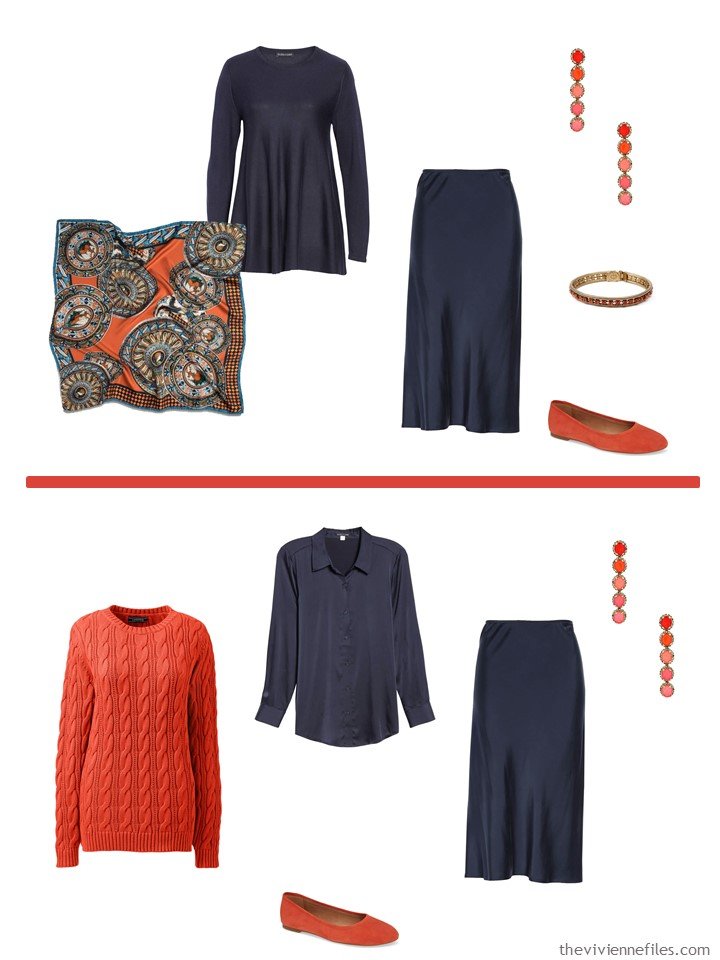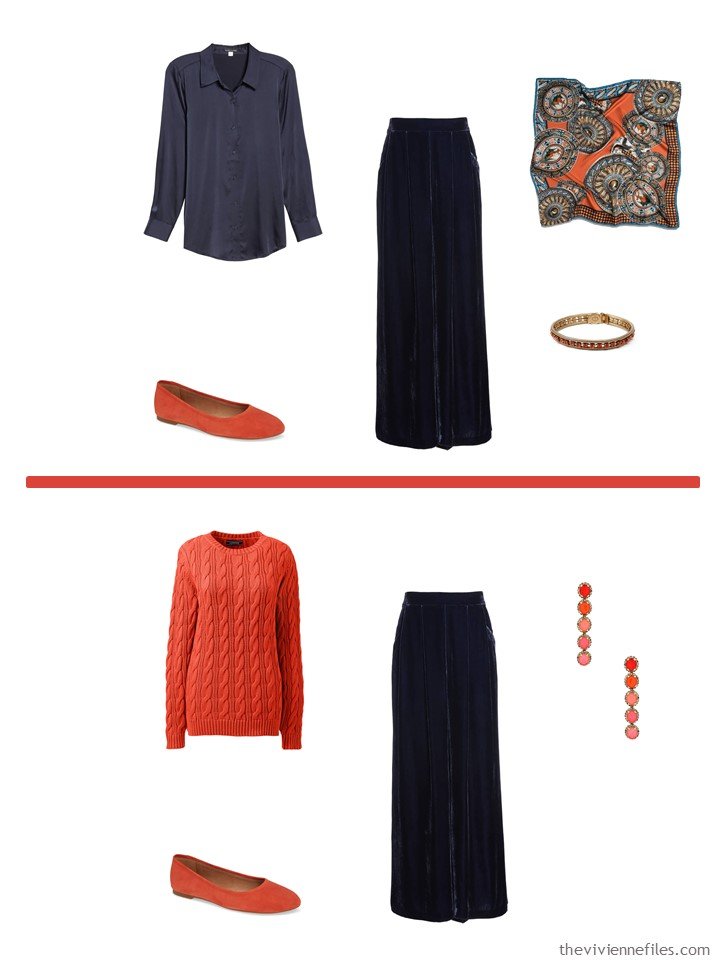 You could dress for a range of holiday events, be perfectly appropriate, and absolutely NOT fade into the crowd!
Any of the accent colors can work this way, if you start with that neutral Core of 4. Gold and navy are NOT (for most of us) traditional colors for the upcoming holiday season, but for a high-school or college event, or just because you like the colors, you might still choose this:
These were the colors of my high school! Some color impressions are deep and permanent, I believe. But there's nothing wrong with being distinctive, if you love what you're wearing…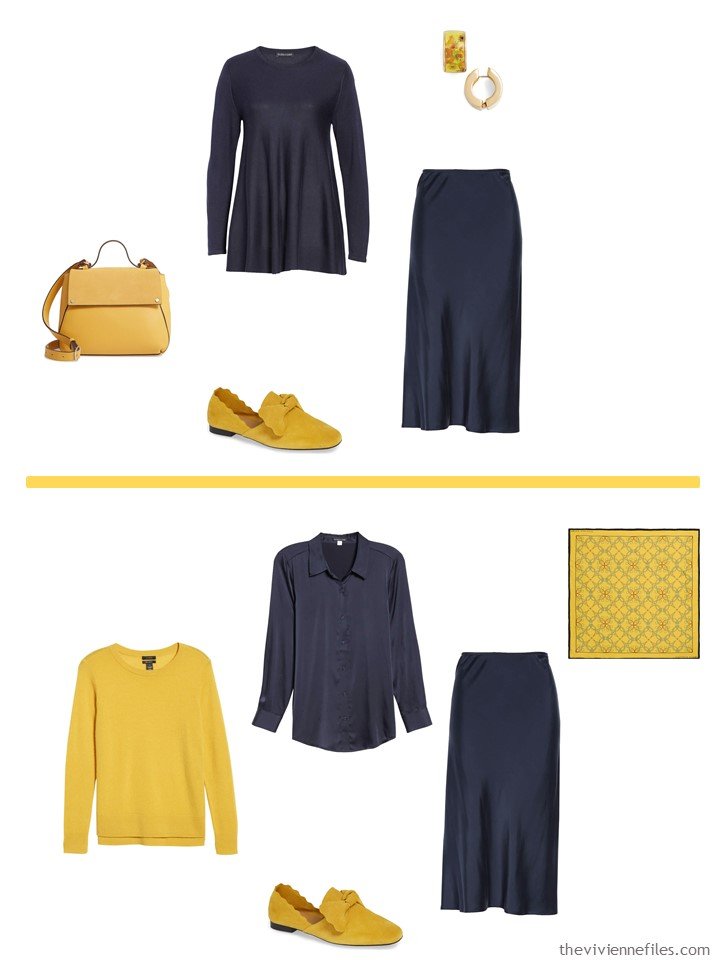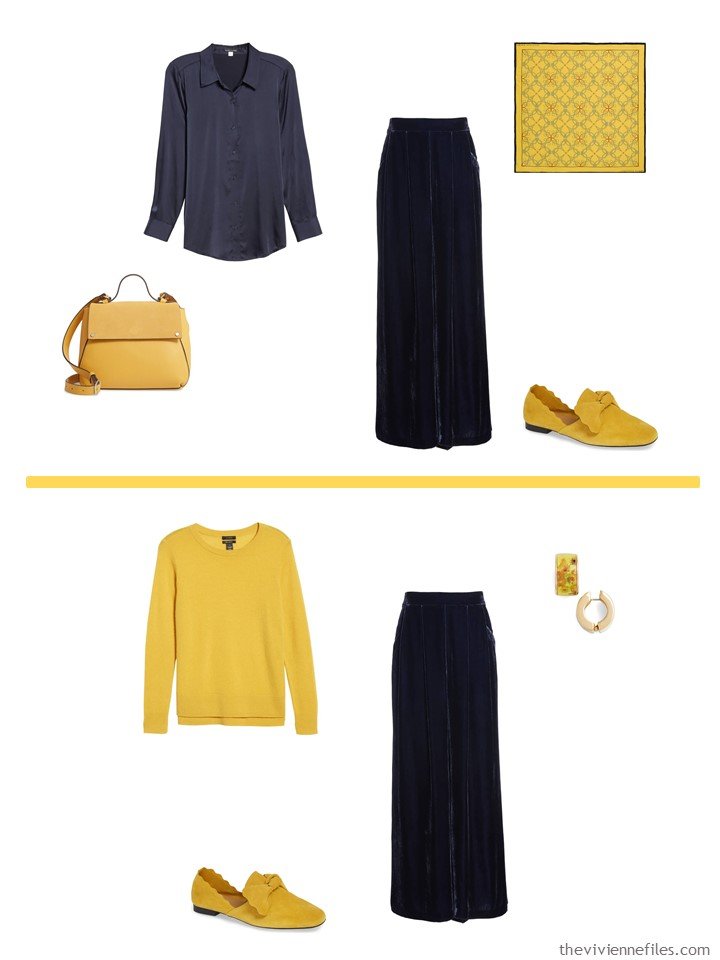 I'm going to assemble some other "Core of 4" neutral collections and see how they play with other of the Pantone Spring 2019 colors. Some might be more casual, but in all cases I'm hoping to show the ease that having the right neutral clothes can bring to getting dressed on a daily basis.
And I'm still debating which of these accents is my favorite… Happily, it's just an intellectual game, and not something I have to do in "real life!"
love,
Janice