March 22, 2018
Yep – a sponsored post! It's always a fun occasion to sit down and browse through the Talbot's site, mentally trying on different pieces and pondering how I'd wear them, and how they might work with my existing wardrobe…And since I think I'm FINALLY going to make it to Paris in May, I thought that choosing some things with that trip in mind might be a way to add to the anticipation that's already almost out of control. (for those of you who haven't heard, I had to cancel a trip to Paris in December because of a fibromyalgia "interlude," and then ANOTHER attempt to go in February was rendered completely impossible by the worst flu I've ever had…)
Talbot's asked that I specifically look at their RSVP selections – garments for special occasions – so it all kind of fell into place really easily!
So what's my thought process, when I'm refreshing my spring wardrobe with pretty things to take to Paris?
First up, I always think of my "signature" color palette – black and white. I'm pretty happy to mix patterns with reckless abandon, so the prospect of (for example) a striped top and plaid pants doesn't really frighten me…. And I always love a pretty flower or 12!
After I'd looked at all of the black and white things, I thought that maybe I should be mature and restrained and get a few pieces in black – it always travels well, and a jacket might be a smart thing for a trip in May. These all caught my eye…
The prospect of a black denim jacket holds some real appeal… and I love the looks of that dress. It's ponte knit, which travel well and doesn't cling. (and the dress comes in magenta and blue… hmmm…)So THAT got me thinking that maybe I should break out of my normal black and white and pull together a "French 5-Piece Wardrobe" in a bright and cheery spring accent color. Pink with black is always a winner, and these 2 lace pieces together would make a great dress:
A handy tip I've discovered: when you see something that you like on a website, make a note of what they call the color, and then search for that color in the search bar that's almost always at the top of every website page. You can easily find things that will match or coordinate with your object of affection…Last spring, I made a modest but very effective investment in some pieces in periwinkle blue – maybe that's the direction I should go again this year? I took a look, and found some seriously nice items…
I'm often pretty shy about wearing a brightly-colored shoe, but I think with sandals it's much easier…I have to admit – I don't really need clothes, so I also spent quite a bit of time looking through accessories. They're small, they're easy to store, they don't wear out or get dated as easily, and they terribly fun…
But after much dithering, I settled on these pieces. Two pieces are dotted, which is one of my favorite patterns. (I'll wear pretty much any pattern that you can find in menswear…) And the floral-trimmed sweater is MUCH nicer than I expected – the trim is pretty, but subtle. With silk pants, or velvet, depending on the time of year, it will be a great "dress-up" piece for me, since I don't get cold very much, or very often!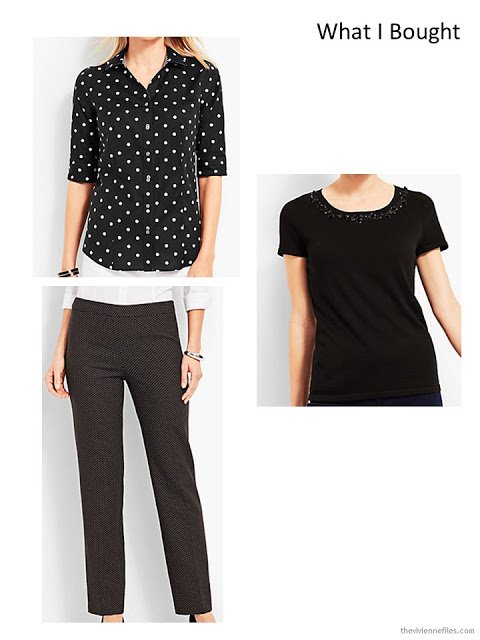 This is what I'm thinking for Paris: the dotted top with linen capris will be great for warm days, and the dotted pants with a white sleeveless shirt (or a simple black tee, or black sweater) will also be nice for sightseeing. And my new, nifty floral-trimmed top with silk "slouch pants" will be a nicely relaxed but still "dressed up for dinner" ensemble. Toss in some pearls and a pair of ballet flats and I'll have 3 nice outfits…
I'm very pleased with what I chose, and I'm really eager to test them out in Paris. But I'm still thinking about a couple of the pieces that I passed by… isn't that the way?love,
Janice