March 23, 2018
All of my clothes are lovely – why can't I take EVERYTHING with me on vacation?Well… of course this isn't going to work, but it's a legitimate question that I think about every time I'm going out of town – if I take everything that I own that I really love, I'm just going to end up moving away. (don't tempt me – I LOVE to move…)But let's be adults about this for a few minutes; choices are hard, but must be made. Let's walk through an example to see 1 way to make these decisions rational, if not any easier!
Start with the spring into summer wardrobe:
The first thing you want to do is get EVERYTHING out in front of you, or at least on a list. Visibility is really key to see where redundancies lie…Then start sorting things out by type of garment – when I do this, I always see that I have about 50 tee shirts to pack, and maybe 15 cardigans! That's a clear sign that I should start some serious pruning!
It's also well worth sorting things out by color. This will reveal garments that you might love, and that might work well for your "normal life," but which might be a bit "orphaned" for travel…
Maybe at this point you've got a color scheme in mind…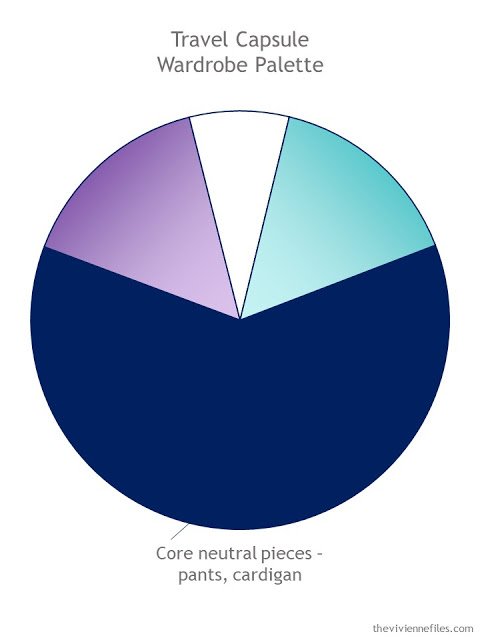 Maybe you want to take another look at everything, and thing about a few other considerations. I'm always pretty careful about not packing anything that might get utterly filthy after a day or two and be expensive to have cleaned – that might make a white cardigan risky…
And I really don't care to pack things that are too memorable, unless that's really a goal. (a special dinner?) So a shirt that's a bold or unique print might not be worth the space.
Here's another chance to think about how much you might want those "color orphan" pieces. I could see a good defense for wanting a red dress for a special evening, but the lovely blush top just doesn't blend, nor does it contribute anything truly unique to your travel capsule wardrobe.
Here's where to look for redundancies again – how many navy tunics will you REALLY wear in a week or two? And is something simply too casual to bother? Sweat pants are great at home, but depending on your destination, they might make you feel under-dressed… There are no right answers, only things to consider!
After a bit of pruning, you can take another look at pieces by function and see if you've overloaded with tee shirts, or if you just can't see a need for THREE dresses… Try to envision how your time will be spent (maybe write out a tentative schedule?) and what you will wear when you're having all that fun.It's also worth considering if you want more printed and patterned bottom layers, or if you'd prefer to take a printed shirt-jacket and 2 or 3 tee shirts that will go under it. Thinking through your outfits ahead of time will give you both versatility and a lot of ease getting dressed when you have more entertaining things on your mind!
This might be a pretty good time to decide what you're wearing to travel – depending on your mode of travel, you will want 2 or 3 garments for the trip. And then take a look at your luggage and see how well you're going to be able to fit things. One of the joys of packing for warm weather is that clothes are a LOT smaller. One of the headaches – things need to be laundered more. There are always trade-offs…After all of that editing, sixteen pieces remain. Depending on the length of your trip, if you're going for a week or longer, this isn't excessive (to me). I would take fewer pieces in colder weather, but when the weather warms up, requirements are different.
This fits pretty perfectly into a 4 by 4 Wardrobe Template, by the way: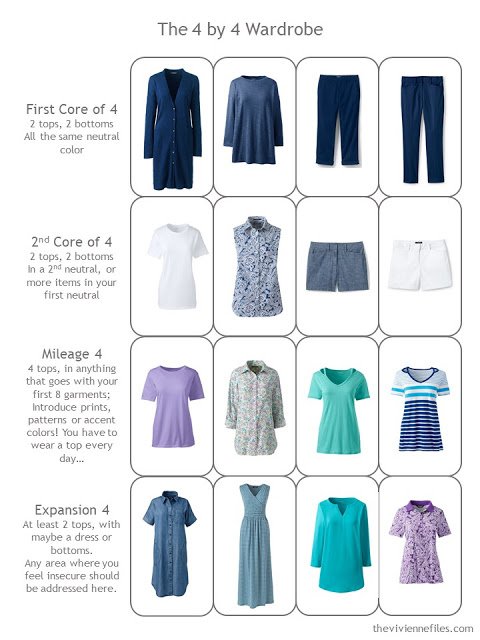 After everything's chosen, and you think that you have your final wardrobe in place, take a moment or 2 to assemble outfits using each of the pieces in at least 2 or 3 different ways. This isn't a hard-and-fast rule; if you're taking something for a special occasion, it doesn't have to be versatile AT ALL. But overall you want to be able to have some options – especially with unpredictable weather, and the possibility that a garment might be unwearably damaged or soiled… (once, at the beginning of a SIX WEEK business trip, I tore the DAYLIGHTS out of 1 of my tops – caught it on a construction fence – and literally tossed it in the trash… that's an interesting challenge!)
Starting with the same garments, it would be possible to create any number of travel wardrobes, if you make just a couple of different decisions along the way! Different trips, with differing priorities and activities, will change everything…
love,
Janice
p.s. Would you like to see accessories for this wardrobe? let me know…