March 26, 2018
Let's do some planning, before we add accessories to that wardrobe – first, by remembering and building on our color palette.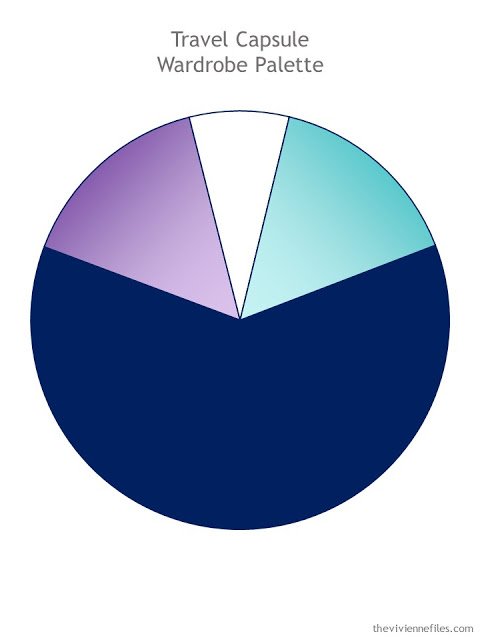 It's worth considering if these colors will give you sufficient guidance for your choice of accessories. I like to – at a minimum – add a metal color, so that I don't just willy-nilly toss all of my jewelry into my bag! You might want to also be certain that you've got a dark neutral that's going to work for things like shoes and bags. With navy, many of us might want to use black leather, so it's worth remembering that when you're making your choices.
I'm going to use navy accessories for this wardrobe (much easier to find in the warmer weather!) and I'm going to make sure that it's clear that silver is the metal of choice, for this trip!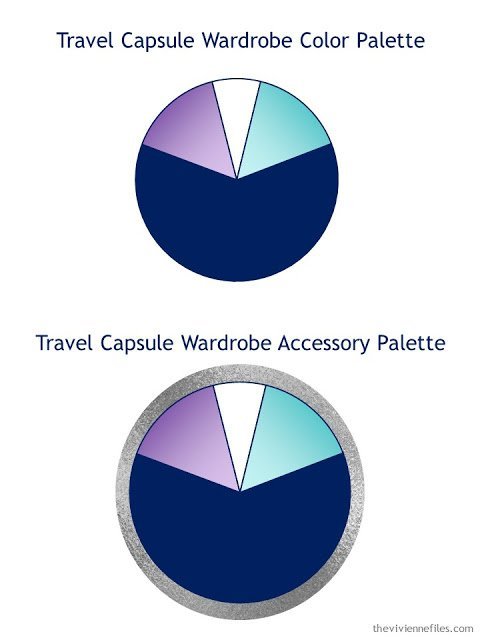 Now you can jot down a few notes about what you're considering for your trip. At this stage, I was hopeful of finding espadrilles in 1 of the accent colors – didn't happen! But thinking about this for a second helps you to avoid forgetting really important categories of accessories, like (for me) earrings…
After you've done this, you can (with a clear conscience) buy those lavender espadrilles when you see them on your vacation – they are in your plan!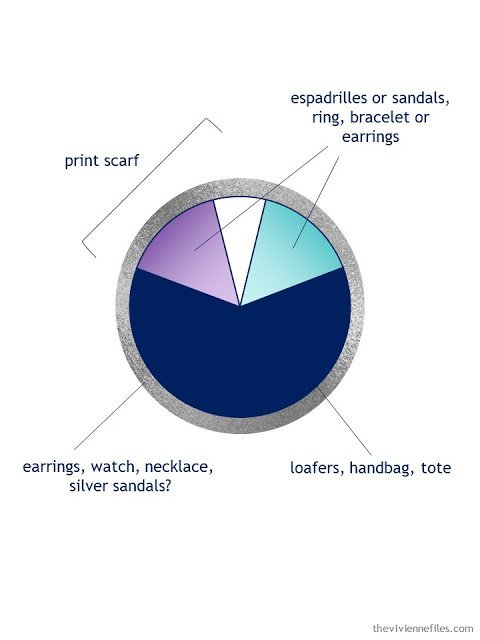 Now that this bit of planning and thinking is out of the way, let's go back to the clothes and figure out what accessories we really need to pack:
I feel like I have enough accessories if I can put together outfits in my mind and accessorize them from the items that I've packed. So let's start with an obvious, classic travel outfit, and add the necessaries…
Now back to the travel wardrobe to assemble another outfit, and then accessorize it:
After you've accessorized your second outfit, you might be pretty close to having everything that you need – it's most important to be sure to have appropriate footwear, and don't forget your SUNGLASSES. (in all fairness, this outfit wouldn't stink with the mules above…)
Now that we have sandals, we might not need any more accessories; let's assemble at least a few more outfits just to be certain… You want to make sure that you "test drive" every pair of pants, shorts, all your skirts and dresses – the garments below your waist will dictate your shoe choices/needs.
Here, the sandals that are already packed are perfect with these shorts, and the little navy bag is a perfect match. I chose to add a pair of earrings with an angular/geometric feel, but they're strictly a fun addition and far from necessary! (but if you're going to pack a ton of something, earrings are a good choice – they're not very big, nor heavy…)
I'm envisioning that our heroine will wear her denim dress as both a dress on its own, and as a duster/jacket over other outfits. I felt like this little "twilly" scarf (maybe on her bag, or in her hair?) was a nice touch here. Otherwise, the accessories already packed are all that she needs.
After your travel outfit, the most important thing you pack will be whatever you want to wear for special occasions – maybe the event for which you're traveling, or a special dinner. (I've been known to pack garments that only get worn one time, but it's worth it!)
While the white sandals or the navy mules would both be great with this dress under other circumstances, for a lovely evening, our heroine is going to want to amp it up a notch! One of the joys of packing flat sandals is that they take up very little space…
No matter what time of year, no matter where the destination, having a neutral, warm, versatile wrap with you isn't a bad idea…When you get all of this together in a pile, you can see that it's not really a cumbersome amount of stuff! Given that you're wearing the bulkiest shoes, and carrying the backpack, it looks even smaller!
And it makes SO MUCH difference to how your clothes look and feel…
I can easily spend as much time choosing my accessories as choosing clothes when I travel! Does anyone share my fondness for the wee finishing touches?
love,
Janice