March 21, 2018
Packing for unpredictable weather is always tricky… And since it's been snowing CATASTROPHICALLY in Ireland, off and on for the last few weeks, this trip was really a challenge!But I managed to cobble things together well enough – hallelujah! Of course, knowing that I would have my coat on most of the time makes things much easier.
2 things were really issues, the expected cold weather, and the unexpected moving out of the AirBNB into a hotel. I packed relatively lightly (for 10 days) because we were counting on doing laundry pretty regularly during our stay. Belovedest ran TWO Parkrun 5K's when we were there, so there were gym clothes in need of care…
So, theoretically, I would have been okay with just the clothes on my back when we arrived… I would have had to do some serious hand-washing, and my feet would have eventually grown SICK of the boots, but otherwise I could manage. If I can manage, then everything else is just a bonus, right?
I tried to be really strategic about how I dressed for the flight – waterproof boots, because there had been snow in Ireland. Comfortable, but not sloppy, corduroy pants. A neat shirt that doesn't wrinkle easily, and a cotton sweater because I stay warm pretty easily. A parka, because we were going to want our parkas with us for the rugby match. A snazzy as heck scarf to make it all look better than the sum of the parts, and a pair of earrings that I wore EVERY DAY…
The Standard backpack was a gift from the team at Standard – full disclosure. But I've got to admit that I would love it anyway, and be likely to buy it. It's very… neat… with a sleek profile, and good solid structure. We actually CHECKED IT THROUGH because of the strict limits on Aer Lingus baggage, and it emerged from the Purgatory of the baggage hold looking brand-new…
I've GOT to give a big shout-out to the people at the Schoolhouse Hotel. If you've got no other idea about where you want to stay in Dublin, stay here, because I'm telling you to! The staff was outrageously nice to us…
We got to Dublin REALLY early – sort of the pre-dawn darkness… We took the Air Link bus into the city, and were dropped outside of the Schoolhouse, which was just a couple of blocks from our AirBNB. Of course we couldn't get into the apartment this early, so we went into the hotel for (a delicious) breakfast. Everybody was lovely, and we lingered in front of the fireplace…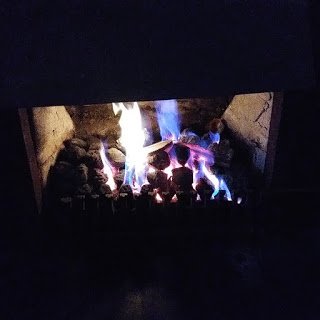 But the clincher was when we were leaving. We were going to take our bags over to the National Gallery, check them, and spend the morning there…
Siobhan, our server, RAN OUT OF THE HOTEL AFTER US, and told us to bring our bags back and leave them there. We assured her that we weren't actually going to be staying there, and she frankly assured us that it didn't matter… The entire staff that we met, both when we left our bags and when we picked them up, were only interested in helping us. It was a touching and wonderful first hour in Dublin…
____________
This is what I packed, with one "phantom" item that wasn't actually in my suitcase on the way over, but was purchased the 2nd day we were in Dublin! I knew that I wanted to get a dark (as close to black as possible – Aran sweaters don't usually come in pitch black) cardigan with a zipped front and the most classic style possible. I bought a man's sweater (size small), because the ones for women were too… decorated. Lots of diagonal buttons and draped collars and stuff that didn't fit my requirement for timelessness!
When we arrived I had a really clear vision of my cardigan purchase, and much less clear or insistent ideas of anything else that I might buy; I was pretty open-minded that if something had "whappage" I would make my move, but that otherwise, I would refrain…
I love to stop into a little store called Rhinestones – it's in the rabbit-warren of little streets west of Grafton Street where there are lots of stores… (18 Saint Andrew's Street, Dublin 2) (they have no website…)Yes, there are numbers after Dublin addresses – they're as close as Ireland gets to zip codes! The even-numbered areas are south of the Liffey, and the odd-numbered are north. I used to live in Dublin 1, which was just too cool…
If you're looking for beautiful knitwear and scarves, head into the enclosed mall beside the Westbury Hotel, also really close to Grafton Street. There are 3 stores there that I particularly love (so far):
my scarf came from Stable, which is tiny, but has some of the most beautiful, authentically Irish scarves available;
A cashmere shop called Madigan, which is SO TINY, but where the lovely ladies will make any design that they carry in any color that they carry (a staggering possibility!), and also
Stonechat, where the jewelry is made right there in front of you.
There are other shops in this little mall that will interest – including one that carries gloves in every color you can ask for!
Also, if you've got a penchant for antique jewelry, Dublin is a feast of choices. The area west of Grafton Street – particularly Powercourt Mall – teems with antique jewelers. Have a clear idea of what you want and what you're willing to spend, or you could find yourself overwhelmed!
One last thing to share – we spent a night in Belfast, Northern Ireland. We were driving up into the area to do some family research for Belovedest, and chose to spend the night rather than drive up and back in 1 day. (although that would be pretty simple – it's a 90 minute trip…)
We stayed at the outrageously gorgeous 10 Square Hotel… the common areas downstairs give you NO SENSE of how lovely your room will be…
Before dinner, we took a LONG walk, and then settled in for a cocktail at the Merchant Hotel. It might be the most expensive cocktail you ever purchase, but it will very possibly be the best cocktail you've ever had! And it's worth it just to experience the hotel and bar environment… it's quite posh, with some quirky art on the walls, too!
After this serious alcohol moment, we walked a bit more and had dinner at Hadskis, which is in a little courtyard just south of the Cathedral. It was delicious, and I've never been in a happier dining room – laughter was everywhere. I don't remember what I ate, but we had GIGANTIC Aperol spritz cocktails that were delicious. Maybe that's why everybody was so happy?
All in all, if you're considering going to Ireland for a vacation, I will scream YES YES YES at you. Unless you simply can't tolerate a bit of cool and rain, you're going to have a good time, and meet some of the loveliest people on the planet….
love,
Janice