November 21, 2017
In order to make sure that our "working from home, occasional meetings and dressy dinners" heroine doesn't get carried away in her shopping, I'm going to use the 4 by 4 Wardrobe Template to keep organized: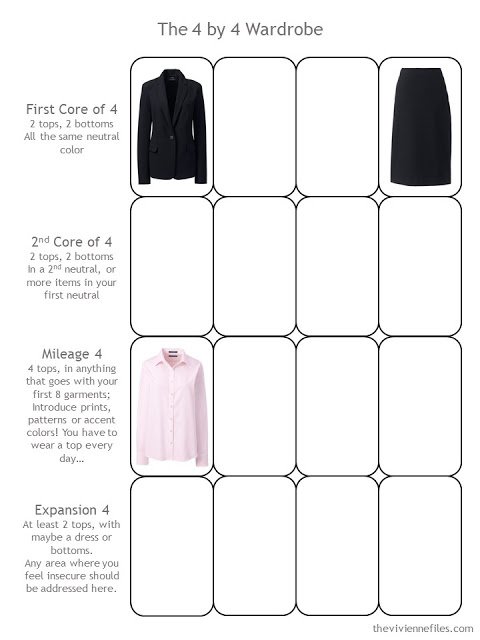 To my mind, the first and most obvious thing to buy when you've only got the 3 starter pieces is another shirt or sweater – the shirt is the thing that will need to be laundered most quickly, and is also the most memorable piece…
And yes, this color is called "Garlic Clove." What ARE they thinking? I love garlic as much as any woman, and maybe more than most, but it's not something that I associate with a cashmere sweater!
Once you get the sweater, just go ahead and get the cardigan! You may never wear them at the same time, but if the color is one that works well for you, why not have both pieces? (this of course assumes that you were going to eventually get a cardigan or jacket anyway…)
At this stage, our heroine has two tops, and 2 "second layers," so she should be looking for pants or a skirt. These pants the infinite advantage of being in the same fabric as her black skirted suit – always a smart thing to find if you can!
Time for a 3rd top, and it's about time to find something that integrates all of the colors in the wardrobe so far:
Pink? Heck yes! A pretty cardigan makes a great top over other things, and can also be worn on its own…
This is normally where pants or a skirt would be added, but since the matching black dress is available, let's grab that. Having 4 black garments in the same fabric can make getting dressed really easy…
My feeling was that this heroine was quickly becoming well-equipped for her client meetings, and that we could begin to branch out a bit. While this top is very business-appropriate under a cardigan or jacket, it can also be very pretty and feminine on its own at dinner…
Maybe all of her clients aren't "starched shirt" dressy?
It is entirely possible to look and be businesslike while wearing twill pants…
Since the Northern Hemisphere is catapulting into cold weather, a sweater might be wise!
Our heroine is due for another "second layer," which could be a cardigan or a jacket, any combination of these 3 colors. This one caught my eye, but don't discount the possibility of some sort of texture in a mix of taupe and black…
Modest enough for business – dressy enough for ANY restaurant they throw your way for lunch or dinner…
I feel that a solid black top is really long overdue! And why not velvet? It's very au courant…
When all of this is stacked up together, you can clearly see that it makes a very versatile assortment! I could swoon if I opened a suitcase to this: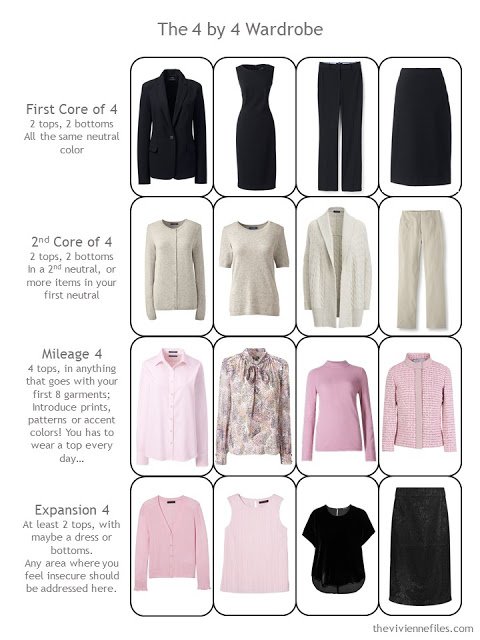 Accessories for this tomorrow?
love,
Janice
p.s. Just in case you were hesitating, all 4 of the black "suiting" pieces come in a mad range of sizes, including Petites, Tall, and Plus sizes…