November 22, 2017
Yesterday, we left our heroine with a really lovely 16-piece wardrobe, but pretty much in need of more shoes, and at least a couple of pieces of jewelry. (okay, this is not NEED in the biological survival sense, but more need in the "being appropriately dressed for business" sense…)
So, as I love to do, let's work through one accessory at a time and assess the possibilities.
This very simple outfit cries out for a necklace, at least to me:
The same necklace can of course be worn here, but I'd like to see my heroine with a softer, more rounded handbag. A briefcase is essential, but not every day…
Okay, I'm the first to admit that floral boots aren't likely the next thing that this heroine needs! But they are very popular right now, and if she's ever going to own a pair, this is the year to do it. And what a fun way to bring some feminine zest to a simple pant-suit outfit…
(I almost got in trouble here – I found a pair of STAR boots… which I do NOT need…)
You can go a long way with 1 pair of pumps, but if you're traveling for business, having a 2nd pair of dress shoes can be handy – especially if it rains, you feel like a change of footwear to wear to dinner, or your feet just cry out for different shoes!
While we're stocking up on shoes for our heroine, she will certainly want some loafers at some point in time…
The classic simplicity of this outfit will set the perfect stage for another scarf. And please don't be dissuaded from these black separates just because this dress looks like it would fit a piece of spaghetti – these items come in a very full range of sizes, including Regular, Petite, and Plus.
Many people don't even own a brooch, but I figure if you're wearing a blazer with lapels, those lapels are the perfect place for a little something distinctive!
A classic black dress deserves pearls…
Some days you just want pink earrings…
While this wardrobe, and this heroine, already has a couple of scarves, it might make sense to look for something a little bit warmer? Or just another scarf, because SCARVES!
For many people who work at a desktop, a bracelet can be more of an annoyance than an asset! But at dinner, it can be a lovely touch – especially when it echoes your favorite floral motif…
TJMaxx (and Marshalls) might not be your favorites, but they're worth our consideration right now because they continue to pay their employees in Puerto Rico, even as their stores there remain closed. A humane and generous thing to do in the face of ongoing disaster…
Never EVER forget sunglasses. Your eyes will thank you some day! And of course they're incredibly handy for looking cool…
This last outfit – such a simple but luxurious top, with a lace skirt – just needs another little touch of something lacy to pull it all together. Earrings are SO easy, and timeless!
As nice as the wardrobe looked with just the clothing, there's always something about adding accessories that gives a real feeling of style to the entire grouping: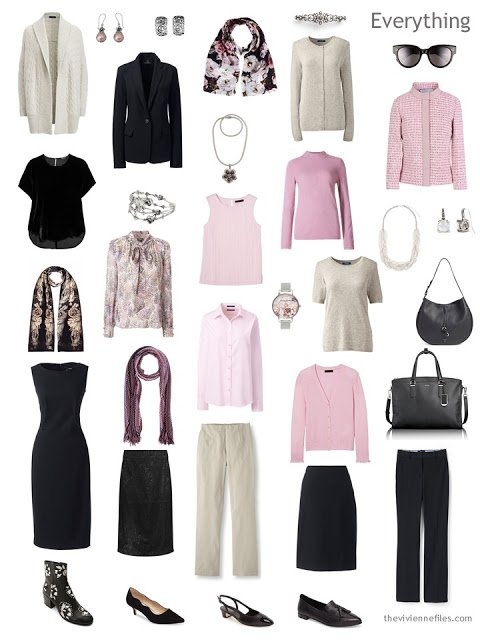 We've already seen a stack of outfits possible from this 4 by 4 Wardrobe, but I love to ponder a few more of the possibilities: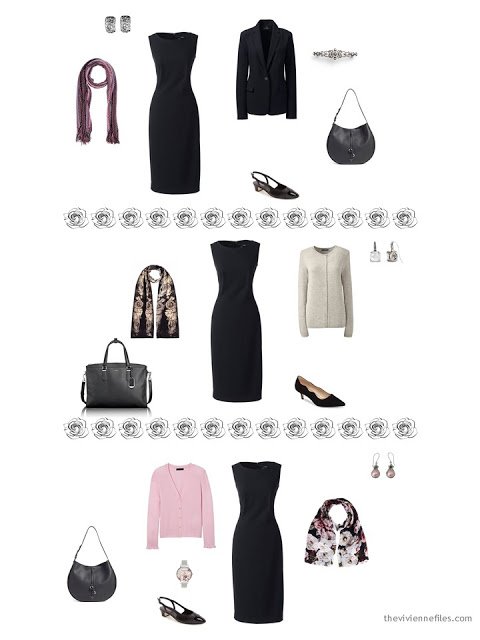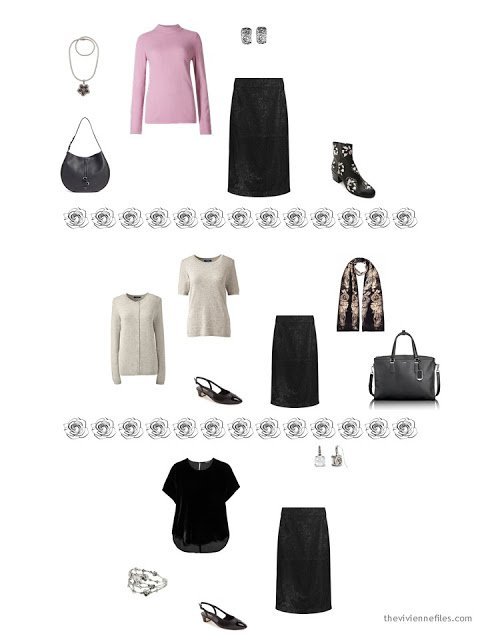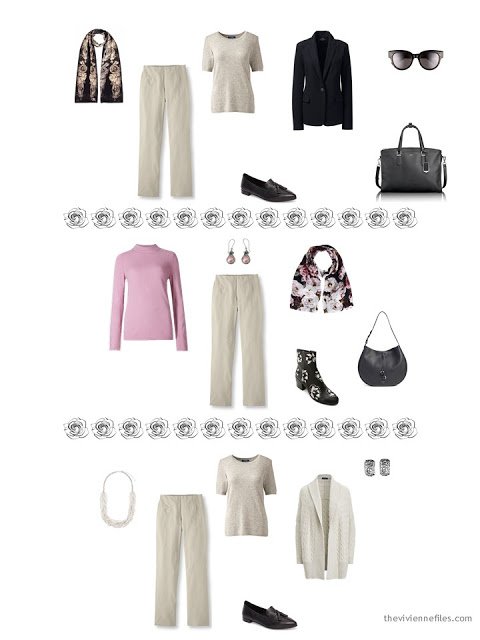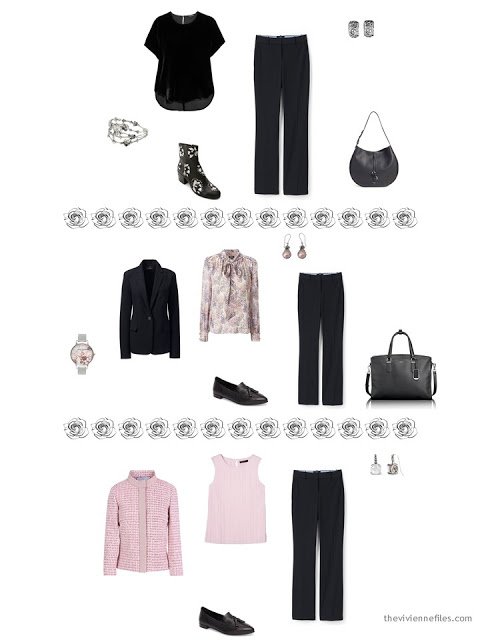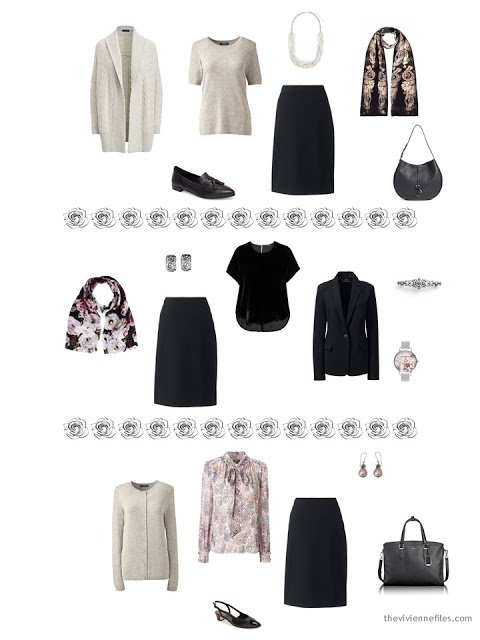 Just as a reminder for those of us who are new to this grouping, this is the beautiful scarf upon which the wardrobe is based (thus the proliferation of floral and rose motifs!):
love,
Janice