October 23, 2017
Quite a few people wanted to see what I would do to expand last Thursday's travel wardrobe, based on a beautiful floral painting…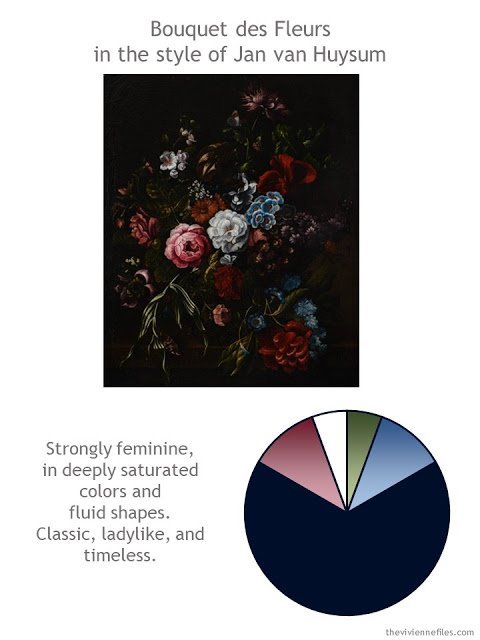 I enlarged the color palette to include the softer shades of pink, all of the possibilities in green, and the various shades of blue…
This was the wardrobe that we had for the original travel wardrobe:
First wave – I thought that I would look for a couple of different shades of rose pink, in 2 different silhouettes. The scarf isn't an identical match for either of the tops, but it works well with both – always remember that scarves don't have to be dye-lot matched to work! The green sweater is classic, and when paired with the green loafers, can be worn with any of the navy pants or the skirt. And in order to keep the wardrobe balanced and not to skew things too much toward the accent colors, I'm adding another pair of navy pants – in my favorite autumn corduroy!
The overall wardrobe softer and more varied now – the addition of just a few new pieces changes things a lot!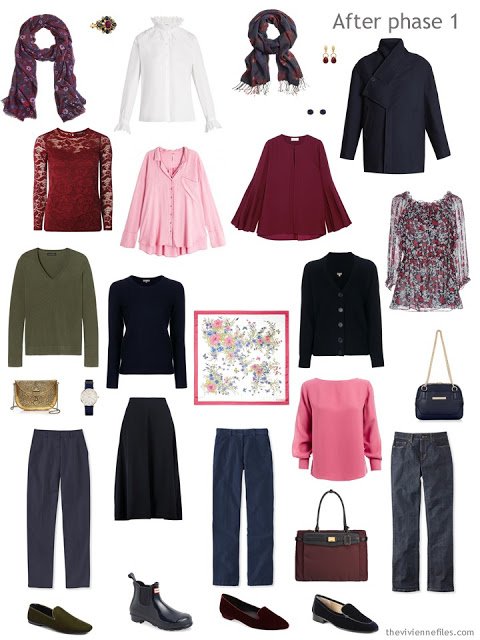 The second group of additions strongly reinforces the navy "backbone" of this wardrobe, while still holding onto the overall pretty, feminine and slightly dressy feeling with which we started. Again, I chose to include one really classic navy garment in order to keep the wardrobe balanced with a good mix of neutral and accents.
You can tell if you're staying in balance in your wardrobe if a quick glace at things shows a strong presence of your neutral(s). As much fun as it is to buy and wear accent colors, it's important to keep enough neutrals in stock to give you a base upon which to get dressed!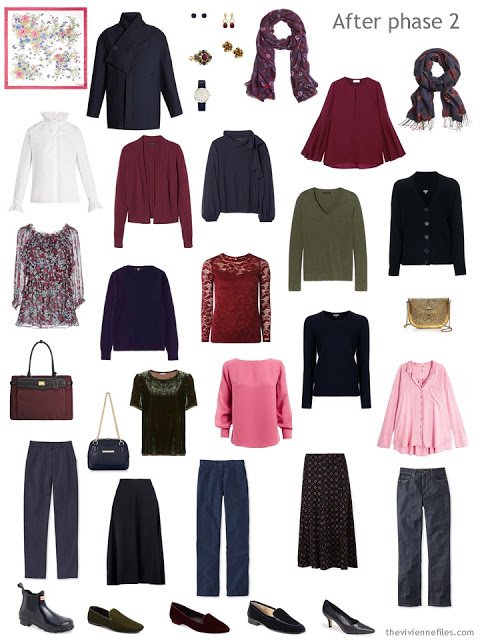 Long over-due to pick up that pretty shade of blue! The timeless styles of these garments make the accent colors more versatile – there are few things that you can't do with a simple cotton shirt or a classic cabled sweater!
I added a dress, because this heroine seems like the woman who would wear a dress, and I thought that swishy pants would be fun… and a ruffly cardigan! She likes ladylike…
This is the final – there are so many different ways to pull these pieces together!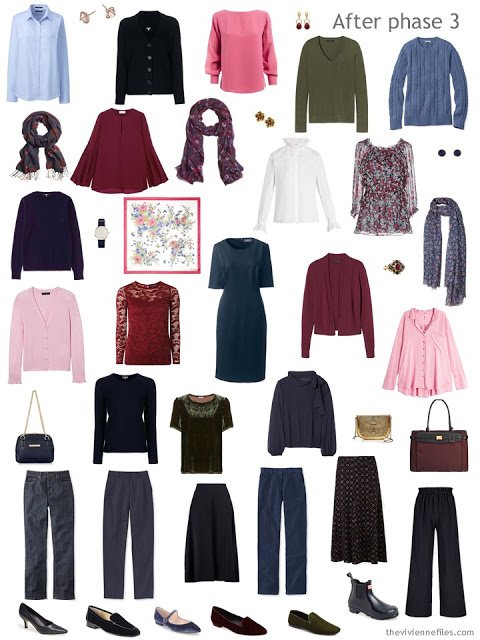 Here are just a few options: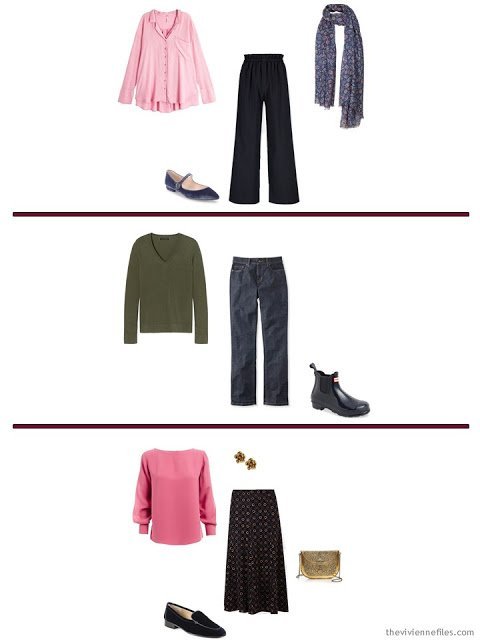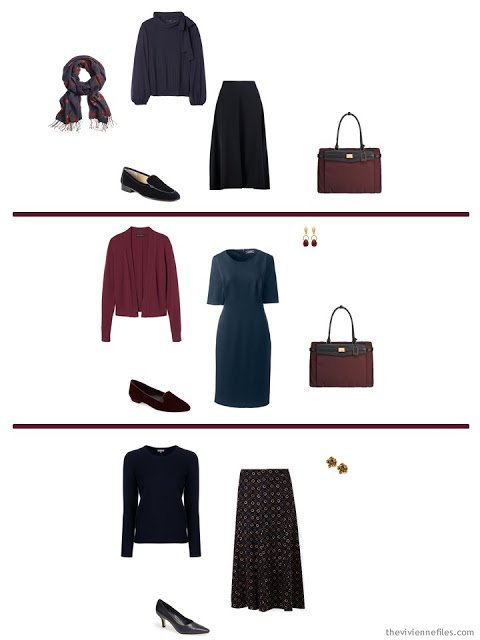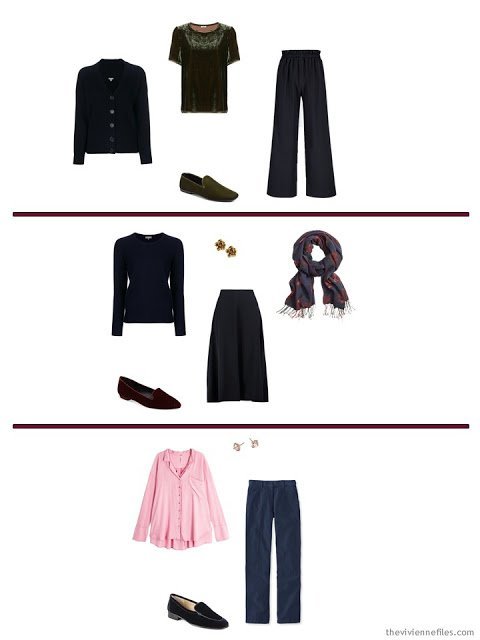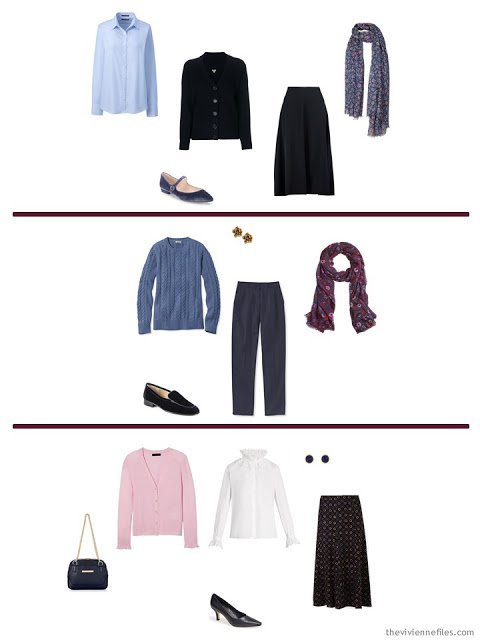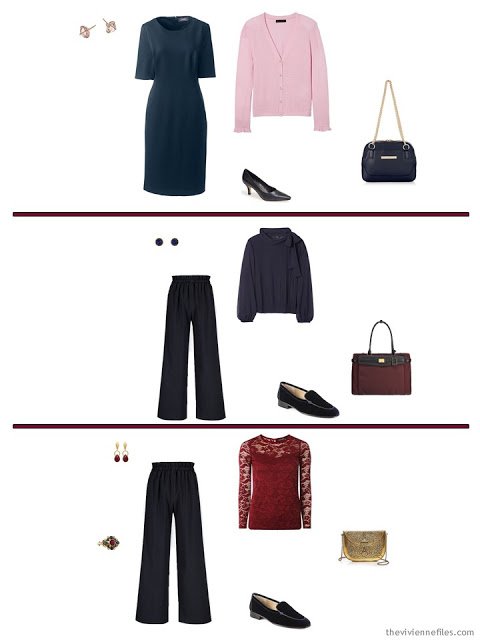 Working within a wardrobe plan doesn't have to be boring or limiting, if you just keep your eyes open to all of the possibilities!
love,
Janice