This is a shamelessly sponsored post! Yes, I was given a pair of shoes, which is a pretty sweet deal. But I hope that you know me well enough by now to know that if I didn't think that something was worth your time and effort, I wouldn't write about it – I'm not going to sell out and waste your time, and my good reputation…Last week, I was invited to the Thierry Rabotin shoes trunk show at Hanig's Footwear. I've been buying shoes from Hanig's for… 25 years? maybe, and I've been buying Thierry Rabotin (1 pair every 6 months, VERY carefully chosen) since they began carrying them. So I just thought that they were inviting me because I'm an old, and pretty good, customer…
Heck no! They offered me a pair of CUSTOM SHOES, in exchange for a blog post. Honestly, I'd tell you about these guys anyway – they're really that good. Theirs was one of the first shoe stores that decided to focus exclusively on comfortable women's shoes – brands including my new friends Arche, Beautifeel, Cloud, L'amour des Pieds, Perlato…Their management saw the future of an older population that valued comfort, but that still insisted on style…
But THE TRUNK SHOW!!!! You could choose ANY style shoe made by Thierry Rabotin (and that's a LOT of styles…) and have the style made up, in their Milan-area factory, in any combination of leathers that they carry. The choices were sort of overwhelming…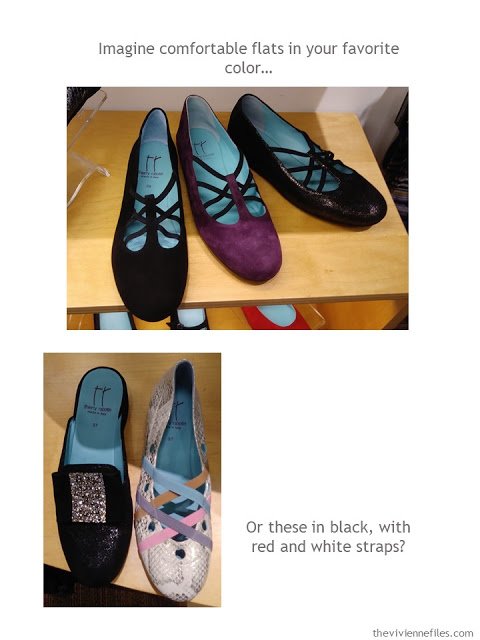 For a long time, I was thinking about strappy flats – I've owned similar styles, and I knew that I could cook up some amazing color combination…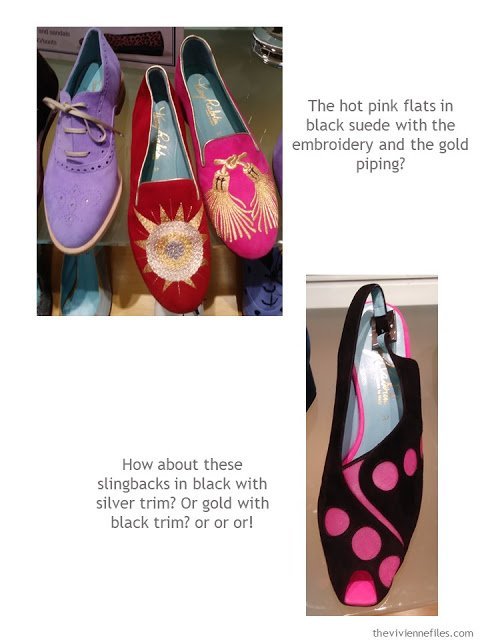 But I began to realize that something like oxfords might make sense… They have a lot of "moving parts" to customize…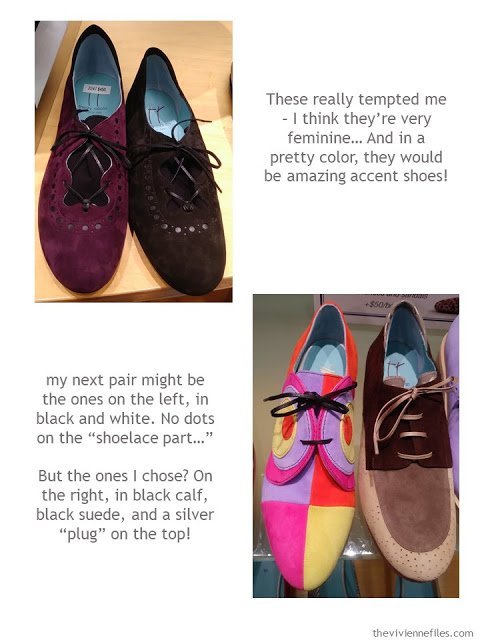 In the end, I wasn't terribly adventurous – I bought oxfords in black suede, black calf and silver. I won't receive them until after the winter holidays – you'll get to see them, believe me!
If you don't want to customize a pair of really racy shoes, you could always turn to the classics that are always in stock, and make a small change to color or texture to make the shoes exclusively yours.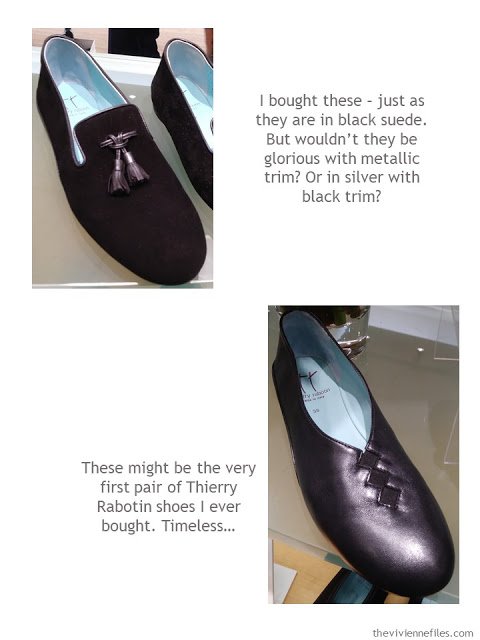 And since I'm in the middle of this stupid Foot Crisis 2017 (copyright pending…) I got totally crazy and replaced my tassel loafers, which are now living on someone else's feet, somewhere in Paris. (I donated them to the Red Cross store). The loafers at the top of this post are what I bought – I'm pretty delighted!
So what can you take away from all of this?
The assurance that there are both manufacturers and retailers that still make and sell the best possible quality shoes, with a dual emphasis on comfort and style. Fast fashion has not completely taken over the world!
The comfort of knowing that you're not alone in struggling to find comfortable shoes; women from all over the US order shoes from Hanig's…
The "someday" dream of having a pair of shoes in exactly the color and style that you want. While the trunk show is ended, you can still work with the management staff at Hanig's to have a pair of shoes made to your specifications. It might be once in a lifetime, but it is a dream that can come true…
In a larger sense, the knowledge that there are still lots of people making creative and offbeat items of all sorts – we haven't all been smashed into an H&M, Ikea sort of homogeneity…
The delight in knowing that there are still places – IN THE UNITED STATES – where retail work is considered a profession, and where expert subject knowledge is prized.
Whenever someone complains about how much you spend on shoes, you can always say "But JANICE…"
love,
Janice