OCtober 26, 2017
Another promoted post. Talbots gave me some stuff, and some things for you too!
Talbots was always the "go to" store for ladylike clothes… I remember when Belovedest and I moved back from Ireland, and I was wearing the smallest clothing size I've worn since high school, and I really NEEDED a "kick butt and take names" suit – I went to Talbots. When I worked in an office, the family gift cards were ALWAYS for Talbots…
I have to admit, though, that I've always had reservations about the term "lady." I always felt that it meant older, and more retiring, and genteel in a way that might mean being a doormat. The idea of manners and good breeding and appropriate conduct appealed, though… I was conflicted.
Which is why I'm happy to embrace Talbots' current efforts to reclaim the term "lady," on our terms. Or, as they put it: "being a "lady" is defining it for yourself and being unapologetically you – real, confident, fun, and imperfectly enchanting."
So how does this involve us all? First, Talbots gave me some more clothes! Let's look at what tempted…
Obviously – I'm always interested in something black and white, or black and grey. Snuggly, sweatery, and long-sleeved are ALL in the rotation now that the temperature dropped a solid 30 degrees in the last few days!
I've been mad about cables since I was a little girl – and some of these colors are pretty appealing! The tweedy cabled sweater sort of has my name written on it, too. And I was pleased to note that the cardigan that I bought before I went to Paris is still catching my eye as I scroll through the Internet…
I briefly flirted with the idea of a marled, tweedy dress… And BOTH of these floral sweaters keep attracting my attention; I'm going to have to be alert to this sudden (and somewhat out of character) interest in florals!
But #becauseimalady, I know enough to take the advice of my friends! When I reviewed what I packed for Paris, quite a few of you noted that I seem to have a pretty serious affection for the black and white marled garments that I own. So when I saw these 2 pieces, and I remember what you all had said, I knew that I had winners!
I can already see these coming together in an easy 6-Pack wardrobe for a long weekend… I just need to find my destination!
Also #becauseimalady, I keep my word about keeping my "active" wardrobe streamlined! So this is what I'm currently wearing. My sleeveless dress has ceded its position for a striped dress from L.L.Bean that I particularly love…
The "stardigan" is back! And my short-sleeved tee shirt and jumper dress have made way for my new sweaters…
This is the full current wardrobe – more than enough for anything that life throws at me!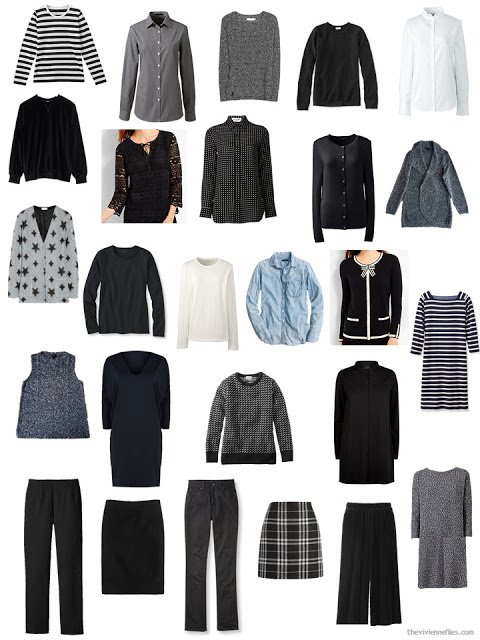 But here's where the really good fun starts!
Leave me a comment – use the "hashtag" #becauseimalady – and tell me what being a lady means to you… (Talbots wants us to use the hashtag, so I'm complying – anybody who gives us gift cards gets to make at least ONE request, eh?)
And next Monday, at 4 pm Chicago time, I'm going to randomly choose THREE commenters to receive a $100 Talbots gift card! Yes, I have 3 of these… Your odds of winning are very good!
So let me start:
#becauseimalady, I know the difference between pants and leggings!
love,
Janice