July 28, 2017
This sounds like a silly question – we've all known our favorite colors since we were children, haven't we?
Well, in a nutshell, no. I get emails every day from people who still struggle to choose their neutrals, or to find a signature accent color, or some other variation on these themes that boils down to the issue of knowing what we most like.
Recently, one of you commented that you found peridot green as an accent when you kept seeing that color when you meditated! I personally found this to be utterly brilliant, and about as fail-safe a way to choose a signature as humanly possible. But what if you don't meditate?
I'm suggesting that you start looking for opportunities to make choices – all KINDS of choices – important ones maybe, but trivial ones DEFINITELY. Listen to your gut. Trust your instincts. Learn what a good, happy, comfortable decision feels like, and learn about the opposite too.
Also, try to hear all of the voices that you've heard throughout your life, telling you about colors, and styles, and things you should and shouldn't wear, and do, and like, and eat, and listen to, and and and… Accept that those people were doing the very best that they could for you, but that they still might have had opinions that don't resonated with you. That's fine; you can choose your own colors now.
My family all looks very much alike – similar coloring, eye-color, hair-color, hair-texture, etc. Except me… My poor parents had no clue what to do with brown eyes and curly hair, and so I often felt like a over-cooked imitation of my beautiful mother and sister. It wasn't deliberate – they just dressed me in all of their very best colors, and – frankly, I didn't much care. I was a nerd, and a tomboy, and I was fine. When I left home for college, I started to sort things out on my own; it took a few iterations to get it right!
It's never too late to listen to your inner voices…
First up – you can wear anybody's birthstone. Find a famous person born in that month and wear it in her honor…
This is an imaginary exercise; realistically I don't know anybody who would willingly wear the same pair of white pants seven days in a row!
This exercise was so key for me – I discovered the beautiful blue/purple periwinkle… When I tell you about my recent break with my shopping fast, you will better appreciate how BIG a deal this was for me!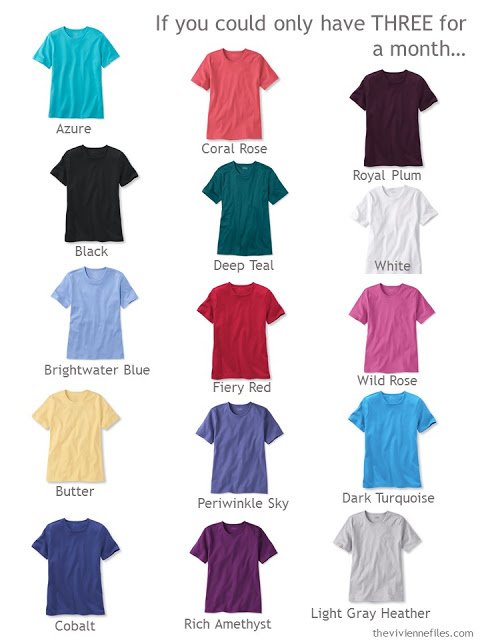 Because your toes are so far from your face, you can choose a color that gives you pleasure, rather than one that flatters your coloring:
In the real world, if someone gives you a very expensive gift, do make sure that you can exchange it! But in our mental experiment, pretend that you have to keep the one that THEY choose for you…
Are you one of those people who always shares their ice cream and NEVER gets their favorite flavor? Goodness, get OVER THAT! It's very kind of you, but it's your turn now…
I firmly believe that everybody that wears a scarf should have a solid-color accent scarf; which is best for you?
If you finally choose to treat yourself to a Longchamp bag, which color will it be? (and don't some of these colors look an AWFUL lot alike, or have I lose my eye for color?)
This is far from an exhaustive list of flowers, but what was I to do, eh? My favorites have always been lilacs and violets… hmm…
Even in cold weather, you might need flip flops for the shower in the gym, right?
We use these to carry laundry! Absurdly handy…
Would you opt for a neutral, or dare to choose a bright accent?
Once you start looking for ways to make color choices, you can find them everywhere! Learn to listen to that authentic person inside who knows what she likes…
love,
Janice
PS – If you are looking for other color inspiration, check out the latest Pantone Color Planner and other documents in the Planning Documents section of the website.