July 26, 2017
You have asked me this question a lot – how can you handle traveling to a hot destination, where you need to be appropriately dressed when occasions or locations require modest attire?
Modesty almost always means 1 or more of 3 "things" need to be covered:
1. your shoulders
2. your knees, or
3. your head
So we've got to make certain that we have available to us at all times (in the backpack!) a shirt with sleeves, a skirt (or the zippy-on pieces of zip-off pants…) and a scarf… If you're one of those clever people who can wrap and tie a scarf in such a way that it works as a skirt, you're in luck…
Let's start with a lovely abstraction of a wonderful beach destination: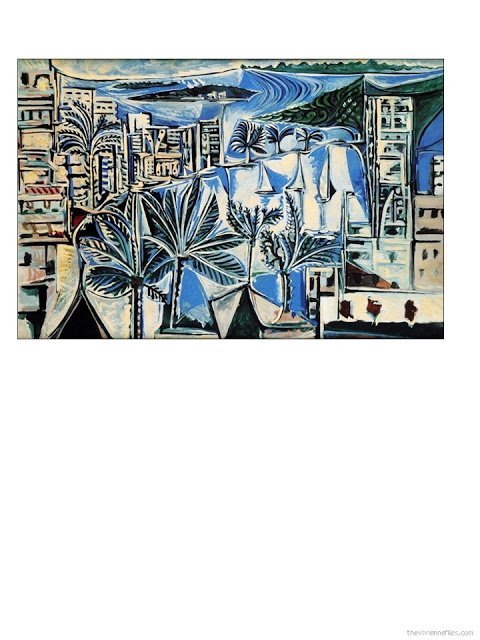 These are lovely colors…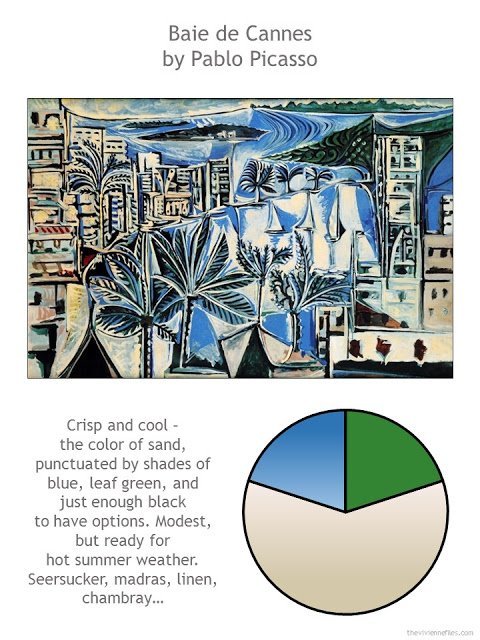 For the trip, even though this wardrobe is going to de-emphasize dark colors, I'm going to have our heroine travel in dark trousers – they're just safer and less likely to show the inevitable dirt.
This is the only cardigan I'm having her bring – this tweedy kind of look means that it will work with all of the beige tones, and the fabric is lightweight and relatively cool…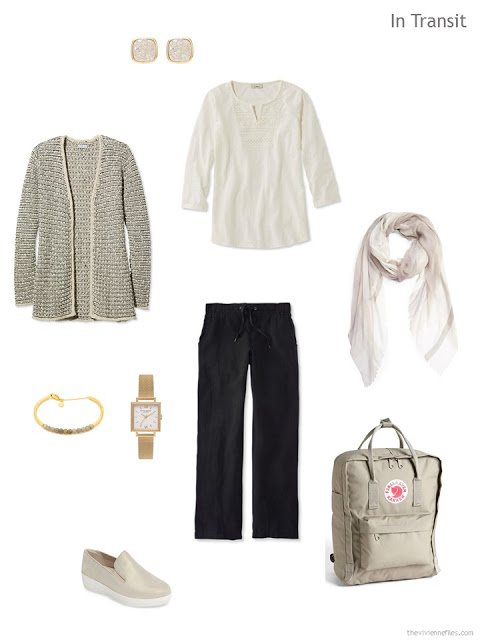 This is a very "nuts and bolts" wardrobe – I haven't paid a lot of attention to jewelry here, because I want to focus on the various pieces of clothing and how they layer together. But I DO think that a hot-weather destination absolutely requires both a sunhat and a pair of sunglasses – these aren't really accessories as much as they are essentials.
And yes, as much as I'm not usually a big fan of zip-off pants that become shorts, I think that this is the time during which they might make sense…
What I've done here is focus completely on sand-colored "bottoms" in a range of silhouettes; for someone who doesn't wear skirts, a pair of capris would be a logical substitute. The other goal here was to include a couple of long-sleeved shirts that could be worn over a tee shirt or tank top, or can also be worn alone with the sleeves rolled. A lightweight fabric is key here – I've chosen madras and seersucker.
Similar to what I did with the 3 bottoms is to make certain that our heroine has 3 different kinds of shoes, in similar colors, and all chosen for comfort as well as style. In some cases, carrying a change of shoes can make a vacation day feel much more comfortable! Also, sometimes all you need to do to be appropriately dressed is to cover your toes – I admit that I've only seen that once, and I was pretty amazed that it was part of a dress code…
(from a style point of view, note that I've somewhat focused on square shapes, in honor of the cubist Picasso…)
This would be what our heroine would have with her: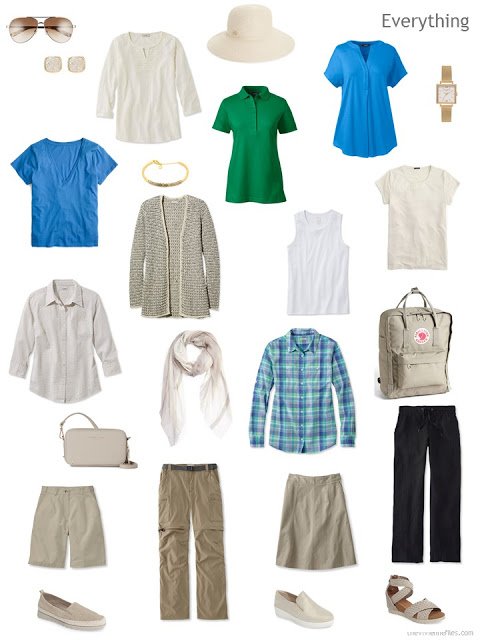 Next I wanted to look at each of the bottoms to make sure that it would be wearable in a full range of outfits, from something strictly focused on comfort in hot weather, and then moving along a spectrum to something that would be more appropriate in areas with a dress code. That's tough to do with shorts, but this at least gives us a range of ways to assemble outfits with the garments available.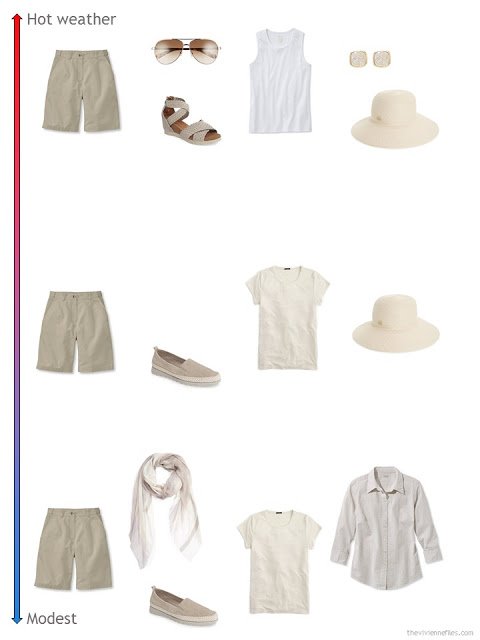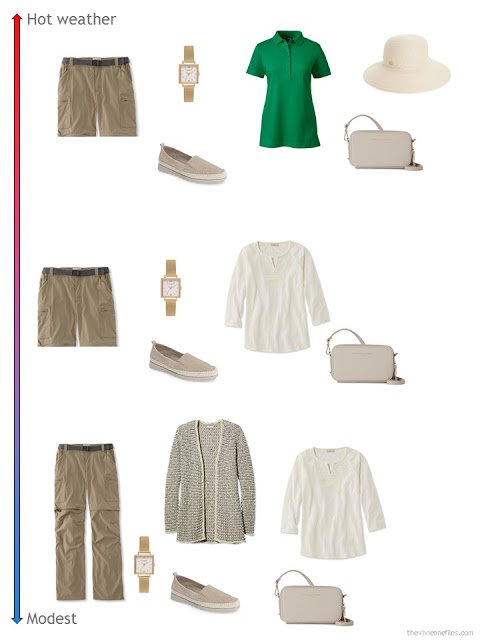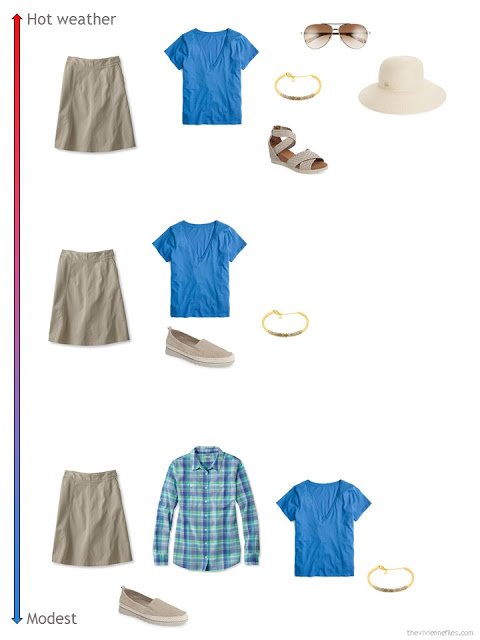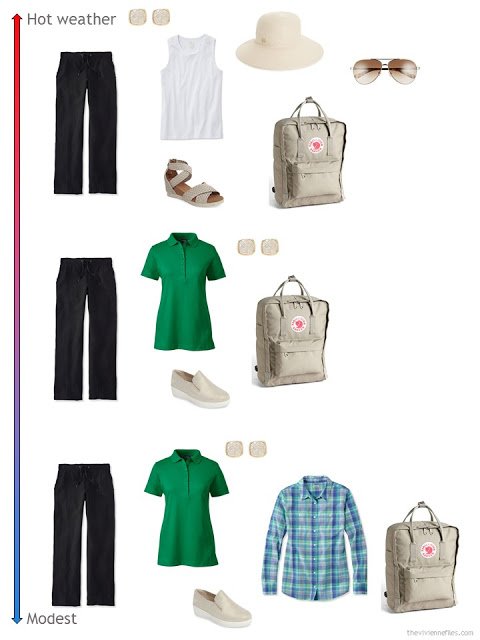 But let's say that you are going on a really LONG trip, and you just don't feel comfortable with the smallness of the initial wardrobe. I thought that in this case, worthy additions might be pieces in chambray – a faded denim blue that's much lighter-weight and softer than denim. And a beige dress? This dress could theoretically be worn unbuttoned, over a tank top and shorts, as a duster, and then buttoned if necessary? Could you picture that?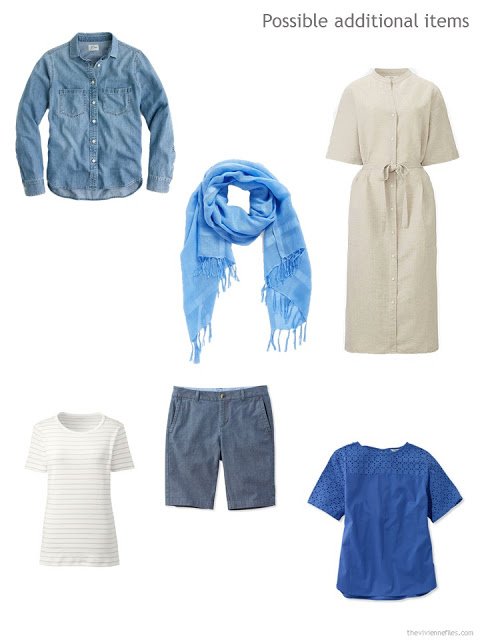 This is a pretty robust wardrobe – one could literally picture taking this to a beach house or to summer school, and living with this for 2 or 3 months…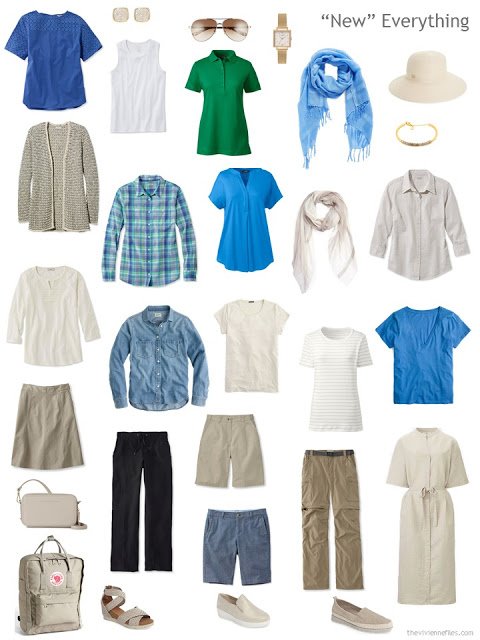 As before, I want to make certain that all of these pieces are able to be used for activities along a spectrum of dressiness: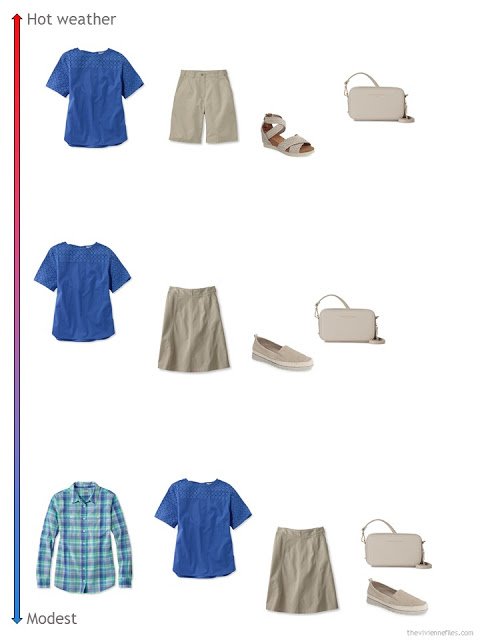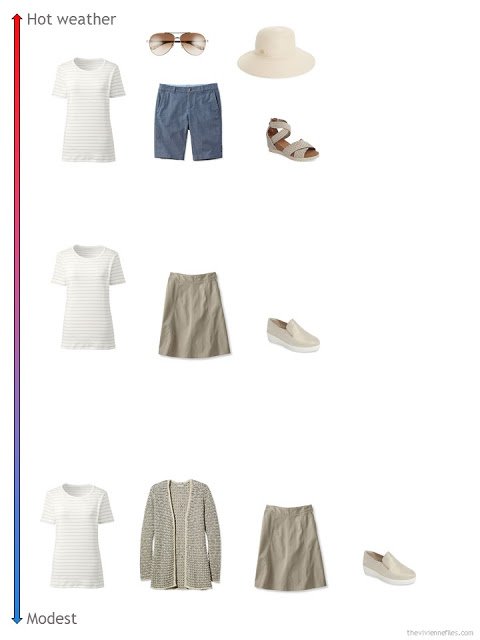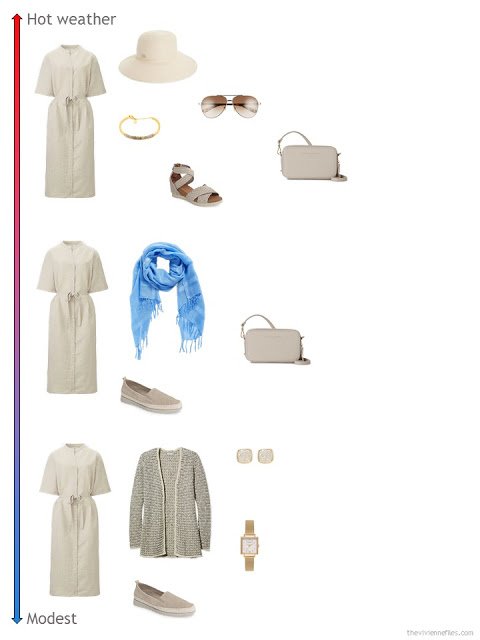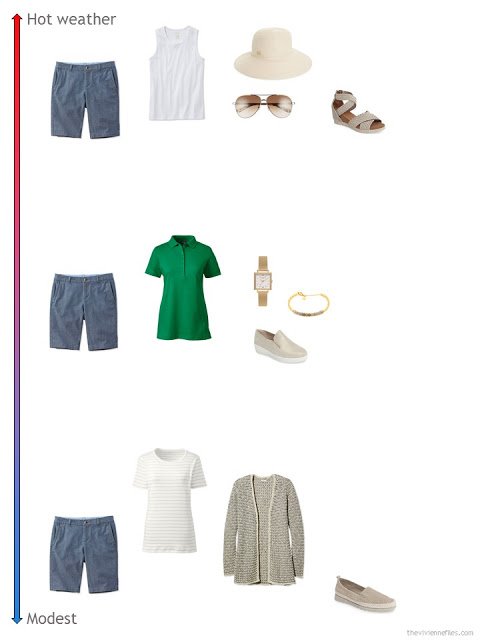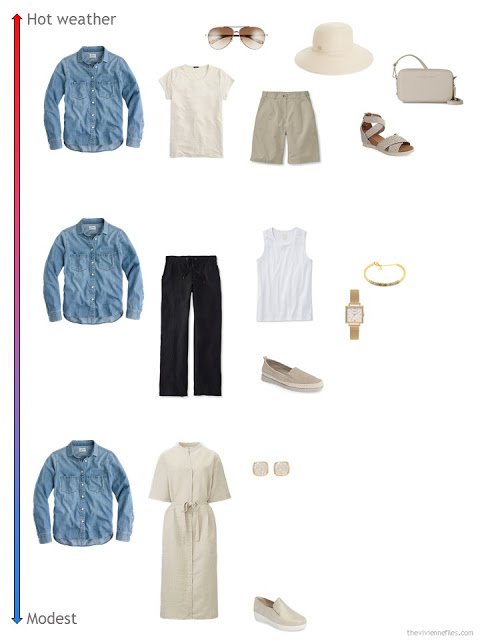 Layering is the key to dressing appropriately when visiting sensitive locations, or attending certain activities while on vacation. I hope that this is helpful to those of you who specifically requested some suggestions for this kind of trip…
love,
Janice