July 24, 2017
THIS is a tough color – it's really difficult to find any sort of accessories in this lime-y shade of green. But I think that it's a unique accent color that's well worth considering. If you're not comfortable wearing it close to your face, don't discount the beauty and the impact of a ring and/or bracelet…
As the weather remains really warm here in Chicago, I continued to build these little vignettes around dresses, although a couple of the dresses are decidedly more autumnal in feel – some for now, some for later!
I mentioned on Friday that I feel like the best balance for a wardrobe to lean much toward accessories, in a ratio to garments. On Friday when I got dressed to go out, I put on ONE dress (more than one would be eccentric…) and SIX accessories – two bracelets, a watch, a pair of earrings, sandals and my crossbody bag. This is probably the highest number of accessories you can wear with a single garment on a regular basis. Except… I have a dear friend who wear a TON of silver jewelry every day. Maybe a dozen pieces? 3 or 4 layered necklaces? 3 bracelets on each wrist? a handful, literally, of rings? And she always looks marvelous…
For these images, I'm not suggesting that you'd wear all of the accessories at the same time. Unless you want to. I always think that what you want is MOST IMPORTANT…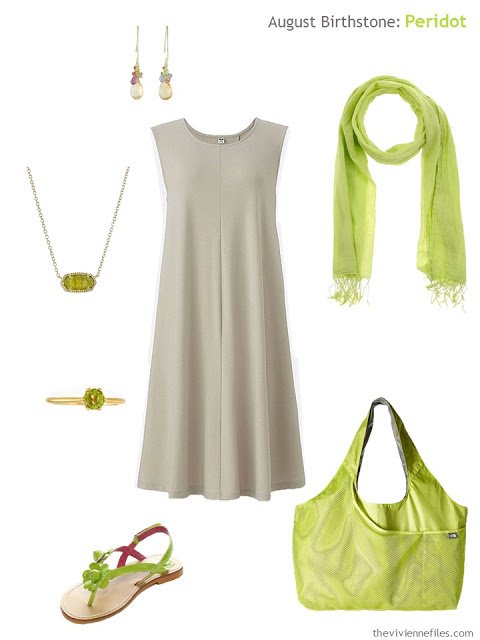 For the grey dress, I opted for silver sandals and a grey bag – it was becoming difficult to find sandals in the right color, and the handbags that I found were… unusual. You will want to be patient if you choose to collect this color!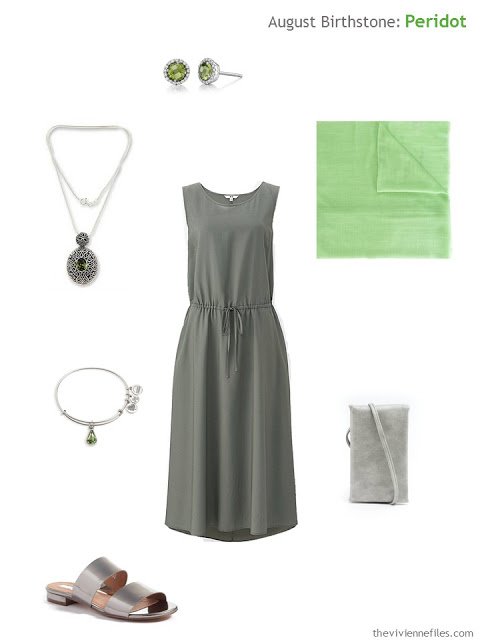 If you struggle when searching online for a particular birthstone, rather than searching for that particular stone, search for the term "birthstone." It's often more productive!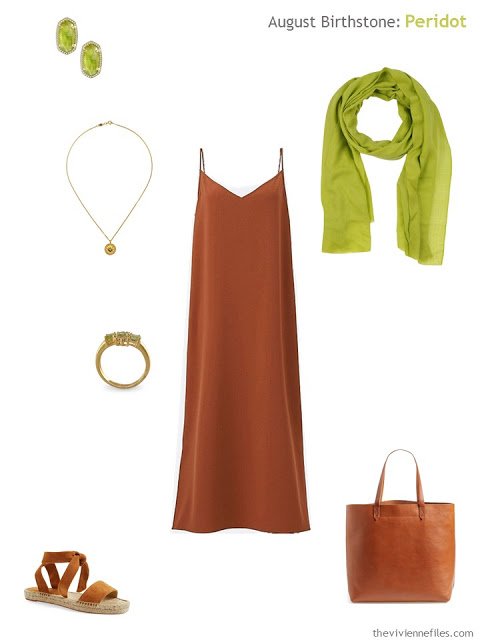 Don't be dissuaded if you don't like the first peridots that you see – they come in all sorts of shades of green. You might find some that are perfect…
And yes, the grouping with the (very inexpensive) teal dress is a little bit over the top, but I really love this dress and thought that it deserved the FULL peridot green treatment!
I really liked this mix of green shades with the focus on a bright bracelet – maybe a really deep manicure in the darkest red shades?
Don't forget the possibility of finding accents of peridot green in printed garments, or in jewelry with an assortment of stones…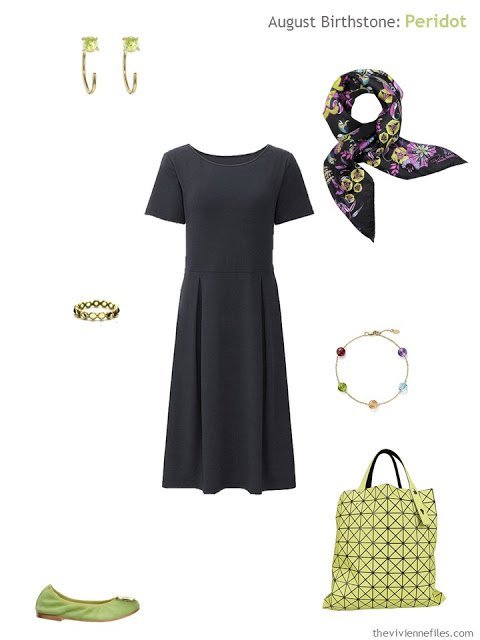 There's a lot to be said for making the effort to find a unique accent color – you certainly won't see yourself coming and going on the streets! Yes, it might take you months to assemble a solid "accessory family," but then you'll have it for years and years…
love,
Janice
More from the Birthstone Series: