April 7, 2017
Yesterday, I shared with you what I consider to be the "must have" items for warm weather. (although I don't think I can say it enough – there is NO SUCH THING as a "must have" item; if someone tells you that there is, they are more interested in selling you something than they are in helping you figure out what you most need for YOU…)
Today starts the fun part – adding accent colors! I think I'm going to have to do this for at least another 2 or 3 days, because your suggested accent colors were many, varied, and lovely!
But let me start with the "Color of the Year" – another one of those fun marketing gimmicks that really don't mean a whole lot, but that remind us to focus on a color that we might have been overlooking….
Just in the interest of experimentation, and helping us all think beyond the expected and the usual, I'm going to take each of today's accent colors and put them with ALL THREE of yesterday's "must have" 9-piece wardrobes.
Remember, we had this one:
This is a color scheme that's classic, and works so well! (you should SEE the happy dance Chez Vivienne when I found these sandals…)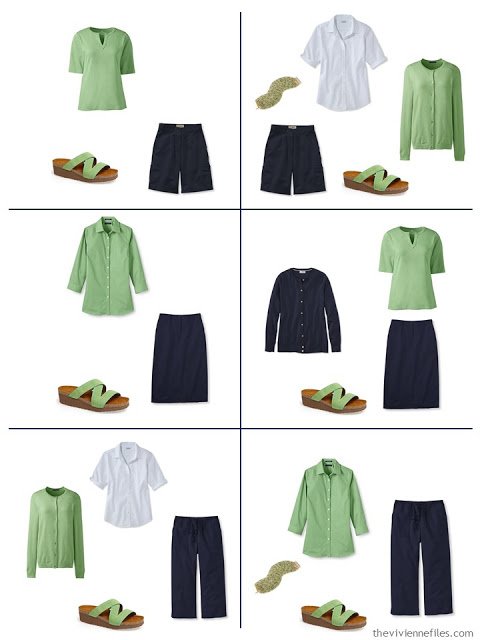 This was the 2nd of our Neutral Building Blocks, and I have to admit that I'm not sure how this will work…
But, in fact, this is pretty lovely!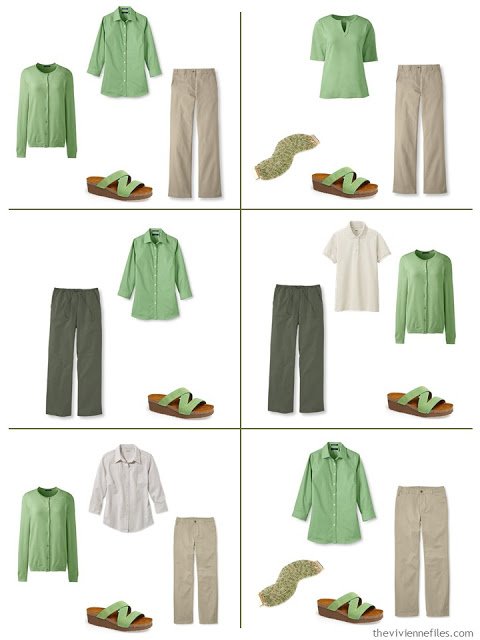 I'm pretty confident that I can put almost any color except maybe cream and off white with black and white!
This is unexpected, but I think it's quite successful!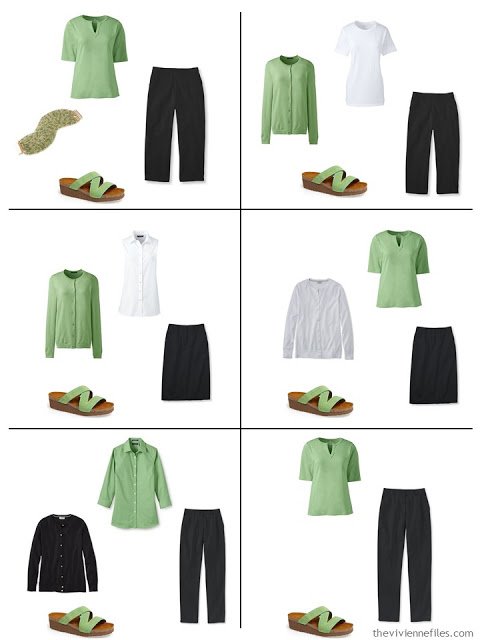 When I started looking for teal, I found things that looked like turquoise to me! And then…. I ran into things called azure. At which point in time I refuse to engage in the debate any further; it's a beautiful color, and it's beautiful with almost any neutral you can imagine.
Lovely with navy…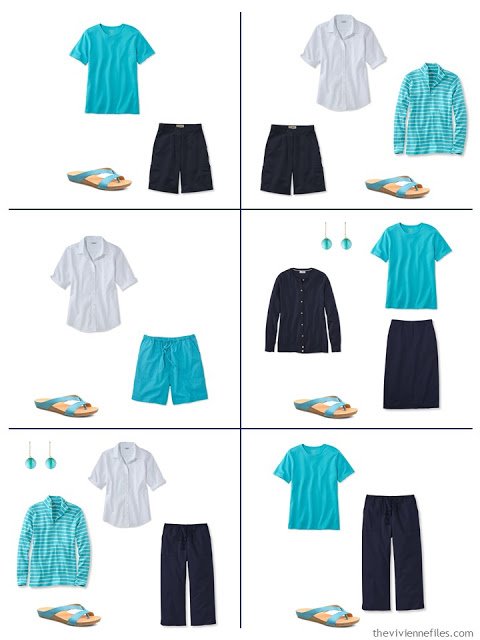 Perfect with khaki and beige…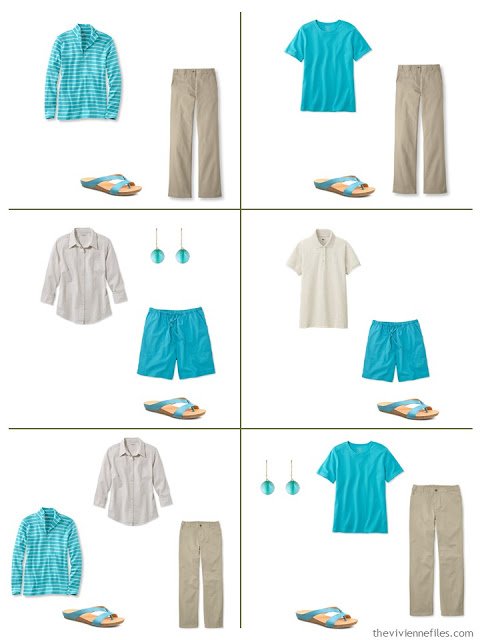 And a great accent to black and white: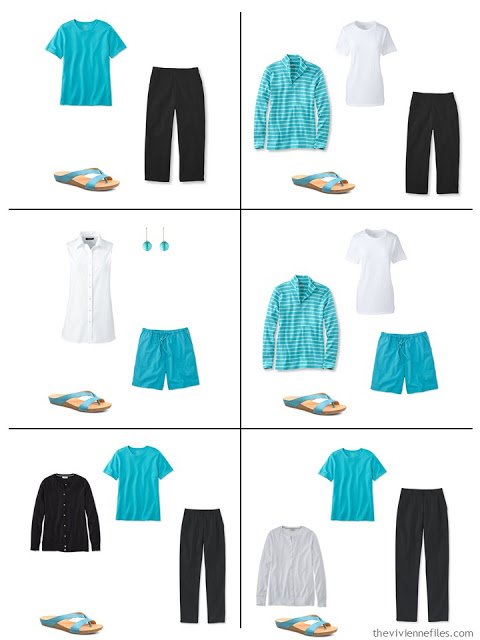 Oh, how I struggle with yellow! I look like I'm 3 days dead when I wear it (and every other woman in my family looks great in yellow…. sigh…). But it's so pretty – such a great color for spring, and truly more versatile than I at first expected:
Of course it's pretty with navy – we knew that…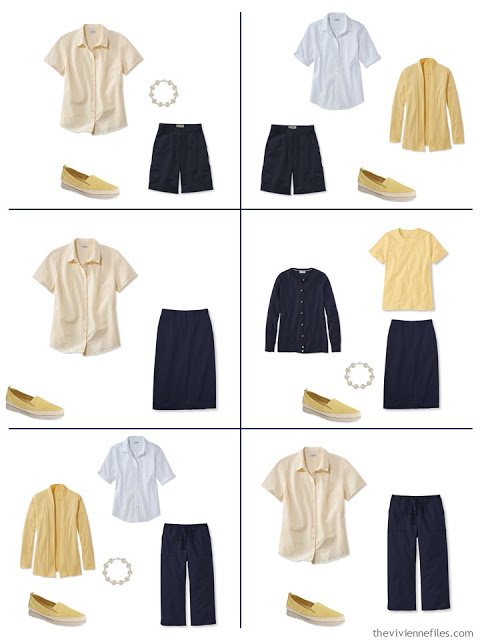 It brings a nice new angle to both beige and olive, while still being very organic and warm…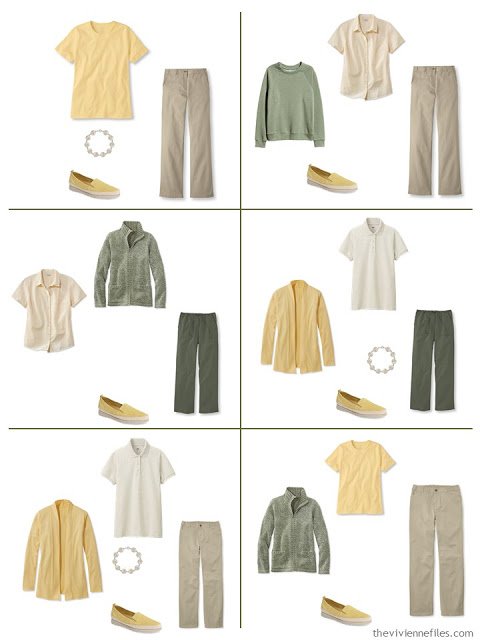 And I do NOT feel that these outfits have any sense of the bumblebee about them! I so often hear that someone doesn't want to wear yellow and black because they don't want to look like an insect…
Tomorrow I'm going to tackle blush, or pink, depending on what I find available…. definitely red, because it's such a universally useful accent that it's almost a neutral in its own right. And… mmmm…. royal blue, my heart says….
What do you think?
love,
Janice
PS – If you are looking for some more color inspiration, you can find the latest Pantone Color Planner and other documents in the Planning Documents section of the website.
PPS – To read all the posts in this series on French 5-Piece Wardrobes for Spring, check out: