April 6, 2017
She didn't just write that, did she?
Of course not – there is NO SUCH THING as a must-have item. I know for a fact that there are women in the world who never wear shoes. You could wear nothing but linen dresses all summer. You could wear shorts and tee shirts every day (how ARE things in Georgia?). You could mix it up between capris, skirts, and shorts…
Nobody can tell you that you MUST buy something. As soon as they try to start that kind of talk, you know that they don't have your best interests at heart, and you can take what they say with the appropriate bajillion grains of salt…
But there are useful ways to approach getting dressed for warm weather, and I think one worth considering is to make sure that your Neutral Building Blocks are all in order before you go swanning off to buy a really fun French 5-Piece Wardrobe in some snazzy accent color.
So let's visit a few friends, and see what they have in mind!
First up is my good friend the Lady Classicist. She loves navy, grey, red, and white, in all of the traditional cuts. She wears a mix of things in the warm weather, depending on what her plans are for the day. She knows that she's going to need a cardigan at some stage, thanks to the overdone air conditioning of some places, and she realizes that a pretty sweatshirt might be more handy than one might expect during warm weather… So before she goes shopping for all of her favorite red goodies (well, she thinks that it will be red, but she's not sure), she makes certain that she has her core wardrobe in place:
She knows that before she ever walks in to a store to buy her red goodies, she's got a good base of (fairly simple) outfits to get her started into the nice weather to come. Her accessories will make ALL the difference here!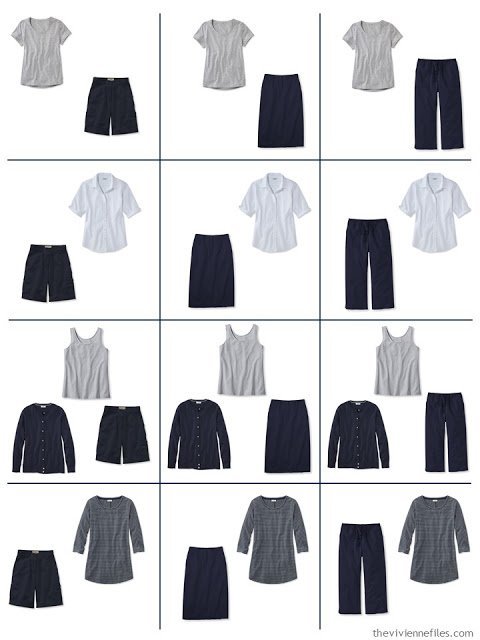 My friend Nature Goddess prefers muted colors found outdoors. She will be doing all sorts of things this summer – camping, hiking, hanging out with children and grandchildren. She never wears anything but long pants, and she NEVER wear anything sleeveless. Nevertheless, she likes to be sure every spring that her core wardrobe is ready to roll, so that when she goes out looking for this year's accent color (maybe peach?), she will have a solid base upon which to go a little bit wild…
She's owned her nice gold jewelry pieces for decades, and she always has a few pair of beige shoes, as well as the occasional scarf to dress up her very neutral items…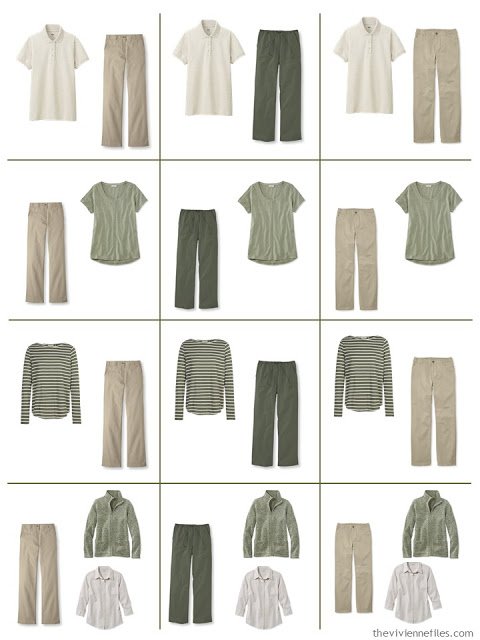 Madame Minimaliste wears mostly black and white. And she loves it… Every season she indulges in some accent color pieces, which always mix well with her core wardrobe. She's still undecided about what the accent color for the spring will be… bright blue? or maybe hot pink?
At any rate, no matter what she chooses for an accent, she will be ready to roll because her neutral core wardrobe is ready for action:
She's be pretty happy just wearing all of her black and white options, which are numerous: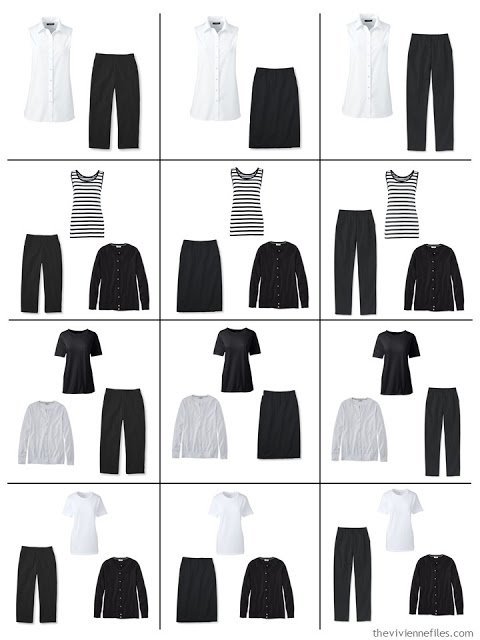 Tomorrow I'm going to have to take my three friends shopping for their French 5-Piece Wardrobe for the upcoming season – what do you suggest for accent colors?
love,
Janice