April 5, 2017
I personally suspect that there are as many different ways to clean out a closet as there are people on our planet! Since most people tend to wear their clothing one outfit at a time, I have been pondering an "outfit-based" way to go about decluttering and streamlining a closet…First up, let me make it clear what I mean by a cluster; to me, a cluster is a complete (typically 3-piece) outfit, with one more top tossed in to give some versatility and options:
As you can see, a cluster is a bit more than the sum of its parts – adding the 4th piece tends to really expand the number of ensembles available to you. This idea becomes really powerful when you get a few clusters working together; in this example, eight pieces of clothing give you at least 16 different outfits:
So let's see how this works out with a 50-piece wardrobe of mixed and various garments!(I've noticed that the nature of a "random" wardrobe that I select for use here on The Vivienne Files will clearly reflect the retailer from which I've chosen the pieces, as well as probably suggesting something about my own approach to clothing and wardrobes. In other words, there's no such thing as a random wardrobe – at least in blogging terms!
But I choose all of the garments from 1 place so that I can easily give the appropriate credit for the images that I'm using; if I chose pieces from 3 or 4 different places, the subtitles would be bigger than the image of the wardrobe.)
Before we get to our clusters, we need to count the number of pieces that we have in each category, so that we know how many clusters we are going to build. I'm particularly interested to note that this wardrobe has FIVE dresses in it – all very pretty, either floral, or softly draped, with just the exception of the grey linen dress.I always keep ALL of the dresses in a wardrobe – at least in the short term – because a dress is a complete outfit. Unless the wardrobe heroine really doesn't care for dresses, and was just buying them for special occasions or through some misguided effort to be something she isn't, they will be an easy way to get dressed most days without struggling to mix and match separates.
Your mileage may vary…
Here's where we figure out that we're going to build and keep 7 Clusters, as well as the 5 dresses: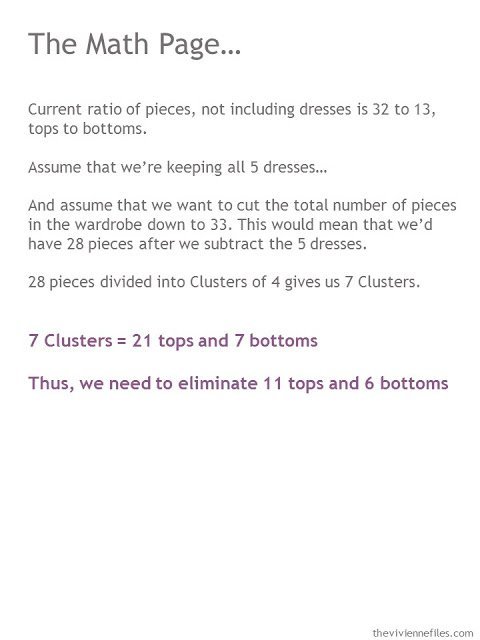 I decided to keep 33 pieces as a nod to Project 333, in which many of us have participated in the past, and will do again in the future. Obviously, to get from 50 pieces to 33, we're going to need to pull out 17 garments!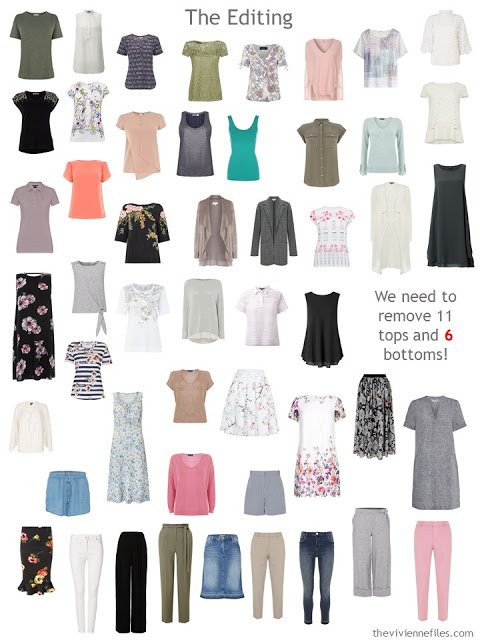 Since the dresses are staying, I got them out of our way first. The we just try to get a feel for the wardrobe as a whole – and that's not easy! Lots of floral printed tops, and THREE floral skirts – maybe that's our theme?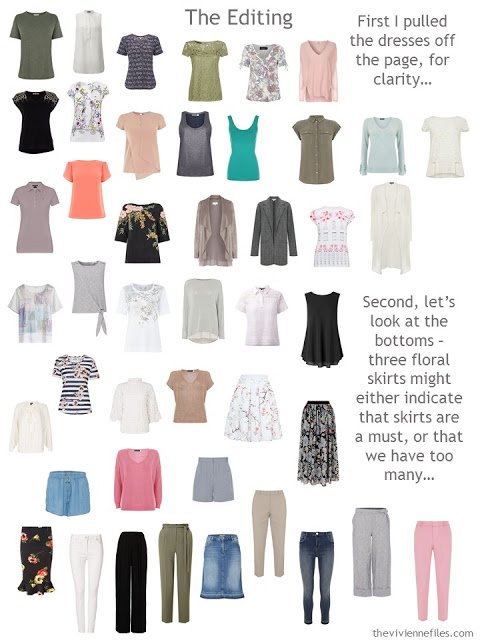 The first thing that I did was scan through this wardrobe repeatedly, looking for groupings of 4 garments (1 bottom and 3 tops) that felt harmonious. So these five clusters came to light pretty quickly, after a bit of experimentation and trial and error. However, while the floral print tops are well-represented, NONE of the floral skirts are here!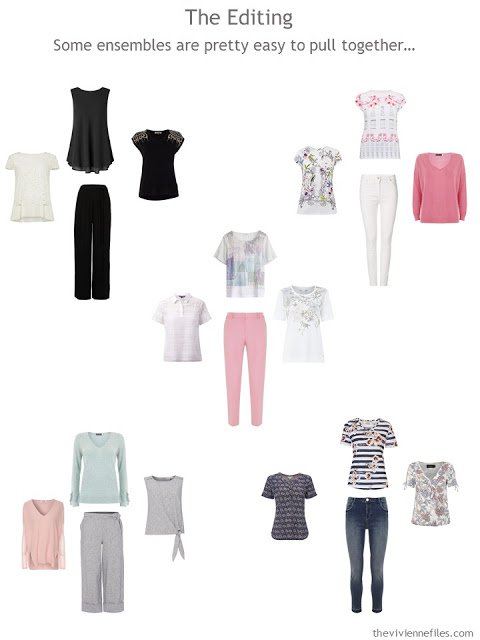 So we're going to have to do some trial and error on some specific pieces. I was drawn to the dark-background skirt because dark backgrounds are more flattering in prints than lighter backgrounds, and they can also be more seasonless…
But I just can't put together 4 pieces of clothing that really work…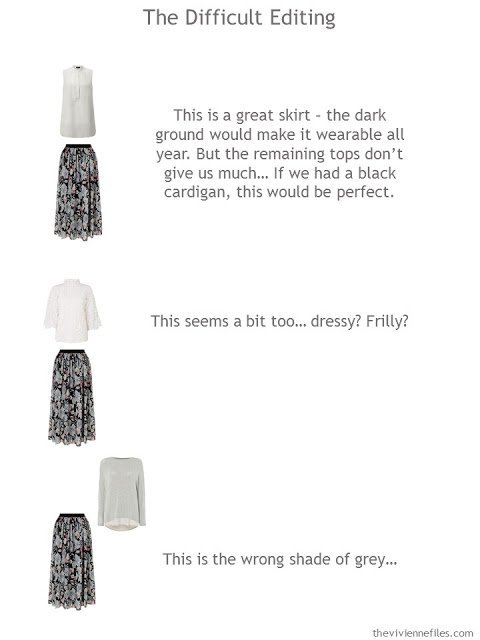 I noticed right away that there were four pieces of clothing in olive green – well, shades of olive green. You might be really comfortable wearing these outfits, but I felt in all cases that the colors were uncomfortably wrong together. This is a case where bringing a garment with you when you're shopping, so as to make sure that the colors work together, could have made ALL the difference…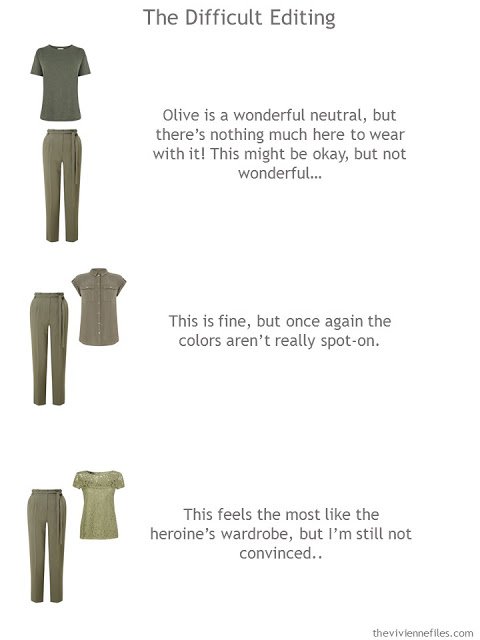 And this skirt – it's SO pretty…. but this wardrobe doesn't have a single pure-white blouse, tee shirt or sweater… and this skirt's background is very pure white… When you mix off-white tops with a skirt like this, the tops always end up looking dingy.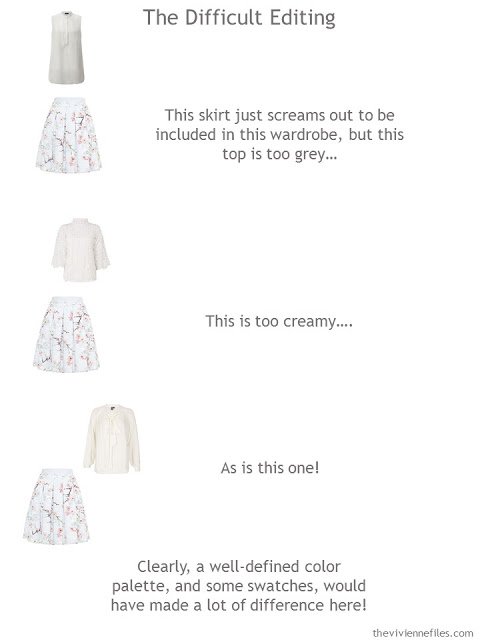 After much dragging and dropping and playing around with all of the remaining garments, I was able to build these three clusters: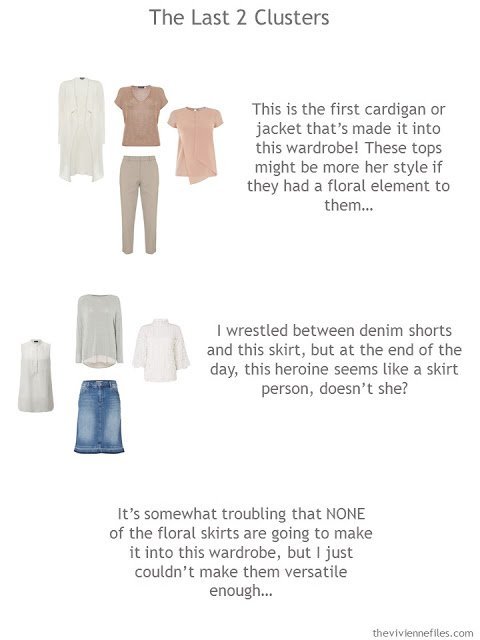 While I would have loved to have figured out how to keep those floral skirts, I still feel that this wardrobe has a lovely representation of the floral prints that the heroine seems to love. But I can't imagine a wardrobe with only 1 cardigan; that would be something I'd be rushing out to buy…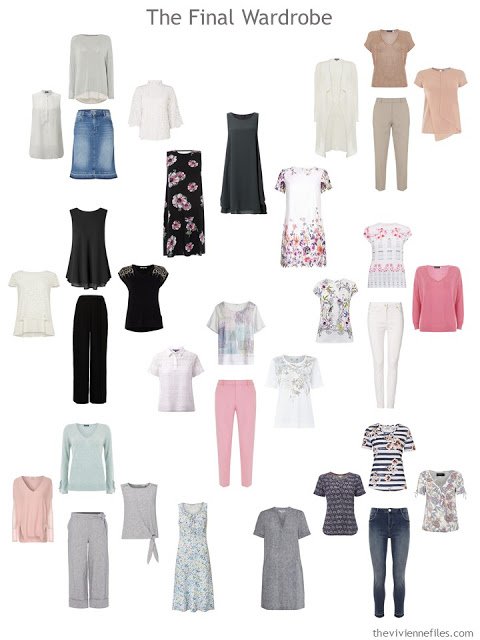 After looking at these clothes at length, I thought that I had a pretty clear idea of how this woman should move forward in her clothes shopping. I chose one top from her wardrobe that I felt well-represented her fondness for flowers, as well as suggesting a good color scheme for her wardrobe. These were my thoughts: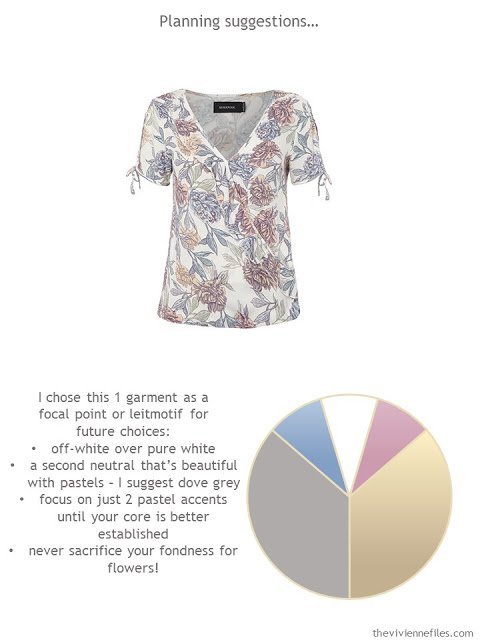 Wouldn't it be nice if we all were issued a wardrobe guideline document at birth?
love,
Janice
PS – For more in the "Cleaning Out Your Closet" series, please check out: