February 10, 2017
Since I've had a lot of time to think recently, I've been tinkering around, in my mind, with different approaches to building a capsule wardrobe.
Many of us like to keep the bottom half of our body dressed in neutrals, either because of concerns about our bodily contours, or just because we like the way it looks. So I pondered the possibilities of putting together a wardrobe that was based upon a core of neutral "bottoms."
This is how I'm picturing it: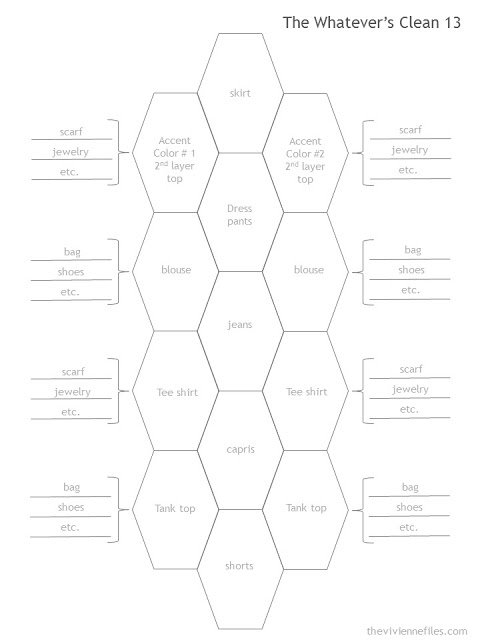 My thesis is that we can put the solid bottoms down the middle of this template, to form the "backbone" of my capsule wardrobe, and then fill in the accent pieces on either side. And just for fun, let's use a particularly excellent color scheme, based on this:
Picasso's "Head" might not necessarily be a painting that calls to you from across the room, but I think that the colors are unusual and very pretty!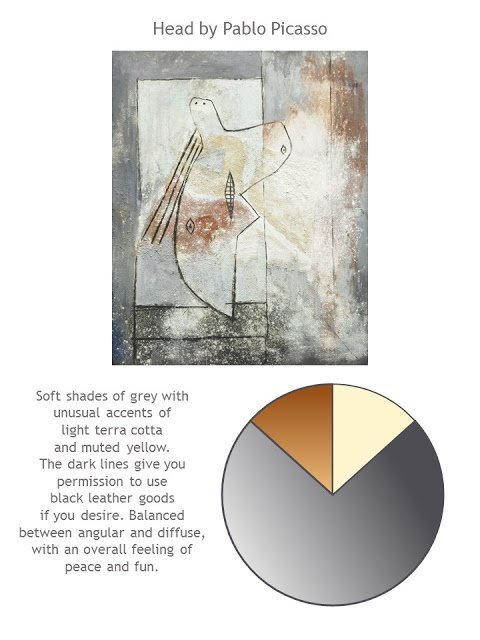 So let's start to fill in the template with the requisite bottoms – all in the charcoal grey at the darkest end of the painting spectrum.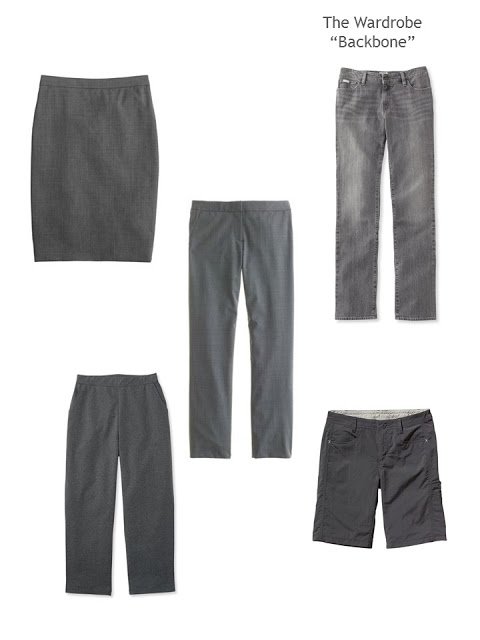 Skirt– J. Crew; pants – J. Crew; jeans – L.L.Bean; capris – L.L.Bean; shorts – Patagonia
It's worth bearing in mind that your accent color pieces don't have to match exactly. For something like a cardigan, it would be best if it can be worn with a number of things under it, but things that won't ever be worn together (like the sweater and tee shirt) just need to be in the same color family so that your accessories will be broadly useful.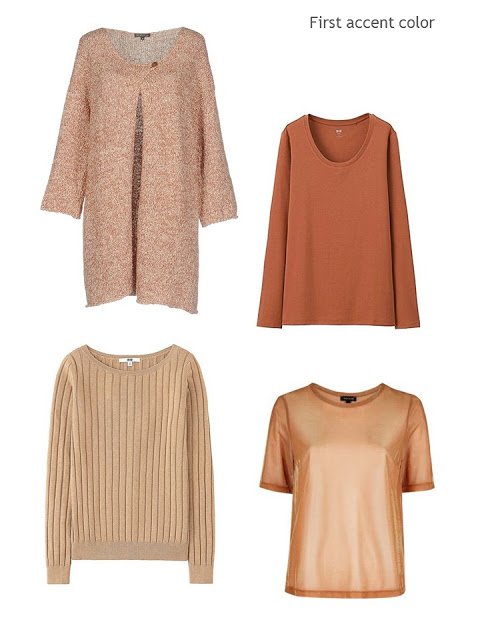 Cardigan– Scaglione; long-sleeved tee – Uniqlo; sweater – Uniqlo; tee – River Island
Same general philosophy with the yellow accent pieces – these are quite different! (and I could NOT find a good yellow cardigan… sigh…)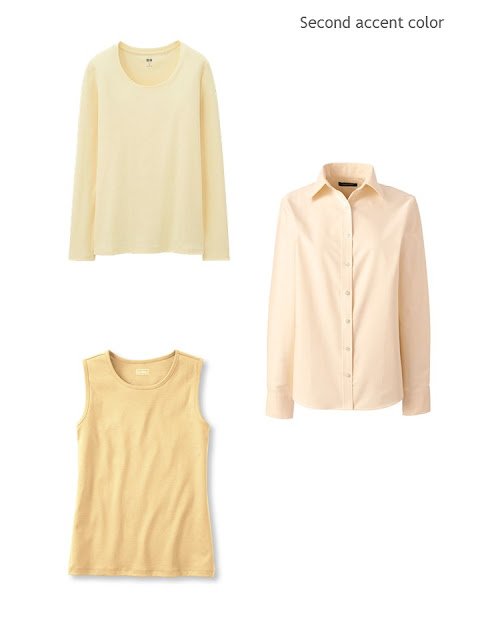 Long-sleeved tee – Uniqlo; shirt – Lands' End; sleeveless top – L.L.Bean
With the addition of a simple, classic charcoal cardigan, this is the complete capsule wardrobe. It would of course be worth keeping one's eyes open for a great cardigan in yellow, or in some combination of these 3 colors. (imagine a jacket with a grey body and some braided trim in rust, peach and yellow… mmm….)
As always, I like to test my wardrobe plan to see if there's a reasonable amount of versatility available. This sort of capsule wardrobe might be particularly handy if you're planning one of those trips that requires everything from nice dinner attire through to some hiking or sightseeing: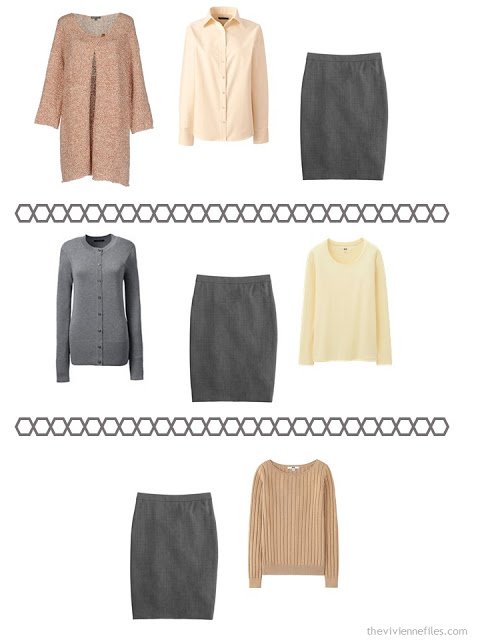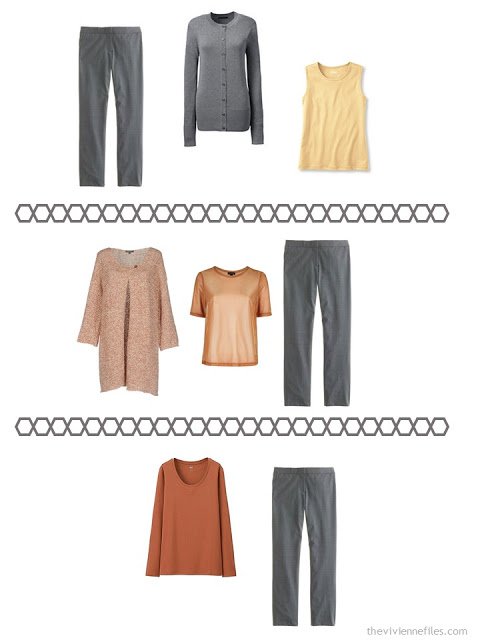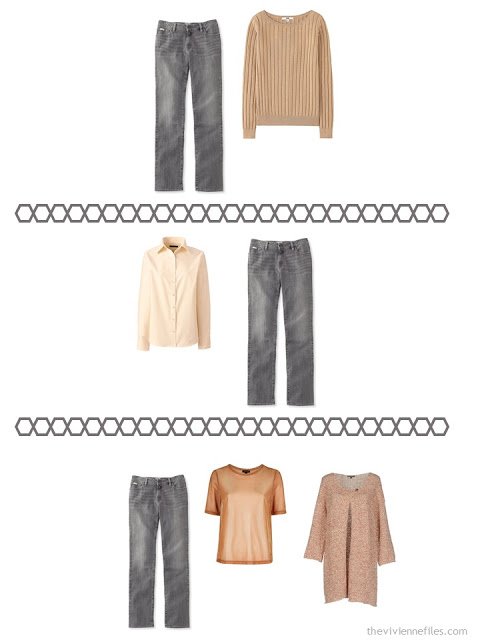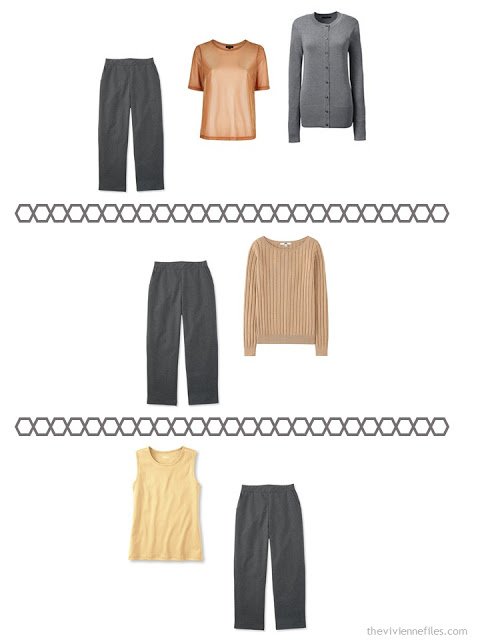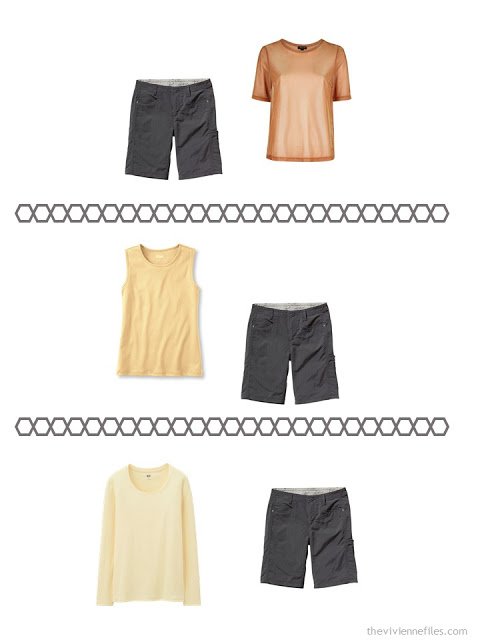 I've had a number of requests for wardrobe with grey, so I'm going to work through a couple more of these in the coming days. But Monday – accessories!
love,
Janice
PS – For other planning tools, including the latest Pantone Color Planner, check out the Planning Documents section of the website.