This is really growing on me! Remember, on Friday, we started with the painting, "Head" by Picasso (which you may or may not really love – that's certainly up to you!):
Which, through a couple of steps of planning and shopping, gave us this 13-piece capsule or travel wardrobe. This is a wardrobe that's extremely versatile, giving you appropriate things to wear for every activity from a nice evening out to a hike in the park!
I also showed 15 outfits on Friday, but they were bereft of accessories! Now, let's look at the same 15 outfits, with a few nice accessories added in to provide balance, accent, and something to wear on your feet!
Yes, the tan flats are completely superfluous, and you might choose not to pack them, in order to save space, but they do balance out the warmer-toned tops nicely. Depending on your plans, you might forfeit the pumps and wear ballet flats instead… you'd have options!
Loafers are always the hardest-working shoes in a travel wardrobe – they're almost certainly the shoes you would wear for the trip, and for a lot of other occasions too. That's why it's so critical that they be comfortable and simply-styled.
These ballet flats would be great with the grey skirt…
This is an interesting combination of pieces, isn't it? Note that the Hermes scarf includes some touches of peach, so it might be wearable with soft rust/blush/peach shirts and sweater, too!
And this is how everything finishes up. There's no rule, nor magic, to what accessories you put where, but I think it's only logical and helpful to have the pumps up where your skirt is, and you canvas shoes down beside your shorts. All you have to do is close your eyes and envision getting dressed, and you'll remember the correct accessories…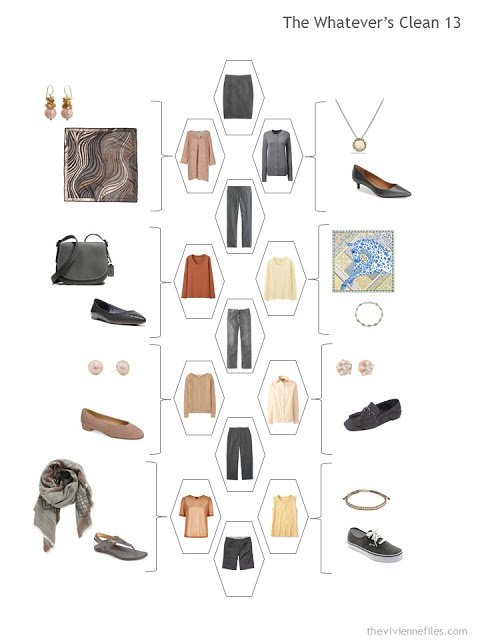 I'm going to tackle this with an entirely different piece of art and thus different color scheme, just to see how it works…
love,
Janice