February 14, 2017
I'm long overdue to make something clear – your choice of wardrobe inspiration does NOT have to be some work of fine art, nor some fabulous creature from nature. If you're inspired by a work of art that's frankly commercial and designed simply to be pleasant and decorative, you should apologize to NOBODY!
For example, someone brought this artist to my attention:
This painting is very romantic, which is perfect for today, and it brings to us a delightful color scheme: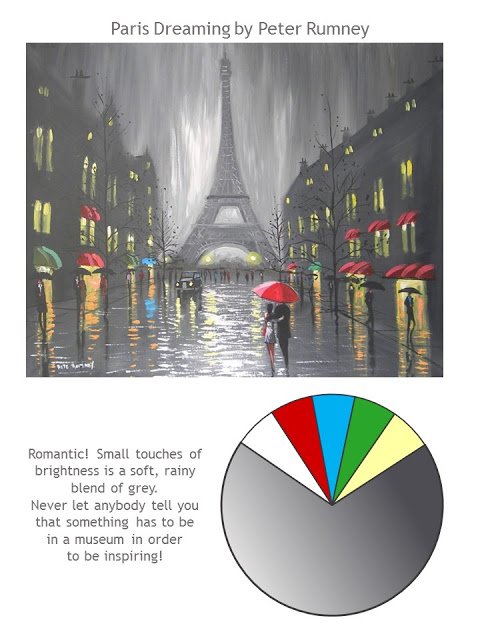 This is a great scheme if you sometimes want a dash of bright color in your outfit, but if you also want to have the option of wearing shades of grey. Let's see how that actually works when I put real clothes into the backbone template we built last week…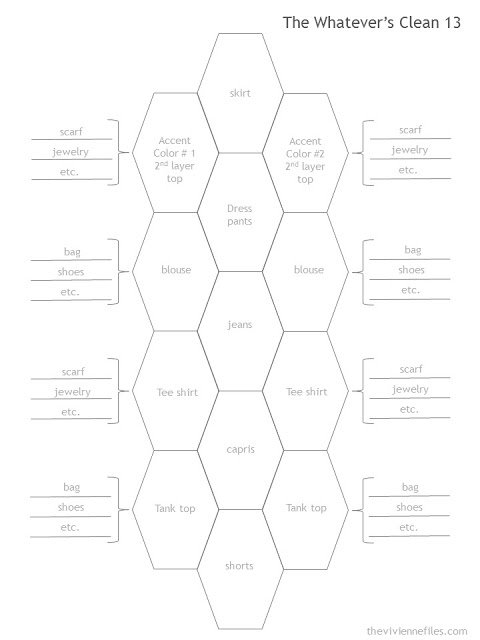 I'm starting with many of the same pieces that you've seen before in the prior wardrobe, but I'm shifting the overall wardrobe just a touch more dressy, by removing the shorts and adding in a 2nd skirt. I love a nice pleated skirt…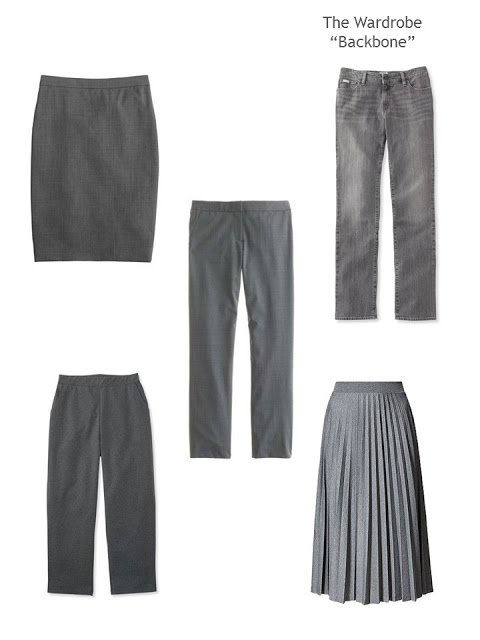 pencil skirt – J. Crew; jeans – L.L.Bean; dress pants – J. Crew; capris – L.L.Bean; pleated skirt – Marks & Spencer
Let's start by finding four tops that correspond with the four "color" colors in the palette: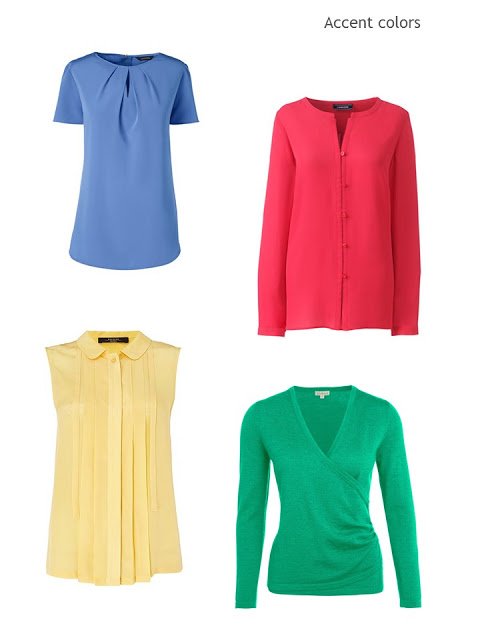 Blue top – Lands' End; red top – Lands' End; yellow blouse – Max Mara; green sweater – Kettlewell
To fill in the other side of the template, let's stick with shades of grey and white, including that workhorse cardigan and it's matching sweater: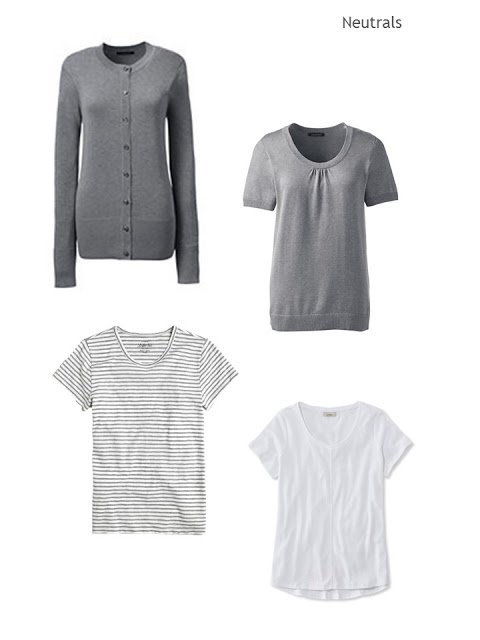 Grey cardigan – Lands' End; short sleeve sweater – Lands' End;
Striped tee – J. Crew Factory; white tee – L.L.Bean
The template clearly has two distinctively different sides to it now, doesn't it?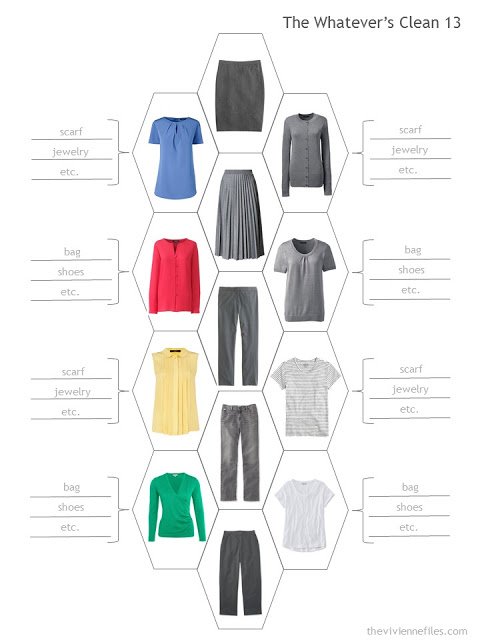 As always, let's pull together some outfits, just to ensure that we've not gone astray in our choice of garments: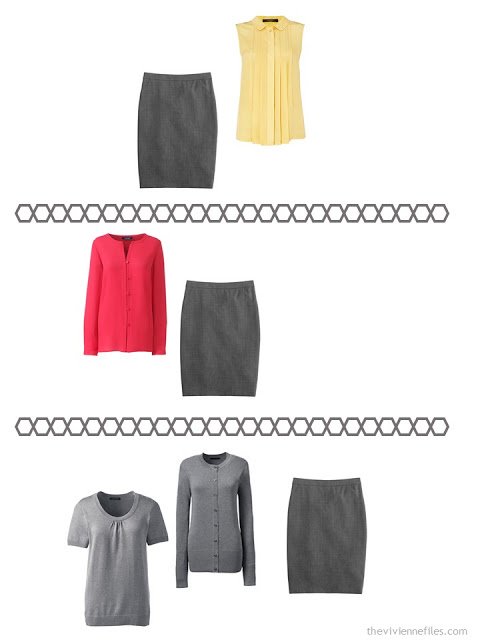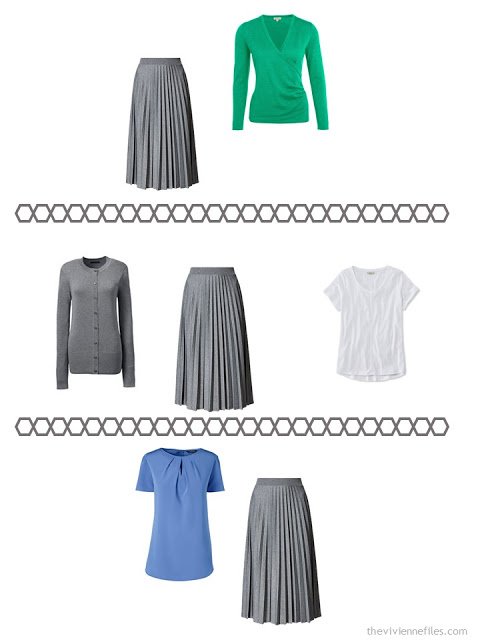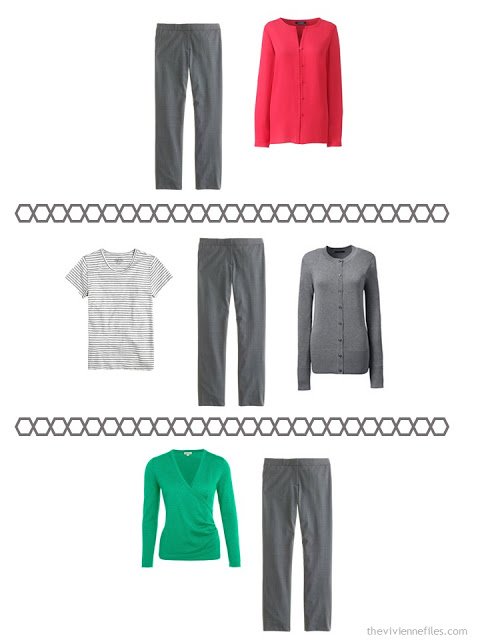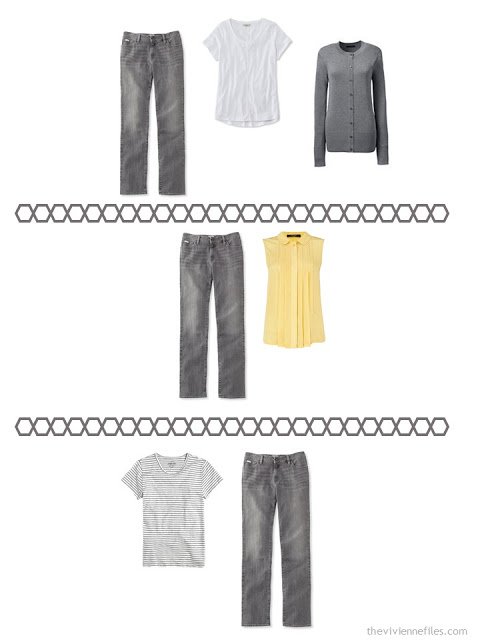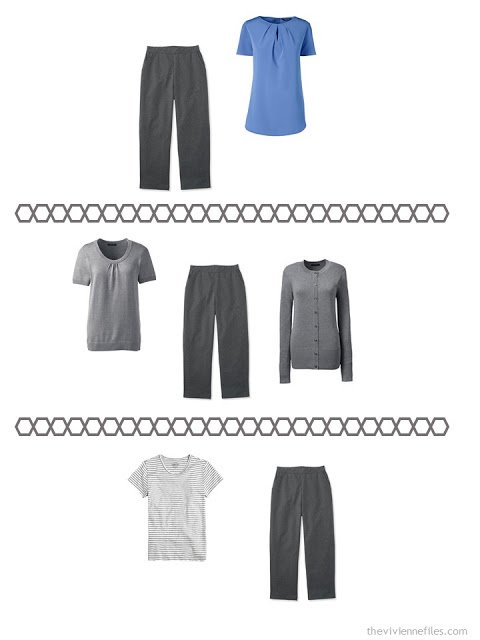 Just to make sure that you're absolutely clear on this – your favorite painting doesn't have to be in the Louvre, your favorite color scheme doesn't have to be taken from some rare, endangered exotic bird, and you don't have to explain the things that move you to ANYBODY. "Chacun à son goût" (each to is own taste), as the French would so wisely say.
Tomorrow I'm doing the accessories – just wait 'til you see some of the beauties I've found!
love,
Janice
PS – For other planning tools, including the latest Pantone Color Planner, check out the Planning Documents section of the website.