November 9, 2016
Ah, this capsule wardrobe is starting to have some personality! Here's where we left off:
As always, this would be a good point in wardrobe-building to pause, especially if you're purchasing all of these items. Wear all your new goodies in every possible combination (which will take quite a while!) and make ABSOLUTELY CERTAIN that you're comfortable with the styles, the colors, and the overall mood. It's not a dreadful thing to stop at this point, if you feel that it's the right thing for you. It WOULD be dreadful if you kept on shopping and consuming and spending money without being certain!As I look at these 9 pieces, I clearly see that we'd better get some teal into this picture soon! And the balance is swinging to "more beige than olive," so that's a consideration. Third, we have tee shirts, and one blouse, but if we're really building a wardrobe to move into cooler weather, a warmer top or two might be in order.
So I chose these pieces – either can be worn on their own, and they lend themselves very well to layering. The necklace is just a sparkly touch of warm color to hang near your face, to bring a bit of warmth and color: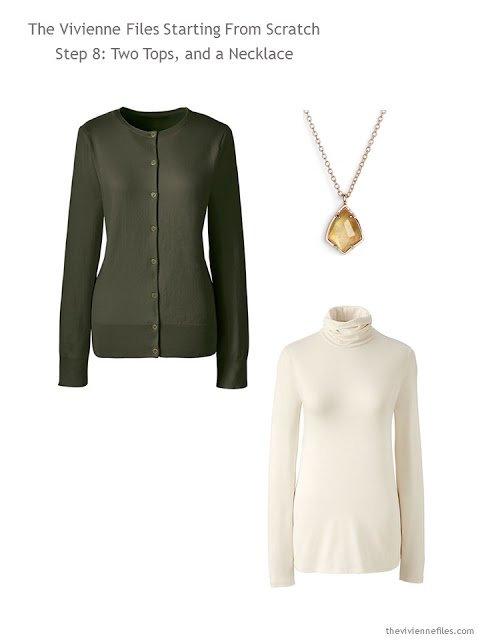 Cardigan – Lands' End; necklace – Kendra Scott;
turtleneck – Lands' End
Here's where we hit a BIG question – what do you wear for "dressy" occasions if you're truly committed to not wearing dresses and skirts?
Let's pause for a moment to think about what makes something dressy. It can be ornamentation – embroidery, beading, attached jewels or lace. Any of those qualities can be found in blouses and sweaters which can be worn with pants.
Another variable that stays within your chosen limitations is fabric; pants in silk, velvet, brocade or some other fabric with either fluid drape or lustrous texture will dress up anything worn with them.
So no dress? Easy peasy! For our mythical heroine in this example, beige silk pants and simple metallic flats are going to dress up a really all-purpose teal sweater… You can really splurge on pants like this, because they're very versatile, without being particularly memorable.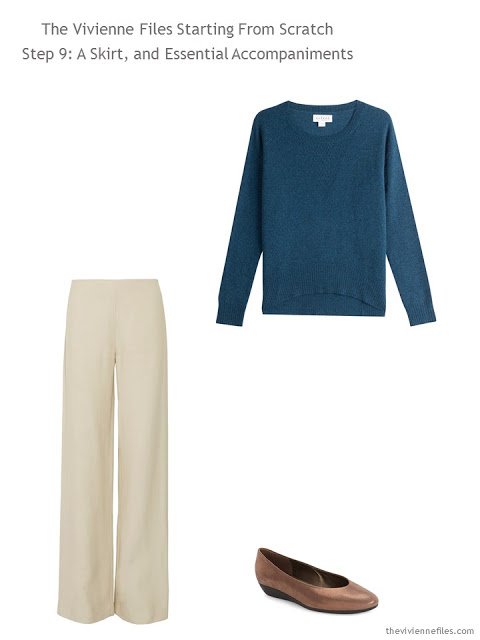 Silk pants – Adam Lippes; sweater – Velvet; flats – Arche
Now time for a jacket, casual top, and another pair of shoes…
I think I may have looked at every olive green jacket currently for sale in North America! But I kept coming back to this one, for it's classic style and relaxed feel. And the collar appeals to me, for no good reason I can pinpoint. When your mind returns to a garment a day or two after you've seen it, serious examine what the appeal is, and act accordingly.
Since it's time for another sweater, I thought that I'd continue to choose things in keeping with our heroine's affection for textured sweaters, as well as "natural" colors. It is possible now to find sweaters like this that are of undyed fiber – that's always a plus for the environment!
And canvas shoes… Relaxed, but in just the right color to work with a LOT of this wardrobe: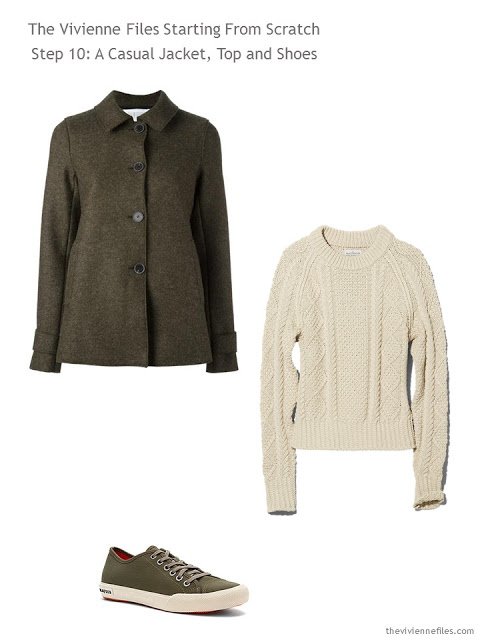 jacket – Harris Wharf London; sweater – L.L.Bean; shoes – SeaVees
This is now a wardrobe that would be suitable for a trip of almost any length, so long as you were going to be in cooler climes: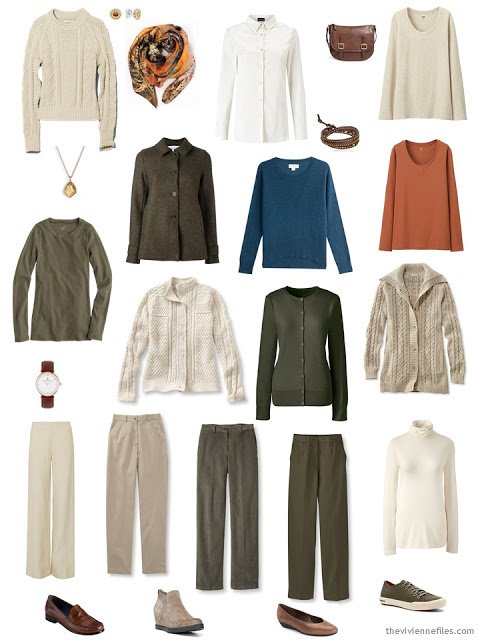 Just to show the versatility you would have if this were your wardrobe, I imagined a range of dinner situations, from dressy to casual: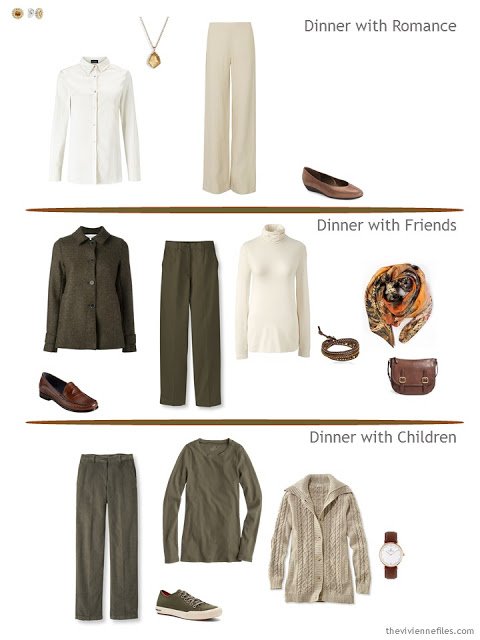 Tomorrow, we'll add a complete outfit, a longer winter coat (with scarf and boots), as well as some accessories, some leisure wear, and another "not-dress!"
Is this working out to your satisfaction?
love,
Janice