November 10, 2016
The capsule wardrobe we finished with yesterday would make a GREAT travel wardrobe; you could wear 3 pieces, and pack the other 12. With our new silk pants (and the silk blouse from the first steps) you could be prepared for a dressy event, and obviously the rest of the wardrobe is ideally suited for… wandering Chicago in November? New York? Montreal? The choices… sigh…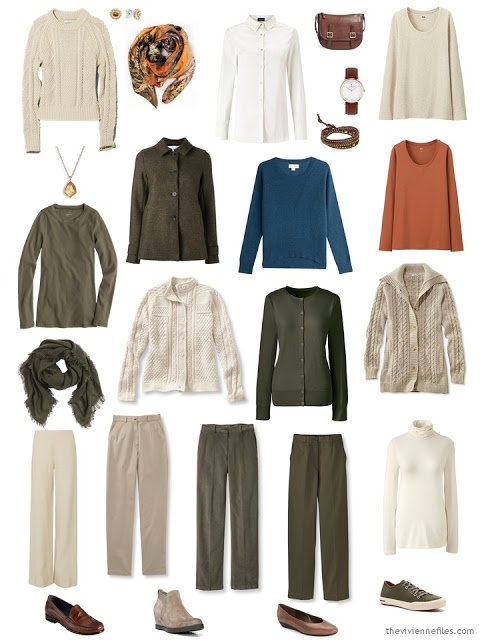 At this step, I always plan for a complete outfit. This time, I thought that some brightness and a real emphasis on our accent colors would be a good idea!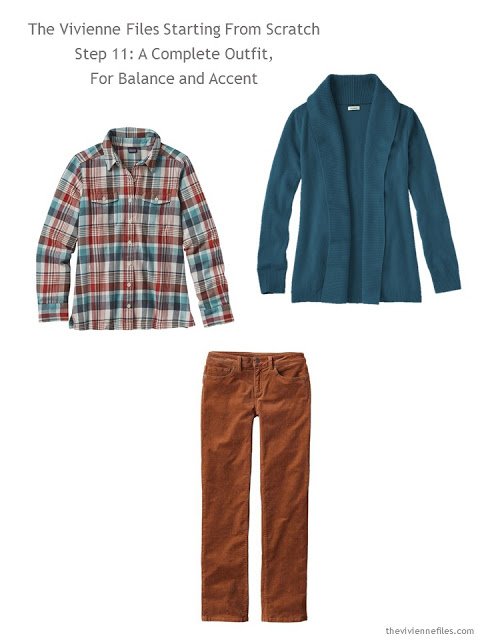 Flannel shirt – Patagonia; cardigan – L.L.Bean; cords – Patagonia
Even though we haven't (in Chicago) see anything that resembles cold weather, we all know that eventually we're going to be greeted some morning with sub-freezing temperatures and gale-force winds! Think of the calories that you burn when your body temperature fights to stay stable when it's being assaulted so viciously…
And yes, these boots are from UGG! They're water-resistant, and not all fluffy looking, which makes them a lot sleeker and more widely useful than their usual suede. But these still have that glorious lining that makes them toasty warm…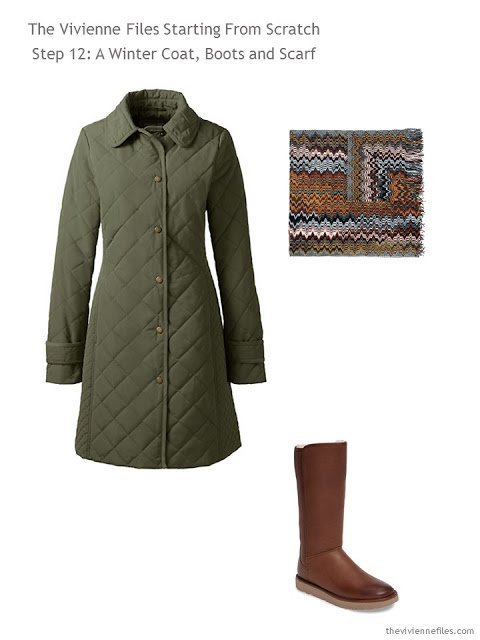 Coat – Land's End; scarf– Missoni; boots – Ugg
More accessories! When I was plotting these out, I looked at the fact that I usually include a brooch in this step, and just didn't quite feel that this particular heroine was a brooch person… But a hat person? ABSOLUTELY! Especially when the hat is this cute (and affordable!).
I included a pair of earrings that might seem a little more dressy than expected, but I was thinking that these are the earrings that she pulls out for getting "gussied up." And yes, if your favorite color is olive, you absolutely should have a pair of olive-branch earrings, too!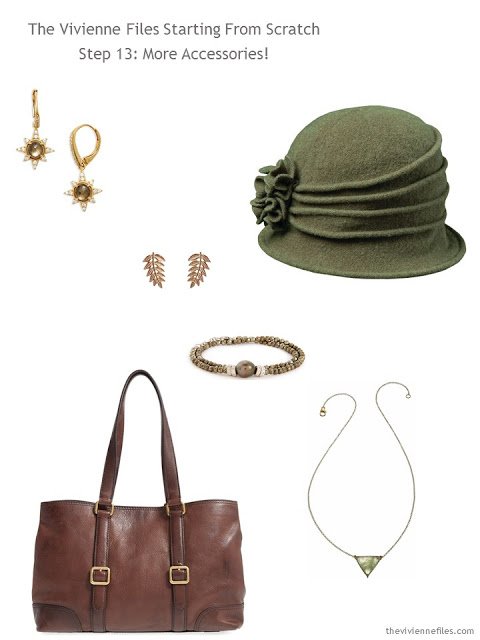 Drop earrings – Nadri; olive branch earrings –Humble Chic; hat – Scala Collezione; bracelet – Armenta; bag – Frye; necklace – Heather Hawkins
This is a step in the process that is often questioned, but I think that it's a good idea to have an outfit or two in hand that can be worn to make breakfast on Saturday morning, and then dash to the grocery store when you run out of milk. We're looking for comfy and relaxed, but still presentable to the outside world. No sheer leggings with holes in strategic places, no torn sweat clothes, and NO pajamas, please. All of the pieces shown here can work nicely with the existing wardrobe, too.
Oh… another dress? Heck no! We're pulling out all the stops here with a sequined top and another pair of silk pants. My imagination here suggested that our heroine was attending some dressy event being held at a beach resort – one of those destination weddings, perhaps?
But keeping these pieces within her color palette means that they can be used in other ways for other occasions. Nothing worse than a "one-time wear" garment hanging in your closet. (always consider renting a dress or outfit before spending money on something that truly is never going to be worn again – such a waste of money and natural resources!)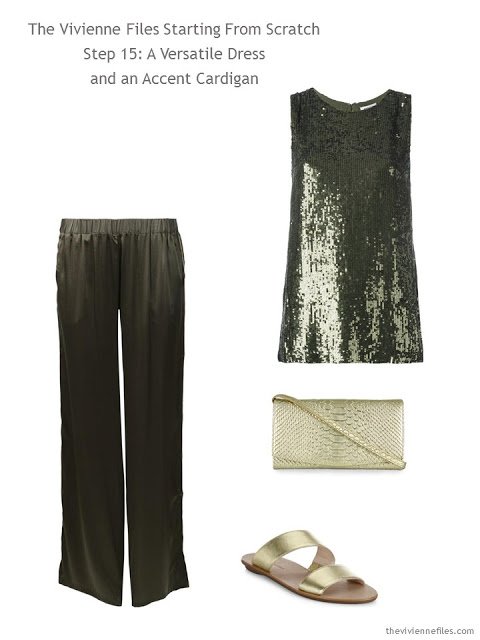 Silk pants – P.A.R.O.S.H.; tank – P.A.R.O.S.H.; bag – Esin Akan; sandals – Loeffler Randall
Frankly, if this is all of the clothing that someone has to wear from now until next Spring, I think she'll manage just fine. A pair of gloves, and something to put over her ears might be handy (the hat is cute, but in sub-zero Fahrenheit weather, something more substantial is essential!). Otherwise, I'd say it's looking pretty good!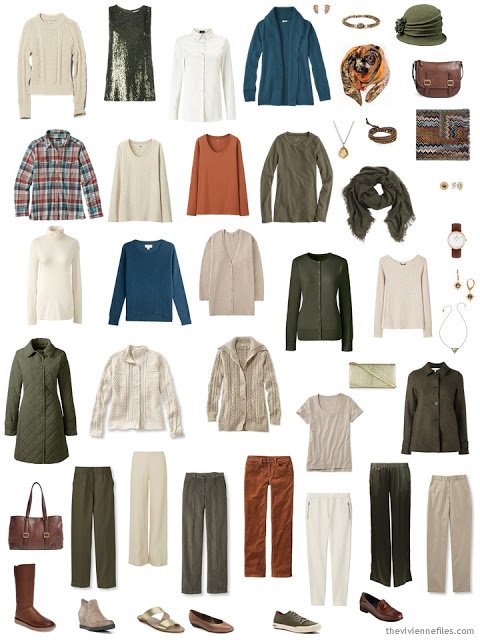 Just for fun, I thought I'd take a quick look at how some of the new pieces blend in with the older… Even the sequined tank top has possibilities!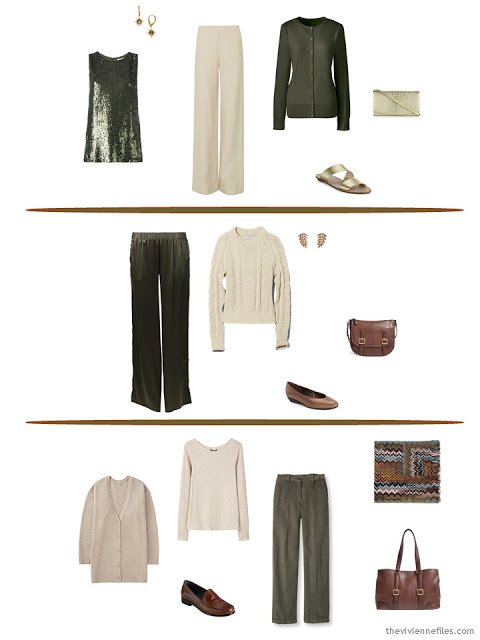 Tomorrow I evaluate everything, and make a few (three) additions – including an outrageously expensive cardigan! It's a mad splurge, but you'll understand when you see it why I caved in to at least show it to you…
love,
Janice