November 8, 2016
When we paused at the end of yesterday's capsule wardrobe building, we had five pieces of clothing – not a ton, but still enough for a tidy handful of outfits:
Clearly, this wardrobe is going to take on some real depth of color with the addition of some accessories. I'm sticking with this gorgeous rich brown leather for as many things as I can manage, including a really nice bracelet!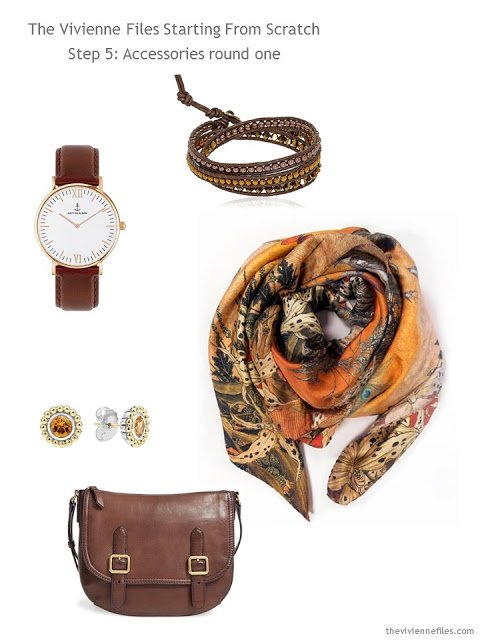 watch – Kapten and Son; bracelet – Colana; scarf – Santorus;
earrings – Lagos; bag – Frye
Generally speaking, a well-balanced wardrobe should have more "tops" than "bottoms." Jeans and trousers don't need to be laundered as frequently, and because they're worn below the waist, they're under your desk, they're under a dining table – they're just farther from our eyes than a blouse or tee shirt. So a change of shirt will have a bigger impact in terms of seeming to add variety to your wardrobe…
So let's grab a couple of simple tee shirts, and a nice neutral olive scarf. A solid scarf in your darkest neutral is always going to be handy!
You might think I'm cheating here, when you recognize that these three pieces are exactly the same as the Step 7 items from the first "How to Build a Capsule Wardrobe: Starting From Scratch!"
But when I was looking for a casual cardigan, pants and shoes in beige, it quickly became apparent that I already had this grouping chosen. These pieces work just as well with the olive and warm colors we're using now as it did before, when we built the wardrobe with navy and pastels. While many of us can't wear beige near our faces, there's no denying that it's a tremendously versatile neutral color.
If you're following along at home, you've had to buy or scare up a handful of accessories (many of which might have already been in your armoire!), and purchase or select four more pieces of clothing. I think that the change in the look of this wardrobe with the additional garments is significant:
This starts to look a lot like a really good travel capsule wardrobe; you now have at least 24 different outfits possible from your core of 9 garments: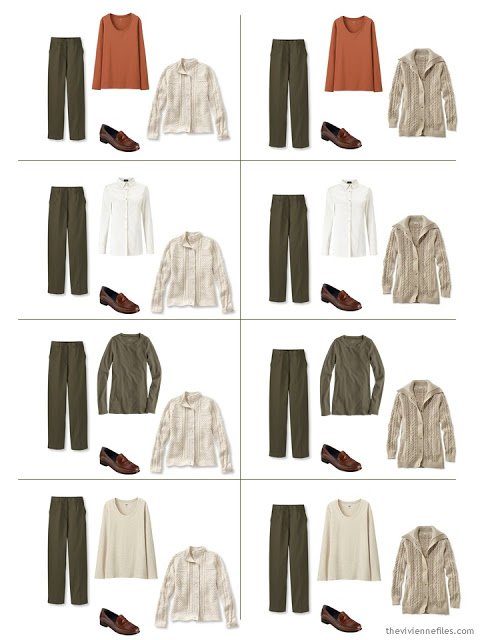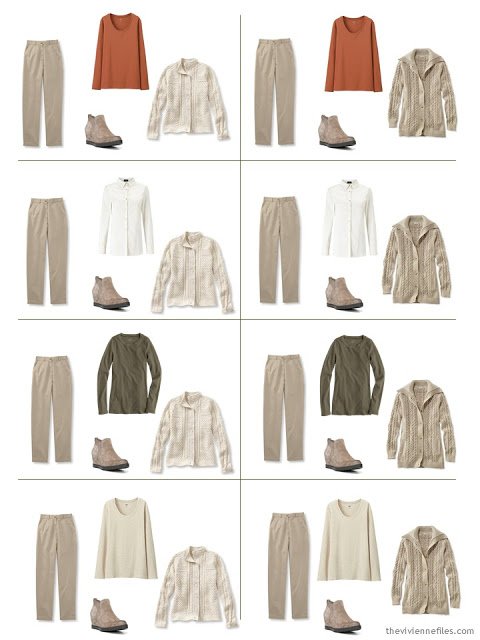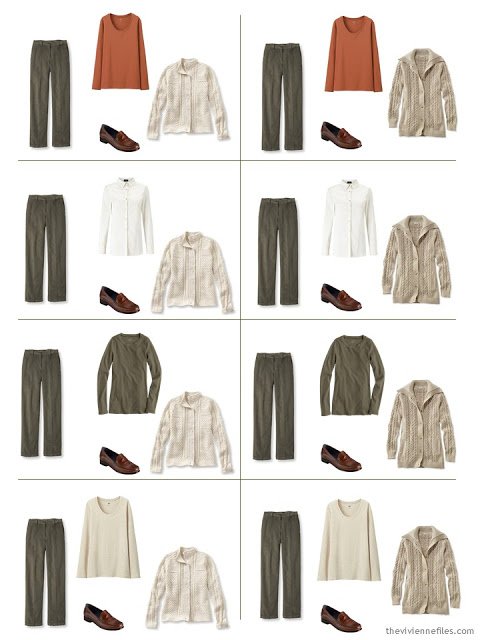 Tomorrow, we figure out what we're going to do in place of the dress that would normally be in Step 9, and we add some sweaters, and a jacket!
love,
Janice