November 7, 2016
Another step by step, starting from scratch Capsule Wardrobe exercise! This week, I'm tackling olive and beige as the neutrals, with teal, rust and ivory as the accent colors. Our primary emphasis is going to be on the "very casual, lots of jeans and corduroy" sort of style. Many of you have told me that you have very little need for dressy clothes in your wardrobe, so let's see what can be done with that in mind.
And fear not, when I do this in December, it's going to be conservative-office dressy!
First up, let's visualize the colors: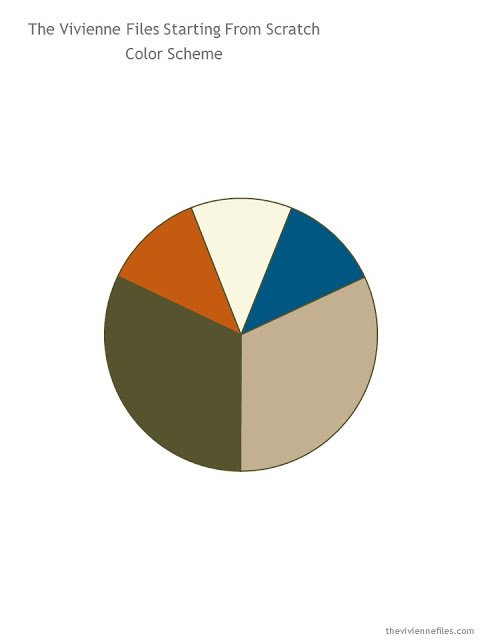 Since these colors are definitely pretty warm, with the exception of the teal, my current plan is to use warm deep brown leather goods, and gold jewelry. Our heroine's style is going to be one of traditionally styled sweater, small jewelry, and classic leather pieces. There will be NO dresses, nor skirts. (this should be great fun!)
First up: a pair of wrinkle-free cotton trousers, in the dark neutral olive. And a timeless pair of penny-loafers… you could wear both of these 50 years ago, you can wear them now, and you'll be able to wear them 50 years from now (unless they finally get us all those matching space-aged jumpsuits that we were all supposed to wear in the 21st century…)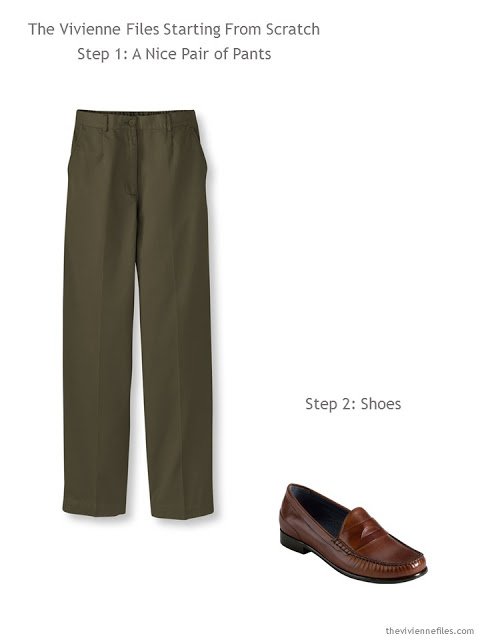 Pants – L.L.Bean; loafers – Cole Haan
Since we started the wardrobe in October by building a solid navy outfit, I thought that this month I would break up the colors a bit. Yes, I'm very smitten with this cardigan – it's been available off and on for years, and I suspect will be for years into the future. To me, that's a good recommendation!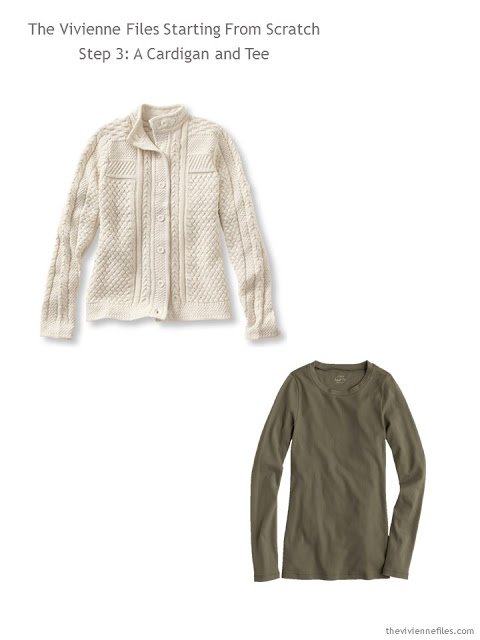 Cardigan – L.L.Bean; tee – J.Crew
For a second pair of pants, it's usually jeans, but since we're moving into the real teeth of autumn (in the Northern Hemisphere, of course!), I thought that I lush pair of corduroy pants in olive would be casual but bring a bit of texture to our ensemble. I'm sure jeans will eventually show up!
Our shirt is a simple button-front, but in a softer off-white, rather than stark white (and in silk, rather then predictable oxford cotton!). These kinds of little adjustments can make you feel more "yourself" in your clothes…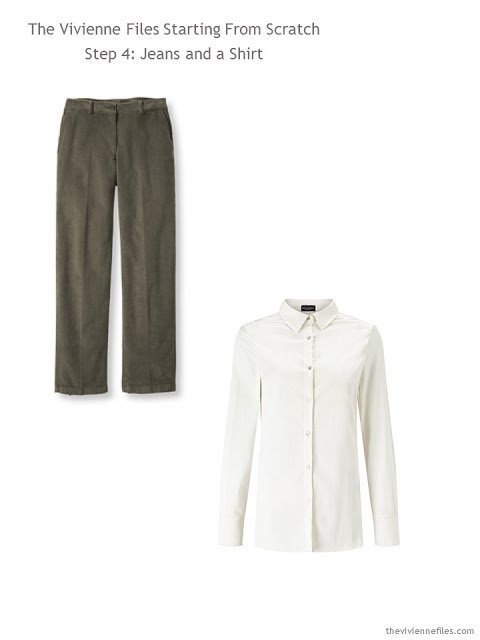 Corduroy pants – L.L.Bean; shirt – James Lakeland
At the end of the first few steps of starting a capsule wardrobe from scratch, you've got these 5 pieces assembled (and those really nice loafers!):
If you decide not to move forward for quite a long time with re-doing your wardrobe, these pieces won't be orphaned – they work together to give you 8 new outfits, and they almost certainly work with at least some of the clothing that you already own.
The object of rebuilding your wardrobe is not to get trapped in a transition that you don't like, nor is it to be forced to buy a whole big PILE of clothes before you feel like some progress is being made. Buying in an orderly, progressive fashion means that you've always got some new choices available, and that you're never forced to move forward when you're not yet ready.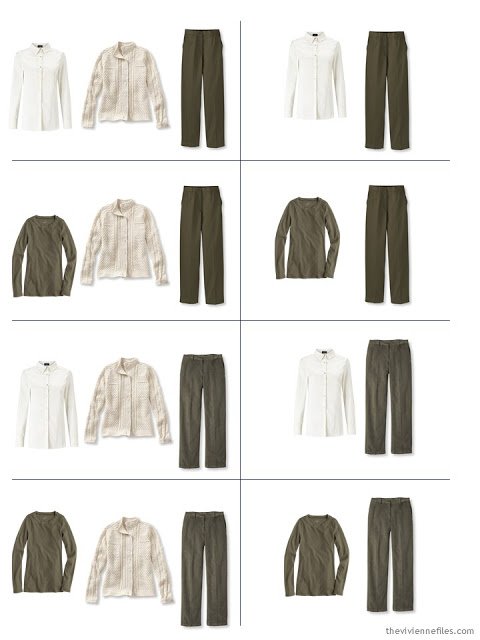 Tomorrow, we get some accessories, a touch of rust, and some pieces in our khaki neutral!
love,
Janice