November 2, 2016
I've been assured by my experts that, as much as WE all understand that "Start with Art" means "building beautiful capsule and travel wardrobes using the colors and styles found in fine art," nobody else in the Google universe knows what we're doing… and that keeps new readers from finding The Vivienne Files. That, my friends, is bad… So I'm trying to name my posts in a more "search-friendly" way. We shall see how this works!But the beauty is here, no matter what. After seeing so much art in Italy, I just HAVE to do a couple of small art-based wardrobes…
This just screams of nature, warmth, and organic fabrics in lovely faded dyes:
The colors here were very straightforward: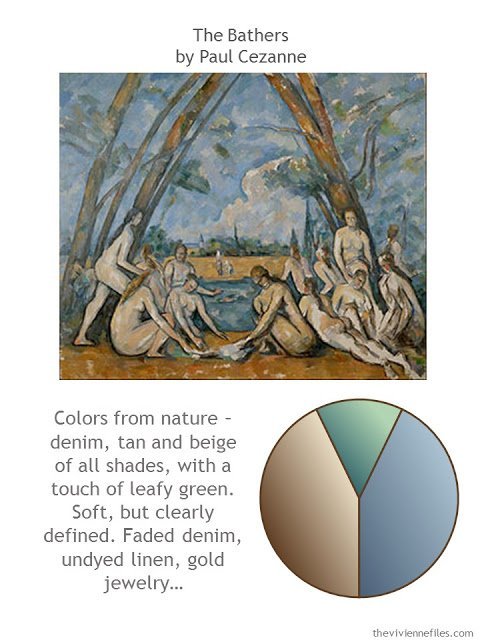 As has been my recent approach, I'm starting with a minimal, classic wardrobe of items that many of us already own: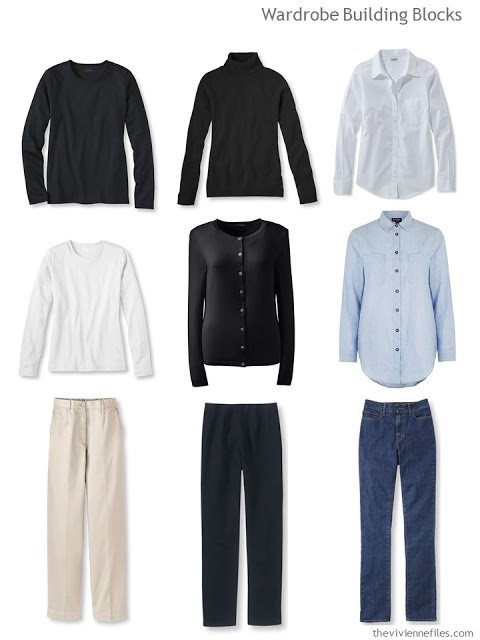 tee – L.L.Bean; turtleneck – L.L.Bean; shirt – L.L.Bean; tee – L.L.Bean; cardigan – Lands' End; chambray shirt – Topshop; pants – L.L.Bean; pants – L.L.Bean; jeans – L.L.Bean
Just a reminder of the possibilities already here…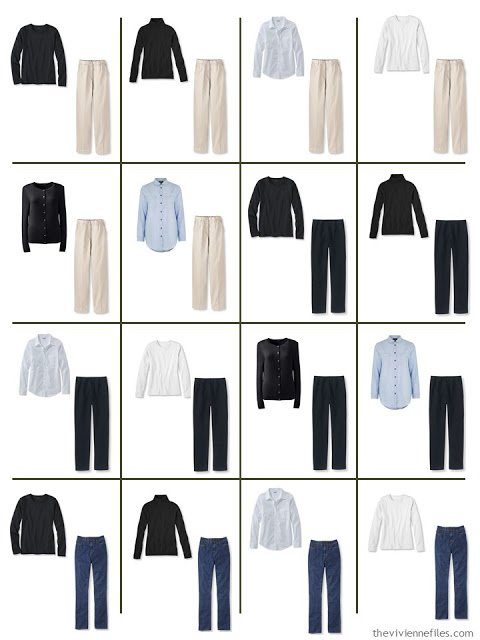 This beautiful soft blue will blend so well with both denim and khaki, and can also be worn effectively with black. And this necklace… mmmm….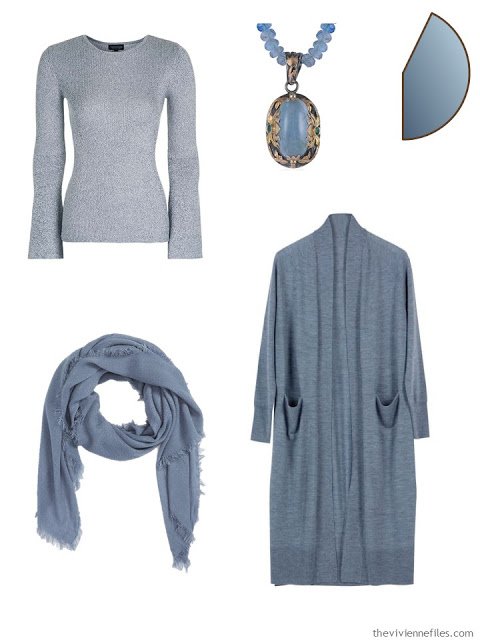 Sweater – Topshop; necklace – Emma Chapman Jewels; scarf – Hinge; cardigan – Ille de Cocos
Without even looking at black, you've already got at least 8 new outfits here!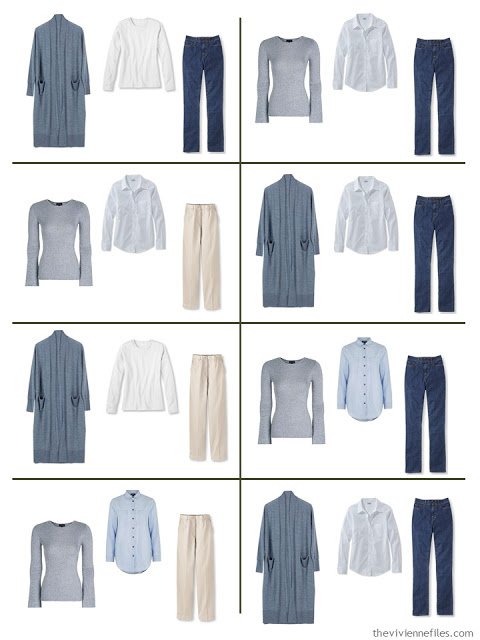 At this point, I was trying to find some green pieces, and they just really aren't available in large numbers…. so I started to imagine what would draw a woman to this painting in the first place. When I struggle, I always return to the original inspiration, to try to get myself back on track. It's not a bad strategy…
To me, this seems like the expression of someone who likes softness and warmth, and for whom black might not be the best of choices. So I decided to find our mythical heroine a nice core of beige, including a lovely little pair of earrings!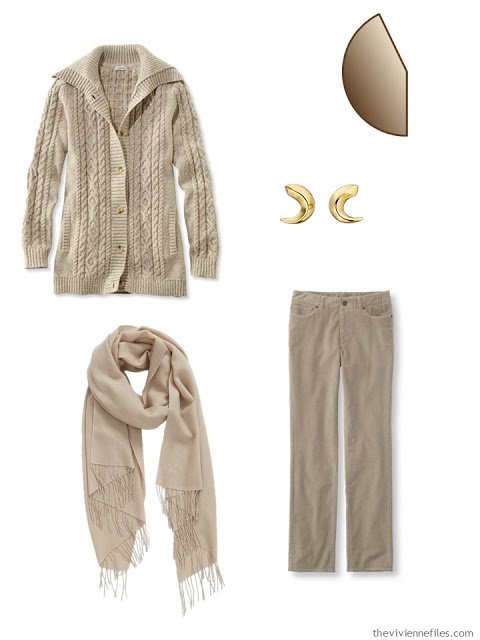 Cardigan – L.L.Bean; earrings – Nina Kastens Jewelry; scarf – Nordstrom (in Tan Memoir); corduroy pants – L.L.Bean
Lots of ways available to wear these new pieces: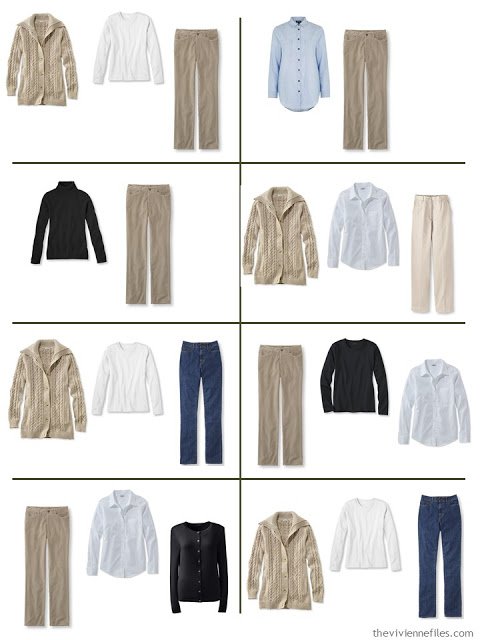 If you were in a situation like this, it might make sense to re-do your Wardrobe Building Blocks, to start phasing out black, and incorporating more soft and warm colors. The next step here might be a twinset in beige, don't you think?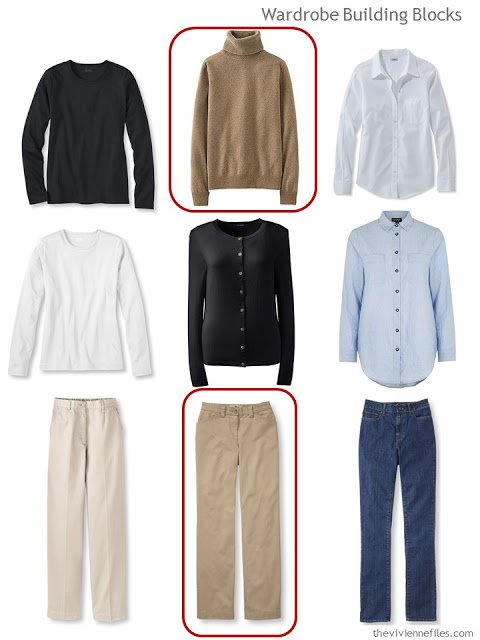 Black tee – L.L.Bean; brown turtleneck – Uniqlo; white shirt – L.L.Bean; white tee – L.L.Bean; cardigan – Lands' End; chambray shirt – Topshop; stone pants – L.L.Bean; khaki pants – L.L.Bean; blue jeans – L.L.Bean
I love this system of incorporating art inspiration in small doses, to test the real appeal of it, and to make sure that it works with your life and your current wardrobe. Gradually is NEVER the wrong way to approach a personal style shift!love,
Janice