Mainbocher, (or Main Bocher, which was his real name) was born and grew up in Chicago. As a former Chicago resident, he had over time donated some of his creations to the Chicago History Museum, and so they finally got things sorted out to do this – very lovely and very well-presented – exhibit.
The exhibit runs through AUGUST of 2017
, so if you're planning a trip here in the next 9 months of so, you will have a chance to see it.
Mainbocher is credited with introducing such fashion innovations as short evening dresses, jeweled sweater (hurrah!!!) and the strapless gown. He also revived the corset before Dior's new look, not that he got much credit for it. (nor should he – I think corsets are an abomination against my internal organs!)
When I go to things like this, I"m always looking for things that we can learn from this kind of fashion – is there ANYTHING that we can take away from looking at gorgeous evening-wear from a half-century ago?
I think that attention to detail – the neatly trimmed loose thread, the carefully sewn-down trim – is something that distinguishes all couture clothing. (and make no mistake – this was ALL couture – he never did any ready-to-wear) So, right there, is something of which we can be mindful; neatness is always a virtue, and attractive, too!
"I've never made a ruffle in my life." – MainbocherClearly, he knew what he liked, and he was faithful to it. That's worth emulating!
On the dress below, you can't really tell, but the back left panel of the skirt is soft sage green! So is the right front panel of the skirt, and the back RIGHT panel is this peachy color, i.e. the skirt panels alternate colors! And the back of the bodice is "half and half" peach and sage. It's such a simple dress, but this detail of mixed colors makes it memorable.
That's worth thinking about, too!
"Too many gadgets can spoil the dress, just as surely as too many cooks, the broth." – MainbocherOh MY, can't we learn from that…
For this dress, I don't think you could add ONE thing. Even earrings would be too much:
"Lines of classic elegance again mark his collection." – New York Times 1955While there's no mistaking that these clothes are vintage, I also feel pretty comfortable saying that in the right circumstances, I would wear ANY of it, today. There's nothing outlandishly dated in any of these pieces…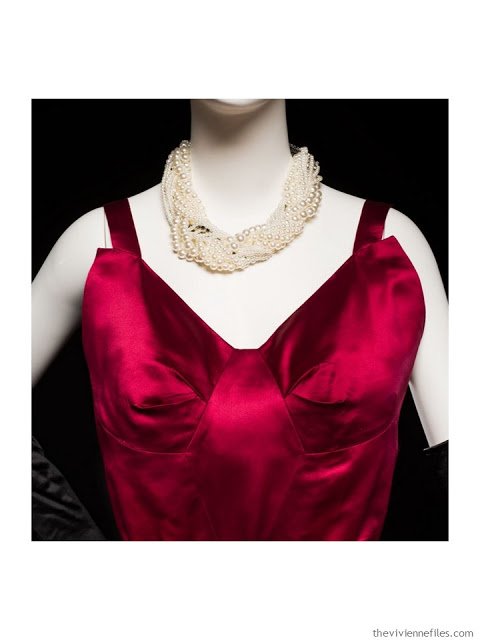 And let's not forget that he designed uniforms for the WAVES during World War Two, for the Girl Scouts, and for nurses at a major Chicago hospital. For which he took no compensation, bless him…
Do you have a favorite designer, either from history or more recently?
I'm tempted to say Chanel, because her designs were so liberating and timeless, but her complete lack of moral compass makes me hesitate. I always loved Yves Saint Laurent – pantsuits! The whole Russian look!
But if I were going to be magically gifted one piece of couture wear, it would probably be a tunic or dress from Mary McFadden, in her signature pleated fabric. Seriously, could I not completely ROCK this dress?:
So who's your favorite designer? Leave a comment to join in our discussion, and you'll be entered to win a copy of the catalog from the Mainbocher exhibit! (I love to treat you all – I never feel like I can repay what you give me…)
I'll announce the winner on Monday, so you've got the weekend to think about who you really most admire…
love,
Janice