I'm back from Italy – we saw nothing of the earthquakes yesterday. Thanks so much for all of your emails and texts checking up on us!
And for those of us looking for clothes in teal or a GORGEOUS dark maroon (they're calling it fig), check out the November collection at J.Jill….
hugs, Janice

I love camel…. I never wear it, because I look like death on a hot day when I try, but it always looks so rich and elegant in a capsule wardrobe…
There's at least 1 shade of blue lurking in this scarf, as well as a variety of green hues… and the solid scarf, on the website, is described as "olive." That seems… strange. But it's proof that you have to really search high and low, and in all sorts of odd places, to find things.
I hope you'll notice, through this ensemble, the recurrence of square and angular motifs which echo the grid-like nature of the scarf. I love to look for these little unifying qualities in jewelry, bags, and even pajamas!
Meetings…
"You want me to come downtown for a meeting? Sure…"
"WHAT? Over dinner? You do know what time the last trains run, don't you?"
"I know that the client would rather see me, but where am I spending the night, if we're going to be wining and dining until the wee hours?"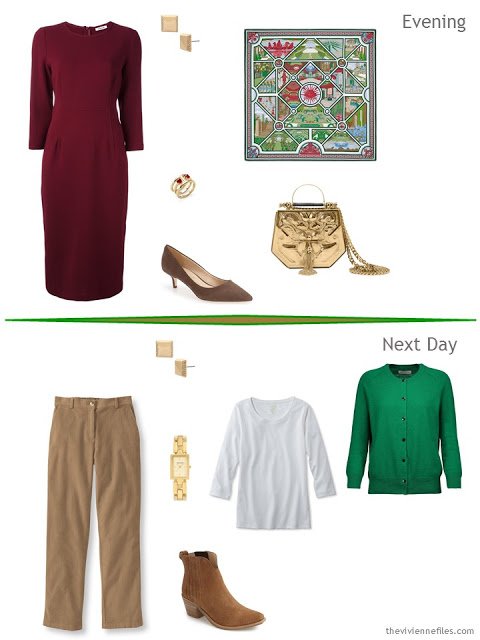 The nicest hotel downtown. Their response was VERY satisfactory…
love,
Janice