October 28, 2016
It's always interesting to work with red, blue, and white in a capsule wardrobe – the challenge is to do justice to three colors that look great together, without ending up looking like someone's flag… The grey here, the 2 shades of red, and the 2 shades of blue, give us lots of options to avoid a very "bleu, blanc, rouge" kind of look. (unless that's what you want – I'm not going to tell you no!)
For this very abbreviated little ensemble, I focused on just four colors. Introducing a spectrum of grey could give you a million options…
He Falls Asleep….
At the symphony. Always. Audibly…
And that's kind of a drag for her, because she LOVES it. The longest Mahler, the most repetitious theme and variations from Bach – she adores it all…
They finally realized that, for the price of HIS ticket, she could spend the night downtown…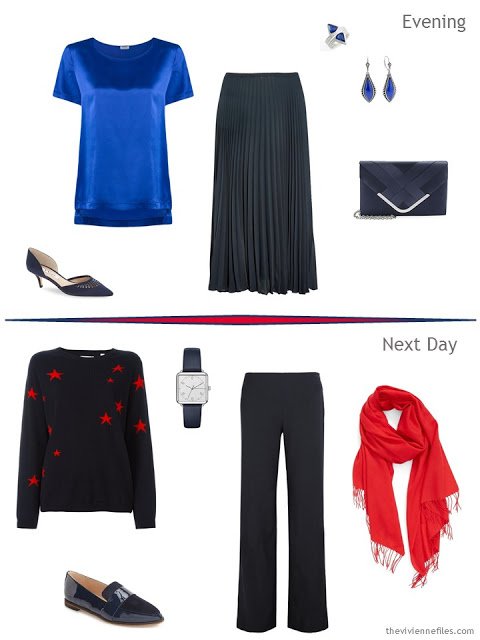 And of course, it never occurs to him that she's going to do some holiday shopping – HIS gift, especially – while she's down there alone. He'd never give her the opportunity to buy him something, would he?
love,
Janice