October 31, 2016
It was glorious. Absolutely, positively wonderful. Of course, anybody who knows me at all understand that 2 weeks alone with Belovedest is going to be the best thing in the world, no matter where we go. But I've got to tell you – if you've EVER got the chance to visit the Abruzzo region of Italy, DO IT.
The mountains area extremely steep, and the towns (many of which date back thousands of years) are perched on the tops of the mountains where they are stunningly picturesque, and easily defensible if a band of mounted villains try to attack. If I ever write a Medieval romance, it will DEFINITELY be set in an Italy mountain town…
We went hiking – there's a hermitage near where we were staying that we really wanted to visit. But we apparently got the wrong end of the mapping stick, because at one point, this was the path: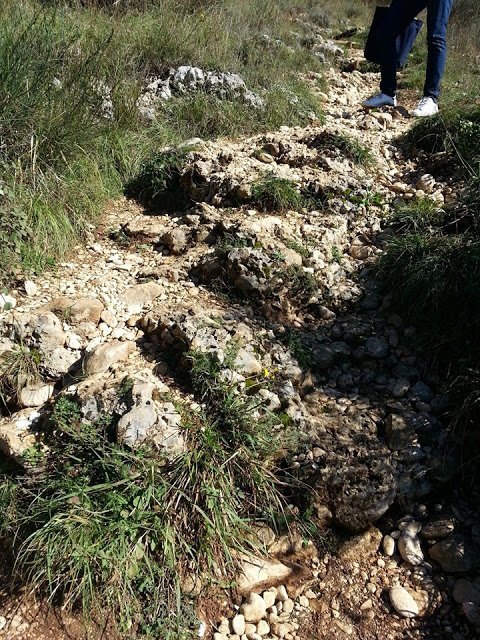 We turned back! (I admit, I fell…) we're going to have to go back and try again some day…
So what did women in Italy wear? Virtually anything you can imagine, including a shockingly inappropriate amount of lycra, revealing body parts that might have better been left to the imagination.
And big jewelry. Holy handbags! The unwritten rule that your earrings should be smaller than your ears was never obeyed in Rome…
But there were some fairly clear trends that we observed. Foremost, lots and LOTS of people were wearing super-lightweight down jackets. Always horizontally quilted. Even if the temperature was near 80 degrees Fahrenheit; style trumped appropriateness EVERY TIME…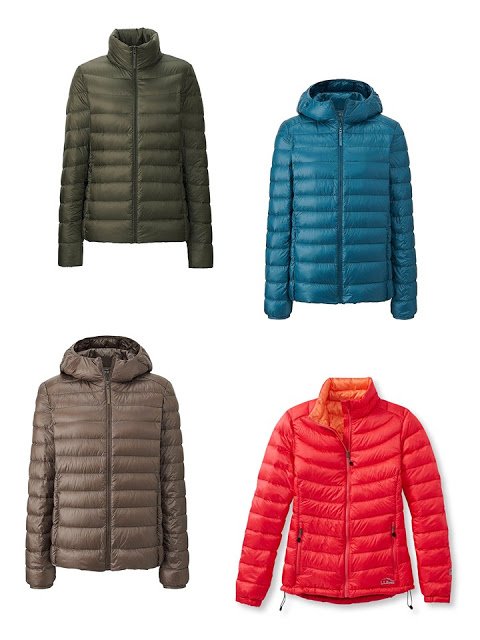 Olive – Uniqlo; teal – Uniqlo; brown – Uniqlo; red – L.L.Bean
I saw a fair number of coats with 3/4 sleeves. Personally, I can't recommend these unless you're either (a) wearing something short-sleeved under them, or (b) wearing long gloves. Most frequently, I saw women wearing these with their undergarment sleeves showing (obviously, no way to avoid this) and it generally looked awkward. Your may like this look – if you do, you're on trend with the Italians!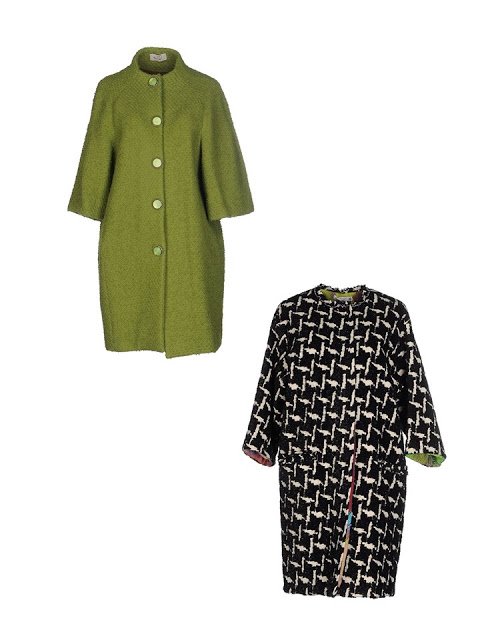 Acid green – K16? Who are you?; black & white – Peacock Blue
Leather? OH yes, there was a lot of leather being worn. I couldn't quite understand WHAT they were trying to accomplish, because the weather was decidedly warm, and leather skirts (and pants!) couldn't have been comfortable. But I saw literally dozens of black leather skirts, in every possible structure imaginable: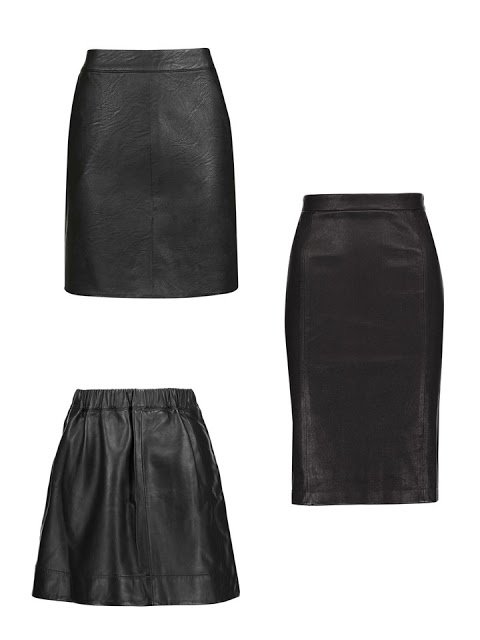 short – Topshop; pencil – J Brand; flared – IRO
There were plenty of leather jackets in evidence too, but it was interesting to me that the majority of them were round-collared and VERY simple. I saw a few more "motorcycle" kind of jackets, and a few leather blazers, but easily 3/4 of the jackets that I saw were styled like these: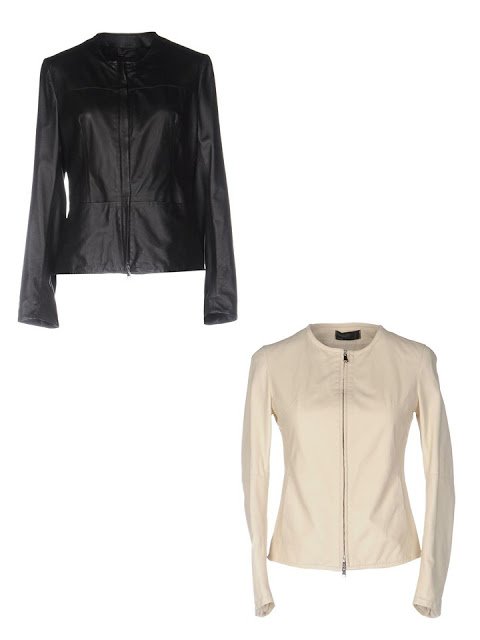 Black– RVL Jackets; ivory – RVL Jackets
And just a word of advice, regarding leather jackets (or almost any garment, for that matter!): just because you can fasten it doesn't mean that it fits. I saw some zippers that looked just about to blow…
On a much brighter note, I saw a LOT of women of a certain age dressed in impeccable quiet good taste. It was really quite a formulaic kind of ensemble, built around a beautiful tweed or patterned straight skirt – not tight, but trim. Next, a beautiful blouse with a modest neckline, most commonly a silk bow in a light neutral color. Add a dark neutral cardigan, serious jewelry (some really BIG gold necklaces), dark tights and shoes that will tolerate cobblestones. Add in the most beautiful handbag you can afford, and you'll look like a Roman woman: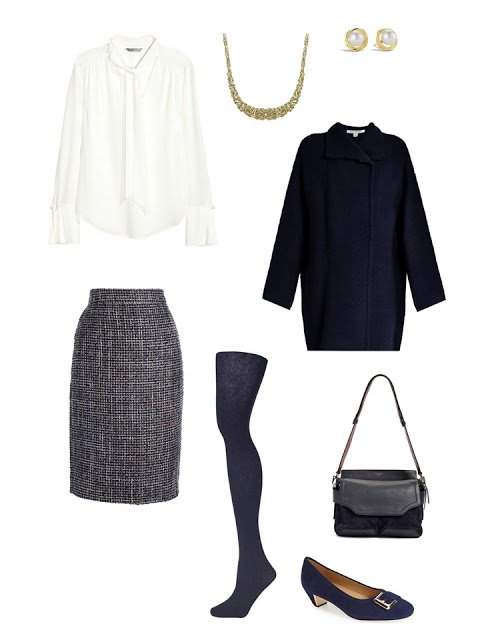 Blouse – H&M; skirt – J. Crew Factory; necklace – JCPenney; earrings – David Yurman; cardigan – Diane von Furstenberg; tights – Topshop; bag – Rag & Bone; pumps – Trotters
And what did I buy? Well, one night, before dinner, B and I stumbled upon a combination craft market/flea market, where someone had an entire table of scarves. Any Hermes to be found? If there are, I'm going to spot them!
For about 40% of retail, and in spotless, possibly unworn condition? Heck yes!
I also found a black and white tweed jacket. Sort of a blazer, sort of outerwear. You'll see more of it in the future!
If you followed me on Instagram, you might have noticed a couple of things. First – my phone behaved appallingly badly in Italy. In the little town were we were for the first week, our phones would work ONLY when we were sitting outdoors on the plaza overlooking the ravines. Anywhere else in town, it was not happening. So my Instagram feed would arrive in batches, although I had been taking pictures occasionally throughout the day.
The other thing that I've realized, and you might have discovered, is that I'm most likely to take photographs of strange little details that catch my eye; I leave the major art works and architectural masterpieces to those with a better camera and a steadier hand than I have!
So I leave my little description of our vacation with one of my favorite sights along the roads of Italy: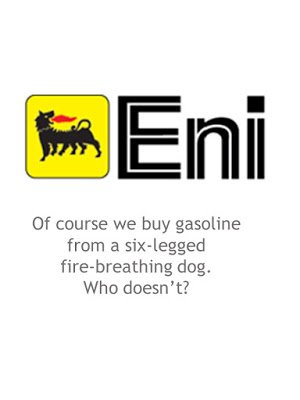 love,
Janice