October 4, 2016
I'm going to take a rather different approach to working with art, for this week. One of the biggest concerns that you raise to me is that it's impossible to completely re-do a wardrobe from the very beginning. So I'm going to look at introducing accent colors and art inspirations into an existing wardrobe, and see how that works…First, let's start with our beautiful painting:
These were the colors that I saw within the painting. For the most part, they're nice neutrals, and thus should be easy to combine.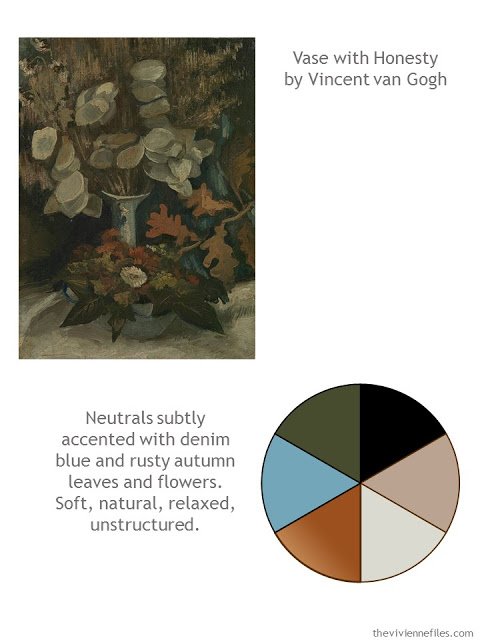 Here's where I want to change things, for now. Imagine that the above painting has become something of a fascination for someone; they've decided that, moving forward, they want it to be their inspiration – their unifying aesthetic motif.
But they currently have a very neutral wardrobe, composed of the most straightforward garments:
Frankly, I'm going to submit that this is a great place from which to start. Our protagonist has at least 18 possible outfits already. (I'm showing 16, because cramming 18 onto a page just gets crowded and weird!)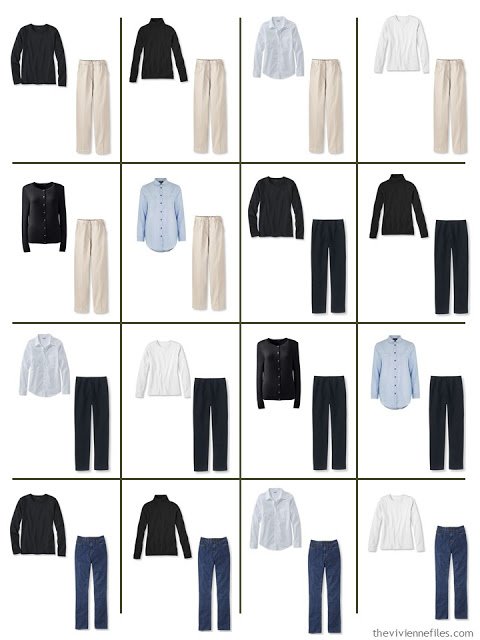 Alright, with that as our starting point, our friend heads out shopping, with a laminated print of her favorite painting IN HAND. (nobody can remember colors with any degree of accuracy; having something literally in one's hand makes a lot of difference)
And after a few hours of pleasurable browsing and shopping, she arrives home with this:
TONS of ways to wear these pieces, already! Here are 8 options, but I'm sure that there are more: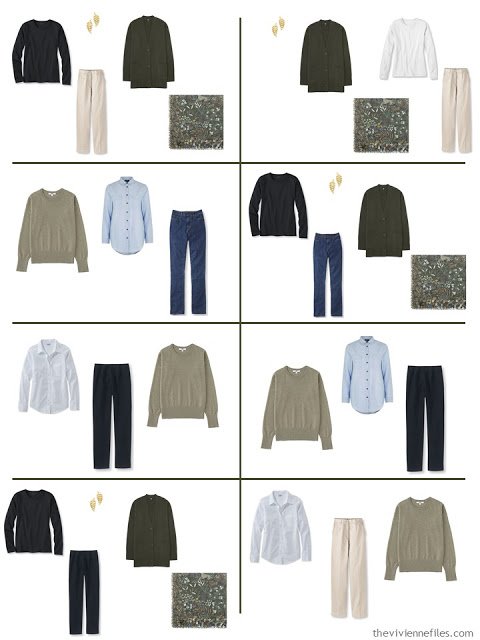 Our now very happy friend lives with her new pieces for a while, and then decides to venture out to purchase phase 2 of her new wardrobe. These are her finds:
Again, there are a lot of ways that her new pieces will work with her existing wardrobe: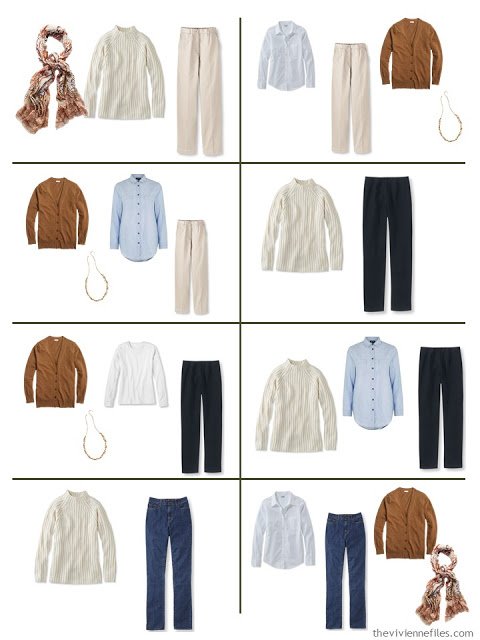 Yes, she's going to be very well-served to get those bright white pieces out of her wardrobe, and substitute some softer ivory shades. And maybe her next pair of jeans should be some sort of warm-hued corduroy…
Baby steps; no wardrobe was built in a day! But what can be learned from this? The importance of a solid core of neutral clothes, and that accessories shouldn't be neglected when adding new colors to a wardrobe, I'd say.
love,
Janice