July 25, 2016
She was enjoying the shopping…Of course, she had to start with shoes. There are women in the world who don't need shoes, but that's not the general rule. So she started with something in her favorite dark chocolate brown:
She couldn't WAIT to get some earrings – she'd been wearing demure, tiny studs for years, and she wanted something more fun. And something PINK!
And a scarf, too! While she had been able to wear smaller, more traditionally patterned scarves for her job, she had never been able to just bust out with some big swishy piece of gorgeousness. And MORE PINK!
She wanted a new watch, too. She had been wearing a very lovely, small watch for work, and while she wasn't going to get rid of it, she really was looking forward to a leather band, and a great big round face that she could actually see…
She has never, ever, worn a bracelet to work; it would bang against the desktop, and that would be a big "no-no." But now, she was longing for something in a natural material, with a warm, organic feel to it!
Heck YES she's getting some pink shoes! Who wouldn't?
One day she was heading out the door to run errands, and she reached down without thinking and picked up her briefcase. And promptly put it BACK DOWN, emptied it out, and put it in the stack of things to be donated. WHO wants their briefcase, after they've retired?
There's really nothing more flattering than pink earrings, is there?
For some reason, it seems like she was seeing beautiful pink scarves everywhere she looked. Well, woman does not live by 1 scarf alone… At least not THIS woman!
The only thing that might be MORE of a departure from her work life than pink shoes might be GOLD shoes! But they go with pretty much any warm-toned outfit, so they're REALLY very practical…
She's not going to get rid of her pearls – they've stood her in good stead for decades, and they're still very lovely. But she wants to bust out into something completely different – how about a pendant that looks like a piece of chocolate candy?
New sunglasses will come in handy – and this time, they're going to be PINK TOO!!!! (she's really losing her head, just a bit, over her new love for all things pink…)
While her new tote bag is tremendously useful, she realized a few weeks later that a smaller bag, also in brown, was pretty important. How nice to buy a bag in a color that you really love…
And finally, a scarf in shades of brown just makes her happy:
Her new wardrobe please her, right down to her (pink polished) toes! While her work wardrobe had been an accurate, and very practical, reflection of her position and her achievements, this wardrobe reflect the "inner" her – colors of chocolate, caramel, whipped cream, strawberry filling in the chocolates….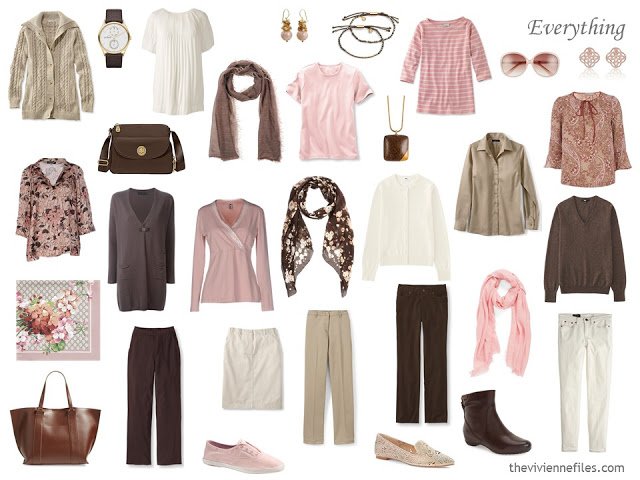 Maybe a part-time job in a lovely chocolate shop is in her future?
love,
Janice