July 22, 2016
No More "Dress For Success"
Every day, every year, the same….
Navy suit, white shirt. Grey suit, white shirt. Navy grey white navy grey white….
It served her well – she was very successful. She worked 7 days a week; she really didn't have a leisure life – her idea of being dressed down was to wear an old work shirt with old pants from a pantsuit. Jeans? Not in her vocabulary. A cardigan? Would get you a visit from the chairman of the firm…
But now that she was leaving the office world, her heart cried out for brown. The color of dirt. The color of chocolate. And khaki – sand, and stones, and natural things….
And PINK. Because she would never have dared to wear pink in her old, very conservative, work environment.
So her first day of retirement, she went shopping! And started here: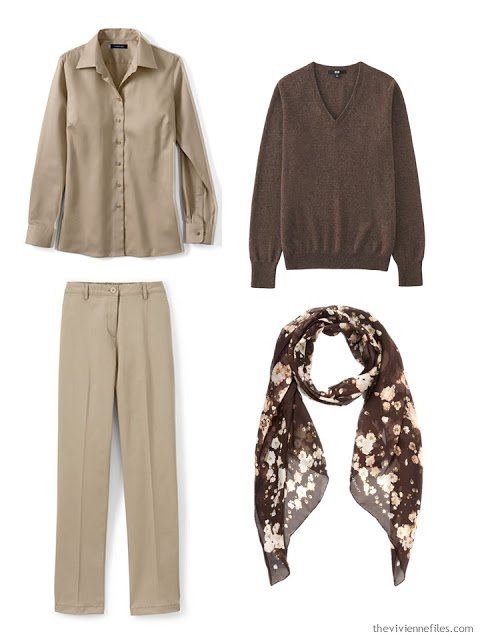 The scarf with flowers was SUCH a revelation! And being allowed to wear a shirt that wasn't white (or light blue), and that matched her pants – well, it was a whole new world of loving clothes!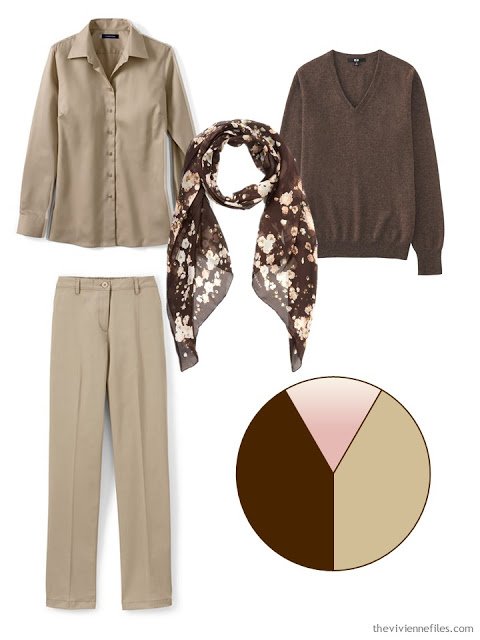 She put on her new outfit, and went shopping again. First thing HAS to be more pink, because she loves it, and because it will be so perfect with her scarf:
After decades of wearing a blazer EVERY DAY, she longed for something soft, and knitty, and casual…
Wearing pants wasn't QUITE unheard of in her life – she had 2 pantsuits, strictly for Fridays, of course. When she realized that she could wear corduroy, and nobody would care, she was all in:
After a few days with her new things, she began to realize that there was a world of clothing that she could wear EVERY DAY now; shirts without collars? Heck yes!
The warmth, and relaxed comfort, of cardigans made her so happy – it was a level of unstructured dressing that she barely remembered from college.
After a few days, she took the plunge. But not BLUE jeans – she'd had quite enough blue, thank you! Lovely sand…
Pink AND striped? Be still, her beating heart!
She began to feel joy in small, feminine details – pleats called her name…
In the midst of all of this sensory delight, she was trying to be a bit practical. She realized that another pair of pants would be helpful, so she indulged her brown longings:
When one spends their spare time reading contract law updates, the finer nuances of available clothing can be lost. When she started seeing the options of detail and cut, with feminine and pretty details, she just pulled out her wallet and treated herself; it had been decades since she enjoyed shopping this much!
After a while, she realized that she reached for her brown cashmere sweater ALL THE TIME, and decided that it was time to bring a brown cardigan into the mix. If you find yourself wearing something all the time, think about the possibility of a similar piece with just a bit of difference…
THIS decision took a long time… skirts weren't something that she ever thought she would wear AGAIN in her life! But she realized that now, she could wear a skirt on her own terms, in her chosen colors, styles, and ensembles. Much different than wearing a skirted suit most of the time!
The world of printed clothes gave her tons of pleasure; a relaxed top in a warm pink floral print can call to her from a LONG way away in a department store…
When she looked in her closet now, it was pretty sparse, but beautifully coordinated. She saw only things that she loved, and that she enjoyed wearing. Now, to find accessories…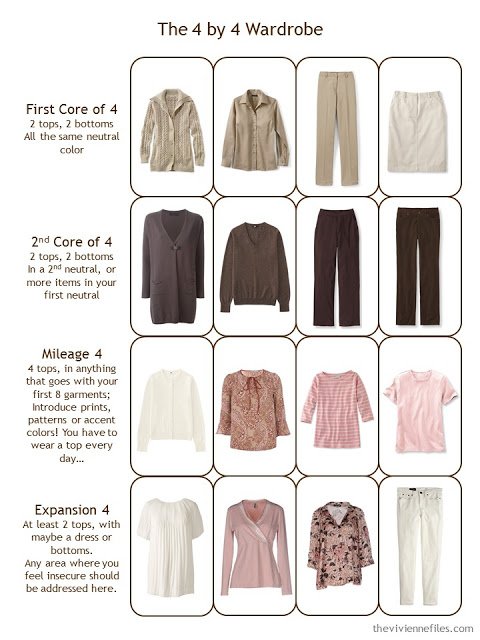 love,
Janice