This capsule wardrobe looks so much more interesting with just a few simple additions!
Remember, we started with this gorgeous jacket, and I put a simple black column of clothing under it. So shoes will be an essential first step:
Since the jacket pattern is so striking, I thought that a simple, solid scarf would be a good choice:
And I can never go too long without earrings; to me, they give a touch of shine and a feeling of polish to any outfit:
In a lot of wardrobes I wouldn't introduce a 2nd pair of shoes this early, but since this is specifically designed to be a travel wardrobe, making sure the right shoes are chosen is key. If we wait too late to pick shoes, there's a danger of panicking and packing too many pair; that's both heavy and bulky!
Unless you hang out with the "fancy watch" crowd, it might make sense to consider an inexpensive watch for travel; losing it wouldn't be quite so heartbreaking…
A hands-free bag is very important when traveling; it leaves your hands free for wrestling with a suitcase, leafing through old books, or sharply elbowing pickpockets!
Inexpensive but attractive bracelets add a LOT to an outfit; bracelets that are stretchy are often much less noisy and jangly, too. For business, that could matter!
Hoop earrings show up well and draw attention to your face, which is a bonus if you're doing a lot of speaking or presenting while on your travels.
There WILL be down-time, and comfortable, sporty shoes will be welcome if you want to spend a long day sight-seeing!
A nice necklace that doesn't break the bank is another one of those items that can draw attention to your face and give you some variety in a very limited wardrobe. And I love the idea of a "compass rose" necklace for someone traveling!
These scarves won't go AT ALL with the amazing Babette jacket, but they will be a great addition to any outfit that includes your beige and black pieces:
Another necklace, in a timeless chain style; very affordable but pretty and flattering.
Just for the sheer heck of it, I thought a brooch would be a fun thing to pack. It weighs nothing, and might be handy if you feel self-conscious about the wrap top on your dress!
Four pair of shoes might feel like a lot, but only 3 need to be packed, of course. And I thought that comfortable flats that were still dressy enough to be work-appropriate would be a welcome addition. If you're certain that you can manage with only 3 pair of shoes total, this space could be left empty, or could accommodate another scarf, or even another tee shirt.
This is everything – I can see dozens of different ways to put these pieces together into lovely, comfortable outfits! This would all fit into a small checked bag – a 2 month trip might not be the time to force yourself into carrying everything on.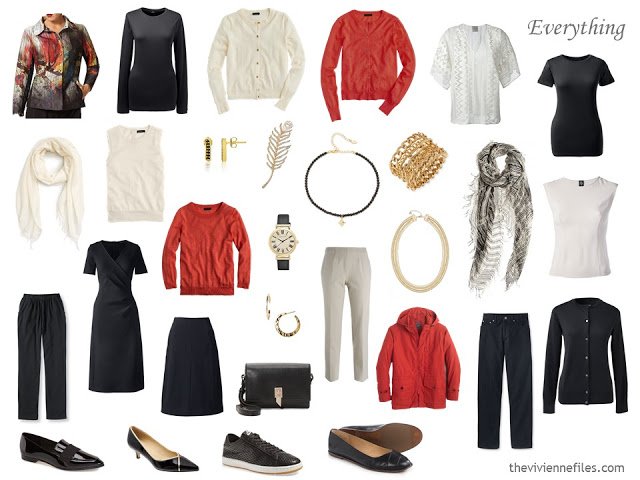 This makes me want to start packing! But some days, breathing makes me want to start packing…
love
Janice