May 10, 2016
Because one of you asked for my help with something, I'm breaking a long-standing rule here at The Vivienne Files… Normally, I only show garments that don't include a model; I find that I'd rather see what the clothes look like, without being pinned and taped and yanked around to suit the model. But in this case, the jacket was key…The request was for a travel capsule wardrobe for a 2 month work trip, over a number of climates, and built around this jacket: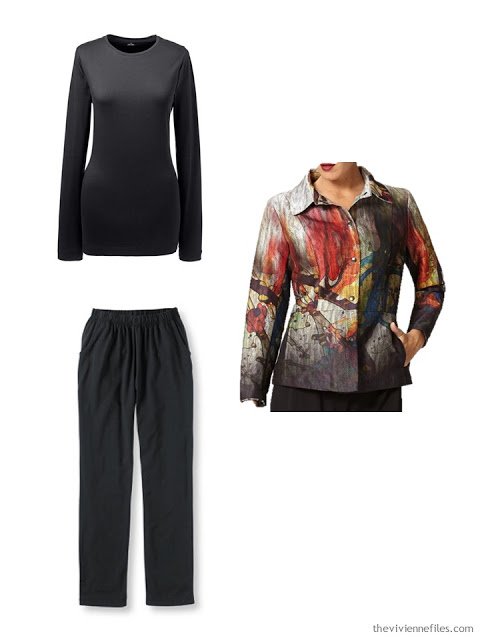 Tee – Lands' End; pants –
L.L.Bean
; jacket – Babette
This is a wardrobe that will really come into its own with accessories, I'm sure you can see. But I felt that it was important to start with a very neutral base. It gives us this color scheme: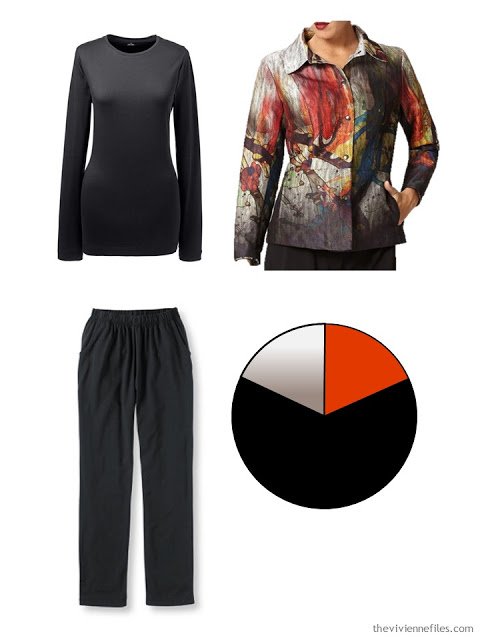 Tee – Lands' End; pants –
L.L.Bean
; jacket – Babette
Sticking with the idea of traditional business wear, and the "light top/dark bottom/jacket" tradition, my first piece to add is a simple ivory top: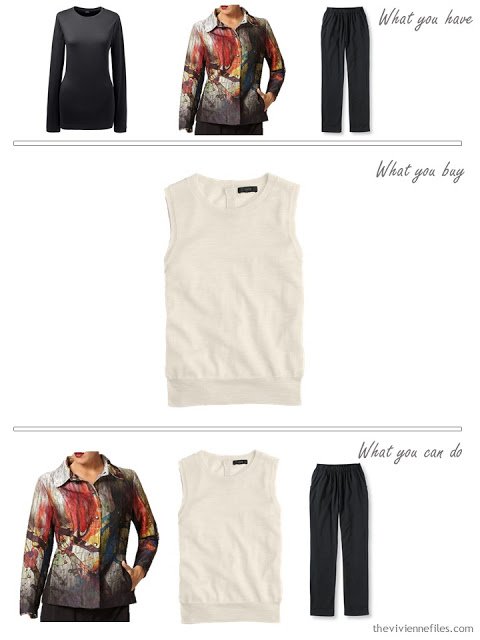 Shell – J. Crew
As tempting as it might be to wear that jacket every day, a change is going to be welcome from time to time; this sweater gives you a nice contrast over a black column, or my favorite twinset when worn with the wool shell.And note that this trip is going to span some cities and climates, so a lightweight wool is a good choice. Always remember, men wear wool in all weathers, and wool is worn by native desert-dwellers…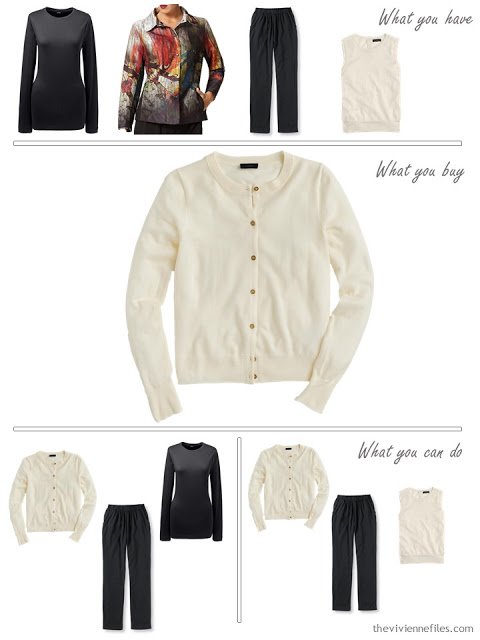 Cardigan – J. Crew
I'm assuming that any business wardrobe can use a good neutral skirt; this one is a good choice because it's modest, simple enough to wear frequently without getting sick of it, and a knit fabric that's pretty resilient in the face of being packed (and re-packed).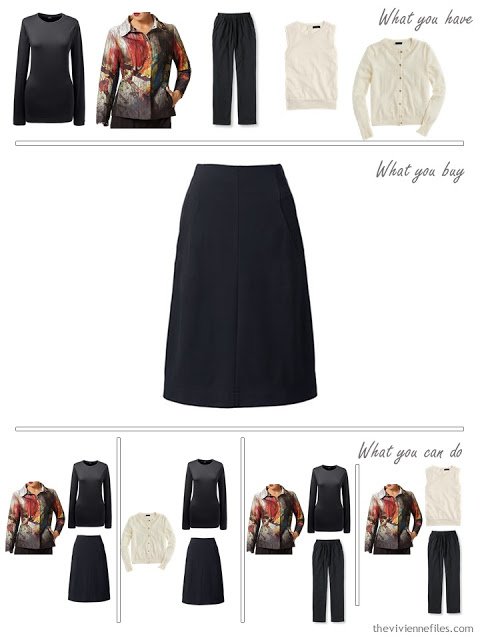 Skirt – Lands' End
Time for an accent!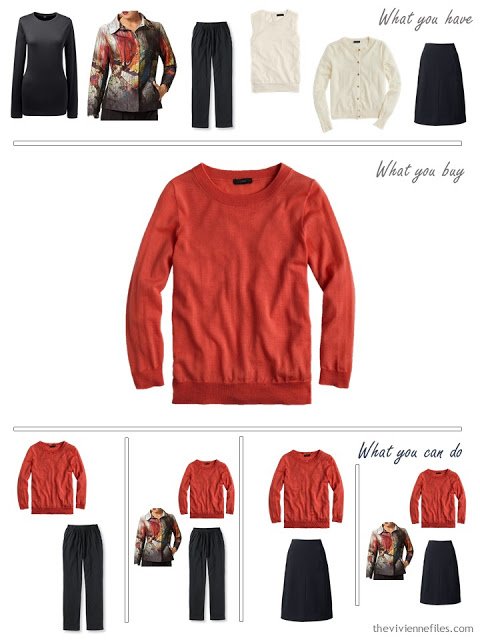 Sweater – J. Crew
Yes, this cardigan is the same color as the sweater above. While it's not likely that they will be worn together very often, having these 2 in the same color gives you the ability to choose accessories that will be perfect in multiple situations.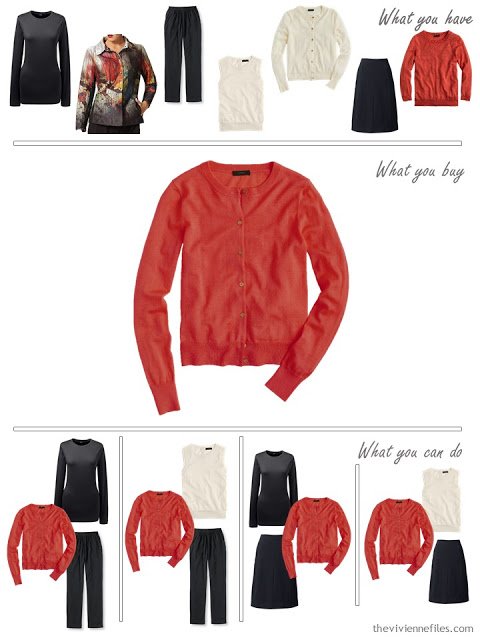 Cardigan – J. Crew
A different style of black pants would be perfectly fine here, but I wanted to introduce a change of pace with some taupe: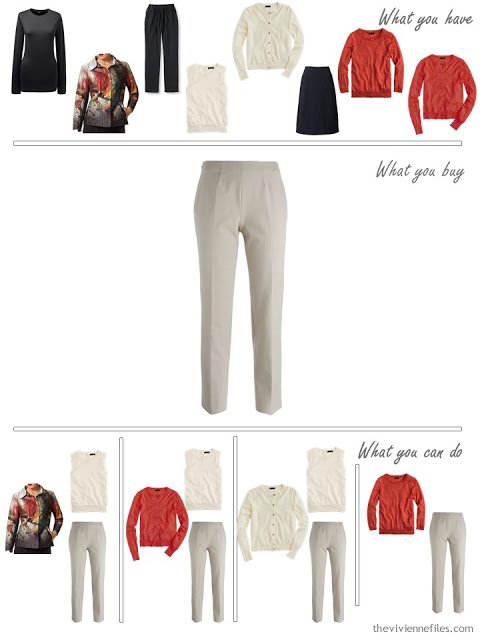 Pants – Piazza Sempione
Just in case the weather warms up (as it always does!), a cooler tee shirt is going to be important. This one goes everywhere that the long-sleeved version went…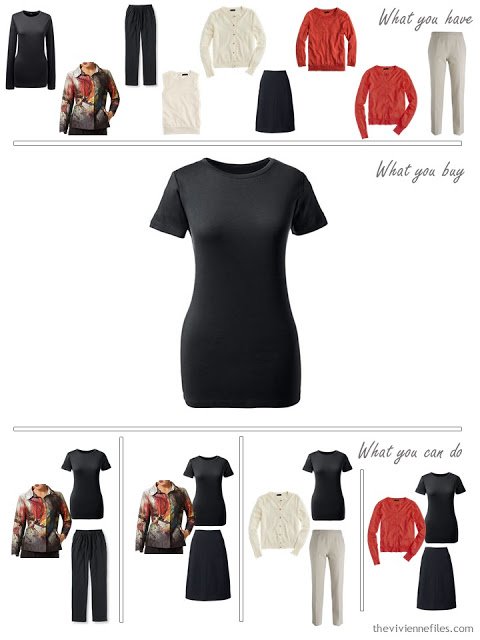 tee – Lands' End
Having all of the cardigans in relatively the same "shape" means that the skirts or pants that are chosen for one outfit will be of a suitable silhouette to work with all of the cardigans. These are the little choices that give you more versatility when you're working with a limited number of pieces. Plus, all of these cardigans can be worn buttoned up, on their own, as crew-neck sweaters.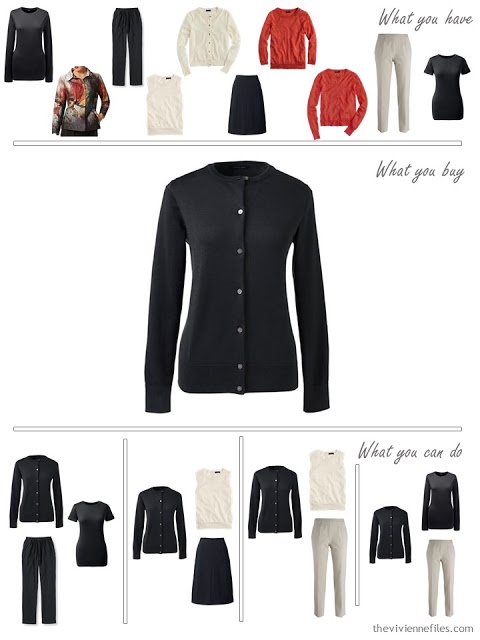 Cardigan – Lands' End
This is a choice that will depend on how formal your schedule is expected to be, and how warm/cold it will be at your destinations. These jeans could easily be swapped for a pair of black linen pants, or for another black skirt, in a different shape.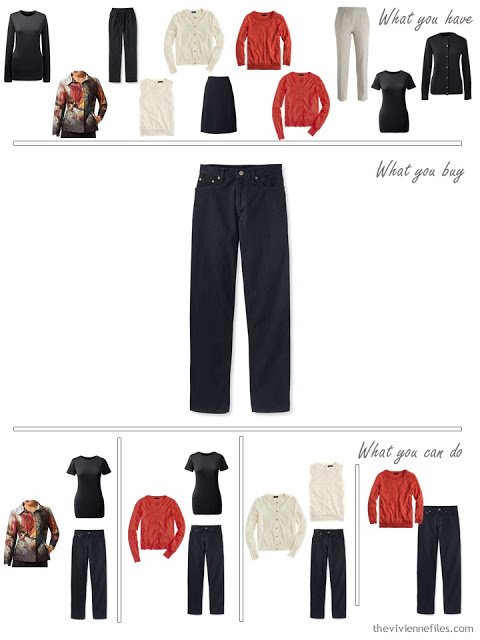 If you anticipate some evening activities, a simple top in a dressy cut is a nice choice. This one is basic enough that it can be worn with everything from the jeans to the skirt with equal ease.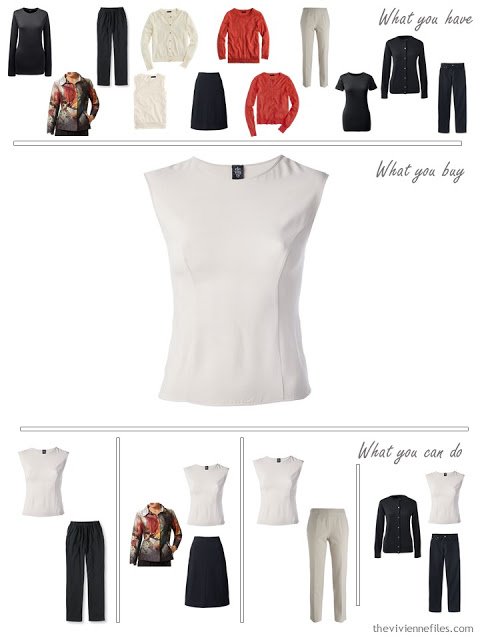 Top – Eleventy
If this trip is going to include some wet or cool days, a jacket is a must! I loved this because it's such a similar color to the accent red in the other pieces. A trench coat in this color is another possibility, though.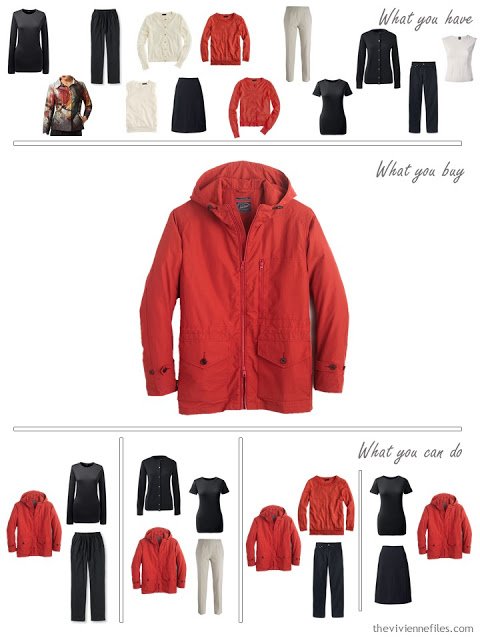 Jacket – J. Crew
I was originally looking for a simple black sheath, but since all of the pieces (except the amazing printed jacket) are so simple, I thought that a wrap dress would be a pretty option.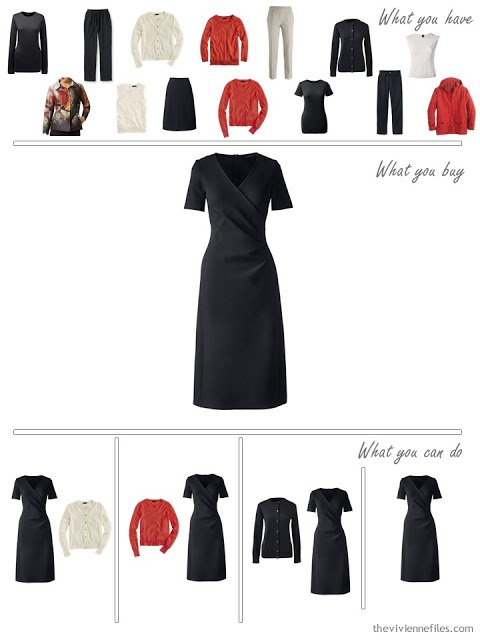 Dress – Lands' End
And now, just to break up the whole very careful system JUST a bit, let's toss in a fun tunic, which can be worn with all of the pants. Some days, this relaxed look will be just perfect!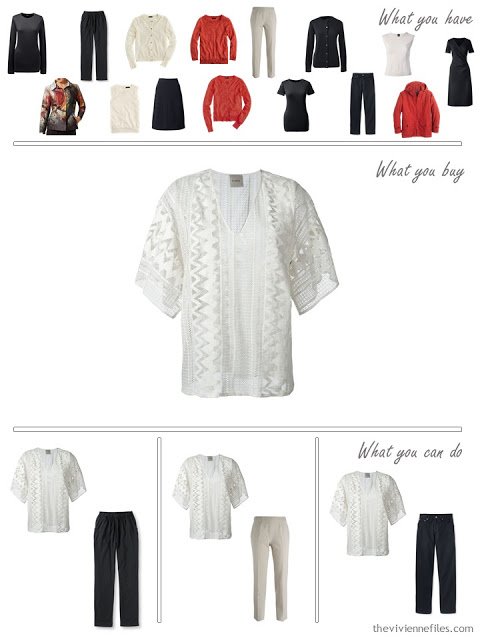 Top – Nude
These 16 pieces could take you a lot of places! If you felt that you really needed an additional few pieces, consider another dress – maybe a print in black, taupe and red? Another couple of tee shirts? A button-front shirt in ivory, taupe, red or black would also work nicely – sleeves that can be rolled on warmer days are a good thing to consider.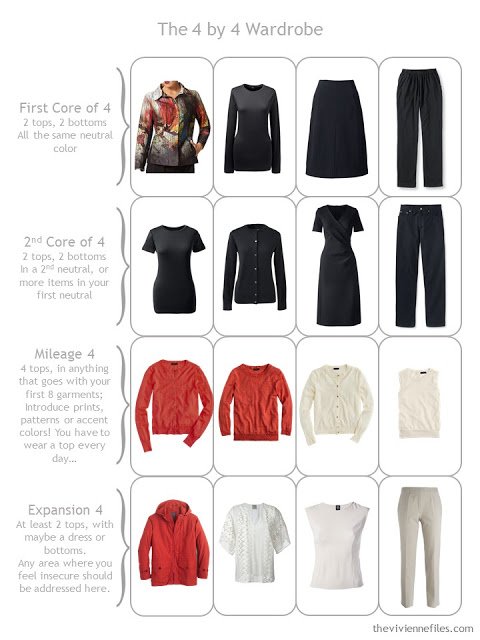 Could you travel for 2 months with this? I'd have no trouble at all…
love,
Janice