March 18, 2016
The more I look at these colors, the more I like them; for a wardrobe with only 16 pieces, there are wide-ranging options from somber black to gentle pastels. This shows the possibilities of just a few pieces of carefully-chosen clothing.Here's the original wardrobe, and this was out starting point:
I thought it would be nice to show the possibility of some metallic accessories!
And small, simple, classic silver earrings…
But you are always going to want a pair of neutral shoes. (well, I'm sure someone out there would be happy wearing silver shoes every day. If that's you, then do it!)
The Ted Baker floral scarf was perfect with our first outfit, so I thought that maybe his watches would look nice with these pieces, too. Sometimes it's worth checking a designer's other pieces, laboring under the assumption that their work is guided by a central aesthetic idea.
A silver bracelet, worn on the same wrist as a silver watch, is always pretty.
With this skirt, a nice feminine shoe feels appropriate. And black patent just screams SPRING to me – maybe because I had many an Easter shoe in black patent, as a small child…
There are a lot of scarves available in the shade of blue – search for "periwinkle" and you'll find plenty. It's such a pretty color, and I think most of us could wear it successfully. Plus, it looks good with black, grey, and maybe even brown? I believe so…
A small earring, that resembles a flower, is always a classic touch… And since it's now spring, sort of, and since these colors are so flower-like, I couldn't resist.
I can clearly see that a pair of Keds is in my future! But I also think that the last pair of shoes, in a sweatshirt-like fabric, are pretty fun.
After all of these whimsical accessories, we might want to remember that we still should have a small handbag for everyday wear. Now that tassels have had their 15 seconds of the spotlight, those of us who love them can still find them, without feeling like fad followers.
In the middle of all of this spring color, a black scarf might seem somber, but in a light and airy fabric, it can be surprisingly useful.
The pearl pendant at the top is one of the prettiest things I've ever seen – it has a tiny snowflake on it! I love pearls, and I love snowflakes… sigh…
Subtle sunglasses – you should be wearing them almost every day!
I liked this when it was just the clothes, but now, with the accessories, I really love the ensemble. What a range of activities and moods are covered here!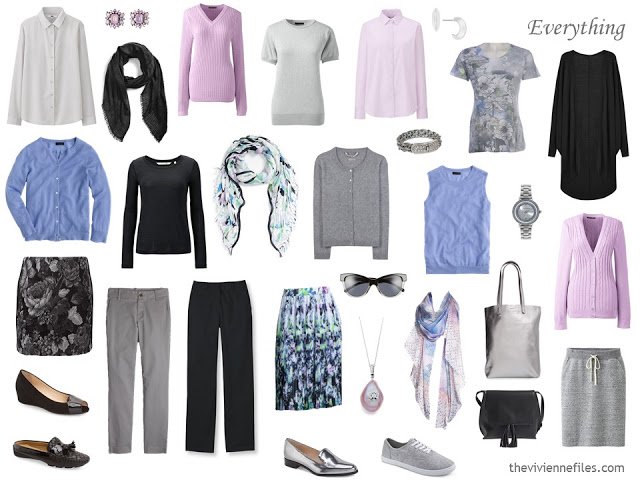 love,
Janice