March 17, 2016
This wardrobe cried out for a bright floral tote bag… I managed to avoid the temptation and look for things a little bit more restrained. The original wardrobe step by step can be seen
here
; this was where we started:
Take care of the essentials first thing – shoes and a bag!
The coral color put me in the mood for some rose gold…
Some of these shoes you've seen before, but I like them, and I think they're terribly versatile!
The overall warm feeling of this wardrobe suggested GOLD to me.
Three choices here: (1) ornate, (2) small and simple, or (3) statement, but still streamlined. Choices are a good way to isolate what feels right to you – which of these immediately appealed most to you?
What if you decided that you were going into ONE store, and you weren't leaving until you found shoes? Well, in this case, you would have been alright… if you can wear flats!
There are a range of scarves available in all sorts of neutral shades, at all sorts of prices:
We of course aren't interested in real coral, but coral COLORED is a beautiful choice for something that you're going to wear right beside your face. Sort of like blush…
Honestly, I was just curious to see if I could find Keds in the 3 main colors of this wardrobe…. and I could! If you're timid about making a foray into canvas shoes with skirts, Keds are a good place to start because they have a low profile on your foot, and very little detailing.
Oh, I could have gone all Lilly Pulitzer on your for a tote bag, but I didn't…
You could certainly add a green scarf to this wardrobe, and have a ton of fun with it, but I love the variety of really flattering coral and blush shades available.
When I started on necklaces, I didn't really have a vision, which is unusual for me. But I stumbled on some really amazing, and attractive, choices. Sometimes, you have to be open to what designers have done – it is, after all, their profession, and their art!
In the same vein as the earrings, a nice blush-y warm-toned pair of sunglasses can bring a nice highlight to your face. You're not going to get a tan, (right?) so you can look to other options for a bit of color.
Warm days, cool evenings, bright colors….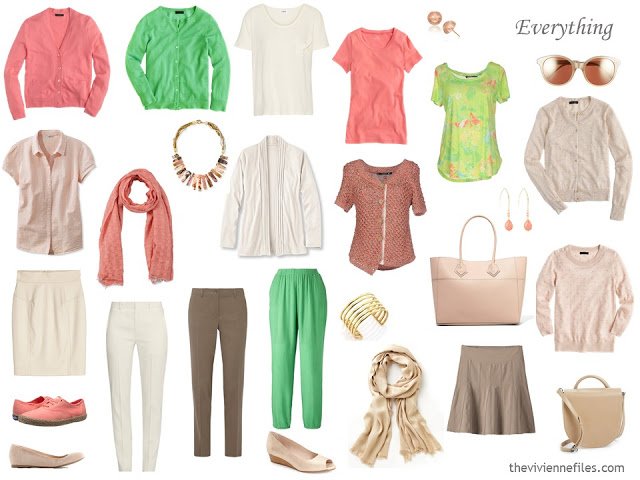 While I wouldn't choose these colors, I'd wear all of these pieces in a heartbeat. Now if the weather would just settle into a range of 20 or 30 degrees!
love,
Janice