March 24, 2016
This wardrobe is such a nice mix of casual fabrics with soft and pretty accents, I thought that I would try to continue the theme of femininity in the accessories, without getting too girly or sissy… I love these challenges!The original wardrobe is from yesterday; this is the starter outfit:
While I felt that jeans and a sweatshirt strongly suggested boots, I limited my choices to softer colors or boots with a metallic sheen to them. A lady-like boot might be a stretch, but these at least have a lighter feel to them!For the first bag, I wanted to see something in the stone neutral, but with a bit of softness, or texture, or "pink-ness" to it…
An all-navy outfit strongly suggests a scarf that include navy, but also some lighter color(s) to brighten up the overall look. All 3 of these scarves include either the second neutral of stone, or various shades of blue, which will make the scarf wearable with the light blue accent that's introduced later.
Nothing's more feminine than a ballet flat! For those of you who can't usually wear ballet shoes, I really encourage you to look at some of the brands of shoes that design specifically with comfort as their primary goal. I wear ballet flats a lot, and find that I can walk in them for literally miles with no problems. The trick is to find a pair that have enough "infrastructure" to support your foot…
And a bracelet is always fun – when you look down at your hands, as you will do dozens of times a day, you always get a little smile of pleasure at seeing something needlessly pretty that's there for no better reason than happiness!
I love all of the metallic sandals that are available – something as completely neutral and unornamented as a sweatshirt and shorts can take on a different feeling with sandals like these.
There's a world full of blue topaz earrings – if you like light blue, the jewelry world is your oyster. Except no pearls. Now, I'm confused…
Same with pink quartz – it's a beautiful stone, but very affordable!
There's something quintessentially summery and classic about a navy canvas shoe, but that shoe doesn't have to be dead plain. These all have a bit of detail or textural interest that lift them out of the everyday, just a wee bit.
Okay, this time I caved ALL THE WAY into floral totes. All of these come from stores in which I never shop, which is proof that one has to keep eyes open, and prejudices firmly suppressed, or one runs the risk of missing fun, pretty, useful items. It's a lesson we can learn over and over again; while I'm not going into Guess to buy a pair of jeans, I could certainly purchase a tote bag from them, right?
In hot weather, you might not want anything heavier than a small pendant around your neck. I went all-out here and found a bunch of vintage Tiffany pieces to show the "floral-inspired" possibilities.
Texture again, in a scarf. Maybe something that looks like denim, or eyelet, or something with a tonal stripe. Solid-colored doesn't have to be drab, if you have the patience to find just the perfect piece!
One more bit of pink, in sunglasses! While it's fun to look at fashion-y colored sunglasses, don't ever buy a pair that don't provide real sun protection for your eyes. Beauty is NOT work vision problems later on.
It's got denim and cotton twill, but it's also got a big juxtaposed dose of pretty!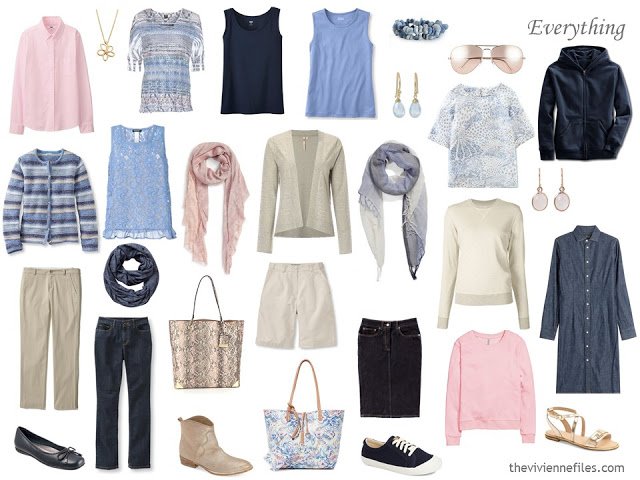 love,
Janice