March 25, 2016
When we left our heroine, she was unpacking her things in her new cabin…Remember, her original wardrobe inspiration was this: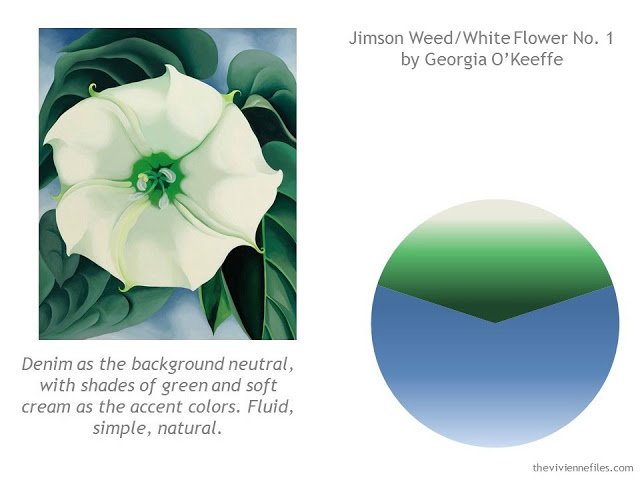 After a few weeks of settling in, she had met new friends and discovered a new routine of activities, interspersed with delightful leisure… And she realized that her love of wearing jeans was a reflection of her need for relaxation, which was now being fulfilled! So she decided to invest in a few new ensembles, to give herself a few more wardrobe options.
Her new home was a perfect combination of urban and rural: street lights on poles in the front, fireflies among trees in the back; city water in the front, a natural spring (far) in the back; mail delivery in the front, owls in the back.
So she like the idea of nice clothes that would show her affinity for nature, for green, for floral and leafy, while still being eminently appropriate for all her new activities.
Her first shopping foray resulted in this: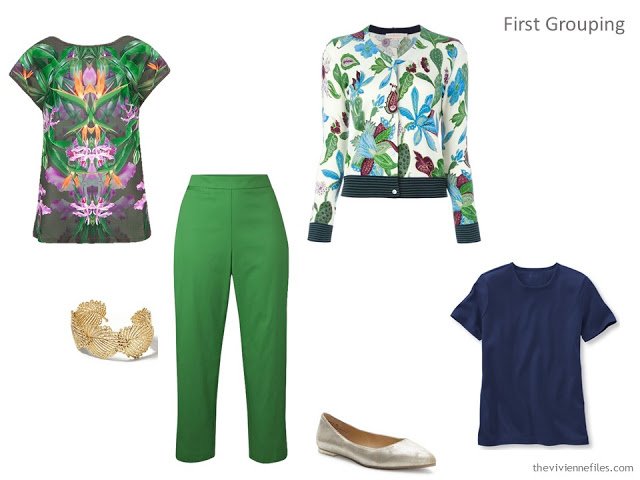 Orchid tee – Ted Baker London; leaf cuff – Banana Republic; pants – Simply Be; ballet flats – Me Too; cardigan – Tory Burch; navy tee – L.L.Bean
She realized when she got home that she'd gone a bit bright, and bit "printy," but when she pulled her new pieces into her existing closet, she was delighted!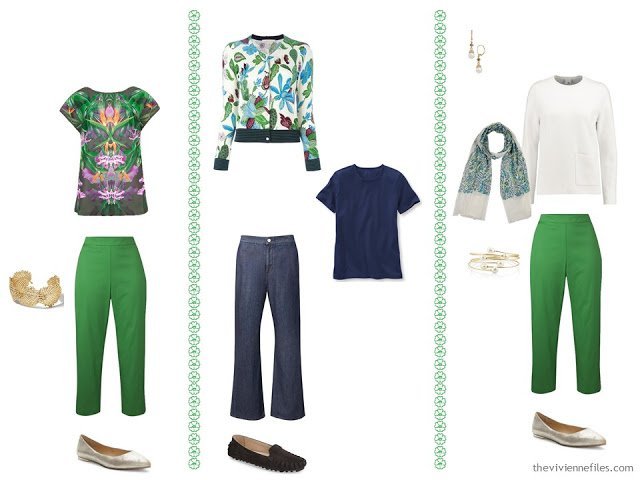 She lived with her new things for a while, wore them all frequently, and was quite happy. But she still felt the allure of denim… And then she realized – denim doesn't HAVE to be blue! So her next shopping trip was started with a clear goal, and then lots of latitude to build around that central pair of jeans.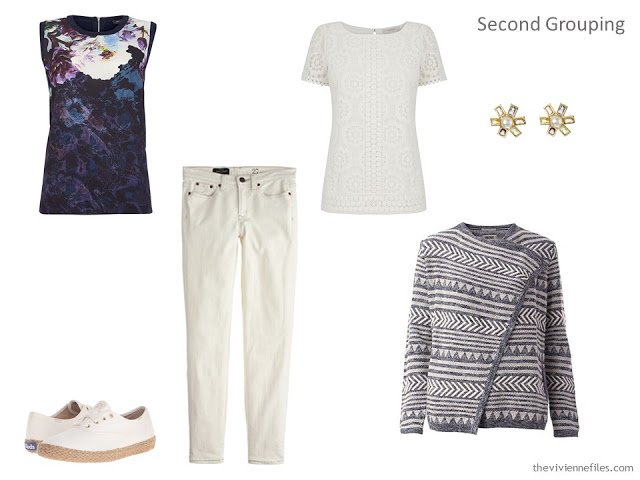 floral top – Pied a Terre; shoes – Keds; jeans – J. Crew; lace tee – Oasis;
flower earrings – Lauren by Ralph Lauren; cardigan – Tommy Hilfiger
And just as she had realized that jeans don't have to be blue, neither does a tee shirt have to be a plain knit fabric. A tee shirt with flowers woven in!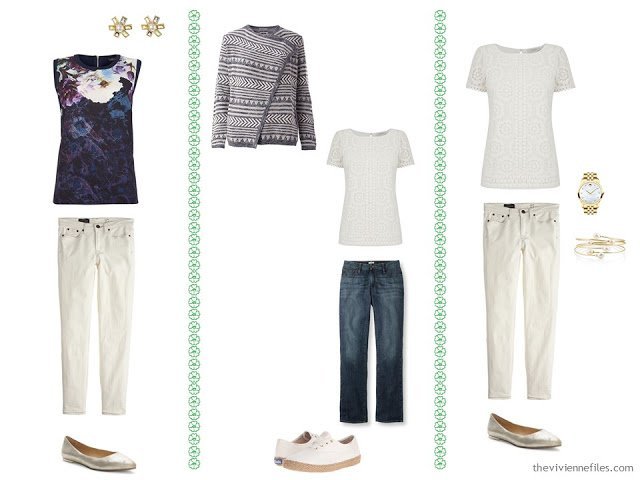 The weather began to warm up, and she decided that her next shopping foray would be for shorts – not too short! Her ratio of 2 tops to each bottom was working well, so she planned to stick with that. And another little touch of the floral? Why not?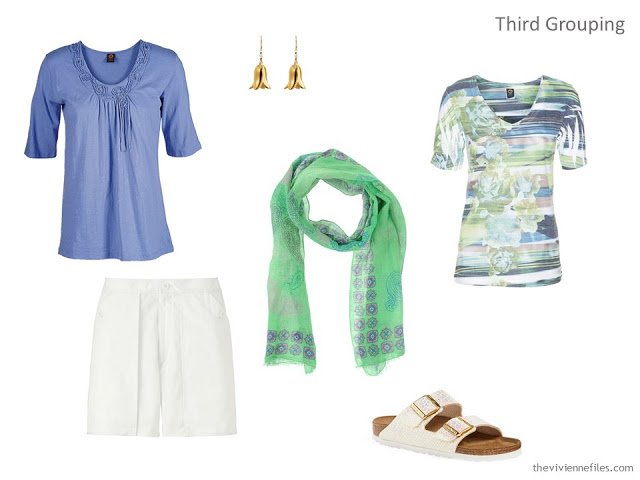 Blue top – Ojai Clothing; shorts – Lemaire Uniqlo; earrings – Orchard Jewelry; scarf – Mosaic; print tee – Ojai Clothing; sandals – Birkenstock
She is so contented, in so many ways…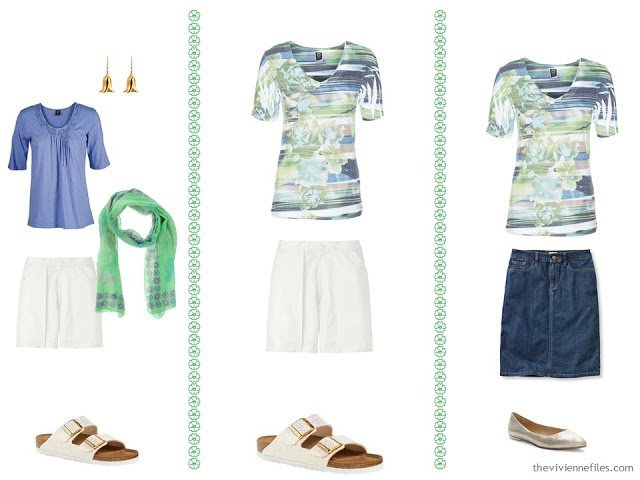 Now, in mid-summer, this is her overall wardrobe. She's ready for anything, and she loves everything she owns. For her, it's the perfect wardrobe: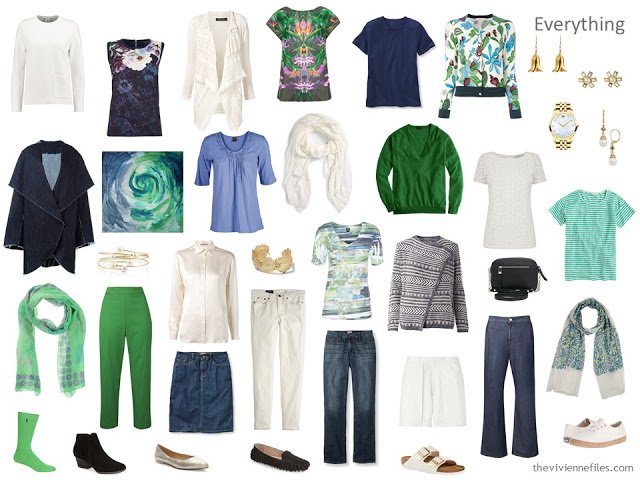 love,
Janice