March 23, 2016
This woman is one who really love denim, and a good sweatshirt, but who also has a side that wants a bit of the feminine, and the softly colored…Her starting "favorite" outfit: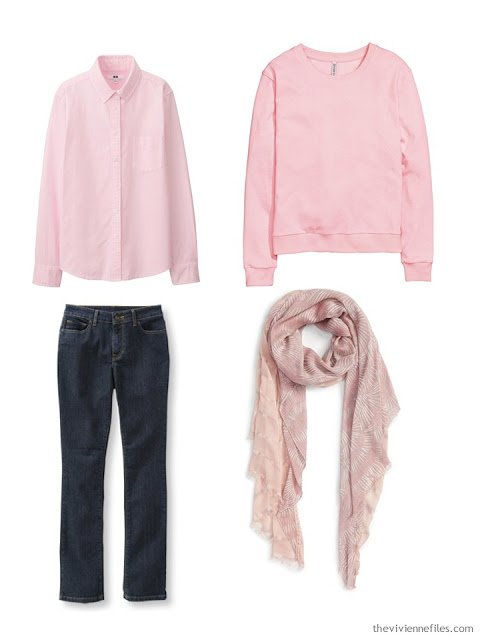 shirt – Uniqlo; sweatshirt – H&M; jeans – L.L.Bean; scarf – Hinge
And this is the color scheme she has in mind. This is a really good scheme, in that the two neutrals are both typically available in a variety of casual fabrics, so they're a good "couple" to work together. And since both of the accent colors are equal in intensity and value, they will also be usable in the same situations, and very likely to appear together in prints and patterns. When your chosen colors have a certain "feeling" in common, you might find that they work better together than colors that are all over the map in terms of mood and strength.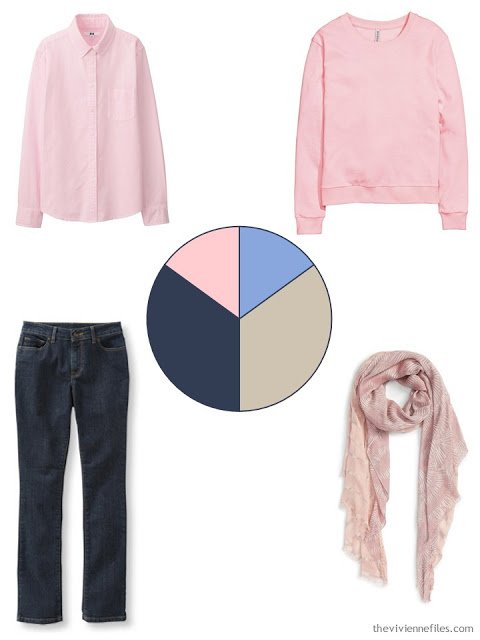 shirt – Uniqlo; sweatshirt – H&M; jeans – L.L.Bean; scarf – Hinge
Even when outfits are very casual, there's no reason to abandon the idea of a solid column of color. This column idea is great for the whole "looking taller and thinner" thing, but a column is also a great neutral base upon which you can wear all sorts of fanciful accessories, or 3rd pieces like a cardigan, jacket, or sweater.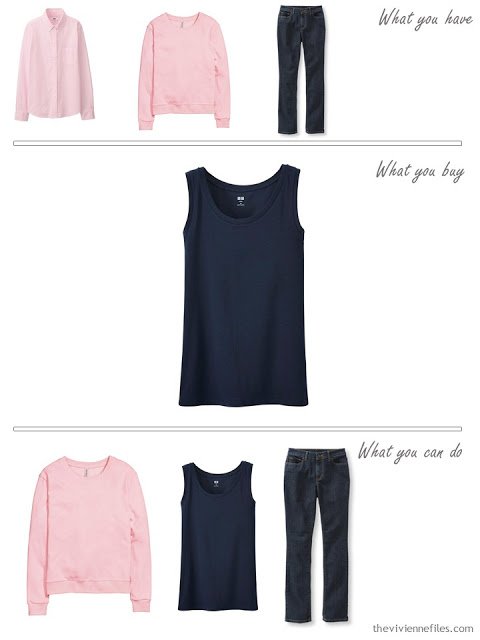 Tank – Uniqlo
Just as you don't want to abandon the column idea in a casual wardrobe, there's no reason to toss out the concept of a suit, even if it's a sweatshirt and jeans! This sweatshirt, with jeans in approximately the same shade of blue, open the door for you to wear literally any kind of tee shirt, blouse or shirt underneath the sweatshirt. These aren't amazingly fun purchases, but they will more than pull their weight in your wardrobe!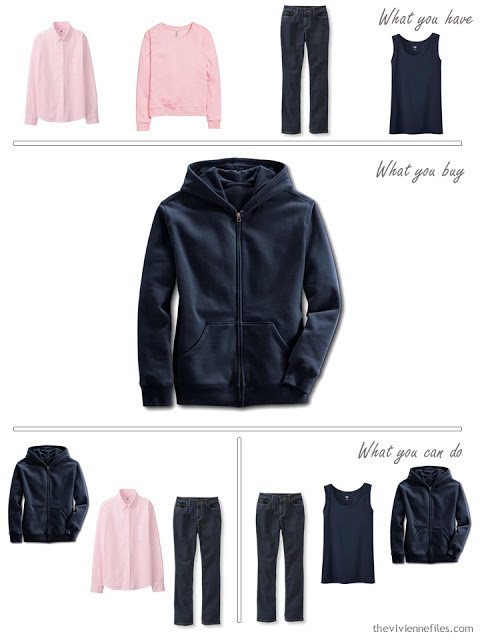 Sweatshirt – Lands' End
Stone was specifically requested in this wardrobe, and for someone who loves to wear jeans, a pair of stone, tan, or beige cotton pants isn't a big "reach" into the world of the dressy. Pants like this can take you a ton of places where jeans might be just a touch too casual.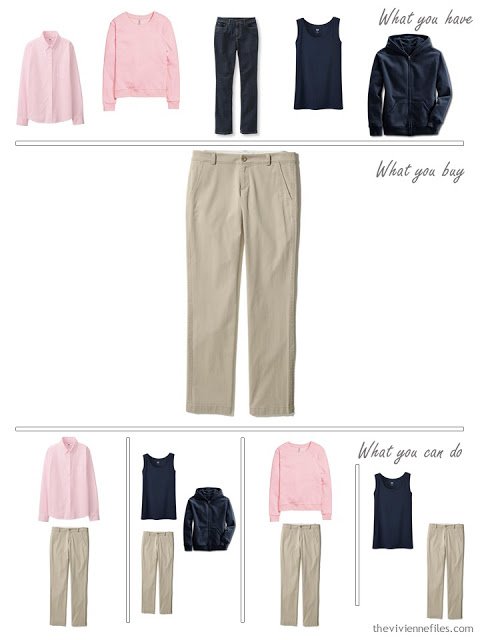 Pants – L.L.Bean
The right print can do amazing things with neutral clothes! This shirt seems to include all 4 colors that we're using in this wardrobe – not an easy thing to find, but exceptionally versatile once you've discovered it!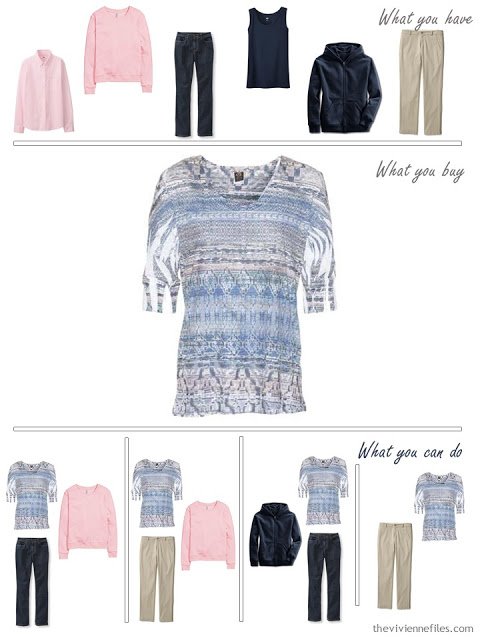 Tee – Ojai Clothing
Here again is a small step up from a sweatshirt that is quantum leaps upward in the "dressed-up" world. A nice cardigan is easy to wear, but the change in fabric from fleece to another knit makes a lot of difference.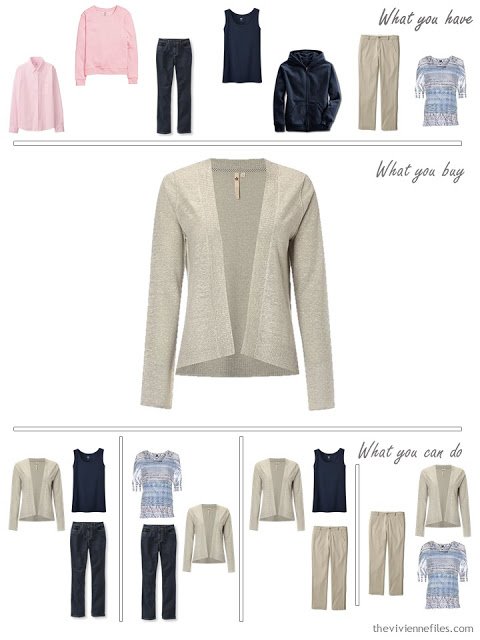 Cardigan – White Stuff
If you don't wear shorts, you can always get cropped pants (make sure they're not too wide in the leg – keep that leg area a little bit "trim" looking…) or a skirt.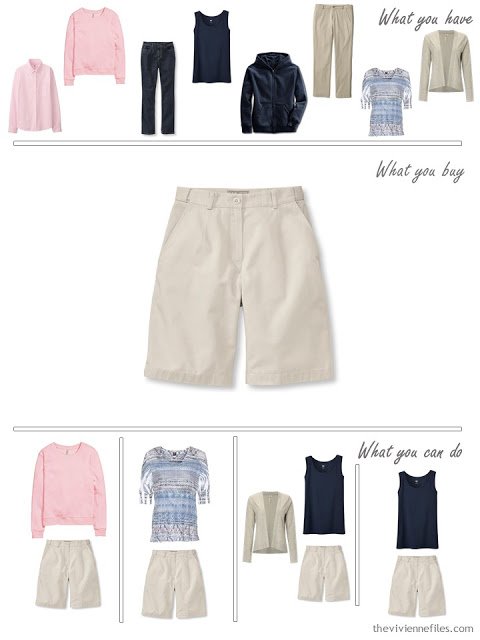 Shorts – L.L.Bean
Since there's such a core of neutral, solid colors already established here, finding another fun print top in pretty colors is completely okay; you can live in all solid colors, but you might not want to!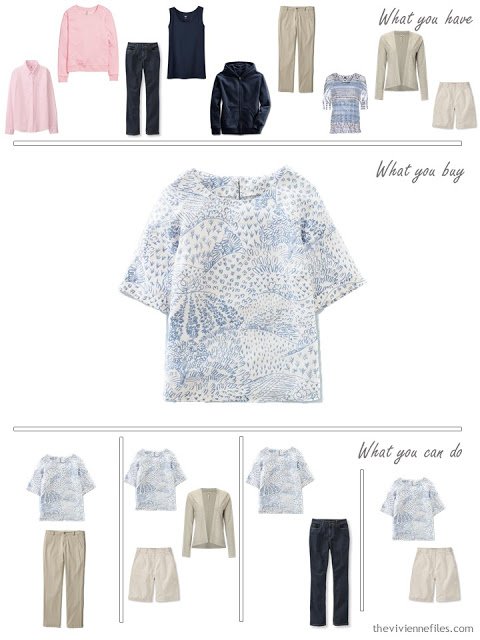 Top – Boden
I love this sweatshirt; I don't know why. It just looks really classic to me….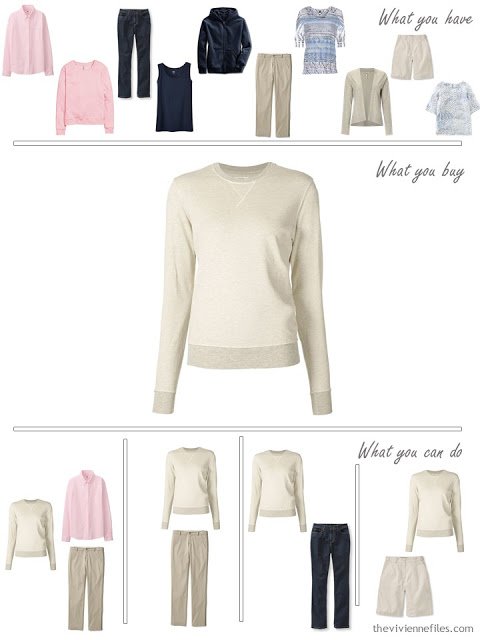 Denim skirts never went out of style, no matter what anybody tells you. These kinds of arbitrary rules about what you "should" and "shouldn't" wear drive me crazy; is this the most important thing some people have to worry about?Yes, I ended a sentence in a preposition. I got carried away….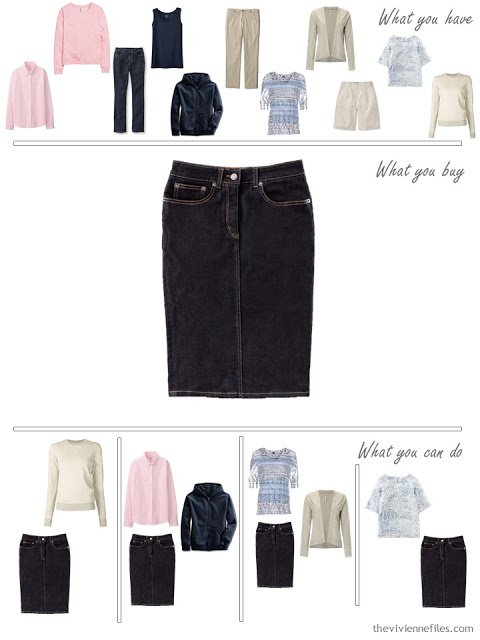 Skirt – Boden
You want feminine and soft? Don't forget about the beauties of lace, or floral prints, or even a nicely-done ruffle!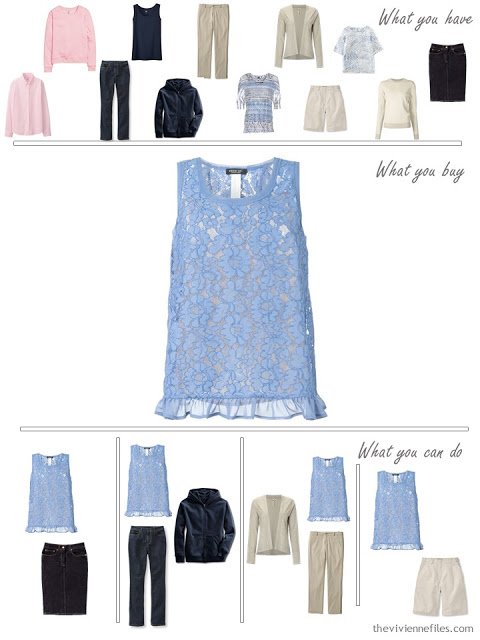 Top – Twin-Set
I'm 100% sure you've seen this cardigan before, but I chose to bring it back because it works so beautifully well with everything in this wardrobe. It's worth being patient, and focused, in order to find key wardrobe pieces that include both of your neutrals and at least 1 accent color.
Cardigan – L.L.Bean
This simple tank top is going to leverage the usefulness of the cardigan you just bought to an amazing degree! It's also just a really pretty color….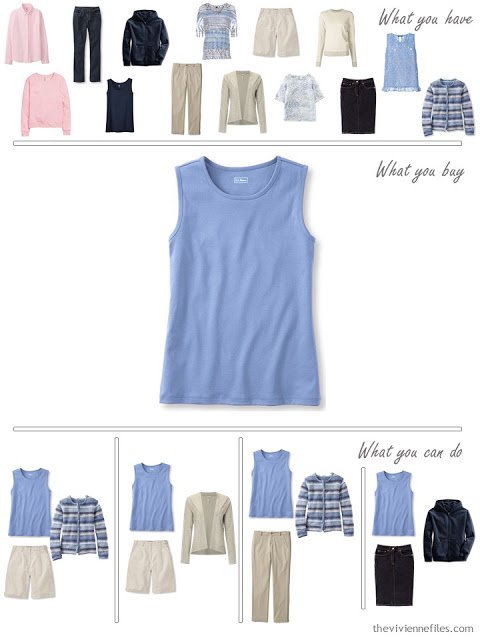 Tank – L.L.Bean
I wasn't sure if I wanted another pair of shorts (denim shorts, maybe?) or a pair of capri pants maybe, but when I saw the absolutely dead classic perfection of this dress, I knew what I wanted! This is a 10-month dress – with a turtleneck, tights and boots in the cold weather, or open over pants and a tee shirt in warmer weather. Maybe over a tank top, with a few buttons open, and a nice pair of sandals? (sleeves rolled up, of course…)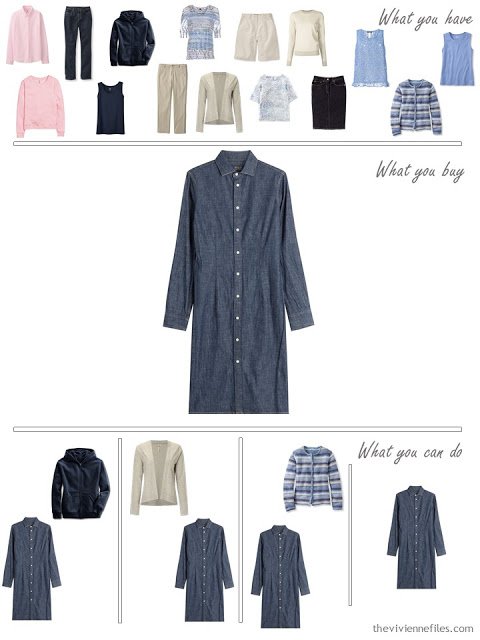 Dress – Polo Ralph Lauren
Another neatly organized 4 by 4 Wardrobe, which could keep you happily well dressed for quite a long trip, or through much of the warm weather: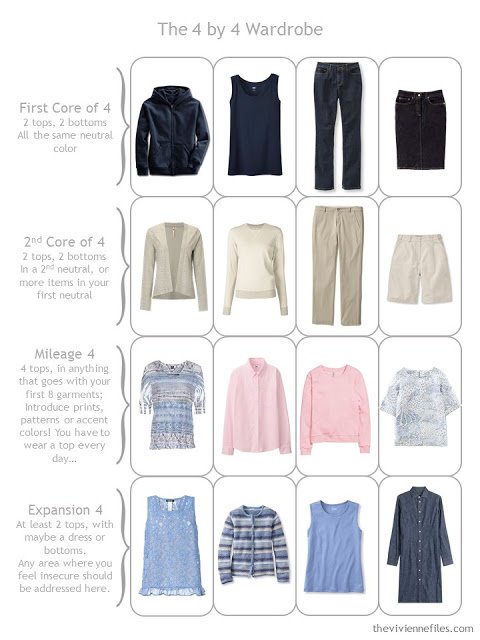 Tomorrow, I'm going to put some accessories with this lovely wardrobe. The hunt for the relaxed but pretty continues!
love,
Janice