March 22, 2016
I love this wardrobe…This wardrobe was originally put together in this post; with the starting outfit I'm leaning toward a pair of shiny black flats:
And for no better reason than to show some variety, I think that we'll give our mystery wearer a nice clutch bag. If you're not usually a handbag person, maybe all you really need is one nice bag for dressy occasions!
I'm changing the order of the accessories here so that I can find a scarf to really tie this outfit together. This is another thing that you really want to bear in mind when you're finding accessories for your wardrobe – they should be sourced (purchased, gift-hinted, etc.) in whatever order you need them!
Comfortable shoes! They can be plain loafers, something with a tassel or other ornament, or athletic shoes. If that's what you need to wear in order to be comfortable, then just wear them and be happy. The rules aren't strict, and your comfort is more important than any imaginary fashion police opinion!(and yes, the name of the first shoe brand translates as "the love of feet")
I picked black and silver watches, to echo the black and grey neutrals:
There's a world of pretty bracelets! I'm particularly smitten with those 2 Alexis Bittar beauties….
If you're sticking with comfortable shoes (and why in the name of happiness would you buy something that WASN'T comfortable?), it's nice to have some variety in color and texture. Silver is always a favorite of mine. (it wouldn't be wrong to find a pair of cobalt blue shoes too…)
Finally some earrings! One thing to remember when you're looking for jewelry is that there's a world full of semi-precious stones that come in a rainbow of colors! Here's a sampling of lapis lazuli, in big, middle-sized, and small earrings – something to suit any earring wearer.
Generally, I'm not much of a stickler about "real" jewelry versus costume (aka "fashion" jewelry), but when real onyx is so affordable, I can't see any reason to buy something made of resin or plastic.
For everyone struggling to picture athletic shoes with a skirt, I present Converse BALLET STYLE!!! These are SO on my shopping list…
I considered looking for a multi-colored tote, or something in cobalt blue, but in the end I realized that black was going to work best here. So I chose to look for some texture instead – quilting and woven leather give some visual interest without the worry of making colors match!
Does anybody else remember wearing station chains back in the '80s? I had a couple that I wore until they literally came apart and couldn't be repaired… I still really like the look of them.
This is the point at which I would usually try to find the perfect solid colored neutral scarf, but I thought that a subtle pattern that combined our two (very closely related) neutrals would be a good way to give a feeling of completeness to "all neutral" outfits. There's a WORLD of grey and black scarves out there!
When I think of black sunglasses, I think of Ray-Bans! But there are all kinds of styles available, to suit your preferences, your face shape, and your mood:
If my wardrobe vanished overnight, and was replaced with this, I'd be a little bit weirded out, wondering what had happened… But at least I'd look good, and be well-dressed!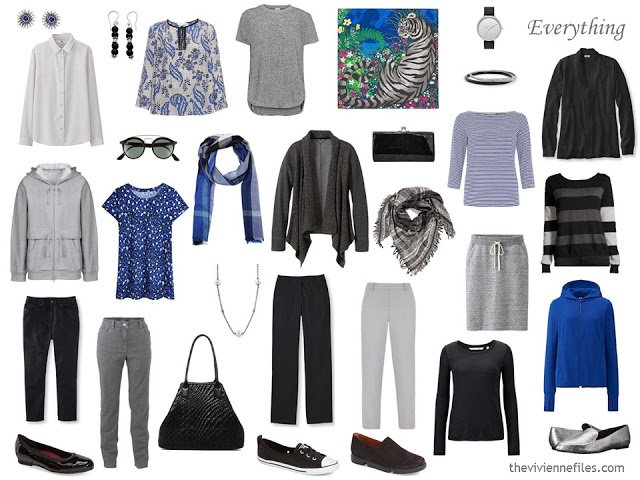 love,
Janice