February 24, 2016
So I'm going to start alternating "1 Piece at a Time" Wardrobes with other fun things, so that we don't collectively burn out on the concept before I've addressed ALL of your color scheme requests. I am absolutely going to look at accessories for these wardrobes – those might be some of the "interspersed" posts. As much as I have an endless attention span for a single subject, I understand that a bit of variety keeps things fresh for us all.Someone suggested that the male cardinal wardrobe (here) and the female cardinal wardrobe (here) might be combined. I'm ALL OVER that idea!
Do these two look like they get along?
I've often thought that it's possible to build a wardrobe with 4 or 5 neutral colors and just 1 accent. In fact, a long time ago, I built a wardrobe around SIX neutrals (here) almost 5 years ago (did you know that The Vivienne Files will be 5 years old on April 17th?)These colors are all classic, timeless wardrobe staples.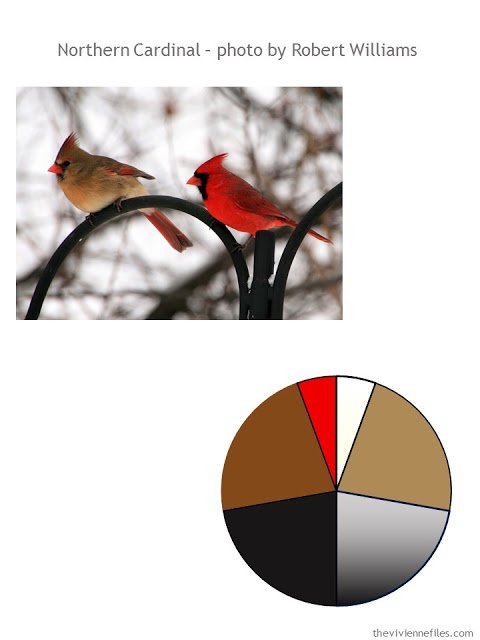 In order to make the process of combining the 2 wardrobes as honest as possible, I've kept the original garments: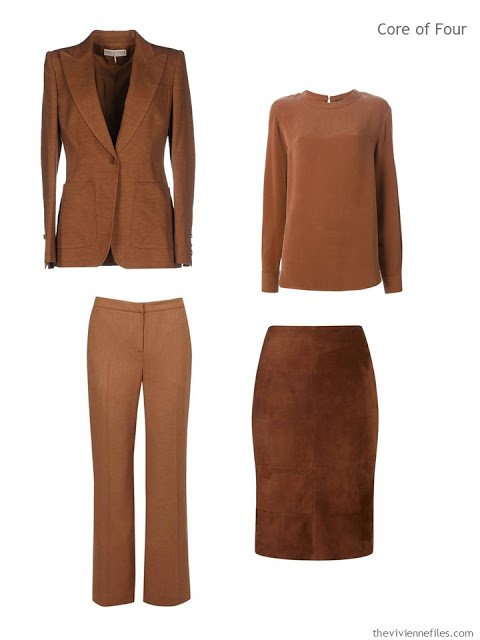 Blazer – Emilio Pucci; pants – Austin Reed; Blouse – Joseph; skirt –
Austin Reed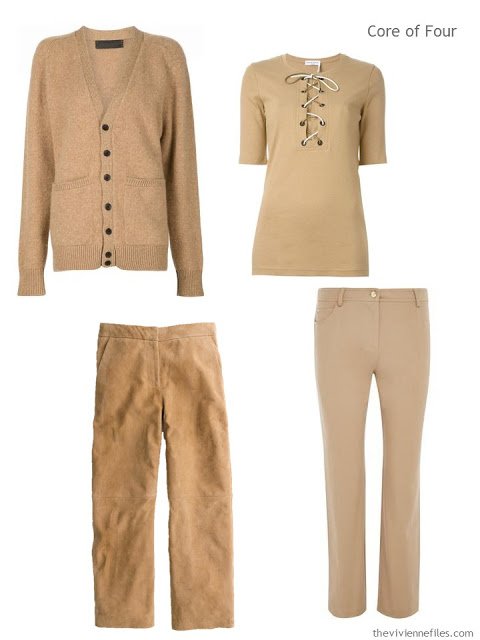 Cardigan – Elder Statesman; trousers – J.Crew; Tee – Sonia Rykiel;
jeans – Austin Reed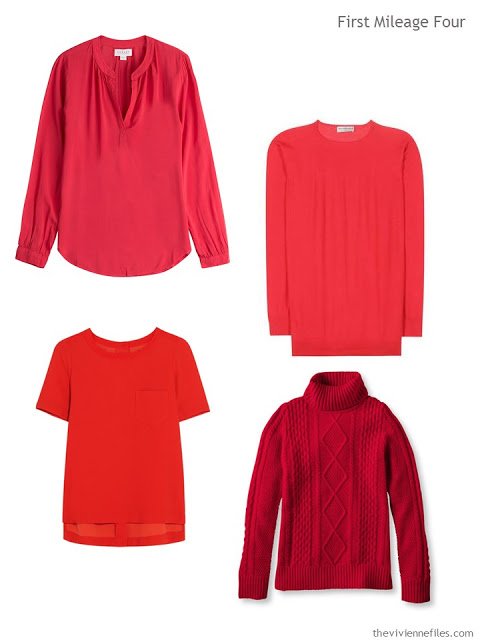 V-neck blouse – Velvet; silk-trimmed top – Madewell; Red sweater – Balenciaga; turtleneck – L.L.Bean
And in order to give us some wiggle room, and more "top" options, I've included a 5th neutral. The great beauty of white or off-white blouses and sweaters (beside bringing light to your face!) is that they can be worn with equal harmony with any of the 4 other neutral colors. Sometimes, all your wardrobe needs is a white tee shirt…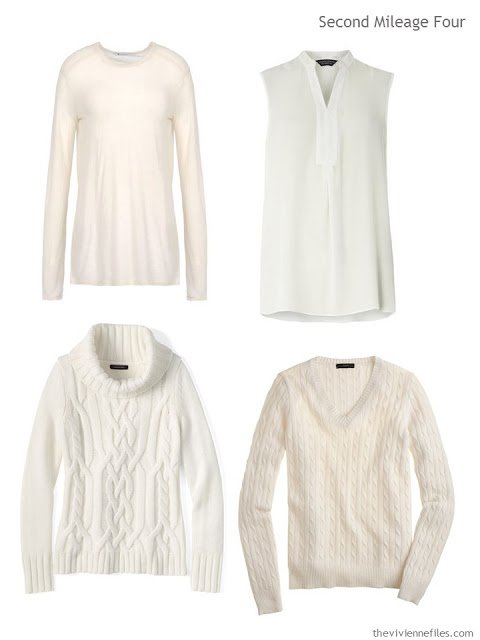 Long-sleeve tee – Alexander Wang; sleeveless top – Dorothy Perkins;
Cabled cowl sweater – Lands' End; v-neck sweater – J. Crew
This is your wardrobe, as it stands. There are lots of lovely garments, and your eye can easily connect to put together literally dozens of outfits!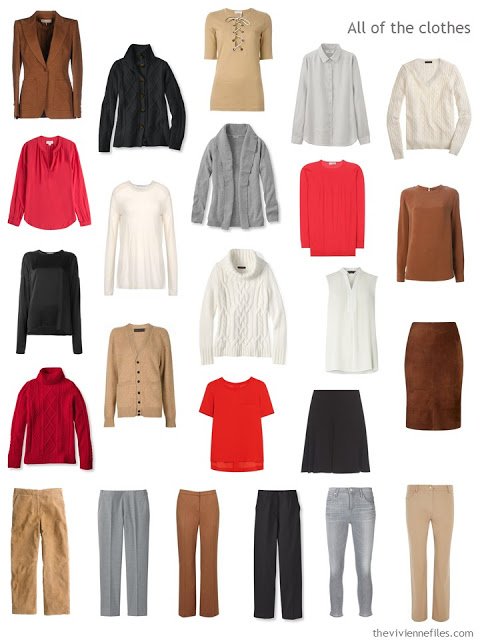 But in order to really show ensembles to their best advantage, we need accessories! (you knew I wasn't going to skip over scarves indefinitely, didn't you?)
Realistically, you could easily own shoes in all four neutral colors if this is your wardrobe. But it's important not to get carried away with buying a new pair of shoes for each outfit – that's not a good use of your money, it's hard on the environment, and it keeps you from being able to buy really nice shoes (which are one of the small pleasures of life).
That said, you'd be daft if you missed the chance to own both red shoes AND leopard, if you wear this color scheme!
Note that jewelry that includes both silver and gold is a wonderful little touch that pulls together warm and cool like nothing else!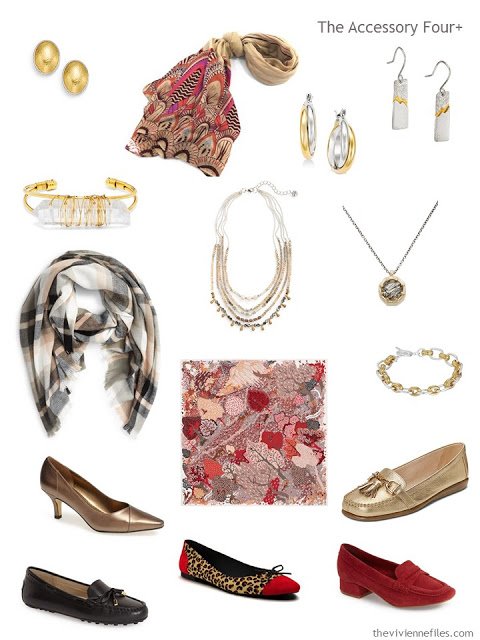 Stud earrings – Gurhan; paisley scarf – Urban Originals; rectangle earrings – Eileen Baumeister McIntyre; crystal bracelet – BaubleBar; multi-strand necklace – Nakamol Design; hoop earrings – Charter Club; plaid
scarf – BP; garden scarf – Hermes Dans un Jardin Anglais; pendant
– Lauren Wolf; silver & gold chain bracelet – Lauren by Ralph Lauren; black loafers – Michael Kors; pumps – Bella Vita; leopard flats – Shoes of Prey; gold loafers – Aerosoles; red loafers – Topshop
And here is just a sample of the dozens of possible outfits you would have at the ready!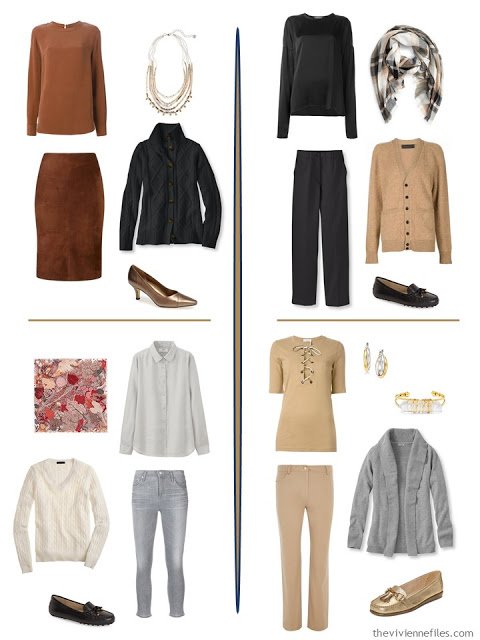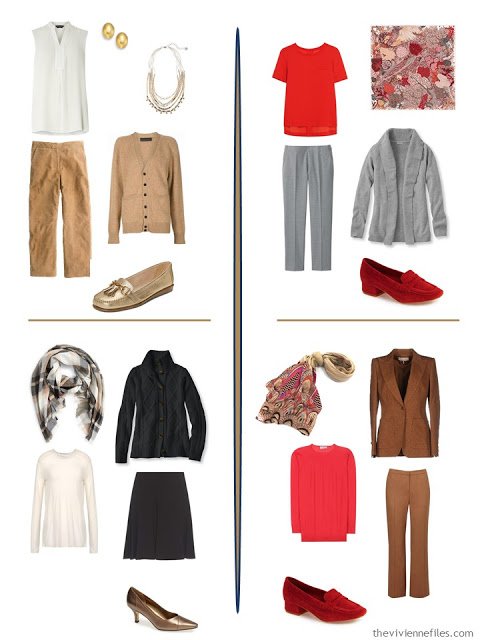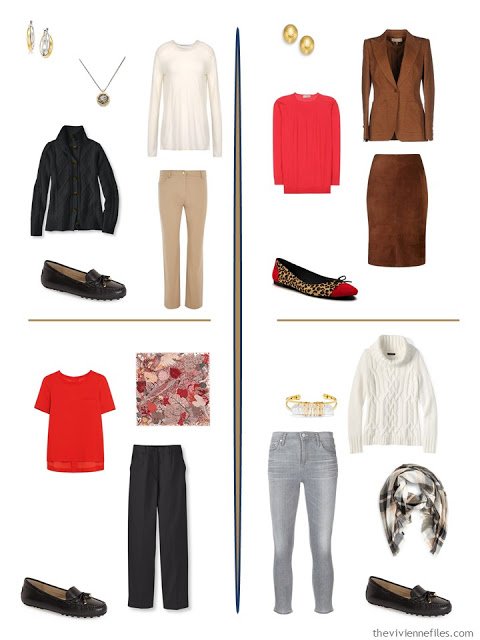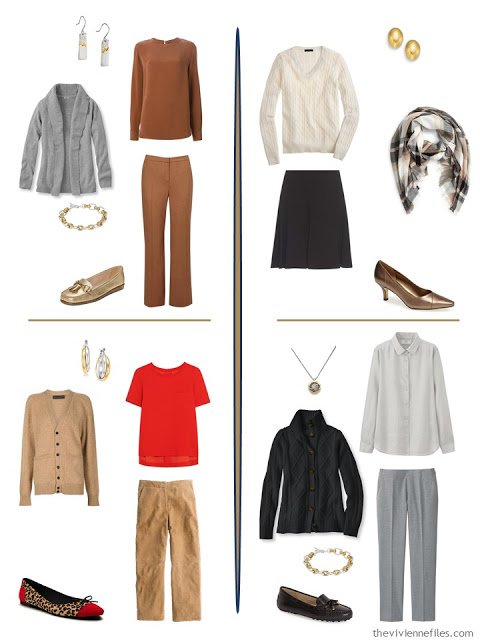 Tomorrow I'm going to wrap up the "1 at a Time" wardrobe with navy and beige, and some brightly-colored accents. I think it's going to be beautiful….
love,
Janice